---

R.L. Burnside
Acoustic Stories
MC 0034
Sound Machine Groove
HMG/HighTone 6501

---
A full-fledged R.L. Burnside cottage industry has apparently been created, with no less than three CDs released in the past few months, not including last year's blues/alternative experiment (A Ass Pocket Full of Whiskey). As an unabashed Burnside fan, I have no problem with that at all.

These two albums are reissues of recordings dating back to 1979 (Sound Machine Groove) and 1988 (Acoustic Stories). Together they present alternate sides of Burnside's musical persona: heir to the Mississippi hill-country blues tradition and forger of a singular, electrified assimilation of those blues with contemporary funk and R&B. Either way you get a bluesman inhabited by the holy spirit of Hopkins, McDowell and Hooker giving life to a 21st-century vision of the blues.

Burnside, along with musical comrade-in-juke Junior Kimbrough, hails from the land that time forgot: the Northern Mississippi hamlets near Oxford where shotgun shacks crumble in the shadow of ante-bellum mansions. Here, in relative isolation from the flat Delta region, a blues evolved that emphasized the droning rhythm of the fife and drum bands popular in the area. Melody takes a back seat to storytelling, and the guitar serves to cast a hypnotic spell. John Lee Hooker and Fred McDowell lived here. Burnside learned much from the latter.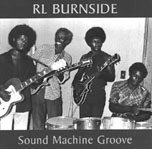 Sound Machine Groove is far and away the more interesting of the two albums, capturing on record the earliest experimentation of acoustic soloist Burnside with an electric band format. The band is staffed by members of his extended family (sons Daniel and Joseph and son-in-law Calvin Jackson, the same cast that would later record Bad Luck City, a landmark debut album for Fat Possum). Recorded by Mississippi folklorist David Evans under an NEA grant, this remarkably cliché-free music is, as the recent ads impolitely (but accurately) proclaim, "not the same old blues crap."
The youthful band members doubtless helped expand Burnside's musical lexicon: funky bass grooves, upbeat tempos, stinging guitar and a driving backbeat. All immediately evident from the first track, "Shake, Little Baby." Burnside then slips into customary repetitive riffs on the traditional "Rolling and Tumbling" before launching into his four-and-half minute classic, "Bad Luck City," a definitive exposition of the Burnside style. "Going Down South" presents "the drone" in all its glory. Close your eyes and transport yourself to Kimbrough's ramshackle juke on a sticky summer night when way too much corn liquor has flowed into the assembled humanity swaying hazily into the morning hours.
The ghost of Lightnin' Hopkins appears when Burnside solos on "Begged for a Nickel," a reworking of "If It Wasn't for Bad Luck." Then he plays the fife lead on guitar, accompanied by Jackson's snare and bass drums, on an utterly eerie rendition of "Sitting on Top of the World."
As Evans points out, audiences, particularly in Europe, were not prepared for the electric Burnside, preferring instead the more familiar stereotype of the acoustic Delta bluesman ("mud duck" as a good friend is given to tease). And that more traditional music is found on Acoustic Stories (originally a cassette-only release on Lollipop Tapes). Song titles like "When My First Wife Left Me," Walking Blues," "Poor Black Mattie" and "Kindhearted Woman Blues" should give a pretty clear indication of what to expect. That is not to take away from the hair-raising artistry and depth of these blues; it's the closest to Robert Johnson and Son House any of us will ever get. One listen to Burnside's slide playing on "Death Bell Blues" will tell you volumes more than I could ever hope to convey. The set was recorded in a studio in New York City, and Burnside is accompanied brilliantly on harp by John Neremberg.
Burnside devotes will doubtless snatch up both these gems, but even Lollapalloozers should give Sound Machine Groove a shot. Both are outstanding.
-- Jack Oudiz
---
This page and all contents are &copy 1998 by Blues Access,
Boulder, CO, USA.