---

Lowell Fulson
My First Recordings
Arhoolie 443

Blue Shadows
Stony Plain 1233

Think Twice Before You Speak
JSP 290

---
Lowell Fulson has long been regarded as one of the leading West Coast bluesmen and the writer of classics like "Reconsider Baby" and "Three O'Clock Blues." His reworking of "Nobody Loves Me" into "Everyday I Have the Blues" was heard and appreciated by a Memphis disc jockey, who made it his signature tune; that, of course, was B.B. King. And Fulson's recording of "Tramp" is one of the great funky blues tunes.

Like most of the West Coast artists, Fulson started in the Southwest. He was born in 1921 in Oklahoma to Choctaw Indian and African-American parents. As a youth, he backed up country blues guitarist Texas Alexander. After serving in World War II, he was discharged in the Bay Area and hooked up with legendary Oakland producer Bob Geddins. Geddins recorded Fulson for several labels, including Big Town, Down Beat, and Trilon.

Twenty-six of these sessions, made between 1946 and 1951, have now been collected on the Arhoolie label, under the name My First Recordings. With few exceptions, this disc, 74 minutes long, presents Fulson as a rural blues musician, playing the acoustic (or barely amplified electric over accompanying acoustic) guitar, singing Texas-style sharecropper blues. These are haunting songs of loneliness and mortality straight from the harsh life of blacks and Indians in the Southwest. You'd have to look mighty hard to find the Lowell Fulson of "Tramp" in these sides.
Fulson was never a great guitar player; his work is simple but effective, mixing short, repeated phrases with the longer lines common of Texas guitarists. Like many rural guitarists, he switches chords when it fits the song and often ends up with more than 12 bars. His lyrics portray classic themes of loss and regret. On "Between Midnight and Day," he sings, "The blues came down on me this morning between midnight and day/That's when I got that long distance call that my baby had gone away."
As time went on, Fulson began changing his style to include more of the sophisticated West Coast sound. By the time we get to "San Francisco Blues," Fulson sounds more urbane, almost droll in his delivery. A strong boogie-woogie piano begins accompanying him. Finally, on the last four songs, recorded in Los Angeles for Swing Time, Fulson is backed by a combo that includes Lloyd Glenn on piano and Dexter Gordon on tenor. Here is the Fulson we are used to, forceful and confident, a true citizen of the West Coast.
Like many recording artists, Fulson often hit the road by himself, picking up backing bands as he went along. In 1981, he found himself in Vancouver, British Columbia, with the Powder Blues Band, a "small big band" in the Roomful of Blues mold. Blue Shadows was recorded (and apparently forgotten) in that year and is a very enjoyable collection of Fulson standards polished and refurbished for the occasion.
The band is at its best on jump blues like "Oh Well Oh Well" and "You're Gonna Miss Me." Pianist Willie MacCalder is particularly strong on these cuts, pounding the keys and driving the band. Fulson wails the blues on "Sinner's Prayer," written with Glenn, as he prays for someone to "have mercy on me." He is in good voice throughout this set. The relatively short length of the session (37 minutes) is bolstered by a bonus 17-minute interview.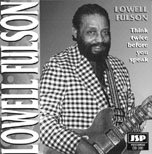 Fulson toured England in 1984 with promoter and producer John Stedman. As Stedman relates in the liner notes to Think Twice Before You Speak, it was necessary to have a recording to promote the shows, so he brought Fulson into the studio to lay down 11 tracks. Once again, Fulson recorded a number of old hits. Fulson's vocals are smooth and friendly, with relaxed phrasing. His guitar work is typically spare and clear, emotional without excess. The highlights of the set are the clever "Parachute Woman" and the swinging "Meet Me In the Bottom." It's not Fulson's best recording, but it has its charms.
Surprisingly, the last two songs, "Come Back Baby" and -- once again -- "Sinner's Prayer," feature Fulson accompanying himself with a strummed electric guitar. Now we've come full circle, back to Fulson's earliest days as a musician, when he was just a man with a guitar, pleading for mercy and understanding. It shows that, no matter how fancy or uptown his music became, his roots have always been in the basic country blues of his youth.
-- David Feld
---
This page and all contents are &copy 1998 by Blues Access,
Boulder, CO, USA.