---

James Harman Band
Extra Napkins
Cannonball 29102


---

Lynwood Slim Featuring Jr. Watson
Lost in America
Whistle Stop 2011


---

Janiva Magness & Jeff Turmes
It Takes One to Know One
Fat Head 1001


---
In the late 1980s a vibrant blues scene was percolating in Southern California, a world apart from better-known Chicago and the Southern blues cities. Headed up by harp players like the late William Clarke, Rod Piazza and James Harman ó under the tutelage of more historical figures like Johnny "Guitar" Watson, Joe Turner, George Smith and Smokey Wilson ó the efforts of this mini-blues community were well recorded by the local Rivera label. A cast of then lesser-knowns, now famous, like Kid Ramos, Fred Kaplan, Jimi Bott, Gene and Larry Taylor, and most notably Jr. Watson and Hollywood Fats, were playing musical chairs as members of bands put together by all the aforementioned leaders. The music they were playing then ó a combination of Chicago, jump, swamp and swing ó would become, by the late í90s, the blueprint for blues popularity across the U.S.
Guitarist Watson is the thread of continuity between these three recordings ó Harmanís re-released 1988 effort for Rivera, Slimís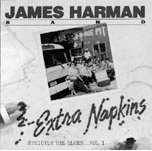 reissued early í90s album and this yearís work from Magness/Turmes. The much-heralded Hollywood Fats is the most notable string slinger on Extra Napkins (recorded from 1985Ė1987), and, great as Fats is, Kid Ramos puts in just as strong an effort as second guitarist, with Harman blowing and singing like he hasnít in many years.
The album rocks hard, right from the chordal harp chiming that opens the first cut, "Itís Alright Now", and the pumping rhythm section of Willie Campbell and Stephen Hodges establish a groove they never let up. As you would expect, Fats burns through slow cuts like "My First Crime" and the more traditional "Party Girl," and thereís a great bit of idol worship as he and Ramos attempt to approximate Robert Jr. Lockwood and Luther Tucker on Sonny Boyís "Sad to Be Alone." The horns cast a whole new mood on "School Girl." And be sure to listen to the great piano work by Kaplan and Gene Taylor ó their contributions actually surpass those of the guitarists, and in tandem with the latter give evidence why this was one great blues band. This is a terrific, much appreciated re-release, and hopefully label owner Ron Levy has more coming.
Watson had been Harmanís roommate at the time Extra Napkins was cut, and was then playing with Piazza. Although he was a minor player on the Napkins, by 1993, when he teamed with Lynwood Slim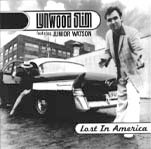 for Lost in America, his reputation among guitarists had been etched, and his work with Slim here is just outstanding. Like Fats and Ramos, Watson is a superb harp accompanist, and his swinging style is a fine fit for Slimís smoother vocal approach and more sophisticated harp playing.
Iíve always felt Slim was a singer most comfortable in the vein of Charles Brown, and his work here on swing tunes like "Itís Obdacious" (with a melodic, angular solo by Watson) and a beautiful, slow rendering of Little Walterís "Just Your Fool" evidence a vocal style apart. Slimís also a fine harp player, schooled by Walter Horton, and blows straight ahead on tunes like "Iím Tired" and John Lee Hookerís "Messiní With My Bread." Once again, Kid Ramos is all over this disc, as is Fred Kaplan, whose piano work is an easily overlooked highlight. Another fine reissue, and if you like whatís here youíll really dig Slimís vocal work with Dave Specter on last yearís Left Turn on Blue.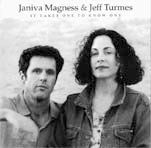 Jeff Turmes was a bit player on Extra Napkins, and for years has been one of the finest multi-instrumentalists in West Coast blues; he is also a six-year veteran of Harmanís bands. Magness is a rich-toned, expressive vocalist who has worked with Ramos (you can hear her on his Two Hands One Heart) and a host of SoCal notables, most recently in a duet format with Turmes. Their CD was reviewed in the last issue of BLUES ACCESS, I wonít spend a lot of time echoing earlier, positive sentiments. Just let me add that if you want a taste of contemporary blues work and writing from L.A., this all-original first outing is it: The music is dead-on as backing for the lyrics, which are infused with a hipper perspective a la Tom Waits or Rickie Lee Jones as filtered through Alberta Hunter. And Magness plays a mean blues kazoo. All-in-all, no retreads of blues chestnuts here, something new and fresh that portends much for Magness and Turmes, as well as the fertile Southern California blues scene anchored by Watson and compatriots.
ó Tom Ellis III
---
This page and all contents are &copy 1998 by Blues Access,
Boulder, CO, USA.