---

Junior Wells
The Best of the Vanguard Years
Vanguard 79508-2
Buddy Guy
As Good as It Gets
Vanguard 79509-2

---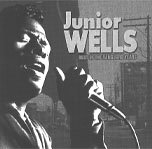 Fans can bask in the light of the decision to reissue this material from two certified blues giants. The Junior Wells best-of is especially juicy, paying just tribute to the late icon. Recorded by producer Samuel Charters during Wells' short but fertile tenure (1965-68), The Best of the Vanguard Years captures Wells' fusion of rural and urban blues with remarkable sonic clarity.

In addition to being a virtual primer of Wells' musical vision, there are two previously unissed songs among the 18 selections. Especially choice are the tunes from the extraordinary live 1965 performances at Pepper's Lounge in Chicago, where the blues club ambiance is rendered even more vividly via the digital remastering. The quintessential poignancy of "Look How Baby," with Guy's tweaky, high-strung solo, is still arresting. Wells' nod to mentor Sonny Boy Williamson, "Help Me," and his own signature theme, "Messin' With the Kid," are amongst the deep dishes served up here. If you're missing Wells' work on Vanguard, this is a must-have, dead-on, satisfying collection. Anyone who doesn't have any Wells should get this at once.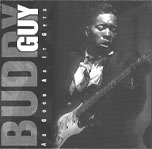 Guitar titan Guy doesn't fare quite as well. His stay with Vanguard (1968-72) left rather mixed results. Given the latitude to experiment that had been denied him at Chess, the fiery guitarist fused contemporary R&B and jazz/rock elements into his blues, and As Good as It Gets veers from solid blues territory ("Slow Blues (Instrumental)") to horn-section dominated, noisy R&B send-ups.
Much of Guy's brilliant genius is best witnessed live. The onstage selections on As Good as It Gets, from a 1968 West Coast performance, suffer a trifle from the ragged edge of an overly ambitious horn section. (At the same time, Guy was also working with Wells with far more focused results, as heard on Wells' "It's My Life Baby.")
As Good as It Gets includes four unissued selections that serious Guy collectors might find essential, which at least makes this disc an interesting snapshot of the era when Guy was first freed of constraints and able to stretch out as both a singer and guitarist.
-- Tali Madden
---
This page and all contents are &copy 1998 by Blues Access,
Boulder, CO, USA.