---

Sweet Betty
They Call Me Sweet Betty
JSP 2101
Lou Pride
Twisting the Knife
Ichiban 1510-2

---
Lou Pride and Sweet Betty are two relative unknowns who shouldn't be staying that way long; both are first-rate vocalists who command their respective discs like age-old studio veterans.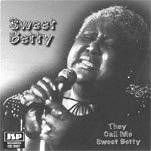 Young upstart "Sweet Betty" Journey is an Atlanta-based singing sensation. Her vocals are exceptional, with just the right amount of growl and grit to let you know she's serious and enough sugar and honey to make you want just one more taste. Instead of becoming another Koko Taylor clone, Sweet Betty has found more in common with Denise LaSalle and Shirley Brown.
Journey started singing in the church and got her first blues break when she teamed up with sax legend Grady "Fats" Jackson; the duo played together for nearly a decade until Jackson's death in 1994. Betty kept working the Atlanta area until a guest vocal on Bob Margolin's Up & In grabbed the attention of JSP's John Stedman. The result is 51 minutes of pure joy as Betty wraps her pipes around cuts by JSP regulars Jimmy Morello (also the producer), Johnny Rawls, Andrew Jones and others. Her talent is multi-dimensional, handling jump blues ("They Call Me Sweet Betty"), classic R&B ("You're a Two-Timing Man"), soul/blues ("It's All in the Game") as well as straight-ahead blues numbers ("These Bills" and "Your Tears Become My Tears") with ease. Exceptional backing, especially from sax players Johnny Viau and Troy Jennings, help make this one of the most pleasing discs in recent memory.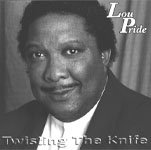 Lou Pride scores just as big with his second Ichiban release, Twisting the Knife. The follow-up to his acclaimed 1995 Love at Last finds Pride backed up by Bob Greenlee and his crew at the Kingsnake Studio.
The 53-year-old Chicago native, a solid-voiced soul singer who brings Johnny Taylor and Clarence Carter to mind, formed his first band while in the military in the early '70s and continued with music after his discharge. Pride recorded his first sides in Memphis on the GemCo label and his first album in 1988 for Custom. His rich vocals drive self-penned cuts like the cooking opener, "I Had a Talk With My Baby," and the slow groove "Tonight" as effectively as covers of Buddy Ace's "Love of Mine" and Bob Greenlee's title cut.
If you have any interest in the soul and R&B side of the spectrum, don't miss either of these two obvious contenders for soul/blues album of the year.
-- Brett J. Bonner
---
This page and all contents are &copy 1998 by Blues Access,
Boulder, CO, USA.