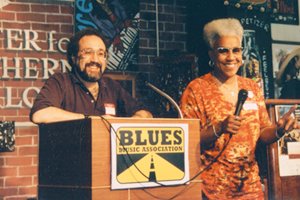 Blues Music Association Launched
The Blues Music Association (BMA), an organization of blues professionals working together to increase the presence, gross revenue and audience size of blues music, introduced itself to the blues music industry this past spring at the W.C. Handy Blues Awards in Memphis and at the Chicago Blues Festival.
Blues music professionals of several descriptions — including musicians, labels, booking agents, artist managers, songwriters and publishers, festival promoters, professional blues radio programmers, club talent buyers, blues publications, musical instrument manufacturers, CD and tape duplicators, retailers, publicists, journalists and authors — were encouraged to join the association.
The group described its mission as "working to achieve greater economic success for the blues by expanding the marketplace for blues music." Long-term goals include use of research and marketing abilities to sell the appeal of blues music to radio, TV, print media and film; selling blues to retail as a profitable concept; providing business and technical support to artists (including the exploration of group insurance); and measuring the financial growth of blues music commerce.
"Blues has never received the media attention and respect that country, jazz and rock have received," BMA acting president Bruce Iglauer pointed out. "One reason is that country, jazz and rock have been presented to the mass media in a much more organized and professional manner than blues.
"Blues music needs the equivalent of the Country Music Association to bring its widespread 'underground' popularity to the attention of the mass media, to retail and tastemakers," Iglauer continued. "Together, as an organization of working professionals, we can achieve this goal."
For information on the BMA write to Blues Music Association, Box 3122, Memphis, TN 38173 or call (901) 572-3843.
---
Second String Project
Songwriter Darryl Purpose and peace activist Kevin Deame have created the Second String Project as a way for American musicians to donate their used guitar strings to musicians in remote or economically depressed areas who can't afford, or even find, such basic equipment.
"I always met musicians on the road," Purpose says, "in poor countries like Sri Lanka and Thailand and Korea and Russia and Eastern Europe and Central America. There were some players who were so good, and the equipment they were playing on was second-rate at best."
Purpose also realized that these players were often desperately in need of strings and other hard-to-find accoutrements for their instruments. "And I noticed how many strings are thrown away," he says, "because many of us change strings every two gigs. They sound bright at first and then they basically go out, very fast."
Although the relatively affluent musicians of America and the West can afford to change their strings frequently, even their discards can provide underprivileged guitarists with the opportunity to seriously upgrade their situation. So Purpose and Deame devised a scheme to collect and distribute used guitar strings by including them in medical-aid packages bound for people in need.
If you're a guitarist who'd like to donate to the Second String Project, send your used strings (labeled as either "sets" or "singles") to Kevin Deame, 28 Ladd Road, Ellington, CT 06029. For more information about the Second String Project, contact www.darrylpurpose.com.
---
Bluestock in Memphis Moved to October 1–2
Bluestock, the two-day music conference and blues festival held in Memphis each fall, has been moved up to the first weekend in October and will convene in a variety of settings along Beale Street on Friday and Saturday, October 1–2.
The Bluestock International Blues Convention and Festival includes panels and workshops, band showcases, a trade show, blues film festival, and a formidable lineup of nightclub and concert performances by blues recording artists including Buddy Guy, Bobby Rush, Robert Lockwood Jr., Hubert Sumlin and many more. (The complete list is here)
The sixteen scheduled panels and workshops include "Taking Blues to the Mainstream," "Does Blues Radio Really Sell Blues Records?," "The Segregation of the Blues Business," "Making a Career in the Blues Business," a blues society panel, songwriters' workshop, producers' panel and demo listening sessions.
The Bluestock film festival will include a special screening of Robert Mugge's new documentary, Hellhounds on My Trail: The Afterlife of Robert Johnson. The film offers both a tribute to Johnson and a bemused look at the fans and music scholars who obsess over every note of Johnson's songs, every detail of his life and every bizarre permutation of his ever-expanding legend.
For Bluestock information call (901) 526-4280 or e-mail info@bluestock.org. The Bluestock website is www.bluestock.org.