Talk about strange bedfellows. We're not exactly shocked when a teen heartthrob like Jonny Lang makes it into the rotation at MTV. If pop group U2 wants to do a collaboration with B.B. King, we understand that the resultant video is going to make it into way more homes than anything the venerable bluesman does on his own.
But R.L. Burnside, a 73-year-old grandfather from deep down in Mississippi who didn't take up music full-time until he was in his 50s? What's he doing on the network of never-ending eye and ear candy for the "Like, Whatever" generation, not to mention doing concerts backed by slash-and-burn groups like Jon Spencer Blues Explosion and the Beastie Boys?
And what's he doing with a pair of albums that take the blues and trick them up into hip-hop form?
Nothing like ticking off a few people, right?
"A lot of the old timers [blues fans] ain't happy with what I did," Burnside said before a recent concert in New York. "But the blues is the root of all music, including this stuff with the beats."
The beats? How did Burnside get so popular with the rock/punk/alternative set?
First, Burnside paired up with Jon Spencer and the Blues Explosion in 1996 to unleash an album called A Ass Pocket of Whiskey. Recorded in one afternoon on Lunati Farm in R.L.'s home town of Holly Springs, Mississippi, the album is raw — full of screams, screeches, and distortion — and oh yeah, the blues. It's a long way from "When Love Comes to Town."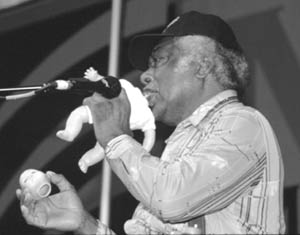 The founders of Fat Possum Records (Burnside's label) were catalysts in the success of Burnside and fellow labelmates T-Model Ford and the late Junior Kimbrough. But even though Matthew Johnson and Bruce Watson are basically gritty, down-home blues types, they recognize that a little controversy is a good thing.
It was Johnson and Watson who approached Bong Load and Acid Blues Records chief Tom Rothrock, who mixed Beck's first record and produced "Rollin' & Tumblin" on Burnside's Mr. Wizard. With Burnside's reluctant blessing, the twosome handed him the latest Burnside collection, plus some riffs Burnside cut specifically for the album with long-time second guitarist Kenny Brown and Cedric Burnside (R.L.'s grandson) on drums. Rothrock took the tapes, played with them, mixed them, and when all was said and done, out came Come on In.
"The connection is creating something hypnotic through repetition," Rothrock said. "That's what (Burnside) does through the blues, and that's what I do through the loops. They're really kind of the same thing."
Rothrock said that working with Burnside posed a bit of a challenge. "He only plays live [and] he never wears a set of headphones," Rothrock said. "You have to work around his tradition. But I know how to put together stuff with loops and samplers while R.L. knows how to sing and play guitar. So it was a merging of what we both knew how to do."
Nine of the 12 songs are remixed in some fashion. The only undoctored articles are a live version of the title song, a shuffle called "Just Like a Woman," and the closer, a full-out punk blues jam called "Heat," which was produced by Alec Empire from the group Atari Teenage Riot. The song could have fit comfortably on Ass Pocket.
Rothrock was prescient when he allowed that the remix disc might cause a furor in the blues world. "There's a certain part of human nature that's inherently resistant to change," Rothrock said. "So if I were a blues fan and only heard blues in a particular light and I heard Come on In, it might be completely alien to me."
Alien might be understating things. "We got so much hate mail after Come on In came out," Watson said. "It was crazy. We were getting death threats and stuff like that. But we thought it was hysterical.
"To some people, [the blues] is an institution not to be fucked with. But we tried to make this record as accessible as possible to anyone who would listen — and maybe some of these purists would realize that if fans of other music liked this disc, they just might take an interest in the blues."
Burnside, who was both excited and anxious when the disc first came out, found it more to his liking as it became more popular.
"The first time I listened to it, I said, 'I don't know,'" Burnside admits. "But the more I listened, the more I liked it. And when I found out that a lot of people were buying it, I liked it a whole lot more!"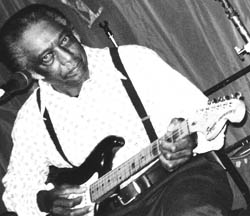 The music caught the ears and subsequent eyes of MTV, who coaxed Burnside and band to create a video, a tricked-up version of "Snake Charmer" (from Mr. Wizard) retitled "Let My Baby Ride." The reworked version is slower, and the guitar refrains continuous, but the song becomes more powerful as it goes on.
At first mixed far in the background, the guitars are eventually kicked up several notches into a full frontal assault. The groove is infectious and the lick quickly burns its way into your brain. Rothrock effectively uses Burnside saying "Burnside" as a beat enhancer throughout the song, a perfect hybrid of blues and hip-hop that seemed like a natural for MTV.
"Being on MTV was something great," Burnside isn't shy to admit. "It's a natural thing for me, because all I'm trying to do is keep the blues alive, and if this is the way to do it, it's fine with me."
The video, which debuted on 120 Minutes, shows snippets of Burnside and band playing, interspersed with shots of the good folks of Holly Springs.
Cedric Burnside, all of 20 years old and a fan of all sorts of music, was impressed that his granddad made it to big-time MTV. "It's the coolest thing," Cedric said. "Sometimes I think that they may have taken the recording thing too far [with the album], but everyone seems to like it."
Cedric then admitted that as of early May, none of the band had heard or seen the finished product. "None of us ever saw the finished video," he said. "We were there making the thing, but we've never actually looked at it."
Asked their favorite song, granddad was non-committal, but grandson volunteered "Heat." And though Cedric loves hip-hop and rap, he too was skeptical about having the blues remixed. "I wasn't sure at first," Cedric said about the idea of marrying hip-hop and blues. "But after a few listens to it, it grew on me."
Cedric grew up on the music of his granddad. "We didn't have no radio or TV when I was growing up," he said. "It was just listening to granddad playing. Naturally, I got interested in music from that."
What blew away the Burnside clan was just how successful Come on In actually turned out to be. Radio stations with rock and alternative formats latched on to the sound, and you could hear the echoes of "Let My Baby Ride" here and there throughout the country.
There's an irony here. "The people who come to see us want to hear 'Let My Baby Ride,' but unfortunately, we can't reproduce that sound," Cedric explains. "Even with that, they still get into what we do in the shows."
R.L. says that touring is the best part of being in the business. "I love to play for the people," he says. "And as long as they're enjoying it, I'm enjoying it too."
The crowds who go to see Burnside play are an eclectic mix of R.L. fans, blues aficionados and curious punks. During a show in New York City in early May, there were folks dressed in leather, in flannel and in casual attire. The one thing they all had in common was the love of Burnside and his music. Heads bobbed and bodies moved while the band churned out such songs as "Old Black Mattie" and "Rollin' & Tumblin'."
"Having this album out hasn't changed R.L. one bit," Watson said. "He's done pretty much the same live show for the past three years, and more and more people are going to see him and loving what he does."
Watson and Johnson had a plan for Burnside's touring. Aside from doing festivals, which both net him plenty of cash and plenty of recognition, the twosome put Burnside into as many rock clubs as possible.
"In blues clubs, you make a little more money, but you play to a limited crowd," Watson said. "By putting R.L. in rock clubs, there may be less people to start, but they're more devoted and more likely to buy the album and pass the word around that he's the real deal."
R.L. Burnside's the real deal, all right, one of the last remaining Mississippi standard-bearers of the tradition. Now he's extending the form in the 21st century and — like it or not — introducing the blues to a whole new audience. That can't be all bad, no matter how you cut it.
• • •
Some little known R.L. facts (confirmed by the elder himself):
• His first choice of instrument was not the guitar: "I tried to play the harmonica, but I couldn't make it work for me."

• He does listen to other forms of music (mostly rap and hip-hop), but not by choice. It's one of the by-products of having 22 grandchildren around his Holly Springs home. He still prefers listening to the blues, though. "I like Fred [McDowell], Muddy [Waters], Lightnin' [Hopkins] — the old guys from way back yonder."

• He's been married to the same woman, Alice Mae, for more than 50 years, and sired 13 children: 8 daughters and five sons (a daughter was killed in a car accident about 17 years ago, according to Cedric).

• Burnside has been a sharecropper and also fished commercially to make ends meet. One of his proudest boasts regarding his family is that only his two eldest boys ever had to pick cotton.

• Burnside has made music his career for 14 years and will celebrate his 73rd birthday November 23. He said he wants to keep on going with recording and touring, but he does have a time frame.

"With the Lord willing and my health willing, I want to continue doing this for another four or five years," he said. "After that, I just want to stick a [fishing] pole in the water and have a few beers."

• Burnside tries not to tour more than two weeks at a time — he knows his limitations.
"I've been blessed to be at this age and getting around, and I just want to keep on keepin' on."
Amen.