We're inside the Hot House, around the corner and up the stairs from Buddy Guy's Legends in Chicago. It's a classy, spacious music room, the walls done up in imposing, fruity colors, excellent sight lines to the stage from every direction. Off in the distance hangs a polychrome, wall-sized painting of Charlie Parker joined by Neptune himself in the Miles Davis chair.
The show hasn't begun, and I follow the Rooster into an adjacent room, where the sight nearly takes my breath away. There for an official portrait stand David "Honeyboy"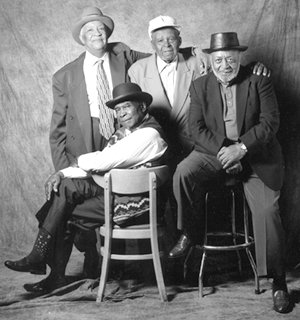 Edwards, 83, Robert Lockwood Jr., 84, Homesick James, 89, and Henry Townsend, 89. Four of the pre-eminent musicians of the 20th century and, give or take a few months, more than 330 years of experience, standing right there in the glare of the spotlights.
We've come to see them perform — they're being booked as Legends of the Delta Blues, a package meticulously produced by Michael James of American Legends Music Organization — but I wasn't expecting this. In a colorful red vest, a fancy pair of pants, polished shoes, a gold watch and a derby, Honeyboy is particularly striking, his mischievous eyes looking around, his skin almost luminescent, equal parts E.T. and Ziggy Stardust. On the other end, smiling, Lockwood is photogenic as hell and seemingly in a good mood as well, quietly allowing a few extra shots from other photographers.
We squeeze in beside a couple in a booth in the main room and settle in. Honeyboy is up first, on a chair with just an electric guitar. He proceeds to play three songs, one of them a stirring "Sweet Home Chicago" that begins to place the night in context. The rhythm is rock-steady; he's hitting all the notes and snapping the strings with more than his usual authority. It's a splendid, inspiring performance. Could things get any better?
Within a minute of Honeyboy's departure, Henry Townsend is sitting at the piano. Of the four, I know the least about him, and he's the only one I've never seen perform. The St. Louis blues veteran does two old-timey, vaudevillian styled blues on the piano before switching to acoustic guitar for a couple down-home numbers. Like Edwards', the playing is crisp, relaxed, experienced. He leaves me speechless.
We had caught Homesick James earlier in the day at the Chicago Blues Festival, and he had been dicking around, pulling strings grotesquely, gesturing for the crowd, not paying attention to his playing — what the hell, everybody clapped anyway. But tonight it's like there's somebody else onstage. He fluffs no chords and snorts and mumbles and drones into the vocal mike, adding to the tension he's creating with his songs.
It's like each player is saying to the others, "Top that, Mo-Fo." As if arthritis has never found a way to chill these fingers.
Finally, Robert Lockwood arrives with his 12-string. He's a bit shaky on the first couple songs but quickly rights himself with a quiet, sublime rendition of Leroy Carr's "In the Evening, When the Sun Goes Down" that couldn't have been more perfectly conceived.
It doesn't get any better than this, a magnificent and humbling couple of hours. On the walk back to the hotel, I realize I've just witnessed the equivalent — on a baby boomer level, at least — of seeing Bob Dylan, Taj Mahal, Eric Clapton and Keith Richard onstage together … in 2030!
When I took the job as managing editor of BLUES ACCESS in July of 1994, I was no blues aficionado; other than Lockwood, I knew little about any of these legends. A rock'n'roller dating back to the late '50s, I realized early blues' impact and intimate connection with rock and had favorite blues artists, but I never really studied the music as a genre.
Guided mostly by the Rooster's infallible taste buds (both musical and culinary), this Catfish became singularly blessed with those kinds of magical musical moments.
The blues literally opened up in front of me.
At the 1995 King Biscuit Blues Festival, for instance, with the barbecue smoke wafting into the sunset and the blues ghosts of Helena, Arkansas, past, lingering above, Luther Allison unleashed a set with the sonic force of no performer I could remember since Bruce Springsteen. His focused energy and pure onstage charisma grabbed hold of me from the opening notes and shook me to my very foundations. Not surprisingly, he became the cover story for BA #25.
The next year, on that same stage in the same early-evening, dinner-time slot, Bobby Rush played with our sexual imaginations, bringing an audience to a sweaty climax with his miraculous morality play/stage show. That was the impetus for our cover story in BA#34. (Thanks again, Stanley Booth.)
We caught Rush's show again at the Kansas City Blues & Jazz Festival the next summer, but we also were lucky enough to see Jay McShann and the Duke Robillard Band play a set that recalled a period in Kansas City that only someone McShann's age can actually remember.
There was gospel, too: After they demonstrated how the steel guitar could be made to sound like a human voice, the Campbell Brothers, who play in the sacred steel style that is part of their Pentecostal traditions, got a gaggle of Boulder yuppies up pogoing and praising Jesus during a radio taping one night here in town.
I'm not likely to forget the Rooster's nudges to keep me awake up against the wall of New Orleans' Maple Leaf club long enough to see Tracy Nelson's 3 a.m. set. Or the times during JazzFest that I've spent inside the gospel tent munching crawfish sushi while the Crownseekers embraced Wilson Pickett and "The Lord's Prayer" in almost the same breath.
Our trips to the Delta left me with a deep respect for blues origins. Finally finding Sonny Boy Williamson's grave in the long grass near the river far behind the church or seeing Robert Johnson's headstone (actually, both of them) was as religious as I care to get. Sitting on the porch of Muddy's wooden shack at Stovall's before the Blues Brothers grabbed it and put it on tour was worth the clumsy search we went through to find it.
It wasn't all work. After an intoxicating day-long layover in Ocho Rios, Jamaica, we became part of a thousand-strong, pleasantly baked audience during the 1995 Ultimate Rhythm and Blues Cruise. Seizing full advantage of the moment, Dr. John and the New Island Social & Pleasure Club took the helm as the moon rose through the smoky haze hanging thick over the Big Red Boat.
Last fall in Memphis during Bluestock, I was fortunate enough to catch Othar Turner, a man whose timeless music goes back to this century's first decade. At the end of his set he was joined by the Mississippi All-Stars, a young group now signed to Tone-Cool, who accompanied Turner's fife-and-drum corps before presenting a convincing set steeped in traditions that date back to the 18th century at the dawn of the 21st, an encouraging note for all of us who love where the music came from and where it's headed.
Somewhere along the way, we managed to get out more than 20 issues of BLUES ACCESS. The experience of putting together those issues was as much fun as I've ever had in my life, and that's only because of the efforts of so many dedicated and creative writers, reviewers, columnists, photographers, illustrators and artists who gave so much of themselves to make it happen. For the chance to work with you all, and all those great musical moments, I am humbly grateful.
For more information on American Legends Music Organization, contact Michael James, Box 640409, San Francisco, CA 94164-0409, (818) 907-0429.