Iím no different, but at least I havenít had to wonder what the fuss is about. Big Bill and his band have played the clubs along Beale Street in my hometown of Memphis since 1997, and Iíd seen him perform at the Kennedy Center in Washington, D.C during the Tribute to Muddy Waters ó King of the Blues PBS taping. A slide duet with Bob Margolin and two numbers with the assembled house band left me mightily impressed. Equally impressive was the consistent improvement he demonstrated from show to show.
So one hot afternoon I find myself en route to Arkansas because Bill is touring with the Rolling Fork Review, former bandmates of his father, including the incomparable Pinetop Perkins on piano and veteran guitarist Margolin.
During an interview before the show Morganfield brings me up to speed. Literate and articulate by nature, this is a seriously educated bluesman: Heís got two degrees, in English and communications.
Asked why he chose English as a major in college, Morganfield explains that it was "the subject I was weakest in." That determination to eliminate weakness is a personal trait that, reminiscent of the old man, heís carried through into his career in the blues.
Today heís elegantly dressed in black and a gold-patterned silk vest. His boots make him seem about nine feet tall ó heís six-foot-five ó and the ever-present blues hat and dark glasses top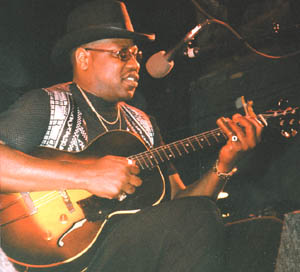 off his look, one that radiates masculine authority. Savvy and charming, with a cool reserve and dignity, Morganfield strikes the same kind of regal impression as his revered father. No mannish boy, he too is a Man.
The heritage is a double-edged sword.
Comparisons to his father never end. Musicians backstage would say, "Nice to meet you," and in the same breath, "I admired (met/played with/knew/saw/performed with) your dad." Morganfield himself often mentions his father in conversation. When youíre the offspring of an immortal, pressure to live up to the family name is intense.
Still, while savoring the challenge, Morganfield knows that he has plenty of his own to offer. He is a relentless learner, and itís no accident that every performance strives for higher ground than the previous one. "Iím just like my daddy, I ainít never satisfied ó I always want it to get better, constantly working at learning and improving."
Born in Chicagoís Cook County Hospital June 19, 1956, his mother was Mary Brown, a woman Muddy had met around 1955 while gigging in Hallandale, Florida. She was nineteen years old when they met. According to Sandra Toozeís Muddy Waters: The Mojo Man, Muddy took her along on tour with him and brought her to Chicago, setting her up in an apartment with his daughter Isoline. At his birth Bill was not given the last name Morganfield. (None of Muddyís six children were acknowledged before the death of his wife, Geneva.)
Bill is reticent about providing personal details. "Sure, I have memories" of his legendary progenitor, he answered, "but I plan on writing a book ó youíve got to wait for my biography."
But there are clues in his songs. On "Child of Mercy," he sings: "I never knew my mother, my father was always on the road, too. Brothers and sisters, I knew I had them ... but I didnít see them until I was 22."
He was raised by his grandmother in Florida in modest surroundings. Music filled their house; he strummed a guitar at seven, and later played in a boyís club band. All kinds of music. "But while my daddy was alive," he says with all seriousness, "there was no reason for me to play the blues."
.Although Muddy yearned for one of his children to follow in his footsteps, he would never see it happen in his lifetime. After Muddyís death, Morganfield felt the muse come calling his name. The profound grief at his loss inspired him to make his fatherís music, the blues
"Itís something that I wanted to do to act as a bridge from my daddy to my kids," Morganfield says. "Of course there are plenty of young musicians out there doing exactly what I do. Thereís Shemekia Copeland, Kebí Moí, Bernard Allison, just to name a few. Whoever said thereís no future for the blues has got to have a hole in their soul. Look at how itís used in commercials, soundtracks, the festivals have grown across the United States from about 40 a year in the 1980s to about 400 in 1999. People who have been saying thereís no future in blues music are wrong. Blues is stronger than ever."
Morganfield woodshedded, developing into a formidable self-taught guitar player and singer/songwriter. He did this while teaching English in Atlantaís public school system. Heíd performed music before, but he began to play out with his blues band around November of 1996.
An effort begun in Memphis in July of 1997 to record and release a tribute CD to his father came to naught. It wasnít until Blind Pig Records signed Morganfield that work began on his first CD in Chicago in October of 1998. "Itís been a dream to record a tribute to my daddy. Iíve been wanting to do it since 1983. Itís like achieving a goal."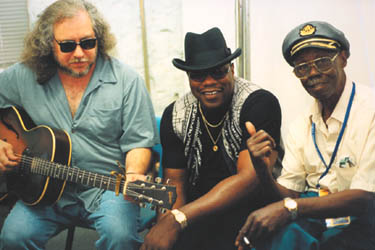 "When I signed with Blind Pig," Morganfield says, "we had to decide on the best approach, and we decided to do it with those musicians that were right there and who had created music with him. Letís put it like this: I felt like I was in blues heaven during the recording, and when I walked out of that studio I felt like I was laid gently back on earth."

Rising Son resonates with the history of the blues, the lonesome slide sounds of the deep South and the red-hot Chicago roar, including songs in Muddyís repertoire like "Screaming and Crying" and "The Same Thing."

The revelation: Big Bill Morganfieldís original songs are the best of the lot. "Dead Ass Broke" brings a hook-laden energy to the Chicago idiom. At the other end of the spectrum, "Rising Son" is a deep-in-the-Delta slide tune filled with nuance and subtlety. Itís at once a magnificent homage to his father and a gut-wrenching introduction to Bill Morganfield. When asked which part of his heritage he considers the most significant, Morganfield says, "The part that leads me back to Mississippi, Robert Johnson, Stovallís plantation and the Delta blues."

On this sultry June evening, heís preparing to hit the stage at the Eureka Springs Blues Festival in front of a crowd thatís abuzz with speculation. Many have heard his songs played on their local blues radio shows. As his CDs are delivered to the concession in the front lobby of the theater, a sales clerk snorts in exasperation, "I could have sold 20 of these in the past hour. Everybodyís been asking for them!"

The houselights dim, and after a few songs led by Margolin, Morganfield is introduced. When he gracefully strides onstage, a muscular 250 pounds of athletic energy, someone says, "Hey, he is big!," a sentiment thatís echoed around the club.

Morganfield slips a slide onto his little finger and leads off with Robert Johnsonís "Walkiní Blues." The room is his in a heartbeat. Sometimes sweet, sometimes stinging, his slide playing owes much to his Delta blues heritage but is evolving into a distinctive, personal sound. He gets into a zone, working his guitar, a big í60s vintage Gibson, with hypnotic spine-chilling results.

His vocals travel from shouts to falsetto to hushed moments where the melody is gently caressed. On "Left Hand Blues," another original, images of the devil toting a Bible and promises made at the crossroads are delivered with soulful finesse. Seamlessly, the tune finds its place between "Walking Blues" and "Canít Be Satisfied."

A few up-tempo tunes and all too quickly his set is done. After Pinetop Perkinsí irresistible singing and blues piano, this eveningís plan calls for Morganfield to return to the stage for the grand finale, including the band and guests Tab Benoit and Jimmy Thackery. "Got My Mojo Working" has the crowd roaring its approval, and an encore of "Kansas City" showcases Morganfield wildly dancing. Heís an electrifying presence ó he spreads his huge arms, stamps his feet, leaps into the air and shakes his hips. What started as a concert is now a sweaty frenzy.

"Arenít you just unbelievably happy?" a woman asks her man on the way out.

Another generation of blues player has connected with its target. The power of the music is reaffirmed, the cycle carried forward. Somewhere in a dark corner a gypsy woman just smiles.