Koko Taylor's Celebrity Club Opens in Chicago
The Chicago Blues X-plosion, heard Fridays from 10:00–11:00 p.m. on WJKL 94.3FM in the Windy City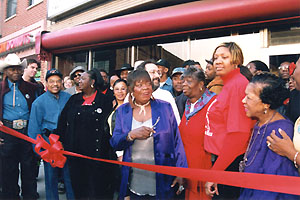 (http://www.BluesExplosion.com), reports that the "Queen of the Blues," Koko Taylor, was the guest of honor November 5th at the official opening of Koko Taylor's Celebrity Club at 1233 S. Wabash on Chicago's near South Side.
The new blues club was the site of a ribbon-cutting ceremony and star-studded jam that featured a virtual Who's Who of Chicago's contemporary blues scene. Shirley King (daughter of B.B.) emceed the event, Masheen & Co. was the house band for the jam, and guest vocalists included Roy Hightower, Shirley Johnson, Charlie Love, Grana Louise and Nellie Travis. Chicago blues stars in attendance included Jimmy Lee Robinson, Johnny Drummer, Artie "Blues Boy" White, Eddie C. Campbell, Detroit Jr., Howard Scott, Wayne Baker Brooks, Fruteland Jackson, Alligator Records president Bruce Iglauer and Shirli Dixon, head of Willie Dixon's Blues Heaven Foundation.
Koko Taylor & Her Blues Machine kicked off the club's live blues lineup later that night; Saturday night featured a battle of the blueswomen with Shirli Dixon vs. Shirley King; and Sunday's grand opening night showcased Nellie Travis. Other notable acts in November included Phil Guy and Eddie Shaw. For more information, call Koko Taylor's Celebrity Club at (312) 360-1558.
---
Henry Townsend Turns 90
Judy McCulloh reports that blues piano legend Henry Townsend celebrated his 90th birthday October 30th at BB's Jazz, Blues & Soups in St. Louis by playing some piano and signing copies of his new book, A Blues Life. Michael James of the American Legends Music Organization adds that Townsend's birthday party was further enlivened by performances from Johnnie Johnson, Arthur Williams, Oliver Sain, Leroy Pierson and many more.
The party kicked off with Townsend receiving the Key to the City of St. Louis and proclamations from Mayor Clarence Harmon honoring the official "St. Louis Music Ambassador" and representative of the "Spirit of St. Louis" for his contributions to the city and his significance in the history of blues. Then the Mayor officially proclaimed October 27th "Henry Townsend Day" in St. Louis for eternity.
After the party, Townsend and Alvin Youngblood Hart performed together at the St. Louis premier of the Bob Mugge film, Hellhounds on My Trail — The Afterlife of Robert Johnson, a documentary on Delta blues icon and Townsend collaborator Robert Johnson.
The previous evening Townsend attended the premiere screening of That's The Way I Do It —The Life and Times of Henry Townsend, a film by Catherine Corley of Legacy Productions. Considered the dean of St. Louis bluesmen, Henry Townsend is one of the oldest blues artists still performing. Born October 27, 1909 in Shelby, Mississippi, Townsend first recorded for Columbia Records in 1929 and has performed and recorded with Robert Johnson, Robert Lockwood Jr., Homesick James, Yank Rachell, Big Joe Williams, Robert Nighthawk and many more.
Still performing solo and with his own band, Henry Townsend is also a member of the historical all-star band called "the Legends of the Delta Blues — Crossroads 2000," a living tribute to the blues of the Mississippi D elta and the legacy of Robert Johnson featuring the only four living musicians in the world that worked and traveled with Robert Johnson: Robert Lockwood Jr. (84), Homesick James (91), David "Honeyboy" Edwards (84) and Townsend.
---
King Biscuit Festival Weathers Storm
A lawsuit that threatened the cancellation of the 14th Annual King Biscuit Blues Festival, held in downtown Helena, Arkansas, on October 7–9, was rejected by U.S. District Judge Susan Webber Wright and the festival was held as scheduled, although heavy rains forced the cancellation of several acts — including Little Milton — and kept weekend attendance considerably below the 135,000 projected by festival organizers. The festival draws an estimated 100,000 people annually to Helena, population 7,500, and provides 75 percent of the annual income for some downtown businesses.
King Biscuit's problems started when the Helena chapter of the National Association for the Advancement of Colored People and some Helena businesspeople filed suit against the City of Helena on August 31st, claiming that the festival discriminates against Black people and hurts their businesses. They contended that money from the event does not benefit Helena residents; that "Blues Bucks" used as substitute currency at the festival are not legal; and that white merchants and artists are given greater roles in the festival than those of other races.
The suit further claimed the city jeopardizes public access to emergency services in the Delta town during the event and exceeds its authority by granting access to city services to a group of private citizens. A board of directors that manages the festival and its money has no black members, plaintiffs' lawyer James Valley said. Valley wanted a judge to cancel the festival unless the complaints were resolved; festival director Randy Williams countered by investigating the possibility of moving the festival to the Lady Luck Casino, across the river in Mississippi, if the event in Helena was blocked.
Another problem developed when Southwestern Bell, the sponsor of the festival's volunteer T-shirts, requested that the King Biscuit Festival create an alternative logo to replace the replica of the Sonny Boy Corn Meal package design from the 1940s which had been used since the festival's inception. Festival organizers responded by cropping the image to show just a close-up of Williamson's face and harmonica.
"We decided to change the logo prior to the lawsuit being filed," KBBF director Randy Williams told BA. "In response, we created the logo with only Sonny Boy's face circled by the title of the festival. We felt that it was not only a tribute to the legendary performer who called Helena his home, but also a move to prepare the festival for the increase in national sponsorships."
But even lawsuits and steady rain couldn't stop the music from lighting up the raggedy Helena downtown district. Festival-goers heard sets from Magic Slim & the Teardrops, Robert Lockwood Jr., Pinetop Perkins, Sam Carr, W.C. Clark, Cephas & Wiggins, Son Seals and many more. Seals had written a letter to the local newspaper defending the festival against what the promoters and many townspeople called trumped-up accusations of racism. "I had to do that," Seals told the New York Times. "I wanted to tell the truth."
"The festival will always be a tribute to the music of the Delta and the artists who devoted a lifetime to performing it," Randy Williams concluded. "It is difficult in this day and time to satisfy all people, but we must continue the legacy of our musical heritage. We are also determined to keep the festival FREE for people of all economic situations."
Dr. Robert D. Miller, the local general practitioner who is Helena's first Black mayor, was happy that the controversy had subsided and the festival was successfully presented. "As long as I'm Mayor," he told a reporter, "the festival is not going anywhere — and that's probably why I am Mayor here."
---
Sonny Rhodes Band Gear Incinerated in Road Mishap
Shelley Herter of King Snake Records reports that legendary bluesman Sonny Rhodes, his wife and his band were nearly killed as they were traveling through a highway construction area in Connecticut on the way to Boston November 10th. "The van's engine literally exploded into flames in the left lane, between two concrete dividers," Herter says, "and they had to get past that before they could pull over, jump out barefoot, and run. There is nothing at all left of their van, their instruments, their clothing, medications — nothing. They could only stand back and watch it all burn. The good news is that everyone is safe." Herter adds that anyone who wishes to send good wishes or donations may send them to: Clarence E. Smith (that's Sonny) c/o King Snake Records, 205 Lake Blvd., Sanford, FL 32773.
---
Blues Tid-Bits
Joel Slotnikoff has tipped off BLUES ACCESS to the imminent publication of a new book of Raeburn Flerlage photographs, the first under his own name, due next spring. Ray, one of the very greatest blues photographers who is now 82 years old, was present and shooting in the clubs of Chicago during the '60s. His photos of Howlin' Wolf in action were featured in BA #39 (Fall 1999).
Brian "Hash Brown" Calway reports a recent conversation with blues harp giant Sam Myers concerning an age-old discographical controversy: whether Elmore James had played behind Sam on "Sad, Sad, Lonesome Day," recorded for Bobby Robinson around the turn of the 1960s. "Sam came out and sat in with us tonight, so I asked him about Elmore. He said, 'Nope, that's not true. Elmore was nowhere near the studio when that was recorded. That was James Russell — they called him Lightnin'. He is a real good guitar player. He don't play no blues no more, no way — he got up in the church, now all he plays is gospel. If'n he ever came to play the blues again, he would show a lot of people a thing or two. We got in the studio and they asked him, "What kind of amp you want?" He says whatever they got will do — he was that good, could play on anything and make it sound good. That was my first session for Bobby Robinson.'
"I asked him, 'What stuff did you record with Elmore backing you up, where you were the front man?' Sam: '"Poor Little Angel Child," "Little Girl," a whole bunch of others that was never released. It was a double session with Elmore, down in New Orleans at Cosimo's studio. [Johnny] Big Moose [Walker] was on piano, Elmore on guitar, Sammy Lee Bully on bass and King Mose on drums. We did my stuff for awhile, and then we recorded a bunch of stuff with Elmore, "Look on Yonder's Wall" and a bunch of others.' I hope this clears it up."