Sometimes it seems like being a preacher is the best job you could ever have. You've got steady work, community respect and the Lord's unlisted phone number.
The Reverend Houston H. Harrington had one more thing: his own blues label, Atomic-H Records. In the late 1950s, a time when it must have seemed like the heavens rained blues performers on Chicago, Atomic-H recorded a number of tracks by both the noted and the obscure.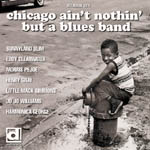 Harrington's nephew, Eddy Clearwater, is among the best-known performers on Chicago Ain't Nothin' But a Blues Band (Delmark 624), an anthology of material from Atomic-H available on CD for the first time. Delmark's 1972 Atomic-H collection may have been the first time any of these tracks were widely heard, since most originally came out as 45 rpm singles limited to 500 pressings.
Eddy was known as "Clear Waters" on his first four Atomic-H sides, in tribute to Muddy. But the influence of Chess Records' rock'n'roll genius also was evident in the Chuck Berry-ish "Hillbilly Blues."
Clearwater's other tracks also transcend their generic titles: "A-Minor Cha Cha" and "Boogie Woogie Baby" may have had crossover on their minds, but both stand up as sexy, natural lounge grooves. "A-Minor Cha Cha" seems to anticipate both surf guitar and Del Shannon's "Runaway." And the blue plate special, "Neckbones Everyday," may sound greasy spoon, but his enthusiasm makes it sound like he'd prefer it to lobster.
On a more serious topical note, Sunnyland Slim comments on how hard it is to make ends meet with the "Recession Blues." But he's in party-hearty spirits on "Everything's Gonna Be Alright." Though both these 1960 tracks feature Matt Murphy on guitar, S.P. Leary on drums, and J.T. Brown on sax, neither were released.
Quite a few tracks have roots that seem to have come around from Big Town, Louisiana, rather than up from rural Mississippi. Vocalist Johnny Rogers' "I Am a Lucky, Lucky Man" sounds like it could have been cut in Cosimo Matassa's New Orleans studio rather than on Chi-town's West Side. Morris Pejoe and Henry Gray were from Louisiana, and there's no doubt about it on pianist Gray's "How Can You Do It?" and Pejoe's "Let's Get High."
Rev. Harrington may have also had his eye on the almighty dollar when he recorded novelties like the JoJo Williams tracks, "Rock and Roll Boogie" and "Davy Crockett's Jingle Bell Blues." The latter is a bizarre instrumental — imagine Santa Claus wearing a coonskin cap — so hilariously dissonant and off-kilter that it makes me think: whatever they were on, I want some.
Harrington was something of a visionary who drew up blueprints for a "Vertical Rising Jet Air Craft" and "The World's First Flying Submarine," according to Bill Dahl's notes. So it's no surprise he would be fascinated enough by the Russian and American space race that he'd have Harmonica George Robinson cut a record called "Sputnik Music." But the track never gets off the launch pad, while on "Sad and Blue" the band seems to stagger around ineptly, out of focus and out of tune. The tracks by George and His House Rockers are nothing special either, verifying the theory that while Slim, Lightnin', and Sonny Boy are good names for blues singers, George is not so thoroughly good.
* * *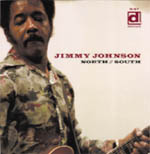 A more modern Chicago sound is showcased on Jimmy Johnson's North/South (Delmark 647). Originally released in 1982, on it Johnson shows himself to be a flashy, funky guitarist and a captivating songwriter. He's also a darn good soul shouter, which is no surprise since his brother is the Memphis-affiliated soul singer Syl Johnson.
Johnson's tunes avoid formula progressions: He brightens up his blues with rock bridges and pop hooks, without diluting the essence. Check "Country Preacher" and "Track to Run" for the goods. He shows a sure high tenor on "Can't Go No Further," its melody embellished by the piano of Carl Snyder. "Walking on Thin Ice" has as many jazzy time changes and melodic twists as a Steely Dan jam. And "Talkin' 'Bout Chicago" veers from bluesy metal to "Soul Train" riffs, with Johnson maintaining a complicated stance as guitar hero with his ego in check.
* * *
Bridging Lead Belly (Rounder CD 1151) consists of two sessions from distant parts of the great bluesman's career. The first dozen of the 17 tracks were recorded in 1938 by the British Broadcasting Corporation at the BBC's New York studios; the last five were made in Salt Lake City in 1946.
The 1938 tracks are just fine. There are unaccompanied work hollers like "Go Down, Ol' Hannah," blue yodels like "I'm Goin' Mother," and a raw rendition of "Boll Weevil" that's cotton-pickin' definitive.
The shadow of crime and punishment is thick and wide here. Huddie Ledbetter's years in prison are illuminated by tunes like "Old Reilly" (the tale of a jail break), and "Governor O.K. Allen" is a remake of the classic "Angola Blues." His years in the lock-up weren't yet behind him: Shortly after making these recordings, which also included "Jail House Blues," Ledbetter served some time in New York's Riker's Island prison.
What gives these performances their primordial power is not just the robustness of Ledbetter's voice and the dexterity of his guitar playing. It is his attitude, a search for resolve rather than just redemption, that carries the day.
The BBC tracks might have made a solid if skeletal LP by today's standards, and the addition of the final five Salt Lake City tracks seem like padding. The low technical quality of these latter recordings is a distraction. The tapes come courtesy of the Lead Belly Society, which explains the pedantic, condescending, and idealized album notes, as well as the fussy spelling of the artist most people now know as Leadbelly.
* * *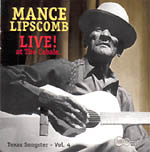 Mance Lipscomb, like Leadbelly, was a former sharecropper born in the 19th century whose music straddled the blues and folk tradition. They were born only seven years apart. Leadbelly was 61 when he died in 1949. Lipscomb never appeared outside Texas until 1961, when he played the Berkeley Folk Festival. He was 65 years old. He had been "discovered" by Chris Strachwitz and Mack McCormick a year earlier on a blues journey in Central Texas.
Berkeley became one of Lipscomb's roosting places in subsequent years. Mance Lipscomb: Live at the Cabale (Arhoolie 482) consists of previously unreleased performances at a popular folk and blues club in Berkeley in 1964, as well as two subsequent cuts from Sacramento eight years later.
It's a warm and wonderful recording. Lipscomb's versatility is remarkable as he performs blues classics like "Key to the Highway," pop standards like "Shine on Harvest Moon," cautionary tales like "Cocaine Done Killed My Baby" and kiddie tunes like "Tra-La-Ra-La Doodle All Day."
One senses that Lipscomb's appearances inspired a number of Bay Area artists. The laid-back, fluid, grainy "Shine on Harvest Moon" sounds like the blueprint on which Leon Redbone constructed his career. And you can't listen to his "Keep on Truckin'" without imagining R. Crumb doodling pictures of Flakey Foont in the back of the room.
* * *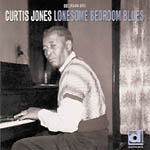 If Rick's Place in Casablanca really existed, the expatriate piano player who kept the joint jumping might have been Curtis Jones. On the cover of Lonesome Bedroom Blues (Delmark 605), Jones even looks a little like a dour, distracted Dooley Wilson, to whom Bogart so famously said, "Play it again, Sam."
The solo album Lonesome Bedroom Blues was recorded in 1962; shortly thereafter, Jones left the States to spend the final ten years of his life in Europe and, indeed, North Africa.
His playing and singing gain richness from their contrasts: The piano playing is precise and clear, the singing a soulful slur. His range can be startling. On "Highway 51," he'll start with a little stride and boogie, hit triplets that turn into quadruplets, pound out bold chords and tinkling, textured melody notes all within about 32 bars.
Jones' songs explored the dark side of the blues life, with more than a little respect for hoodoo in "Evil Curse Blues" and "Black Magic Blues." Even without the haze of spiritual angst, there is palpable danger in tunes like "Gut Bucket Blues" and "Rolling The Blues." No wondered he high-tailed it to Paris while the getting was good.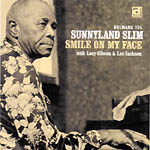 If you prefer your blues piano with chaser rather than straight, go right to Sunnyland Slim's Smile on My Face (Delmark 735). In these 1977 recordings, Slim benefits from the one-two punch of guitarists Lacy Gibson and Lee "Shot" Jackson and the fundamentally solid rhythm section of Willie Black (bass) and Fred Below (drums).
R&B impresario Ralph Bass produced these sessions as Slim neared age 70 showing no sign of wear and tear. He sails through "Hard Luck Blues" and "Everytime I Get to Drinking" with vigor and conviction, the guitars adding bulk to Slim's frame.
* * *
Short Stuff …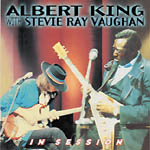 Albert King acts like he doesn't quite know who Stevie Ray Vaughan is when the blues legend and the talented upstart met on the set of the Canadian music program In Session in 1983. But they get the feel for each other pretty well in the CD Albert King With Stevie Ray Vaughan: In Session (Stax SCD-7501-2). King, ever the alert showman, regales the audience with tales of playing "Blues at Sunrise" with Jimi Hendrix and Janis Joplin ("with her flask, god bless her soul"), before tearing up the tune in a 15-minute extravaganza with Stevie Ray. Lengthy versions of "Call It Stormy Monday," "Don't Lie to Me" and "Match Box Blues" let the elder and the prodigy do what they do best without having to watch the clock … Folk, Gospel and Blues: Will the Circle Be Unbroken is a two-disc set that was part of Sony's ambitious, even backbreaking advertisement for itself, Soundtrack for a Century. Disc one would be of the greatest interest to blues people. It's got ancient rarities like "Ezekiel Stole the Wheel," by the Fisk Jubilee Singers, and the wonderful absinthe hallucination that is Mamie Smith's "Crazy Blues." (Whether or not this 1921 recording was "the first blues record ever made" may be open to debate). There is influential gospel and blues from Bessie Smith, Thomas A. Dorsey, the Mississippi Sheiks, Blind Willie McTell and Robert Johnson. But disc two is strictly pandering to the company's catalog. After Bob Dylan's "Blowin' in the Wind," things get not just dicey, but corny: New Christy Minstrels, Eric Andersen, Shawn Colvin, Indigo Girls … In fact, this vanity enterprise can be summed up in two words: "Dan Fogelberg" …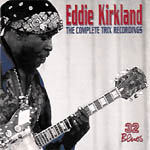 Eddie Kirkland was a protege of John Lee Hooker, a fact that makes itself clear on tracks like "Eddie's Boogie Chillen" on The Complete Trix Recordings (32 Blues 32166). The Kirkland tracks on these two discs can be spare, moving and spiritually forlorn as any bluesman ever was, but the younger musician never achieves Hooker's state of transcendent grace.