Ten years on: Has it really been 10 years since we cranked out that first skimpy little issue of your favorite blues magazine? I have to admit that sometimes it seems like a hundred.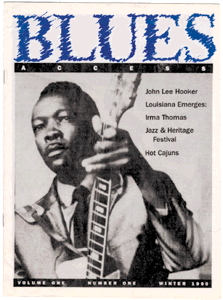 Back in late 1989, when I decided that starting a magazine about the music I loved would be a pretty cool idea, I was certainly striking off into territory unknown. My computing skills were rudimentary — actually bordering on non-existent. And my publishing experience had been limited to working on a weekly college newspaper over 20 years earlier.
But years of work on my Blues from the Red Rooster Lounge radio show convinced me that the blues audience wasn't being adequately served by the existing media. I was getting letters from my listeners saying "I love the music you play, but all I can find here in Keokuk (or wherever) is Stevie Ray Vaughan and Eric Clapton." My notion was a publication modeled on The Whole Earth Catalog, which had billed itself as "an access to tools." We would be an avenue of access to the blues for all those people looking for a way in.
Hey, how hard could it be?
Silly me.
I picked up a used Macintosh whose speed, by today's standards, was equivalent to a horse and buggy. Along with art director Laura Haertling and with copy editing help from my wife, Nancy, those first few issues were done in a spare room of our house, laid out on the back porch and sent to a mailing list of a couple thousand blues lovers. Friends came over to help put mailing labels on each copy.
We had no scanner, no fax, no laser printer, no Internet, but we begged and borrowed and managed to make do. That first issue was a whopping 16 newsprint pages, with an old publicity shot of John Lee Hooker on the cover. The interview on the inside, now it can be told, was cribbed from a cassette tape that Chameleon Records had sent around to DJs on the occasion of the release of John Lee's breakthrough disc, The Healer. The record label figured (probably correctly) that the general run of radio people at the rock stations they were targeting wouldn't have a clue about this exotic Mississippi bluesman. So I just rewrote the incredibly dumb questions, moved some answers around and came up with an interview that was at least respectable.
Also in that issue — and providing a direct link to this one — was a brief story on Irma Thomas. In a postscript we noted that she had recently appeared at halftime of the Super Bowl, although "in a monumental example of network television's ability to trivialize even the most talented of black musicians, Irma's accompaniment came from a pianist dressed as the cartoon character 'Schroeder,' part of a tribute to the comic strip Peanuts. You figure it out."
(Our original plan for this 10th Anniversary issue was to excerpt some of the columns from our earliest, now out-of-print editions. Thanks to a staggering and seemingly unceasing tide of obituaries — along with our usual haphazard planning skills — we've had to postpone that idea. But we'll be highlighting that material throughout the rest of this year.)
Back in 1990 I can remember wondering whether I'd be able to maintain the drive and the flow of ideas to sustain this for 10 years. My favorite line at the time was "I'm sure that if I knew what I was getting into I would never do this." Thankfully, from today's perspective that's not true. Or not totally true. Having come through 41 of them, if I never had to deal with another deadline I do believe my life would be no less fulfilling.
And perhaps my greatest regret has been in having to mark the passing of so many great musicians. Think about it. When we were starting out, all these monsters still stalked the planet: Charles Brown, Albert King, Johnny Shines, Willie Dixon, Champion Jack Dupree, Johnny Copeland, Luther Allison, Albert Collins, Brownie McGhee, Katie Webster, Lowell Fulson, William Clarke, Rockin' Dopsie, Lafayette Leake, Jimmy Rogers, Stevie Ray Vaughan, Sunnyland Slim, Booba Barnes, Johnny "Guitar" Watson, Frank Frost, Wayne Bennett, Luther Tucker, Son Thomas, Dr. Ross, Valerie Wellington, Sammy Lawhorn, Shakey Jake, Big Twist, Louis Myers, Ted Hawkins, Buddy Ace, Little Joe Blue, Andrew Odom, John Campbell, among too many others. Those are some serious players, and no team has a deep enough bench to plug in substitutes of that high quality.
And yet …
And yet, the blues refuse to die. They go up, they go down, but they do not go away. At least not so far. Which gives us hope that we will still be turning you on to good music in 2010.
Burned out: While that is indeed a phrase I often use to characterize myself, it unfortunately proved to be a literal description of the situation our managing editor John Sinclair and his wife Penny found themselves in on the night of January 23rd. While they were away in Michigan, the front room of their New Orleans home caught fire, destroying John's computer, his sound and recording system and furniture and severely damaging much of his music collection and many of the collected artifacts of his life. Luckily no one was hurt, but the Sinclairs have been living a nomadic existence while they wait for repairs to be made. Their musical friends rallied behind them with a highly successful benefit at the House of Blues that featured some of New Orleans' funkiest and finest. Thankfully, John had his new iBook with him at the time of the fire or you might be reading this some time in August.
— CW