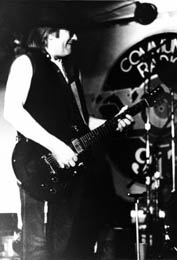 The news came, as it does these days, via the Internet, jarring and with great swiftness, just a forwarded e-mail with the grim heading: "Sahm Found Dead."
I've gotten used to musicians' deaths at a relatively early age, but not since the day I heard Luther Allison died had I been so totally stunned; I just could not believe that Doug Sahm's heart had given out November 18 in the Kachina Lodge in Santa Fe, New Mexico. He had just turned 58.
Stevie Ray Vaughan might be better known, but Doug Sahm was the heart and soul of Texas music. Mostly known to the outside world as the long-haired hippie who drawled "She's About a Mover" and "Mendocino" in the '60s, or as one-fourth of the Texas Tornados in the '90s, Sahm was a musical encyclopedia whose career is a reminder that the worst thing you can do to an artist is to stick a label on him. His recorded legacy is scattered over a lot of out-of-print albums, and his music never made the radio much outside his home state.
Doug Sahm On Record
Doug Sahm's recorded legacy cries out for a boxed set career retrospective. Dating back to the 1950s, his prodigious output saw haphazard release on LP and is currently available mostly on scattered CD compilations.
The Sir Douglas Quintet released seven albums. None are currently on disc in their entirety, but there are three CD collections. The Best of Doug Sahm & the Sir Douglas Quintet 1968-1975 (Mercury, 1990) is as close to a retrospective as is available for that period, with the prosaic, homesick-for-Texas quality of all Sahm's California recordings. All it lacks is "She's About a Mover." The Prime of Sir Douglas Quintet (Music Club, 1999) is a rocking, bluesy collection and includes "Mover." Also well worth finding is Doug Sahm and Friends: The Best of Doug Sahm's Atlantic Sessions (Rhino, 1992), 19 tracks from 1973 that include his Bob Dylan duets.
The Texas Tornados' 1990 self-titled debut was their best individual album, with "Who Were You Thinking Of" and "(Hey Baby) Que Paso," and there's a nice collection, Best of Texas Tornados (Reprise, 1994), that gathers the best tunes from their four discs for the label.
Sahm's voice got smokier and even more confident as he got older, and both traits are reflected on Juke Box Music (Antone's, 1988) and The Last Real Texas Blues Band (Antone's, 1994). Each is solidly anchored in T-Bone Walker, with the former disc accenting Doug's more soulful side and Last Texas Blues Band sporting a full-blown, horn-driven R&B set recorded live at Antone's. Bookends of a mature, consummate soul and R&B entertainer, they're as good as it gets.
There are several worthwhile Sahm albums not on CD. Watch for Honkey Blues (Smash, 1968), Mendocino (Mercury, 1969), 1+1+1=4 (Phillips, 1970) — all outrageously eclectic slices of good old vinyl — at your local garage sale or used record store. Also of interest is Border Wave (Takoma, 1981), a reprise of the Quintet recast as '70s New Wave, and Groover's Paradise (Warner Brothers, 1974), a cartoonish, rocking, over-the-top return to the nascent Austin music scene with the Creedence Clearwater rhythm section that will have you wondering where you put those old Freak Brothers comic books.
As a bluesman, especially in recent years with the Last Texas Blues Band, Sahm possessed impeccable credentials; his was one of those soulful, distinctive voices that can handle blues and R&B with the ease and command of the great singers. And he was a hell of a guitar player.
But that was just part of the Sahm repertoire. Growing up in San Antonio, he was exposed to — besides blues — conjunto, Western swing, norteño '50s rock, country, Cajun, Latin, Tex-Mex and jazz: all elements that showed up in his music throughout his life. He had so many musical incarnations that you never knew exactly which Doug Sahm you might see onstage at any given time. Not that it mattered: You just knew he was going to be good.
I bought the "She's About a Mover" single when it first ripped across the airwaves like some kind of freaky psychedelic tornado and purchased several Sir Douglas Quintet albums over the years — a couple still carry the "44 cents" and "two for a dollar" price tags on the shrink wrap. I first heard Sahm's archetypal "At the Crossroads" on, of all things, a Mott the Hoople record, and I read the stories in Rolling Stone about the childhood prodigy — at age 11, in 1952, he sat on Hank Williams' knee and played "Steel Guitar Rag" — and the cosmic cowboy up in Malibu homesick for Texas after the Quintet hit.
But it wasn't until a night ten years ago this month that I became privy to Sahm's unique genius. It was during SXSW, the springtime-in-Austin music-biz confab, and a trusted colleague insisted that we accompany him to Antone's, an Austin blues haunt then out by the University of Texas on Guadalupe, to see Sahm. I wasn't that excited, to be honest, but my friend was persistent, and we found ourselves down in front on the dance floor to see what Sir Douglas had been up to since the Quintet.
It was quite a night. He warmed up with a 45-minute set of material accompanied by various Quintet members, including Augie Meyers, whose insistent, repetitive organ became the signature of the eclectic, long-hair-doper style of the English Invasion's only Texas band. It would be the first time I would hear Meyers' "(Hey Baby) Que Paso," always a highlight of their live sets.
As the Quintet walked off, Sahm called up some other players, including Flaco Jimenez, and they settled into a warm set of the kind of conjunto music for which Jimenez and his family are renowned. There was Sahm, perfectly at home accompanying the rancheras and polkas on the bajo sexto.
I thought that must be the end, but he was just getting warmed up. A trio of horn players, including his long-time saxophone foil, Rocky Morales, joined him for a bunch of soul and R&B tunes, heavy on T-Bone Walker, including one achingly beautiful ballad, "Talk to Me," that melted me right there to the floor. Still obviously buzzed, Sahm forced everybody back onstage, including a move where he physically cleared the bar of musicians for a 15-minute rendition of "La Bamba" that left me shaky, sweating and completely humbled.
All the energy emanated directly from Sahm, whether introducing songs or other musicians and egging each one on, coaxing the best work out of everyone, leading the band into another T-Bone Walker tune or just fading into the background to add some guitar. No stranger to his own myth, he was fond of saying that he was Austin music, and maybe he was Texas music, too. In my mind, he became that big.
He always seemed to show up at SXSW — at Palmer Auditorium in front of a huge crowd after the Tornados' debut hit big; wedged into the Hole in the Wall, an appropriately-named Austin club, for a jagged, out-of-tune and nearly out-of-control Tornados set; with a blues revue featuring Spot Barnett and the San Antonio Horns, with whom he'd apprenticed in San Antonio. (The night before he had showed up for the Horns, standing against the wall of an East Austin club in his long coat and cowboy hat while hornman Barnett kept exhorting, "He's my son, he's my son.")
Though he wasn't as cranky, he seemed to me, like Bob Dylan and Van Morrison, more like a favorite eccentric musical uncle, always the sparkplug, henchman, ringmaster and spiritual center. The Tornados no doubt will replace him to meet their obligations, and the Quintet, Flaco, Augie and Morales will gather at Antone's and play Sahm's music. But it'll never be quite the same.
Judging from the number of messages left on the website that sprung into a memorial within a couple days of his death (http://www.toeset.com/texas), I was hardly the only one smitten with the music of a man who, like Dr. John in New Orleans, just couldn't be pinned down.
The show that keeps coming back was an appearance by the Tornados far from the rock/pop/blues world, at a Latin nightclub in Thornton, Colorado, a few years ago. The upscale room had a large dance floor which was soon filled with well-dressed couples.
There was no guest list, no hangers-on or groupies, nobody standing up in front scribbling into notepads. The Tornados responded by completely forgetting they were a world-famous performing outfit and became a dance band for the night. Sahm, of course, was the linchpin, calling out the tunes, leading the band, joking.
By the end of the night he was dancing in the audience.
— Leland Rucker