As her lengthy reign as the Soul Queen of New Orleans extends into the 21st century, the great Irma Thomas continues to grow as an artist, bandleader, record producer and human being, ever gaining in accomplishment, grace, regal bearing and artistic stature.
During the first year of the new millennium, Ms. Thomas is celebrating her 42nd year in show business with the release of her new Rounder CD, a program of tailor-made Dan Penn compositions produced by Penn and Scott Billington.
The stark outline of Irmaís complicated biography is well known to modern-day music lovers: The New Orleans native was a mother at 14 (and four times a mother at 19), a cocktail waitress at 16 who began her musical career sitting in with Tommy Ridgley & the Untouchables at the Pimlico Club in Central City New Orleans. Tommy took her to Ron Records to cut her first single, the classic "You Can Have My Husband (But Donít Mess with My Man)" (Ron 328, 1959).
The dynamic young singer was soon snatched up by Minit Records, where she starred in a series of stellar Allen Toussaint productions including "Cry On" (Minit 625), "I Done Got Over It" (Minit 642), "Itís Raining" (Minit 653), and "Ruler of My Heart" (Minit 666). After the New Orleans label was acquired by Imperial Records, Irma had some success with "Wish Someone Would Care" (Imperial 66013) and "Time Is on My Side" (Imperial 66041), but she never managed to cross over into the mainstream of popular music like her contemporaries Aretha Franklin, Gladys Knight and Dionne Warwick.
Irma recorded an albumís worth of material in Muscle Shoals for Chess Records in the mid-í60s, but only a couple of singles were unenthusiastically released by the Chicago firm at the time (now on CD as Something Good, MCA/Chess, 1990). She recorded briefly for Atlantic but was told she "didnít have it any more." She made an album with Jerry Williams (a.k.a. Swamp Dogg) in the early í70s that wasnít finished or released until 20 years later (Turn My World Around, Shanachie, 1993).
Soon Irma abandoned her pursuit of a career in the performing arts and took a day job at a Montgomery Ward store in California while she raised her four children as a single mother.
Summoned back to New Orleans in the late í70s to appear at the New Orleans Jazz & Heritage Festival,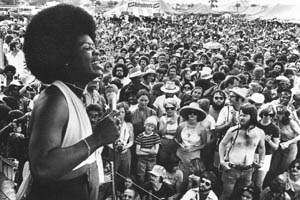 she generated considerable interest in reviving her career and, under the direction of her new husband and manager, Emile Jackson, began the torturous process of re-establishing her hegemony as one of the true Soul Queens of the 20th Century.
Producer Scott Billington brought Irma to Rounder Records in the mid-í80s to begin a long and fruitful association thatís produced a string of outstanding albums: The New Rules (1986), The Way I Feel (1988), Simply The Best: Live (1990), True Believer (1992), the gospel album Walk Around Heaven (1993), The Story of My Life (1997), and a special project called Sing It! (1998) which featured Irma with fellow singers (and Rounder artists) Marcia Ball and Tracy Nelson. The live album, recorded at Slimís 333 Club in San Francisco in 1990, was nominated for a Grammy as Best Contemporary Blues Recording, and Sing It! got its own Grammy nomination in 1999.
Born Irma Lee in Ponchatoula, Louisiana, February 18, 1941, Irma Thomas hasnít slowed a step, but instead continues to increase her remarkable powers as a singer and performer. She shares production credit with Scott Billington on most of her albums and remains in vibrant form at the head of her responsive, well-polished ensemble, the Professionals. She and Emile own a cozy nightspot, the Lionís Den, on Gravier Street near Broad, where she entertains ó and cooks for ó friends and visitors on special occasions. Whatís even more remarkable is her imminent graduation from college ó at age 59! ó with a degree in business.
Early in the new century, ace photographer Barry Kaiser and I were summoned to Irmaís New Orleans East bungalow to talk and take some pictures with the Soul Queen of New Orleans. Just back from entertaining the New Yearís Eve crowd in San Francisco, Irma wanted to stay close to home to attend her ailing husband, and she soon made us comfortable in her sunny front room while Barry snapped his photos and I asked her about her earliest influences.
Irma Thomas: I came up in a good time, I think, for music. It was a growing time. I didnít have a lot of female vocalists to style myself after, but I took from those I did learn from, which was Mahalia [Jackson], she was the gospel side of me, and Pearl Bailey was my showmanship side. I didnít know the Bessie Griffins and the Bessie Smiths, because they were way ahead of my time. I knew of them, but there wasnít a lot of their music being played when I was growing up, in the areas where I lived, but I became aware of them as I got into the business. And they were great artists in their own right.
You know, it was very raw ó their material was very raw. If someone would have told me when I was six years old, in the middle of the strawberry patch, dancing and singing "Boogie Chillen," that Iíd ever be on the same stage with John Lee Hooker! I mean, it was, like, "God, Iím in awe of this guy" ó and Iím not in awe of very many people, but I was in awe of him. And to actually be doing a show with Lowell Fulson ó my dad had most of his records, even when they were on 78s, okay, so to grow up and be a part of the same venue with these people is, like, mind-boggling, you know. And I really consider myself blessed, really truly blessed, because I never thought I would be sharing a stage with these people.
JS: What about the R&B area? Were you listening to Annie Laurie and people like that? Faye Adams?
Annie Laurie, she was okay. I liked some of her stuff. I didnít listen to her a lot. Believe it or not, when I came up ó oh, I listened to Faye Adams, Ruth Brown had some stuff going back when I was coming up, getting into the business, LaVerne Baker, there were so many ó but, basically, I cut my eye teeth on male vocalists. [Laughs]
There were a lot of groups going, like the Ink Spots was one of my favorites, and donít ask me why, I have no idea, but I think because I went to a movie one time and they had these little short subject movies, and the Ink Spots was one of the shorts that they used to show all the time.
And then I had an opportunity to go to the movie theater and see the Coasters. I saw them for 50 cents on a Sunday afternoon matinee ó it was a combination movie and show, and the way they used to do shows then, where you had a featured act, a shake dancer ó yeah, at the Ritz Theatre, which is now a church ó you had a shake dancer, you had a comedian, and you had a featured act, and of course the MC, and then the movie. And they would alternate. It was fun. And then, when I became part of that alternating series, I played the Apollo Theatre, and then I says, "God, I remember going to the movies and doing this." [Laughs]
Who were the male vocalists you listened to?
Brook Benton, he was around, of course; John Lee Hooker; and I did Percy Mayfield ó my dad used to play a lot of their stuff. My dad had a lot of their records, and so he played, on Saturdays when heíd be around the house, at home, thatís what youíd hear, on what they called the record player back then, 78s, and 45s was just coming into the scene in the late í40s and the í50s, so thatís what I grew up on.
Then when I lived in the country, I had that country music side. I lived in Greensburg, Louisiana, and also in Hammond for a while, because my fatherís people were from that area. I didnít live with my motherís people that much, because my mother was born in Anacoco, Louisiana, which is west of here, west of Alexandria, around Fort Polk, and I didnít spend a lot of time with my grandparents on my motherís side, but I spent a lot of time with my fatherís people, because, being an only child at that time, they both worked, so they sent me to the country, and thatís where I heard a lot of ó on Sunday you heard gospel, and you heard the country music.
And, as a child, I can remember listening to the early years of John R[ichbourg, the great R&B deejay on 50,000-watt WLAC out of Nashville, Tennessee], late night, and I never thought Iíd be having my records played on John R. íCourse I never thought Iíd be in the business ó to be honest with you, it was not something that I aspired to. I liked it, I knew I enjoyed singing, and I knew I wanted to be on stage and that I liked being up there, but I never ever thought Iíd be a recording artist. Many a time I found myself trying to think back, like, "When did you ever think youíd be a recording artist?" I just never thought that was going to happen.
But I enjoyed being on stage, because we used to play showtime in the area where I lived here in New Orleans ó after I came back from the country, we lived on Felicity Street. There were two buildings, they were rooming houses, they had like small apartments that my parents rented out ó Felicity between Carondelet and Baronne, right there in the 1700 block ó and we used to play showtime, and each one of us would do what we did best: either would sing or dance, you know, make up our own thing, and this was television to us. So I guess it was inevitable for me to be in the business, because I canít remember ever being frightened of being in front of anybody. Even when we did it in the country, we used to do it.
I love the story about when you were stepping out from behind the waitress post and onto the stageówhether the management liked it or not.
Well, they were asking for the singing waitress, and I think thatís what pissed my boss off. He wasnít paying me to be a singer, he was paying me to be a waitress. So I mustíve been a pretty good waitress for him to get mad and fire me, huh? [Laughs] I had to be doing a pretty good job, evidently, because he sure fired me. I mean, the people were asking for the singing waitress, so I couldnít Ö Well, think of the times: weíre talking mid-í50s, okay, still segregated times, and still those prejudices and what have you.
Where was the Pimlico Club?
The Pimlico Club was on the corner of South Broad and Eve. The front part of it was in the middle of the block, and there was a back part that ó prior to them turning it into a totally black club ó blacks used to go in the back side of it, and the whites used to come in on the front side. And then they decided to turn it into an entirely, what they would call back then a "colored" club, and then it became the Pimlico Club, and they had live entertainment there Wednesday through Sunday. I was being paid four dollars a night, plus whatever tips I could hustle. Five dollars could go a long way back then. Thatís what I made, and when you had good invention skills, you could stretch it. I had survival skills, so I could stretch it. Did a pretty good job.
Are you working a lot now?
Average. Iím not runniní and rippiní like I used to, but Iím maintaininí, payiní the bills and stuff like that. They havenít come to kick me out the house yet. The band would love to be workiní a lot more, and they do with other people, so I donít hold íem to the grindstone as much as Iíd like to. I make them aware of the dates that I have, and then they can fill in the gaps.
When you got the Grammy nomination Ö
Which one, the first or the second? [Laughs]
For the live record, in 1991 ó did things pick up considerably?
You wanna know something? They didnít. I went from working every weekend somewhere to working twice a month. It went backwards. It shocked me, too. I think a lot of the people and powers-that-be, in terms of booking agents and clubowners, thought that because of the Grammy nomination, my prices would go up, and the phone just didnít ring. My jobs didnít pick up until 1993, í94, and then they started to pick up again.
Didnít you win some W.C. Handy awards?
Yeah, Iíve won a couple of them, and the irony is, I didnít even know I was nominated, and then I got this thing in the mail. You know, when youíre considered rhythm & blues, and you get nominated in a strictly blues category, you kinda wonder if thatís where you are, because I donít consider what Iím doing "blues," although it is blues, but if thatís the way they feel about it, I donít have any problem with that. "Thank you very much." [Laughs] And even when I got the Grammy nominations, it was in "contemporary blues." So I guess, you know, you get a nomination any kinda way you can get one.
Youíve kept a good band together for a long time.
Yeah, the drummerís been with me 23 years this year. The rest of Ďem, off and on, ten, six, eight, you know ó all of íem have been with me more than a couple of years, except the new trumpet player, heís goiní into the second year. The kind of show that I do, youíd have to be a musician who is open for anything, because I donít do a playlist.
You feel your way through a set?
Itís not a matter of feeling my way through. I feel the audience, and I give them those options to ask me to perform whatever songs that they feel like I might know, or remember ó because itís getting to that point now ó and I try to accommodate. So the band has to be very flexible when it comes to that kind of a show. I usually start off with something either from my latest CD, or something else recent, and then I work my way back to the older things ó I call them "my standards" ó and in between I open up and give the audience the opportunity to make requests or what have you, and I try to accommodate them.
Itís easier that way, I think. I mean, when they spend their money, I feel theyíre entitled to hear what it is they want to hear. I do it even in concerts, when Iím doing the larger venues ó I still do it. I bring my cheat-sheet tablet on stage with me, put it on the music stand, and, you know, even if I only have, say, 40 minutes to kill, Iíll kind of guess at what they might want to hear. But if they give me an hourís time out there on that stage, Iíll open it up for suggestions, and Iíll run right on through them.
I mean, I think the audience walk away with a much more fulfilled feeling that way, rather than have to sit there and listen at what I choose to sing for them, and it may not necessarily be what they want to hear. This way Iím giving them their moneyís worth ó Iím hoping I am, anyway. Thatís what Iím shooting to do ó give them their moneyís worth. I donít assume that I can please everybody, but I sure try.
What are you working on now?
I have a CD coming out this spring. I finished it up yesterday with David Farrell, whoís been my engineer ever since Iíve been with Rounder. He and I spent about 2-1/2 hours in the studio yesterday going over some things I wanted to redo, some vocals that I wanted to redo, that I wasnít happy with. The company was pretty much satisfied, but I felt that I could do a better shot at them. And now Iím satisfied. And these are some songs that are written and co-written by Dan Penn and several other people, so part of the title of the album will have the name of Dan Penn involved. They havenít come up with the exact title as of yet, but itíll have his name in it somehow. Over the years Iíve done quite a few of his pieces, so this time we did the entire CD with him writing or co-writing on all 13 songs. I co-wrote two of them myself ó one is called "Irmaís Song," and the other one is "Keep It Simple."
Did you co-produce this album with Scott Billington?
I didnít take the co-production attitude with this particular CD. I let him and Dan more or less direct and produce what they were comfortable with doing. We were going in a different direction this time, and I wanted to leave it up to them in terms of what they were looking for ó and then afterwards Iíll go back and do it my way. [Laughs] So this time I didnít take the producerís ó I mean, he may give me credit for some things, but I didnít have a lot to do production-wise on this one.
I would think that Scottís probably pretty easy to work with.
Scott Billington is an excellent producer. He learns his artist, he gets to know the artistís personality, he tries to work with their talent and keep it as close to natural as possible, he allows them some freedoms to be who they are in the studio as well as any other venue, and that makes a difference in the way that a record comes across ó a lot, to me anyway. Heís worked with me ever since Iíve been with Rounder, about 15 years now, and whatís good about it, we havenít always had the greatest of material sent our way, and so up until the Grammy nomination in 1991, it was like trying to pull teeth that didnít need pulliní, you know, to find a good song, or to get the writers to even send anything in my direction.
Thatís when we went on and did the live album, because we really couldnít get anything going, and then all of a sudden, pop, itís nominated for a Grammy.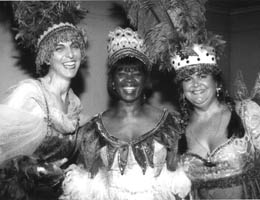 Itís still my biggest-selling album, next to Sing It!. Now Sing It! is really doing well, with the other two ladies and myself. Weíve even got royalties! So thatís inspiring, very inspiring. We did the p.r. tour, and we played some venues that Iíd never played before.
It was a mutual feeling there: we enjoyed each otherís company, we enjoyed each otherís talents, we respected each otherís talents, we gave each other their space onstage and offstage, and itís rare to find females working under those conditions and not having any scoop or crap to talk about. We all traveled on the same bus, and we knew ó we enhanced each otherís weaknesses, and we held each other up, you know, in our strong points, and thatís the way it should be when youíve got three veteran entertainers out there.
It wouldnít be right for the three of us to be out there and be in competition with each other, when there is no competition to be in. We all have our own levels in this business, we all do our own type and style of music in this business, we just happen to fit so well together when we come together as singers until Ö we just didnít expect it to be so great.
It came off very well in the studio. We discovered that we had natural harmony ó we didnít have to look for our parts or anything, it just fell together. Just sing, and it all fell together. I mean, how often can that happen? You just donít get that to happen too often. So we were really hoping, once we got nominated, that we would have gotten the Grammy, but the powers that be said otherwise. So be it. At least somebody was out there listening to us.
Iíve talked with Scott about the process you use to select the material for your albums.
Oh, yeah. He sends me a tape and says, "Okay, Irma, hereís some things I think you might find something among." He knows Iím a person who prefers songs with story lines. I donít think Iíve cut a gimmick record since Iíve been with Rounder ó itís always been a story line. So he always sends me these songs that have story lines, and theyíll either be up-tempo, or theyíll be ballads, or theyíll be outright blues. And usually, among them Iíll find something that we agree on. Letís say he sends me a tape with, maybe, 12 songs on it. And I may choose, out of the 12, I may choose half of them. And then weíll sit down and weíll listen to that and pick out the best ones out of that segment, and then weíll decide on two. Then heíll send me another batch, and then weíll eliminate them though that process.
I noticed youíve been soliciting more material in the last few productions. I thought that was a great thing, because I could see guys out there saying, "Oh, man, Iíd love to write something for Irma Thomas ó sheíll sing the hell out of this."
Right. But, oftentimes, what somebody thinks I might sing the hell out of is something that I probably donít care for at all, you know, because ó maybe they hear this voice connected with this song, but if this song is not telling a good story, then, no, I donít think so. It has to have a combination of things: a good story line, a good music line as well, not sound a lot like something else ó although most music sounds like something else at one point or another ó but usually we come up with some pretty decent things.
Itís kind of unusual for a woman artist, whoís a singer and not a musician per se, to direct her own recordings.
Well, Iíve been at it a long time. You gotta realize, this is my what? My 42nd year, somewhere in there, and you do learn some things over the years about music if youíre in tune to whatís going on around you, if you have a good ear for what it is youíre doing, and this is the way I go with it.
I mean, Iím not totally unaware of how music should be ó I donít play proficiently, but I can run the scale on the piano, and thatís about as far as my piano dexterity goes. But when my band is playing, I can tell when somebodyís out of key, and I know what keys I sing in. I do have a pretty decent ear.
So when Iím in the studio, Iíll come up with an idea and hum it to them and say, "Okay, I want this to sound like this," or "I want this to go like that." But usually, especially when youíre blessed with the musicians that you have in New Orleans, you sing it, and they can come up with these fantastic arrangements that everybody can hear at the same time, and it kinda comes together, so you donít have to really do a whole lot to steer them in a different direction. You may have a certain little passage that you want played a certain way, but other than that, usually it works out.
The only other place where Iíve recorded in recent years that comes up with the same caliber of musicians that I work with here locally was in Memphis, where we did the tracks for my new CD. Those guys are another bunch of guys who, when you play the raw stuff, they can come up with all these fantastic arrangements and things. So it kinda makes my work easy.
But you take a pretty active role, donít you?
I do ó not really direct, but we have rehearsals, and the only thing that I may tell them: letís do the bridge twice, or we may shorten it here or lengthen it there, but thatís basically all it is, because Iím working with professional guys who are music majors, or they may have had music as their second major when they were in school. I have teachers in my band, principals in my band, so I donít really have a lot to do, other than bring it there and play it, and they go for it, you know.
Iíve been blessed by being surrounded with some pretty easy musicians to work with. I mean, I pass my opinions on things, and I can always tell when somebody hasnít done their homework, and I will voice my opinion about it, but other than that, I give them the respect that I expect from them, and it works out. I donít have to play mother hen all the time. Itís just a matter of how important is it to you to be a professional person, to play the stuff and have it ready at the time I need it, and beyond that point, I donít have to say any more, because if they want to work with me, this is what I expect, and I usually get it.
I donít have time to re-raise somebodyís son ó or daughter, if itís a female. I havenít had the pleasure of having a female in my band as yet, but itís not an impossibility. But this is how I treat them ó theyíre adults, and I donít have time for egos to be flying, because we all have our own egos, so we leave them at home. Because when itís a job, egos get left at home.
Iím the front person. Iím the, as they put it, quote, "the star," but I donít go that way. But Iím the one who gets paid to put on a performance, and I pay you to help me, to back me up to do this performance. So weíre gonna have to have a mutual understanding, and I lay the groundwork: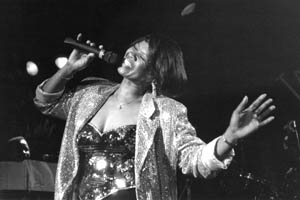 Thereís no drinking on stage, no smoking on stage. The only time I allow any kind of drinking is water, and itís when itís extremely hot and all of us need some water. But the alcohol stuff ó thatís when youíre on your time, you can get as drunk as you want, but not on my time!
And the other side of that, you want your musicians to be professional, because whenever something happens, youíre representing me, and Iím not a drinker. I donít indulge in any kind of things thatís gonna make me not be clear-headed when Iím doing my performances. So I tell them: I donít drink, I donít smoke, I donít do any kind of drugs of any kind, and these are the kind of musicians I want. Now, if you do this, I donít want it done on my gig, and I donít wanna be aware that you are doing them, because I donít need that kind of a musician.
If you have to depend on a drug to get you to do your job, then youíre not the musician Iím looking for. Okay? I want you to have a natural adrenaline from what youíre doing, a love for what youíre doing, because if you donít love it, then I donít need you. Because I love what I do, and Iíll go as far as to do it a cappella if it comes to that.
So I make them aware of how I feel about what Iím doing, and find out if thatís where their head and heart is, then fine ó weíll get along great. Iíve so far been blessed to have the kind of musicians who love what they do. They love music, and they enjoy playing ó they wanna sound good.
I think the last time I saw the band in action was at the Tommy Ridgley memorial show at Tipitinaís, where you all came over from another gig and went right up and put on a helluva show.
Yeah. Well, Tommyís gone. Quite a musician. He goes back to my beginning [as an entertainer], and I really feel good in that I was able to express my gratitude. It wasnít a thing that, "Oh, I wished I shoulda, coulda, woulda," I didnít have to do that. I had enough time in my career to show my appreciation in ways that most people wouldnít even bother, so I donít have any regrets in terms of not being able to say or do the things that I shouldíve done for him when he was living.
I would want to do that with any person who has been a part of my career in such a way. Because, even though I had the talent, if he hadnít brought me to the places where the talent could have been heard, I could still probably be washing somebodyís dishes or waiting somebodyís table.
Well, I woulda gone back to school, which Iíve done ó in fact, I have to go register for my last two classes. I plan to graduate this spring. Iím looking at ó I can see the light at the end of the tunnel!
All right! How long have you been pursuing this?
Oh, God, since I was 45. [Laughs] I started when I was 45, and then I took some time off, because when I got the [Grammy] nomination, I had to back away. I couldnít go to school regularly, and I stayed out maybe a year and a half to two years. I coulda been through, but work was more important, you know. And I was pursuing this as a self-fulfillment ó it wasnít for any job market, whatever, or nothiní.
Whatís your degree gonna be in?
Business. [Laughs] I changed my major, because I talked with a lot of ladies who are social workers, and even though I have that natural ability to be able to comfort and counsel and all that kinda good stuff, she said, "No, Irma, I donít think you wanna be in this, not after what youíve been in. The kinda business youíre in," she said, "this is not for you." So I said, "Okay, well, Iíll change my major and do business."
And it has helped, believe it or not. It has helped so much. Iíve learned a lot that I wasnít aware of. Because in business, itís a never-ending learning process. And, you know, being a teenaged parent, not getting my high school diploma ó I did go back and get my GED, got that out of the way, and I said, you know, "Iíve never really actually graduated from anything. Thatís got to be an experience." So I wanted to experience that. And then after seeing several senior citizens ó as we are called ó graduating Ö [Laughs]
I donít know if Iíd be happy in retirement. I was off six weeks for surgery, and I thought Iíd go nuts. In fact, I didnít even take the whole six weeks ó I came back to work after four weeks, against my doctorís wishes. But I promised him I would sit down, I wouldnít dance around.
Performing has its rewards, though.
Oh God, it made me heal so much faster. Thereís nothing like it ó nothing.
I really enjoyed your gospel album.
Thank you. I take my religious beliefs very seriously, and I donít down anybody for what they do. To each his own, when it comes to religion, but I take mine very seriously. Iím heavy into participating in my church, and I donít feel that thatís going to get me into heaven, but itís for my own feelings. I get out of church what benefits Irma personally ó you canít buy your way into heaven, you know ó so I go there to get my own buckets refilled, my own soul replenished, and thatís what itís for.
I invite people, when they ask me when Iím doing shows to sing something gospel, I say, "Well, if you come to 2216 Third Street on Sundays, Iím in the choir, second row in the alto section, and youíll hear me there." Because I donít mix the two. Itís bad enough they have, you know, people out there drinking, and you donít wanna be singing "Amazing Grace" to some drunkards. What do they know? They might be thinking about something totally different. Youíre singing "Amazing Grace" and thinking about the Almighty, and they might be thinking about Grace at the end of the bar.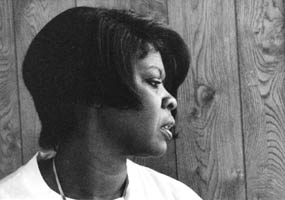 Iíve always maintained some groundedness, because Iíve had a family since Iíve been in the business, and I didnít wanna do anything as an artist that my family had to hold their head down about. Even in the business aspect of it, if I didnít like what they were presenting to me financially ó the cut that they wanted of my talent ó I just said, "No, thatís too much, and youíre not guaranteeing me anything." So theyíd say, "No, weíll let her go." And they sure did. Iím not sorry. I always figured: What was for me, I was gonna get it, one way or the other, and I believe it was meant for me to be still in the business, doing what Iím doing, the way Iím doing it.
A lot of times these people have these preconceived ideas, you know. Back then they used to "make" stars, and they would want you to wear certain kinds of clothing, and youíd have to carry yourself in a certain kind of way, and Ö I could not be that phony person. Because Iím not phony ó Iím just Irma, and you either like what you see, or you wonít like what you see, you know, but the human side of me is me ó thatís the total me. And they were looking for this other Ö whatever they had in mind, and I wasnít it. I wasnít gonna be it, put it that way.
But we still have an audience out there, thank God! The younger people are realizing what itís supposed to sound like. Iím finding that I have to explain myself less and less now ó who I am, and what was, and what is ó theyíre becoming more aware. And thank goodness for the Internet: I think that has made a lot of the youngsters aware of who did what first.
Youíre kind of active on the Web, arenít you?
Yeah, Iím doing it. [Laughs] Iím learning now that a lot of the youngsters were not aware that a lot of the sampling that theyíve heard with these rap artists is stuff that was done when their parents were children, and they think itís new ó they think itís something fresh and new. So Iím getting a whole new generation of youngsters.
I had a young man ó Iíll never forget, this was Motherís Day at Audubon Zoo, and I thought it was so precious. He walked up to me and says, "You sing good." And I said, "Well, thank you." He mustíve been about 15. [Laughs] And all I said was, "Thank you." I guess coming from him, that was quite a compliment, and I took it as such.
Itís like youíre getting this younger generation of people who are becoming aware of what music is really supposed to sound like, and so they find that this is really cool, as they would say ó cool, or the bomb, or whatever the new word is these days. By the time Iíve learned the new word, theyíve changed it.
---
Note: Irma Thomas may be reached on-line at BlusSinger@aol.com