Arson Destroys Junor Kimbrough's Jook Joint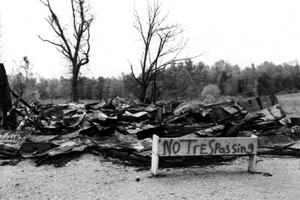 Junior Kimbrough's place in Chulahoma, Mississippi, had been a general store, a horse stable and possibly a church over the decades before Junior took it over in the early 1990s and turned it into the world's most famous jook joint. It survived Junior's death in January 1998 and continued operating under the direction of his sons, musicians Kinney Kimbrough and David Malone Kimbrough.
But on April 6, a little after midnight, a fire destroyed the 130-year-old building. The jook joint was closed that night and no one was injured. Authorities quickly determined that the cause was arson but had not identified a suspect or made any arrests as of press time. A $1,000 award was offered for information.
"It burned everything up we had," David said. "Everything — pictures, instruments – everything is gone. It was almost like we seen our dad die again. His pictures, instruments, original things of his – it's just too painful. Those things of significance to my father – all gone."
A neighbor first noticed the flames and awakened David and Kinney Kimbrough, who live about half a mile away. They rushed over to the jook before firefighters arrived and entered the burning building, planning to rescue their musical instruments and whatever else they could. But smoke overpowered them and drove them back outside. They moved their car a short distance away, then sat in it, both crying, and watched the building burn and collapse.
Firefighters arrived and poured on water, then left to refill their trucks. It was no use. Within 30 minutes Junior Kimbrough's no longer existed, except as a heap of rubble that continued to smoke for most of the day. Twisted, rusted strips of tin from the roof lay over the charred bricks and timbers. There was also the shell of a car that had been parked right next to the building. One archway, part of the building's front porch, was the only piece that remained standing.
People came by throughout the night to drink a last beer at the site and offer sympathy to the Kimbroughs. Reporters, photographers and a TV crew came to get the story. On the following Sunday, Kinney Kimbrough and a few friends and relatives sat at the site to greet anyone who came expecting to party as usual. But apparently the word had gotten around. No one came.
Junior Kimbrough, born in nearby Hudsonville, played his trance-like blues at house parties at his home for many years before opening his first jook joint, Chewalla Rib Shack, east of Holly Springs in 1990. That joint is depicted in the 1991 documentary Deep Blues. Soon after the filming, Junior Kimbrough relocated his business to the bigger building in Chulahoma, about 15 miles southwest of Holly Springs.
There was no insurance on the business nor on the building, which was rented by the Kimbroughs. The family plans to establish a long-term fund with a non-profit corporation to raise money to purchase land and rebuild Junior's, possibly on the same site.
In the meantime, there is a short-term drive to replace the instruments and to reopen in a temporary location. Donations may be sent to Junior Kimbrough's Juke-Joint Re-Opening Fund, Merchants & Farmers Bank, Box 700, Holly Springs, MS 38635.
— Steve Cheseborough
---
Delta Blues Education Fund
The Delta Blues Education Fund received the $5000 Bravo Channel National Arts Education Award for 2000 in a presentation held March 15th at Mr. Johnnie Billington's blues classroom in downtown Lambert, Mississippi.
Mr. Johnnie and Dr. Mike (Michael James) offer year-long apprenticeships in the Delta Blues for the children of the Mississippi Delta, providing dress-code and citizenship training as well as musical instruction. Their activities are supported by the Delta Blues Education Fund and the Delta Blues Museum of Clarksdale and Lambert, Mississippi.
Two months later, Mr. Johnnie, Dr. Mike and their students performed at the White House at a reception for the U.S. Department of Transportation's national conference titled Delta Visions, Delta Voices: Mississippi Delta Beyond 2000.
For more information on the apprenticeship program, visit the Delta Blues Education Fund website at www.bluesed.org; for the Delta Blues Museum website, go to www.deltabluesmuseum.org.
---
Rock Hall Inducts First Sidemen
"They were the essential glue that held rock and roll records together," songwriter Mike Stoller explained as he hosted the first-ever induction of sidemen and session players into the Rock & Roll Hall of Fame this year. Those honored were:
• Earl Palmer: His New Orleans drumming was the driving rhythm behind virtually all of the Fats Domino, Little Richard and Lloyd Price hits. Then he moved to Los Angeles and did thousands of sessions with Frank Sinatra, Diana Ross, the Righteous Brothers and many others. At 75, he is still active and continually working.
• King Curtis: The premiere East Coast session saxophone player whose work with the Coasters ("Yakety Yak," "Charlie Brown"), Aretha Franklin and Buddy Holly showed how diversified he could be.
• James Jamerson: Stop and think of the opening notes of Smokey Robinson's "My Girl" and you have one of the most identifiable bass riffs ever created. James Jamerson was the bass player on hundreds of sessions recorded at Motown prior to the company's move from Detroit to Los Angeles in 1972. He played on 56 R&B #1 hit singles and 23 that crossed over to hit #1 on the pop charts.
• Scotty Moore: Primarily known as the guitarist behind Elvis Presley, he has enjoyed a long career as a songwriter, arranger and recording engineer and still remains a master technician — as anyone who heard him play with Joe Louis Walker at the 1999 Handy Awards can attest.
• Hal Blaine: The California-based drummer behind Phil Spector's "wall of sound," The Mamas & The Papas, Fifth Dimension, The Byrds and virtually all of the Beach Boys songs in the 1960s, Blaine is estimated to have played on 35,000 tracks.
There is no doubt that it was a lasting memory for those of us who were in the room.
— Dick Waterman
---
Handy Awards TV Broadcast Set
The Blues Foundation has announced that a 90-minute television special utilizing footage taped at the 21st Annual W.C. Handy Awards ceremony held in Memphis May 25th will be broadcast on Memphis PBS affiliate WKNO-TV in the summer or fall of 2000. The special program, hosted by Rufus Thomas, will spotlight Handy Awards performances by R&B legend Wilson Pickett, Odetta with Henry Butler, Anson Funderburgh & The Rockets featuring Sam Myers, and Gov't Mule with special guests. A live webcast of the ceremony was made by HOB.com and archived for 30 days afterward as an on-demand cybercast on the House of Blues website. For additional information, please visit The Blues Foundation web site, www.blues.org.
---
Document Records Under New Ownership
Document Records, the Vienna, Austria-based label founded by Johnny Parth to provide contemporary listeners with the opportunity to hear the complete recordings of pre-World War II blues artists, has been purchased by a UK firm headed by Gary Atkinson which will operate as Document Records Ltd. Parth will continue to produce records for the company, and new releases by Son House (live at the Gaslight in New York, January 1965), Leadbelly (live at a private party in Minneapolis on November 21, 1948), and the first four of six Skillet Lickers CDs have been announced. A discounted rate for educational establishments, radio stations and audio libraries is available; for more information visit the Document website at http://www.document-records.com.