The typical blues journey is from South to North ó from the Delta, Piedmont hills and Louisiana swamps to urban centers on the Mississippi or Great Lakes and then on to other cities on either coast.
Paul Pena, however, has traveled a different road, one that has taken him from the easternmost part of the United States to the high plains of Central Asia. The subject of the film Genghis Blues, Pena is a self-taught blues musician and throat singer, a complex and unique personality who has always followed his own muse.
Paul Pena was born blind on January 26, 1950 in Harwitch, Cape Cod, not exactly a hotbed of down-home blues (or multi-tone singing, for that matter). But the Cape does have a large population descended from Portuguese sailors, many of whom came by way of the Cape Verde Islands off Africa. Pena, who calls himself a Creole, comes from this mix. His father was a musician, and Paul soon realized that "music was the best thing I knew how to do." He became adept at guitar, piano and harp and took to the road.
By age 20, Pena was living in Boston and playing in a blues-rock band. In 1970, the group was hired to play the Jazz Workshop in Boston, backing up the legendary T-Bone Walker. Walker hated the loud rock beat behind him, but he found Pena a perfect match for his own playing. The two switched off between guitar and piano, driving each other to greater heights.
Penaís group went on tour with Walker, playing in the United States and Europe, where Polydor recorded the band at the Montreux Jazz Festival (Fly Walker Airlines: Live in Montreux, out of print). Pena also played behind B.B. King and John Lee Hooker, among many others. As Walker told his biographer Helen Oakley Dance: "To have a guy like that alongside, I might as well give up. When Pena went to the West Coast, I was lost."
Pena left Boston for California, settling in San Francisco. He released his debut album on Capitol Records to critical acclaim in 1972. The following year he recorded New Train, produced by Ben Sidran and featuring such musical guests as Jerry Garcia, Merle Saunders and the Persuasions. Although the album offered soulful singing and crisp songwriting ó including Paulís original version of "Jet Airliner," which became a gigantic hit for Steve Miller ó it remained unreleased until this past summer, when it was at last brought out by Hybrid Records.
At night, Pena listened to his short-wave radio, bringing in stations from all over the world. One of those broadcasts emanated from Moscow, and he soon was learning Russian. One night he heard an other-worldly voice seeping out of the box, a style of singing unlike anything known to him.
Pena had discovered throat singing, an ancient form popular in a part of Russia near Mongolia called Tuva. In throat singing, the vocalist is able to isolate overtones, enabling him to sing two and three notes at once. Pena listened, practiced, and learned to duplicate the sounds he heard.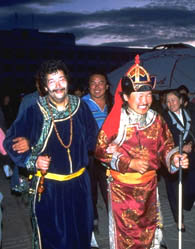 When Kongar-ol Ondar, Tuvaís greatest singer, came to San Francisco to perform for one night after appearing in the Tournament of Roses Parade, Pena was among the throng who waited in the hallway, unable to get into the packed venue. Ondar, informed that someone in the crowd could sing Tuvan, went out to find Pena. The blind Creole bluesman and the Tuvan throat singer became close friends and musical partners. Ondar invited Pena to come to Tuva for the vocal competition which takes place every three years.
Genghis Blues is the story of Penaís journey to Tuva in 1995 and his participation in the contest. Itís a fascinating, exhilarating juxtaposition of cultures and individuals. The Tuvans were amused, stunned and, ultimately, enchanted by this odd Westerner who had mastered their home-grown vocal style. Pena brought along his metal resonator guitar and, in scenes I wish had lasted longer, we see him playing the blues, mixing English and Tuvan vocals.
In association with the filmmakers, brothers Roko and Adrian Belic, Friends of Tuva has released a CD of music by Pena and Ondar, also called Genghis Blues (TuvaMuch Records,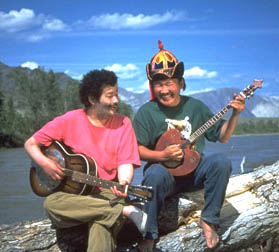 Box 182, Belvedere, CA 94920). The disc includes songs in English, Tuvan and Portuguese ó a veritable world tour of folk music.
Pena starts out with "What You Talkiní About," an original composition which describes his first exposure to throat-singing and his subsequent immersion in the exotic form. Ondar chips in with vocals, Tuvan jaw harp and Tuvan banjo. The Cape Verdian "Tras Díorizao" is a breezy, gypsy-like song that it reminiscent of Cesaria Evora, the great chanteuse from the island chain. Then Pena cuts loose on Robert Johnsonís classic "Terraplane Blues," his shivering slide making the guitar "weep and moan."
After this stunning three-song introduction, Ondar takes over. Sounding at times like a bagpipe with a high sympathetic note, Ondar sings in various Tuvan styles. (Thereís a "quick guide" to help the listener follow along.) On "Sunezun Yry (Soulís Song)," Pena plays in a folk-blues style while Ondar sings a dying manís last thoughts. It seems a perfect blend of the traditions of the two men and their nations.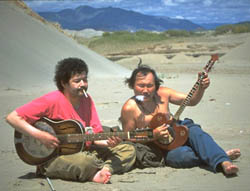 The film Genghis Blues was nominated for an Oscar this year as best documentary feature. No one expected the film to win, but the Belic brothers made the most of their moment in the sun. (Buena Vista Social Club was widely viewed as the favorite, but it was beaten out by the unreleased One Day in September, proving that tragedy trumps rhythm every time.) For guests, the Belics brought Ondar and their mom, Danica, who had lived with them in a dive over an auto body shop during the two years they worked on the film.
After attending a round of pre-Oscar parties, the group drove to the Shrine Auditorium at 2:00 a.m. Oscar morning. A crowd had already gathered to get prime celebrity-ogling spots, so the Belics stopped, handing out advertisements while Ondar gave an impromptu performance. Their low-rent limo stalled just as the party arrived for the real ceremony, but everyone had a grand time. As Adrian Belic said, "The Oscar show was really wonderful. We were in the seventh row off to one side, and we could see the back of Michael Caineís head."
Unfortunately, Pena, the subject of the film, was unable to attend. Suffering from pancreatic cancer, Pena is now confined to his apartment in San Francisco, too weak and tired most days to play music or venture outside. Like most bluesmen, he has very little savings or insurance. Tax-deductible contributions can be made by check to:
"Film Arts Foundation"
(write "Paul Pena Fund" in the memo section),
and sent to:
Film Arts Foundation
346 9th St.,
San Francisco, 94103.
For more information, check out the web site at www.genghisblues.com. Pena is a unique talent who has traveled a most unusual blues highway.