Blues & Roots
by John Sinclair
The recordings of B.B. King represent one of the greatest achievements in the blues idiom in the second half of the 20th Century, and the masterful guitarist, vocalist and composer from Indianola and Kilmichael, Mississippi, continues to play and record in the new century with no discernible diminishment in power. His recent MCA releases, Blues on the Bayou (featuring B.B.'s terrific working band) and Let the Good Times Roll (B.'s heartfelt tribute to one of his idols, Louis Jordan), are among the finest albums of an elongated recording career which stretches back more than 50 years, and his collaboration with Eric Clapton, Riding with the King, placed him at the top of the pop charts at the age of 75.
I grew up in the 1950s listening to B.B.'s fantastic RPM and Kent singles — "You Upset Me Baby," "Everyday I Have the Blues," "Sweet Sixteen," "Beautician Blues" and dozens of others — and will always cherish them among my favorite recordings of all time. Although they have largely languished in obscurity in the modern period, an occasional U.S. compilation will appear to remind us of the strength and beauty of his music during the first decade of his recording career.
But it's been almost 40 years since B.B. left the Bihari brothers' independent operation for the greener pastures of ABC/Paramount and its successors, ABC/Bluesway and MCA, where he has prospered and crossed over to mass-market success. His important recordings for ABC and MCA have been collected in a four-disc set, King of the Blues, released in the mid-'90s, and now that treasure trove has been mined again for the new MCA double-disc compilation called B.B. King: Anthology (MCA 088 112 410-2).
The first disc features ABC recordings made between 1962 and 1970 with producers Sid Feller, Johnny Pate, Lou Zito, Bob Thiele and Bill Szymczyk, plus a pair of electrifying performances from B.B.'s legendary November 1964 Live at the Regal Theatre set, which remains one of the premiere live albums ever issued. These versions of "Everyday I Have the Blues" and "Sweet Little Angel" showcase B.B.'s every strength as a guitarist, singer and interpreter of songs and give us a tantalizing glimpse of his powerhouse road band, which shows up again on two songs, "Gambler's Blues" and "Sweet Sixteen," recorded live at Chicago's International Club two years later.
The studio recordings on disc one include several classics: "How Blue Can You Get?," "Lucille," "Why I Sing the Blues," "The Thrill Is Gone," "Chains and Things" and his male-chauvinist anthems "Paying the Cost to Be the Boss" and "Don't Answer the Door." These performances are some of King's most durable work and bear repeated listening year after year.
We don't fare so well on disc two, which covers 1971–1998 and bears witness to the diverse strategems devised by B.'s management and record company to gain wider recognition in the popular music marketplace. He was introduced to the rock music audience at the start of the '70s as opening act for the Rolling Stones — a benefit which also accrued to Ike & Tina Turner, Stevie Wonder and even Prince on subsequent Stones tours — and graduated from the upper end of the chitlin' circuit to rock clubs, ballrooms, concert halls and arenas where he no longer had to work 350+ dates a year in order to keep his band together and make a living.
The less positive consequence of B.B.'s crossover success was the effect it had on his recordings, which now relied on inferior pop-oriented material that moved King farther and farther from the deep blues feeling and real-life lyrics that had made him so popular with the African-American audience. There are some gems on disc two — "Ain't Nobody Home" (1971), a live version of "Let the Good Times Roll" with Bobby "Blue" Bland (1976), a great "Playing With My Friends" backed by the Robert Cray Band (1993), and an emotive "I'll Survive" from the Blues on the Bayou album (1998) — but they're buried in a musical compost heap containing things like "Ghetto Woman," "To Know You Is to Love You," "Into the Night" and the execrable collaboration with U2, "When Love Comes to Town."
If you don't have any of B.B. King's work for ABC/MCA, start with his most essential release, Live at the Regal, and then check out the music collected on B.B. King: Anthology. While you're at it, do yourself a favor and find some of the B.B. King masterworks from the '50s on RPM and Kent and give them a listen. You'll be glad you did.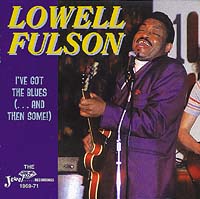 The late Oklahoma/West Coast bluesman Lowell Fulson left a lasting legacy on disk, particularly his late-'40s work with producer Bob Geddins (the original "Three O'Clock Blues"), his popular sides for DownBeat/SwingTime (including "Everyday I Have the Blues," another Fulson number covered by B.B. King) and his great Checker singles like "Reconsider Baby" (1954), one of the most perfect records ever cut by a human being. He spent the mid-'60s with the Bihari brothers and had a big hit on Kent with his composition, "Tramp."
The material on I've Got the Blues (Fuel 2000 302 061 082 2), recorded in 1969, represents Stan Lewis' efforts to update Fulson's sound for his second LP on Jewel Records. Some cuts, like the opening "Teach Me," have Meters-style backing; others, like the title track, are standard Lowell Fulson shuffles with kind of cheesy rhythm tracks; still others, like "How Do You Want Your Man," sound more like the tough bluesman of earlier years. There's lots of fine Fulson guitar, but everywhere the canned sound that would dominate the Southern soul-blues idiom for years to come detracts from the emotive force of Fulson's singing and playing.
The new Junior Wells reissue, Calling All Blues — The Chief, Profile & USA Recordings 1957–1963 (Fuel 2000 302 061 087 2), is the second appearance on CD of these classic tracks, so if you've got the Jewel/Paula edition already, you won't need this one. But if you've never heard Junior's great sides recorded by Mel London for his Chief and Profile imprints between 1957 and 1961, this compilation affords you the opportunity to enjoy Wells at his early best, backed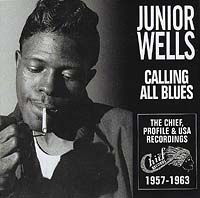 by great Chicago blues specialists like Earl Hooker and Syl Johnson on a series of masterpieces including "Two Headed Woman" (Chief 7005), "Cha-Cha-Cha in Blue" (Chief 7008), "Calling All Blues" (Chief 7020), the irresistible "Messin' with the Kid" b/w "Universal Rock" (Chief 7021), and "Little By Little" b/w "Come On in This House" (Profile 4011).
By the time he joined London's roster of artists, which included Elmore James, Earl Hooker and Magic Sam, Wells had been in and out of both the Muddy Waters band and the Aces, the impeccable trio of Louis and David Myers and Fred Below which alternately backed up Wells and Little Walter during the early '50s. He had debuted as a leader with Leonard Allen's States label in 1953 and would go on to cut his best-known albums with Vanguard and Delmark in the '60s, but these Chief and Profile dates — along with the two USA singles from 1963 which complete the package — present the music which established Wells' reputation as a consummate harpist, singer and blues recording star.
On the modern front, Rounder Records' Heritage Series, celebrating the roots label's 30th anniversary, has issued the first salvos in its 30-CD salute to the artists who helped established the Cambridge concern in the front ranks of contemporary recording. Rounder and its Bullseye, Philo and other subsidiary imprints have documented many important blues, jazz, zydeco, folk and world music artists whose work might well have gone unrecorded during the dark days of the late 20th Century.
The music of New Orleans and Louisiana has long been of special interest to Rounder and its leading producer, Scott Billington, who has made it his business to keep major Crescent City artists like Irma Thomas, James Booker, Johnny Adams, Walter "Wolfman" Washington, Davell Crawford, Chuck Carbo and many others before the public eye when there was otherwise little interest in their continuing work in music. Former Rounder producer Ron Levy was also active in New Orleans, recording now-classic albums by Champion Jack Dupree, Re-Birth Brass Band, the Golden Eagles, Wild Magnolias and others while he was with the label.
Quite appropriately, then, one of the initial offerings in the Rounder Heritage series is There's Always One More Time (Rounder Heritage 1166-11581-2), a provocative collection of sides by the late, great Johnny Adams, drawn from the ten Rounder albums he recorded between 1983 and 1998, when the singer succumbed to stomach cancer.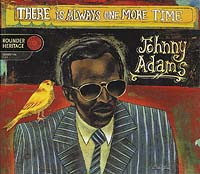 Johnny's first single, "I Won't Cry," produced by Mac Rebennack for Ric Records in 1959, drew enough attention to establish the Tan Canary's brilliant — though largely unheralded — singing career, but he struggled for almost a quarter-century, making singles for local outfits and trying to break out of the South, before landing with Rounder in 1983.
From the very beginning of their association, Billington surrounded Adams with musicians of the highest order and allowed the singer to explore the fullest dimensions of his extraordinary talent. Johnny's first Rounder albums — From the Heart, After Dark, Room With a View of the Blues — cemented his reputation as one of the finest R&B artists of the '80s (and '90s!) and an incomparable interpreter of the blues ballad. Walter "Wolfman" Washington shines on Johnny's convincing reading of "I Feel Like Breaking Up Somebody's Home" from the first album; the late Wayne Bennett backs Johnny on "Lovers Will" from the second; and Wolfman is back for "I Don't Want to Do Wrong" from the third, joined by Duke Robillard for "Wish I'd Never Loved You At All" and the terrific "Body and Fender Man."
My favorite Johnny Adams album will always be Walking on a Tightrope, his magnificent tribute to Percy Mayfield, for which he brought Wolfman and Robillard together again to support his brilliant renditions of the incomparable compositions of the "Poet of the Blues." The title track is included here, and enchanted listeners should head directly to pick up the entire Tightrope CD.
The title track of this compilation is taken from The Real Me: Johnny Adams Sings Doc Pomus, as is the inconsequential "Happy Hard Times"; there are selections from Johnny's guest appearances with saxophonist Alvin "Red" Tyler (the beautiful ballad "I'll Only Miss Her When I Think of Her") and Ruth Brown (on Willie Mabon's rollicking "I Don't Know"); and Johnny's two jazz albums are represented by "But Not for Me" (from Good Morning, Heartache) and a joyous duet with pianist Harry Connick, Jr. on "A Lot of Living to Do" (from The Verdict).
Johnny's next album, One Foot in the Blues, an excursion into the depths of soul jazz with organist Lonnie Smith and guitarist Jimmy Ponder, is also represented by its title track, and there's the stirring "Even Now" from his final release, Man of My Word, recorded in 1998 after Johnny had fought his way back from his deathbed and just before his final, fatal bout with cancer. This compilation, like Adams' recording career, ends with an awe-inspiring a capella offering of the spiritual, "Never Alone," with Johnny's amazing vocal accompanied by the soulful voices of Aaron Neville, Chuckie Elam, Earl Smith and Nick Daniels.
The legendary New Orleans pianist Champion Jack Dupree, born in 1910, is lovingly showcased by Rounder co-founder Marian Leighton Levy in her Heritage series compilation titled A Portrait of Champion Jack Dupree (Rounder Heritage 1166-11586-2). The pianist left the Crescent City early on, lived a long and extremely full life as a performer and recording artist in New York City, England and Germany, and finally returned to visit his native city in 1990 and 1991 as a featured attraction at the New Orleans Jazz & Heritage Festival.
Both visits were documented by Rounder's Ron Levy, who recorded Dupree and his European guitarist, Kenn Landing, with a pair of first-call New Orleans ensembles anchored by bassist Walter Payton for the albums Back Home in New Orleans and Forever and Ever. After the second year's session was completed, Dupree asked if he could get the same men back again the next day and make some more music. When informed that the budget had been depleted, Champion Jack offered to pay the musicians himself if he could just cut a few more numbers. Jack died before the third album, One More Time, could be released.
The selections on A Portrait of Champion Jack Dupree are almost equally split among the three Rounder CDs and include the very finest performances from each, sensitively sequenced to unveil the life, outlook and artistry of the 80-year-old entertainer. Rounder's portrait of this fabulous artist in the final days of his extraordinary career is most fully revealed by following Dupree through the course of this presentation, from the opening "Freedom" to the closer, "Forever and Ever," but stand-out cuts are "Dupree Special" (" I taught this to Professor Longhair," Jack smirks), "Hometown New Orleans" and "They Gave Me Away," a true story of being orphaned at an early age.
There's a lot of truth in this collection, some of Dupree's finest performances, sympathetic support from Payton, drummer Kerry Brown, saxophonist Earl Turbinton and the entire cast, and over an hour's worth of some of the most personal, expressive, emotionally moving blues you'll ever hear. If you don't already have Dupree's three Rounder CDs in your collection, get this one today!
— New Orleans
March 4, 2001