Bettye Lavette
Dynamite in a Small Package
By Amelia Feathers
Whoever first noted that dynamite comes in small packages must have heard Bettye Lavette's explosive voice. Bettye recorded her first record at age 15, and now — 38 years later — she still packs a powerful vocal wallop in her 125-pound frame.
Lavette's dynamic voice is being highlighted in two new releases: The apocryphal Souvenir, recorded in 1972 but never released by Atlantic/Atco Records, is now available on CD from the Arts and Soul label, while Let Me Down Easy is a recent "live" European recording released by Amsterdam and Munich Records.
Her two new releases have Lavette dancing "close to my crypt," she says, referring to the many soul music fans who thought she had died. But since Ms. Lavette shot into the musical limelight in 1962 with "My Man, He's a Lovin' Man" and "You'll Never Change," she's never stopped singing. She's continued to perform in concert, mainly overseas, yet her American devotees have been left to wonder: What happened to Bettye Lavette?
Born Betty Haskin in 1946, the singer grew up in Detroit's North End, where musical talent must have dripped from the drinking water. Her neighbors were Jackie Wilson, Smokey Robinson and Aretha Franklin. "I know everybody in Detroit that is older than 40," Lavette chuckles.
Her early influences included Judy Garland, Dinah Washington, Bing Crosby and Clyde McPhatter, but Ms. Lavette found her own musical style under the tutelage of the "infamous" Johnnie Mae Matthews — sort of a female blues counterpart to fellow Detroiter Berry Gordy, Jr. — who discovered the soulful teenaged vocalist singing around the neighborhood. Ms. Matthews, a powerful singer, songwriter and producer in her own right, is perhaps best known to modern audiences as the composer of the blues classic, "Send You Back to Georgia."
"It was a life-altering experience," Bettye says of her 1962 recording session when, at age 16, she recorded the grown-up hit song, "My Man, He's a Loving Man," penned for her by Matthews. The song captured the ears of Atlantic Records executives Ahmet Ertegun and Jerry Wexler, and Bettye signed a contract with Atlantic that immediately brought her work to the attention of the national R&B audience. In that moment she went from being a regular Detroit teenager to a professional entertainer with a whole different identity — including a name change.
Her initial Atlantic 45s generated considerable excitement for the young singer, but further chart success eluded her until 1965, when she hit with "Let Me Down Easy," written by Dee Dee Ford. Another drought followed, broken in 1969 when her version of "Just Dropped In (To See What Condition My Condition Is In)" was recorded by Kenny Rogers.
In fact, Rogers enjoyed Bettye's reading of the song so well that he urged his brother, record executive Leland Rogers, to sign Ms. Lavette to their Silver Fox label. She had a pop hit on Silver Fox later in 1969 with "He Made a Woman Out of Me," which was also recorded by Bobbie Gentry. The song's somewhat suggestive lyrics created a bit of a controversy at the time, and Lavette went on to record more tunes by country songwriters, which led to her categorization in some circles as a country soul singer.
Bettye scored a double-sided R&B hit the next year with "Do Your Duty" b/w "Love's Made a Fool Out of Me," but her tenure with the Rogers brothers soon came to an end, and she returned to the Atlantic Records stable in 1972 to record the album just now released as Souvenirs. She requested Brad Shapiro, Wilson Pickett's producer, to oversee the recording.
For almost 30 years only a reference in Lavette's biography, it's hard to believe that Atlantic withheld the album from release. Recorded in Muscle Shoals with the Memphis Horns, and with songs like her ardent reading of Joe Simon's "Your Time to Cry" — which she changed to "Your Turn to Cry" and made into one of her signature tunes — the label's failure to issue Souvenirs is one of the great mysteries of soul music lore.
Lavette herself thought the album had the right mix to be a hit and calls the shelving of the album "a great tragedy" in her career. "I am [still] pleased with the recording," she says, "and even today people are pleasantly surprised."
Following her bitter experience at Atlantic, Lavette returned briefly to the charts in 1975 with "Thank You for Loving Me" on the Epic label, and she hit again in 1982 with "Right in the Middle (Of Falling in Love)" for Motown. But, as one Detroit producer points out, her recording career has generally been characterized by "good songs but bad records."
"I've never hit it big in this business." Bettye says. "Many times a singer's success is based on her last record. None of my record producers have ever seen my live performances, and they've kept binding me on my recordings." However, her professional career has been guided by the advice of her manager, the late Jim Lewis, who told her to concentrate on becoming a singer more than a recording artist.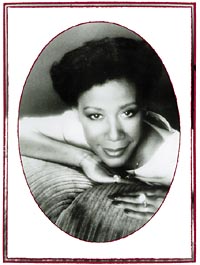 Lavette is glad her singing career has been much more than just recordings. She did a stint from 1979 to 1985 with a traveling production of Bubbling Brown Sugar and received rave reviews for her role as Sweet Georgia Brown. "Cab Calloway and Honi Coles taught me how to tap dance," Lavette smiles.
After her long run in Bubbling Brown Sugar, Bettye moved to New Orleans and performed in nightspots on Bourbon Street for several years. She moved back home to Detroit 11 years ago but has worked only sporadically since. "It's hard to get representation at age 53," she laments.
An appearance at the 1999 Blues Estafette in Utrecht, The Netherlands, provided the material for her new album, Let Me Down Easy — In Concert, from the Musa label in Germany. Supported by veteran Detroit keyboardist Rudy Robinson & His Hungry 5, a three-man horn section and three back-up singers, Lavette stole the show and made the big hit of the day. Here the singer's powerful blues and soul side is especially showcased on the title song and on a brilliant version of Etta James' "Damn Your Eyes," which she ends by repeating the title phrase and then appends a furious "God damn your eyes."
The "live" recording reveals that Lavette has taken good care of her instrument over the years. She admits that, at her age, gravity is taking its toll, so she works out to sustain notes, especially in concert. "People are amazed at how I sing three times as hard as I am big," she laughs.
Bettye has witnessed musical tastes change throughout her years in the business. Overseas soul fans have stuck with her, but many people in the United States don't even know she's still living. Soul music has been chased from mainstream radio by rap and hip-hop, and "the most difficult market to crack is the U.S.," she laments. "But it is changing, albeit it's with white music listeners."
Although the odds are against her, Ms. Lavette was recently sought out by producer Jon Tiven and invited to record a new collection of songs "Bettye and I became friends long-distance," Tiven explains. "She likes my work and I like hers, and it seemed to me that she should be making records, so I offered to produce. She's a friend of Sir Mack Rice, who is one of the greatest human beings to walk the planet, and anyone he puts his stamp of approval on is a friend of mine.
"So we've been choosing songs — not all mine, but some of mine, and some interesting songs that are identified with other artists — and we hope to start recording soon. Bettye is very particular in the songs that she likes, and we went through a lot of material in order for her to find exactly what she thinks suits her."
"I'm flattered that Jon Tiven asked me to record," Bettye says, but she describes her eagerness as "controlled excitement," remembering Atlantic's handling of her Souvenirs project. But Tiven's commitment to the project is firm. "We don't have a label as yet. Although several have expressed interest, no one has thrown down yet, and so far we're funding this venture ourselves. We'll see what comes of it."
Meanwhile, Bettye tries to understand the backlash against soul artists. "In my youth," she remembers, "teenagers in my generation didn't want to be associated with blues performers. When I was young, I didn't appreciate the blues. We thought the blues meant country, uneducated and Uncle Tom-ish. Now I am thrilled that I just stood next to B.B. King.
"I am an R&B singer and will do that for the rest of my life — singing is all I know how to do. The songs I sung about when I was young, I can really understand them better now. I sing from a woman's perspective now, while before I was just a naive teenager. I've lived some of the songs I sung as a teen, and I sing from a mature woman's point of view.