Michael Burks
Hardened in Arkansas
Article by Tim Schuller
Photos by David Horwitz
There was a burst of pain. The press had come down, with a heavy metal clang, on Frederick Burks' fingertips. No more bass playing for him. He could still musically mentor his son Michael, though, and seems to have done so quite effectively.
Frederick's father, Joe Burks, was an old-style Delta bluesman in Camden, Arkansas, a sawmill town proud of its Confederate roots, work ethic, and good deer hunting. Joe's son Frederick was raised in Camden but moved to Milwaukee, Wisconsin, to work in the steel mills and perhaps further his own music aspirations. He got some gigs playing bass for Sonny Boy Williamson (Rice Miller) but kept his job in the mills, running a press that made castings for engine blocks. Presses like this virtually liquefy flesh and bone should accidents occur. Michael says a doc mended his dad's fingers so they look normal, but they're no good for playing.
But Frederick still inspired and instructed his son. He got Michael his first guitar and set about showing him chords, bass runs … this and that. He aimed Michael at a stack of 45s and said, "Have at them. Learn those tunes!" The boy practiced contentedly and was soon playing dates. On the strength of strong performances in Arkansas roadhouses and a limited-distribution CD, the younger Burks landed keynote festival gigs, increased his renown and was signed by Alligator Records.
In the past few years he's toured Europe twice, and earlier this year Michael released his Alligator debut, Make It Rain, to considerable acclaim. Doesn't seem to have gone to his head, though: Burks is much a people's artist with a natural (rather than crafted) dynamic centered on his intense, thick-toned guitar and no-filter singing, and his force is all his own.
"My first guitar was a Roy Rogers/Dale Evans Special," Michael remembers, smiling at the memory. "It was the real deal for me! Had horses, ponies, rope and everything painted on it."
Michael tucked into the stack of 45s his father gave him. Frederick may have played with Sonny Boy, an old school guy, but the 45s were by such relative modernists as Albert Collins, Freddie King and B.B. King. Michael learned quickly. He visited his mother, who lived in Los Angeles, and answered an audition call for a young guitarist.
"It was me and about 20 other guys, and I won," he says. "So I went on my first tour when I was about 13 with a li'l pop band, Michael Clay & the Fabulous Souls. They were friends with the Jackson 5 and doin' circuits like Disneyworld, Disneyland, stuff like that. Remember that ol' comedian, Mantan Moreland? He was on shows with us, and so was T-Bone Walker. This was only a year or two before he died [in 1975]. He didn't actually play guitar, he was just singin', and we backed him up. I thought I was hot stuff, man, playin' the East Coast, West Coast. All this was good experience for a young guy."
Michael attended school in Milwaukee, but in the summers he was back in Camden, Arkansas, staying with his grandmother and haunting the banks of the Ouachita River. "See," he explains, "what people don't know is, my grandfather's father was Creole — coonass — and my father's father was a full-blooded Choctaw Indian. Both of them would hunt, fish, trap. My dad did it, and I did it. Been up and down the riverbanks a thousand times, trappin', fishin', huntin'. Rabbit, coon, squirrel, deer, fish — we did it all. Did it to eat — we all had big families. Trap, fish, hunt, sowed, raised big gardens — had to back then. Learned to survive. Person can raise his own cattle, chickens, ducks — everybody can't do that. Raise a garden — everybody can't do that. I know how to do all that stuff."
In the early '70s, Frederick Burks decided to move back to Arkansas and get into the nightclub business in Camden. Michael put together house bands that quickly ensured steady crowds, but as soon as this happened Frederick's partners decided the Burks were no longer needed and cut them out of the action. After a few deals like this, Frederick decided to open his own place. He and conscripted family members built the Bradley Ferry Country Club, a roadhouse by the river that'd hold 300 people. Was it a snazzy spot with waitresses and a menu?
"Nah, man," Michael laughs, "this a juke joint! This is 55-gallon drums burnin' wood to keep warm in winter. This is big fans in the summer — didn't have no air conditionin', had these great big huge fans in the window, keep the buildin' cool. Ice the beer down in big ol' tubs. This a real juke joint, on Bradley Ferry Road, a one-way road lead down by the river — one way in and one way out, on the outskirts of town."
The Camden area is rife with Civil War history. On a ridge over the Ouachita is Fort Lookout, with its earthen fortifications constructed by Confederate General K. Smith. The Poison Springs engagement was fought nearby, but the area's cannonade was musical when the Burks took over. The house band was made up of sundry Burks family members and their friends, sometimes comprising 10 pieces: horns, backup singers, the whole bit. Sometimes such R&B celebrities as Johnnie Taylor would perform locally, and the Burks troupe would back them.
"Johnnie actually used to live in Camden a little while," Michael reveals. "Then he moved to Magnolia, Arkansas, and then he ended up down in Texas. I was a youngster, but I knew these guys — they came through pretty regular. Johnnie Taylor, Little Johnny Taylor, Geater Davis, O.V. Wright, Freddie King, Rufus Thomas — all those guys came to Camden on a regular basis, so I got a chance to see 'em."
The Bradley Ferry Country Club took its name from the one-lane dirt road that led to the river's edge, a few hundred feet from the club. A guy named Bradley once had a ferry there that took you across the Ouachita. The Burks troupe played there four nights a week, Thursday through Sunday, for six and a half years. They did blues, Hendrix, Maze, War, Earth Wind & Fire — over 200 songs were in their repertoire.
But, Burks complains, "There got to be so much politics to keep it open. You got to understand: you in the South. Might be the same in the North or the East, but in the South — shakedowns everywhere. The cops, the alcohol board, the judge, the sheriff — you got to pay a little to everybody!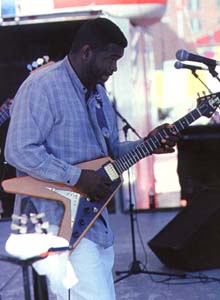 "That's the cause of one of the songs on my album, 'Everybody Got Their Hand Out,' about our club days. On Sunday night we'd be countin' money and they'd send a guy by, gave him an envelope. Drink him a beer, give him a barbecue sandwich and then go. That was every Sunday, every Sunday evening. You didn't do that and they'd put the squeeze on you. Was easy to put the squeeze on our place because it was on a one-way road. State trooper set a roadblock, and they'd be checkin' drivers' licenses, see if they been drinkin' ..."
And of course they'd been drinking.
"Oh, definitely!" Burks says. "So if you want to keep that away, y'got to pay."
Shakedowns, the burgeoning popularity of clubs with canned music instead of bands, increasing development on Bradley Ferry Road — all helped hasten the demise of the Burks' jukehouse. The club closed, and Michael got a day gig at Lockheed Martin. This was a newer sort of industrial workplace than his dad had known in the steel mills, but it had its own set of stresses.
"It's a big place," Michael explains, "has several big buildin's, built short-, medium- and long-range missiles and a tank-lookin' thing that's the launcher. They also got a lot of top-secret stuff that you don't supposed to know about. I was an electronics mechanic. 'Cause of my dad, people asked was I worried about mashin' my hand and bein' around electrical stuff, but I never really thought about it. I have hit some wires and had a screwdriver just disintegrate in my hand, big ol' screwdriver melt completely from all the voltage goin' through it. But I never really did think about it too much."
Burks worked at Lockheed-Martin for 13 years. An advantage to working there was, you got in your 40 hours by working 10-hour days Monday through Thursday, meaning you had Fridays free. All the better for Michael to ply his musical trade on weekends in such Camden spots as the Green Road Inn, the Retreat, and the Keystone. The latter place was past its heyday when Burks played there, but talk about a joint with history:
"One of the main places in Camden was Graham Drive-In, which was also called the Keystone because the district it was in was Keystone. It was named for James Graham. Him and a friend of his called Calvin Douglas were cement-finishin' contractors and sold out of Camden. It had been a roadhouse where the main acts that was goin' on back in the late '50s, '60s and early '70s all played: Little Richard, B.B. King, Albert King, Albert Collins, hell, even Elvis Presley came through there.
"Original place caught fire and burned down, so they rebuilt it, a little more fancy, a little more nicer. Seat about 500 people. Still a juke joint, though — and man, that place'd be packed three, four nights a week. It stayed open seven days a week, 24 hours a day. Never did close. Long as I remember that place open, it never did close. Kind of place had hotel rooms, you get a girl, rent a room for a hour. Need gas? He had gas pumps. Even had a record shop!
"Band was playin' there was actually my cousin's, his name William Pickett. They called him Little Guitar Pickett. He was one of those guys, a Fender Telecaster master, like Albert Collins. Guy was great, man, had like a 12-piece band: piano, organ, about five horns, couple backup singers and two drummers! These guys could read music — any act came through there, they would back up. [Pickett] is still livin' — probably about 70 years old. When he do something now, it's probably on somebody's back porch or some little joint somewhere."
Just as on the Bradley Ferry gigs, Burks' troupes in Camden offered mostly R&B and funk. In those days Burks was not the featured singer, though as the night went on and the crowd got drunk, he'd step to the mike and sing a blues or two. The crowd liked the hell out of this.
"Got into blues full-time in '93, '94," Burks says. "I think I played my first festival in '94, the King Biscuit Festival, and then played it four years straight. Played the Riverfront Blues Festival in Little Rock with B.B. King on his 71st birthday. Jimmy Rogers, I did one of the last big shows with him before he died, down in Georgia at the Blind Willie Blues Festival.
"I was lucky to get on shows with guys like that, and started to get more prestige. Everybody's goin', 'Who's this Michael Burks guy?' I played Jacksonville, Florida, at the Springing the Blues festivals, four, five years — headlined. That brought me a lot of limelight. Then more promoters and club owners started goin', 'Who Michael Burks?' and the telephone calls started comin' in."
In 1999 Burks cut his first CD, From the Inside Out, an independent release unlikely to be found at your neighborhood store (be patient — it'll be reissued by an established label as Burks' fame grows). All 11 selections were penned by Burks, and the CD was smiled on by blues critics. But in 2001 Make It Rain got to far more people. Jim Gaines' production, well-liked by fans who reached blues via rock, gives a bouncing-off-the-stadium-wall oompf to Steve Potts' drums. That's not to everyone's taste in the blues world, nor is it the way Burks' road drummer, Cecil Parker, sounds on live gigs. (Parker, a bud of Burks' from Arkansas, used to drum for Albert King.)
It's not exactly a misrepresentation, though. Burks is a thorough power-hitter, and by and large Gaines' tack suits him. Burks' guitar is way up front, but there's no short shrift to the rhythm instruments. Far from it: Billowy organ and Vasti Johnson's rhythm guitar are prominent, and the horns are assertive but not pushy.
"We did the album in three and a half days," Michael says, "and we could've done it in two and a half. I think we got a live feel, like we were in a club doin' the music. Had a great time recordin' it."
Burks went overseas for the first time in November of 2000, taking Parker, keyboardist Scott Hardy (of Arkansas' bean-canning mecca, Siloam Springs) and bassist Mike Murray, he played the Lucerne Festival in Switzerland and other dates. A night or so after the festival gig, Burks took the stage at a nightclub jam with California upcomer Kirk "Eli" Fletcher (guitar) and Chicago stalwart Mot Dutko (drums).
"Went back again in two months' time," Burks enthuses. "By that time Make It Rain was out and every show we did, every club and theater we did in Holland, Germany, Switzerland — sold out. Kicked my butt! People loved us. We sold out of CDs the second show. They don't roll out the red carpet, they roll out a gold carpet! It was real nice, and I loved it."
A third tour of Europe is slated for December, and he's been writing new tunes. Plans?
"I plan to keep tourin'!" he affirms, "not only big venues and festivals but in the small joints as well. I want to bring my music to every little corner and crack of the world. Record some more, write some more, and keep the blues alive. Touring is hard work, you keep late hours and do a lot of drivin'. But I'm used to hard work. That's all I have done all my life. I see it and feel it payin' off, and in the long run, it'll pay off real well."
Sadly, few artists have a long-run payoff in their ballpark. They cut a CD we like, or play a gig we enjoy, and then we cease hearing of them. But Michael Burks seems like the type of artist who'll not go away — and for fans of strong music, that's good news.