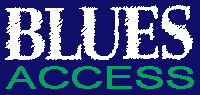 Blues Links
There are many sites that offer Blues Links, some of them exceptional. Rather than duplicating the efforts of sites we fully expect to remain exceptional, we'll start by pointing you toward the best of them.
Blue Highway
BluesWEB
KBA Award-Winning Blues on Stage

And some other places you should definitely see:
Autonomy Blues Exchange
Delta Snake News
David Horwitz Blues Photography -- David has been a regular contributor to BLUES ACCESS. His work was featured in the "Wild Women of the Blues" photo gallery in our Summer 1997 issue.
It's a Girl Thang -- Hosted by BLUES ACCESS contributor, singer and all-around gal Lea Gilmore, this site pays tribute to the oft overlooked women of the blues
---
This page and all contents are &copy 1998 by Blues Access, Boulder, CO, USA.