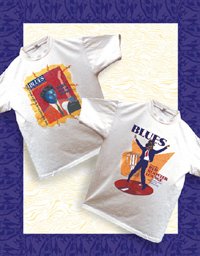 BLUES ACCESS
T-shirts

Our Back Pages



Back issues online, and hard copies of many issues are still available.

Essential Blues


Red Rooster points you to blues that won't disappoint. By category.



The BLUES ACCESS Message Board
Sorry, we had to shut down the message baord after repeated spam attacks.



Those Blues Labels: Where to Find 'Em

The information in this section was so outdated that we decided to close it down.



The Word: Concert Presentation
To hear a concert archive of one of the hottest Gospel groups around,
click here.

From the Publisher: Th-that's All Folks!
January 2, 2002 Dear Friends, It is my regrettable task to inform you that we are suspending publication of BLUES ACCESS as of today. Our current issue (Winter 2002, #48) will be our last. [If you are presently a subscriber, please see our note below.] This is an eventuality that I've been trying to forestall for some time now. For the better part of two years we have been losing money and I'm no longer able or willing to shoulder that burden. Up until last week I was optimistic that we would be able to find a buyer or investor to make it possible for me to get out of debt, farm out most of the business responsibilities and expand to six issues per year. It didn't happen. Although I suppose it's still possible that a longshot could come through, the state of the economy doesn't give me much hope that it will. My special thanks are reserved for Jack Angus, John Sinclair and Leland Rucker who at various stages of the game made themselves available to ease some of my burden. They all worked for far less than their market value because they believed in me and what I was doing. They have been the heart and soul of this project. Finer people would be hard to find. Just behind them are our many contributors -- writers, photographers and graphic designers -- who have in their own ways answered my call to "show me something fantastic." And, of course, we owe a debt of gratitude to our advertisers who showed their support with their wallets and made it possible to for us to continue as long as we did. As for me, this is a bittersweet result to something that began modestly 12 years ago. At the time I had no idea how it would turn out. In many ways it succeeded far beyond my expectations: We were eventually able to create a publication that had a style and class that belied the meager fiscal resources with which we produced it. If I have a regret, it is that we never had financial wherewithal in proportion to the tremendous amount of talent at our disposal. On the other hand, being "the boss" has exacted a toll on my mental, physical, financial and marital health that I most definitely will not miss. Suffice it to say that, in spite of my regrets, letting go of BLUES ACCESS also takes a large weight off my shoulders. Beyond my short-term goals of paying off my debts and finding a way to satisfy my obligations to our subscribers [see below], I look forward to taking a little time to find my equilibrium. I will still be producing my radio show, Blues From the Red Rooster Lounge and am looking to expand that into way more markets than it currently serves. I'm hopeful, too, of opportunities to consult for radio stations who might be interested in integrating blues into their formats. Then again, maybe I'll just go out and get a job and actually make some money. We'll see. To our subscribers: Thank you for being the lifeblood of our publication. Truly, without you there would have been no BLUES ACCESS. When most magazines go out of business they simply declare Chapter 11 bankruptcy and leave their subscribers holding the bag. Rather than do that, I've chosen to have at least one fine music magazine fulfill the remainder of our subscribers' terms. As soon as we finalize the details, subscribers will start receiving issues of Offbeat, the New Orleans music magazine. We also expect in the near future to enlist another magazine that fits your interests as well. The web site: We will be keeping this site on line indefinitely. You'll still be able to purchase back issues and t-shirts (as long as they last) from the web site or by calling (303) 443-7245. BLUES ACCESS shirts are available in L, XL and XXL. Red Rooster t-shirts are available in XL only. At any rate, the blues itself, which we all love, is resilient and will survive and continue in some form for a long time. For that we can be grateful. Once again, I extend my deepest thanks for your support, your input and your understanding. Cary Wolfson
Editor and Publisher