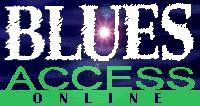 ---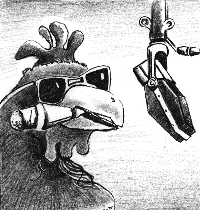 The Essential Blues Album List
(Compiled Summer 1996)
Back in 1985, in response to requests from listeners to our Blues from the Red Rooster Lounge radio show, we compiled our "Essential Blues Album List." For years the Rooster has been meaning to completely revise and update that list for the CD era, but little things -- like starting and running a magazine -- have always gotten in the way. Inspiration and perspiration have finally come together and here is the fruit of our efforts. [OK, it's been, uh, how many years since the 1996 revision? There have been several thousand blues CDs released since then, but these are still a good starting point.]
Our philosophy is to present the artists that belong at the core of any good blues collection. We've decided (for reasons of space and sanity) to limit the choices to five artists in each of six categories: Chicago blues, classic country blues, female artists, harmonicas, pianos, and vocalists, along with ten general "gotta-haves." Because the guitar is such a dominant instrument in the blues, we've opened that category up to include a dozen players. (Obviously, not everyone fits neatly into one of these categories, so if you don't find your favorites in the category you expect, you may find them somewhere else.)
While we've tried (with some exceptions) to single out one or two representative discs for each artist, we urge you to be adventurous and try their other recordings.
Narrowing this list down to a workable number was quite a task, and we've decided (for now, at least) to pass over such first-rate modern blues revivalists as Mike Bloomfield, Paul Butterfield, Johnny Winter, Bonnie Raitt, John Mayall, Robert Cray, Eric Clapton, Roy Buchanan, etc., in favor of the musicians who influenced them.
Here are the categories. Select one to access that page of reviews.
---
A DOZEN ESSENTIAL GUITARISTS

CLASSIC CHICAGO BLUES

CLASSIC COUNTRY BLUES

ESSENTIAL FEMALE ARTISTS

ESSENTIAL HARMONICAS

ESSENTIAL PIANOS

ESSENTIAL VOCALISTS

GENERAL ROOSTER GOTTA-HAVES

You'll also want to check out ROOSTER MUSIC: THE FIRST 2000 YEARS, 111 of the Rooster's core songs in blues, R&B, lost soul and gospel. These appeared in the Rooster Pickin'scolums in issues #40-45.

ROOSTER MUSIC, Part 1

ROOSTER MUSIC, Part 2

ROOSTER MUSIC, Part 3

ROOSTER MUSIC, Part 4

ROOSTER MUSIC, Part 5

ROOSTER MUSIC, Part 6
---
A couple quick notes: Several readers have pointed out to us that Gatemouth Brown's The Original Peacock Recordings is indeed available on CD from Rounder Records. Also, since this list was compliled, MCA released a B.B. King CD How Blue Can You Get? Classic Live Performances, 1964 to 1994 that provides one of the best recorded blues listening experiences we've had in a mighty long time. Had it been available then, it would have easily been one of our recommendations.

Once you've absorbed all these and feel you're ready for some postgraduate work, pick up a copy of The All Music Guide to the Blues (Miller Freeman Books, San Francisco) for more than 2600 recommendations from other writers. Better keep a tight leash on your credit card, though. It's a big blue world out there.
---
Blues from the Red Rooster Lounge originates on Boulder's KBCO 97.3 FM (where it can be heard Sundays at 9 p.m.) and airs weekly on 5 radio stations around the U.S.. Check with your local station for availability. (Station program directors can receive a sample copy of the program by calling Red Rooster Radio Productions at 303-443-7245.)
---
This page and all contents are &copy 1996 by Blues Access, Boulder, CO, USA.