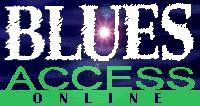 ---
The Essential Blues Album List
ESSENTIAL VOCALISTS
---
1. Bobby "Blue" Bland
Sophisticated band arrangements and a "gargled" shout are the trademarks of this foremost Memphis vocalist. In recent years he's made numerous good albums for the Malaco label, but his recordings for Houston's Duke Records in the '50s and '60s virtually define the genre of soul blues. They're collected on a pair of dazzling two-CD sets (with more yet to come) from MCA: I Pity the Fool and Turn on Your Lovelight.
---
2. John Lee Hooker
Hooker has to be the most prolifically recorded blues artist of all time, and trying to pick one or two discs is an exercise in futility. Les Fancourt's discography "Boogie Chillen" lists well over 100 albums with John Lee as the featured artist. Hooker's deep, dark, country blues translated well to an urban setting when he moved from the Delta to Cincinnati and then Detroit in the late '40s. In this decade his career received a gigantic boost from CDs like The Healer that include guest artists eager to honor his influence.
His best early recordings feature solo guitar and foot stomping and are almost frightening in their primal intensity. The classic 1949 King sides are my personal favorites, but they have never been reissued on CD in the U.S. To hear them you'll have to dig up the out-of-print LP Moanin' and Stompin' Blues (King) or the Charly (UK) CD Don't You Remember Me (with unnecessary echo added). Short of that, the two-disc Ultimate Collection (Rhino) provides the best cross-section of his life in the blues. Hooker 'N Heat (EMI), from 1970 with Canned Heat, is an exciting session of solo, duet and band tracks.
---
3. Little Milton Campbell
Like Bobby Bland, this excellent blues/soul/R&B singer has found renewed success with the lusher arrangements of the Malaco sound. His Greatest Hits collection offers the cream of his output for that label. Welcome to the Club: The Essential Chess Recordings (MCA) presents most of his early hits. Incidentally, Milton is also a much underrated guitarist and his live shows burn, baby.
---
4. Jimmy Reed
Reed's laconic, countrified vocals with hypnotic harmonica and guitar created a unique and entrancing blues style that even produced the occasional crossover hit. Much of his playing for Vee-Jay was augmented by the guitar work of Eddie Taylor. The two-disc At Carnegie Hall (not a live album at all) is one of his best and best-known. It, like all his Vee-Jay output, periodically goes in and out of print.
---
5. Lightnin' Hopkins
Po' Lightnin' could be an acoustic Texas folk artist or an electric R&B hitmaker with equal ease. A splendid guitarist (who occasionally played piano and organ), he was an improviser and storyteller par excellence who rarely did a song the same way twice. He left behind a huge body of recorded material when he passed away in 1982. The Herald Material -- 1954 (Collectables) and The Gold Star Sessions (Arhoolie) present some of those early hard-edged, jukebox-oriented sides. Mojo Hand: The Lightnin' Hopkins Anthology (Rhino) is the place to find an excellent overview that spans many years and record labels.
---
Back to the List
---
This page and all contents are &copy 1996 by Blues Access, Boulder, CO, USA.