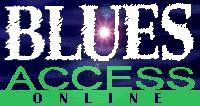 ---
The Essential Blues Album List
CLASSIC COUNTRY BLUES
---
1. Robert Johnson
As far as great recorded blues goes, this is where it all began. The Complete Recordings (Columbia) features haunted and haunting vocals, matched with utterly stunning finger-picked guitar work. These sides, recorded in 1936 and 1937 are all the legacy we have of this mysterious legend. Probably the most influential recordings in the history of the blues.
---
2. Son House
In 1942 Alan Lomax recorded Son for the Library of Congress, but it wasn't until his rediscovery in 1965 that a wider audience learned of him. Father of the Delta Blues presents his first session for Columbia in its entirety (including 12 unissued takes).
---
3. Mississippi John Hurt
A gentle singer (and man) and outstanding fingerstyle guitarist who first recorded in the '20s, he was rediscovered in the folk revival of the '60s. The Best of ... (Vanguard) is a delightful live performance, while Worried Blues and Avalon Blues (Rounder, both from 1963) document his first recordings in nearly 40 years.
---
4. Skip James
Another '60s "rediscovery," James recorded 26 sides for Paramount in 1931. Greatest of the Delta Blues Singers (Biograph) shows off his high-pitched vocals in the first session following his reemergence in 1964. Cream did a version of his "I'm So Glad" on its first album.
---
5. Blind Willie Johnson
The Complete Blind Willie Johnson (Columbia/Legacy) offers up the meager output of this great gospel blues singer and slide guitarist. These 30 religious songs, while totally blues-infused, define inspirational music. His "Dark Was the Night -- Cold Was the Ground" is one of the most powerful songs ever recorded.
---
Back to the List
---
This page and all contents are &copy 1996 by Blues Access, Boulder, CO, USA.