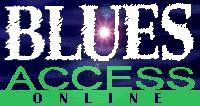 ---
The Essential Blues Album List
ESSENTIAL FEMALE ARTISTS
---
1. Koko Taylor
An Audience With the Queen (Alligator) almost captures Koko's in-person energy. A strong Chicago shouter, she is the rare woman who performs strictly the blues. She's been named "Best Female Vocalist" so many times that the award should bear her name instead of W.C. Handy's. What It Takes/The Chess Years, featuring almost exclusively Willie Dixon material, is a good overview of her less well-known earlier work.
---
2. Big Mama Thornton
Ball N' Chain (Arhoolie) contains '60s versions of her two best known songs, "Hound Dog" and the title tune which was popularized by Janis Joplin. Her earlier sides are collected on Hound Dog/The Peacock Recordings (MCA).
---
3. Bessie Smith
Some of the Empress of the Blues' recordings sound horribly dated to modern ears, but there's plenty to be gleaned from the five volumes (10 CDs) of Columbia's The Complete Recordings. "Empty Bed Blues," "I Need a Little Sugar in My Bowl," "Gimme a Pigfoot" and "Back Water Blues" are just a few of the classic songs you'll find here in their original versions.
---
4. Irma Thomas
The "Soul Queen of New Orleans" receives way too little attention outside her home town. She first hit it "big" (relatively speaking) in 1964 with the original "Time Is On My Side." Her soul/R&B style has a strong underpinning of the blues, and she is an absolutely electrifying live performer. The Way I Feel is the best of her recent Rounder recordings. The Irma Thomas Collection (Razor & Tie) dishes up 23 of her early singles, but a real sleeper is Something Good: The Muscle Shoals Sessions (MCA), a set that went nowhere commercially in 1967 but is startling today in its evidence of a soul laid bare.
---
5. Etta James
Discovered by Johnny Otis in the early '50s, Etta crossed over into rock'n'roll, but her roots always remained in the blues. The Essential ... is two CDs worth of the songs that built her reputation. Seven Year Itch (Island) was her knockout comeback album.
---
Back to the List
---
This page and all contents are &copy 1996 by Blues Access, Boulder, CO, USA.