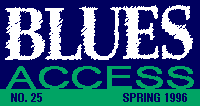 ---
Handy awards a'looming
The annual W.C. Handy awards will be presented May 2 at the Vincent De Frank Auditorium in Memphis, Tennessee. Ruth Brown, who shared host duties last year with Dr. John, will return again as master of ceremonies. Handy winners already have been selected by more than 10,000 worldwide blues fans, members of the Blues Foundation and subscribers to BLUES ACCESS and other blues magazines. There are four new categories this year: Best New Blues Artist, Comeback Blues Album of the Year, Blues Instrumentalist: Bass and Blues Instrumentalist: Drums.
The weekend includes the Keeping the Blues Alive Awards Banquet for those non-musicians who go the extra mile for blues, the Blues Symposium (which we found enlightening last year), a Moonlight jam session on a Mississippi riverboat Saturday night/Sunday morning and the Blues Brunch. The whole affair coincides with the Memphis in May Festival just about a mile from the Mississippi bridge in Tom Lee Park on May 3-5. (To the chagrin of many blues fans who have to choose -- including those here -- it also unfortunately collides with the second weekend of the Jazz & Heritage Festival in New Orleans.)
You can get more information about the Handys from


(901) 527-2583
---
A crossroads in your retirement plans?
As part of a program to lure future retirees to consider relocating to the state, the University of Mississippi is offering hands-on historical courses in the state's illustrious history. Amidst week-long excursions based around "Grant's March to Vicksburg," "A Natchez Literary Journey" and "Gulf Coast Wonders" is one titled "Mississippi Blues Heritage," to be held at the campus in Oxford March 17-22. Join scholars from the Center for the Study of Southern Culture to discuss the state's rich musical history and take side trips to famous sites like Elvis Presley's birthplace in Tupelo, the Delta Blues Museum and Rooster Blues Records in Clarksdale and the university's extensive Mississippi Blues Archives. For info call (601) 960-7060.
---
A worthy cause
When Julia Barner and Mary Achford, both sisters of Sonny Boy Williamson who were instrumental in raising him, were killed in an apartment fire October 10 in Tutwiler, Mississippi, the Sonny Boy Blues Society stepped in to help handle funeral and burial costs not covered by their insurance. A benefit at the Blues City Cafe in West Helena, Arkansas, helped. But if you'd like to make a contribution, call SBBS spokesman Bubba Sullivan at (501) 338-3501.
---
Got our Mojo workin'
Admittedly, we're not the intended target, but have you found yourself skipping over what passes for rock magazines these days... you know, the ones where you can't tell the ads from the features? But we ran across one that actually acknowledges blues' contributions to rock and is printed in a type face that you still can read with bifocals.
It's called Mojo, and the February 1996 issue has no less than Howlin' Wolf on the cover ("The blues titan who hot-wired rock & roll," the headline wails). inside is Paul Trynka's in-depth article on Wolf's life and influence, complete with remembrances of the 1970 London sessions by Keith Richards, Glyn Johns and others, a list of 21 prime Wolf songs with interesting commentary and some fantastic photo reproductions.
The January issue includes several articles about the Stagger Lee myth and reality (again, with great graphics), the best of 1995 from Dr. John (Johnny "Guitar" Watson and Poo Nanny) and John Lee Hooker (Robert Cray's Some Rainy Morning), a section called The Month in Blues, reviews of James Harman, Lou Ann Barton and the new Bo Diddley bio and an obit for Junior Walker. The down side is that it's a monthly published in England, and at our local book store it's $5.95 an issue, even more to subscribe. (Moppin House, 4 Winsley St., London, W1N7AR).
---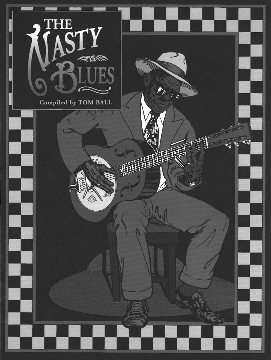 Bookshelf
Among the books on our reading list: Keep Cool: The Black Activists Who Built the Jazz Age) (Pluto Press, London), which traces the political side of the rise of jazz in the early century, focusing on W.C. Handy, Clarence Williams and fighter Jack Johnson and other activists ... the paperback edition of I Say Me for a Parable: The Oral Autobiography of Mance Lipscomb, Texas Bluesman (Da Capo Press, New York), compiled from his hundreds of hours of conversations with the great Texas country bluesman by Austin writer Glen Alyn ... The Nasty Blues (Centerstream, Fullerton, California), bawdy blues songs in a large, well-illustrated (including Robert Crumb drawings) format. As Son House once said, "they'd like to hear it. I don't care how dirty you'd make it."
Send information for this column to ACCESS, c/o BLUES ACCESS, 340 S. 42nd, Boulder, CO 80303, fax to (303) 494-1127 or e-mail Lrucker@aol.com.
---
This page and all contents are &copy 1996 by Blues Access, Boulder, CO, USA.