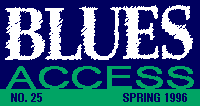 ---
The 1960s are a problem, both for music lovers who remember them clearly (or not so clearly, as the case may be) as well as for those who have grown up believing they were somehow mythical days.
Somehow we forget there was only one Jimi Hendrix, only one Jim Morrison, while a lot of those "great" groups, particularly in the early days of the British Invasion, were pretty inept. And, let's face it, not many of us care to bring back Hootenanny singalongs or Joan Baez emoting Child ballads, either. The folk music world of the time often seemed so insular (and smug) that many true blues and country musicians just weren't considered part of it.
But, at the same time, a dedicated bunch of people bucked the trends and branched out in search of overlooked, neglected bluesmen. Due to their efforts, second careers were launched for Mississippi John Hurt, Son House, Bukka White and others. As the recordings they made are reissued on compact discs, we can appreciate that legacy more than ever.
One such ear-opener is Sleepy John Estes' Broke & Hungry (Delmark 608), a dozen songs taped by Bob Koester on a single day in March 1964. Estes, who'd cut his classics a quarter of a century before, still boasted a high, emotion-laden voice and songs that at times stretched the blues form. The 1964 session caught him in a comfortable setting with old pals Hammie Nixon on harmonica and Yank Rachell on mandolin and guitar.
While Rachell and Nixon carry the instrumental weight, a young Mike Bloomfield adds sympathetic, unobtrusive guitar on four tunes. Estes redoes "Everybody Oughta Change" and several of his best tunes in loose, extended versions, and he shows that he kept up on changing styles with Big Boy Crudup's "So Glad You're Mine" and a fun closer called "Sleepy John's Twist." It's a shame he's never received the adulation given to, say, Robert Johnson, for I'd just as soon listen to Estes.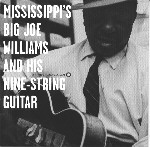 A couple years before the Estes session, Koester produced Mississippi's Big Joe Williams & His Nine-String Guitar for Moses Asch's Folkways label, and it's now been reissued in a nice package (Smithsonian-Folkways 40052). Williams, too, mixes lively versions of his standards, like "Mama Don't Allow Me," with borrowed numbers, like friend Sonny Boy Williamson's "Elevate Me, Baby." The sound quality is top-notch, offering a chance to hear Williams' guitar work, making you happy to be in the room during the toe-tapping "She'll Be Coming Round The Mountain." The late Pete Welding said it well in his liner notes: "It's Big Joe at his best, recorded in his prime, full of unrestrained enthusiasm, singing lustily and playing with real fire."
Not as fiery, but still pleasant, is Blues By Roosevelt "The Honey-Dripper" Sykes (Smithsonian-Folkways 40051). This 1961 session was produced by no less than Memphis Slim, who does a piano duet with Sykes on "Memphis Slim Rock." Once again the repertoire includes new pieces as well as remakes of songs that the singer-pianist recorded in his long career.
Truth is, there's a sameness about Sykes' records in the same way that there's a sameness about Lightnin' Hopkins' later work. Sykes, an engaging performer, just seemed to spin out those blues, double-entendre songs and boogies. Any one of them is great, but they're pretty interchangeable. If you already have a good Sykes disc, you probably don't need this one, but if you want a sampler or an introduction to an influential blues piano man, it should fit the bill.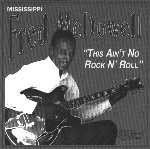 On the other hand, Mississippi Fred McDowell's This Ain't No Rock N' Roll (Arhoolie 441) may be essential to anyone interested in the country bluesman who shocked some folk stodgies by switching to electric guitar, though he always insisted, "I do not play no rock and roll." This set includes eight tunes from a 1969 studio date and another 10 from a session at producer Chris Strachwitz's house a year earlier.
The band in the studio doesn't seem to get in the way of McDowell's sliding guitar and, throughout, his deep Delta style is effective. Whether it be the old mule skinning "Levee Camp Blues," Little Walter's "My Baby" or the spiritual "Keep Your Lamp Trimmed & Burning," one of his favorites, McDowell shows why he made a wave in his 60s in the late '60s.
---
Chess Collectibles
Another trend in those long-ago times was recording venerable bluesmen in the company of rock musicians, giving the rockers the chance to play with their idols and, presumably, giving the bluesers a shot at some sales. Some of these were misguided efforts, to say the least. I've always thought one of the most dreadful concoctions was Electric Mud, a "psychedelic" assault on Muddy Waters that Chess Records should have destroyed before releasing. So I'm glad to report that another Muddy Waters' "rock" album is pretty damn good.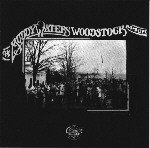 The Muddy Waters Woodstock Album (MCA/Chess 9359) puts the Chicago giant in front of an all-star outfit including the Band's Garth Hudson (keyboards) and Levon Helm (drums, bass), Paul Butterfield on harmonica and saxophonist Howard Johnson. Directing the 1975 event was veteran R&B producer Henry Glover, and Waters brought along pianist Pinetop Perkins for good blues measure. Rather than remake old hits, the group tries some new material, most notably Bobby Charles' rocker "Why Are People Like That," and blows out on tunes you wouldn't expect from Waters -- "Caldonia," "Kansas City," "Let the Good Times Roll." Everybody's having a fine time, resulting in memorable moments as Muddy Waters sings sturdily over Butterfield's hot harp and Hudson's accordion.
Speaking of hot harp, the latest in the Chess Collectibles series -- Blues With a Feeling (2-9357) -- brings together 40 hard-to-get songs, alternate takes and unreleased numbers by Little Walter. Frankly, I get bored when most people pick up the harmonica, but not so with Walter Jacobs. The new two-disc set includes an alternate version of his hit "Juke" from 1952, numbers like "Flying Saucer" aimed at the 1950s teen market, and a variety of the kinds of blues at which Little Walter excelled.
The '50s also live again on Oh! Suzie Q --The Best of Dale Hawkins (MCA/Chess 9356). Hawkins, the cousin of Ronnie Hawkins, is best known for his 1956 hit "Suzie Q," but in the late 1950s he made other music as well. With his sharecropper roots and his Chess Records association, Hawkins was bluesier than most white rockabilly performers. Of course, it didn't hurt that Willie Dixon played bass on his record of Dixon's "My Babe," or that Hawkins' own band at times featured guitarists James Burton and Roy Buchanan. Some of these 18 songs are pretty silly, like a lot of early rock, but enough of it is good enough to get you bopping.
---
Gimme Shelter
The same era gave rise to the late Freddie King, whose reputation has grown and grown since his death at age 42 in 1976. Always good, the Texas singer/guitarist definitely reached a wider audience in the early '70s, the breakthrough fueled by praise and support from Eric Clapton and by albums on Leon Russell's Shelter Records. As one writer put it, "Russell brought King to the rock world, gave him a rock context and white boys to trade licks with on three LPs."
No one could argue that King's Shelter output is on par with the often intense vocals and virtuoso guitar pieces that he'd earlier recorded for King and Federal Records, but the Shelter albums shouldn't be dismissed, as proved by the two-disc King of the Blues (EMI/Shelter 7243 8 34972). When King has a good fresh song like "Going Down" or "Woman Across the River," he turns in a performance that ranks with the best of his career. And when Russell, as he often did, asks King to redo "Key to the Highway" or another blues standard, Freddie King usually invests something of himself to make a solid record.
Three of Leon Russell's own Shelter albums from 1970-'71 have been reissued on The Right Stuff label, fleshed out with previously unreleased bonus tracks. They sound today much like they sounded then -- a mixed bag, with occasional fine moments, gospel-based piano, Russell's scratchy Oklahoma voice sometimes drowned out by background singers, often grasping for something beyond his reach. I most enjoyed Leon Russell & the Shelter People (T2-34030) simply because he sings five vintage Bob Dylan tunes.
---
Jubilee years
Jubilee Records was certainly more closely associated with rhythm & blues and blues-based music than Shelter Records was. Founded in the late '40s by singer and bandleader Jerry Blaine, the label's biggest successes came with Sonny Til & the Orioles, the Four Tunes and, on the sister Josie label, the Cadillacs. But aside from doo-wop, the stew surely got thinner, as illustrated by a series of Jubilee anthologies on the British Sequel label.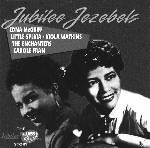 Jumping at Jubilee, which features 22 tunes by country and jump-blues specialists, is barely worth mentioning. I suspect the only items of real interest, even to collectors, are a pair of average tunes by Cousin Joe. The Jubilee picture improves with Jubilee Jezebels, two dozen numbers, mostly early-'50s blues ballads, by Carole Fran, the Enchanters, and Little Sylvia (Vanderpool) before she met Mickey Baker and discovered "Love Is Strange."
My pick of the Jubilee catalog is Saxophony, 21 tunes by the "Jubilee Honkers & Shouters," which translates into sweaty and jumping sax "period pieces" by jazzy bands led by Rene Hall, Jesse Powell and Buddy Lucas, bands that were quite good, if a long way away from Sleepy John Estes, Big Joe Williams and Mississippi Fred McDowell, where we began.
---
Let's blow some jug
So let's close by returning to the earliest days of recorded blues. Of course it helps to love both old, old records and jug bands and to be crazy enough to think that an old jug band playing on an old record is even better, but I'd recommend State of Tennessee Blues (Memphis Archives 7019). The collection of 18 tunes by the Memphis Jug Band, 1927-1929, is the latest product of Memphis Archives, a label that surely warms the hearts of old blues and jazz fans.
The Memphis Jug Band made great records for Victor in those days and has influenced virtually every good-time band that's blown a jug ever since. For Will Shade and his ever-changing crew, the jug-band style wasn't an old-timey lark, but a natural way of making music. Unlike a lot of those pickup bands with washboards and clattering junk, the Memphis Jug Band was a well-rehearsed outfit that turned out well-produced records geared for the three-minute length of the 78 rpm. They take a little getting used to, but, as with the best of American music, you'll get back more than you put into it.
---
This page and all contents are &copy 1996 by Blues Access, Boulder, CO, USA.