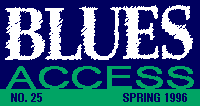 ---
Play Blues Guitar with Keith Wyatt
CD-ROM for Windows PCs
---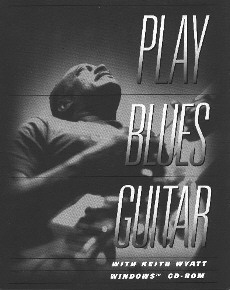 First it was books, then came cassettes and, soon after, videos. Now the computer has gotten into the musical instruction act with this CD-ROM. Technology can take a bow: Play Music Inc. (formerly Kudosoft), Keith Wyatt (who heads the guitar program at the Musicians Institute of Hollywood) and a cast of talented musicians and programmers have done a great job assembling a multi-media program for advanced beginners to intermediate blues guitarists.
Easy-to-use is probably the best way to start out describing this package. This is important because I am not a computer expert, just a dumb user. Pop the CD into your drive, run the set-up routine and the software installs itself. There is no lengthy documentation to study; everything is on-line, literally giving new meaning to the term plug-and-play. The opening screen offers Introduction, Tune-up, Songs and Terms and Techniques icons that work for any user level.
The intro provides a live video of Wyatt reviewing all the features of the package to help you get down to it. Pick the Songs icon and select from four original tunes presented in detail, including a 12-bar medium tempo shuffle, 12-bar slow blues, 16-bar minor blues and an eight-bar shuffle, all in the key of A. For each piece, a brief background text section appears on the screen with underlined words or phrases that take you right to the definition of the term (e.g., shuffle, 12-bar) or a lesson on the technique (like bending).
Another icon for every tune links to a video of the band playing the tune and allows you to mute the solo guitar to play along yourself, loop it endlessly for long practice sessions and even modify the tempo. I especially love the measure counter that lets me reference exactly where I am on the accompanying charts. (Unfortunately, I couldn't figure out how to print or otherwise view the chart while I was playing with the band.)
There are separate lessons for rhythm and solo guitar parts, in which each tune is further broken down into the intro, first chorus, second chorus and ending. In each of these, you have the option of playing along with the band or going to the animated guitar, where a close-up shows the actual notes being played with the music track. I found this (combined with the pause and tempo controls) to be the easiest way to learn a solo I have ever encountered!
The Terms and Techniques icon goes to another menu of lessons that includes technical terms, essential chords, rhythm phrasing, essential scales, phrasing techniques and building a solo. I believe that advanced beginners picking up this package could glean enough material to keep themselves busy for months and certainly graduate to what I'd call an intermediate guitarist in any circle of blues players. Intermediate players will pick up lots of great tips, and in a few weeks of work, really polish up their repertoire of licks and tricks.
The only drawback is that you need a relatively powerful piece of hardware: a 486 or better processor with CD-ROM drive, 4MB RAM, MPC Sound card, Windows 3.1, MS DOS 5.0, and a 256 color SVGA monitor.
It's the best lesson I've ever found. Did I forget to mention that this software is also MIDI compatible, with 40 MIDI lessons on the disk? Geez! ($59.95, Play Music Inc., 11320 Chandler Blvd., Suite G, N. Hollywood, CA 92601. 1-800-887-PLAY).
---
The Guitar of Rory Block
VHS tape, 80 minutes
---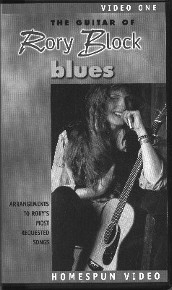 This is an update of Homespun's Rory Block instructional video, The Power of Delta Blues Guitar, that came out about three years ago. Instead of focusing on general techniques in the Delta blues style that she has so wonderfully made her own, this tape zeros in on specific arrangements of her most-requested tunes.
In a relaxed and friendly one-on-one style of instruction that has improved over the past few years, Block patiently takes the intermediate-to-advanced fingerstyle acoustic guitarist through "Hawkins' Blues," a medley of Buddy Boy Hawkins tunes in open G tuning; Lottie Kimbro's "Rolling Log" in dropped D tuning; Robert Johnson's "Terraplane Blues" in open G; and Tommy Johnson's "Bye Bye Blues" in standard tuning.
It wasn't until I thought about why this tape seemed so much more user-friendly that I realized that Homespun has made a few subtle changes in its production techniques, including left- and right-hand close-ups, combined with a more judicious use of split screen, making it easier on the eyes and brain. The setting -- a comfortable living room, not a studio -- is more relaxed without sacrificing any clarity or focus. ($49.95, Homespun Tapes, Box 694, Woodstock, NY, 12498. 1-800-33-TAPES)
---
Learn Blues Guitar with the Greats
VHS tape, Beginner Level, 30 minutes
---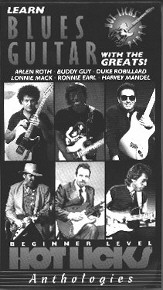 Here's a new marketing idea that I like. Take a sampling of your best $50 videos in a specific musical style and put them together for $20. Students get six five-minute beginner lessons that expose them to a sample of what's in store on six of those $50 videos. But even better is the enclosed coupon that lets you order those $50 videos for $20 each.
On this pu-pu platter of the blues, you get Harvey Mandel teaching scales, Buddy Guy on soloing, Duke Robillard teaching a bit of his T-Bone style, Ronnie Earl on constructing solos, Lonnie Mack with a quick shuffle rhythm lesson and, of course, the ubiquitous Arlen Roth teaching vibrato and bending. The six lessons in themselves are worth the price of the tape; with the discount coupon on the full-hour tapes, this is a great deal. ($19.95, Hot Licks Productions Inc., P.O. Box 337, Pound Ridge, NY 10576. 1-800-388-3008)

Send materials for review to: Kiernan Music Services, 1239 Lakeshore Drive, Boulder, CO 80302.
---
This page and all contents are &copy 1996 by Blues Access, Boulder, CO, USA.