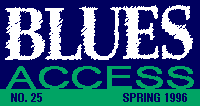 Selected from the Magazine
---
---
Little Walter
Blues With a Feeling
Chess/MCA 2-9357
---
This is the set that blues harp fans have been impatiently waiting for since it was first rumored several years ago. Although Little Walter was an influential hitmaker in the '50s on par with his label mate and former employer Muddy Waters, he's been given back-burner treatment since MCA began its Chess reissue program in the mid-'80s.
Speculation is that becauseWalter was recognized as much for his harmonica virtuosity as for his singing, he might have limited appeal in today's guitar-dominated blues market. Or possibly it's that his penchant for swinging, uptempo material might not fit today's expectations of what a bluesman from his era "should" sound like.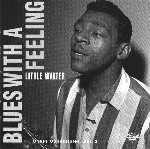 Whatever the case, the label has been slow in scouring the vaults for unissued and rare material from the acknowledged master of the blues harmonica. The release of Blues With a Feeling almost makes the wait worthwhile. This two-disc package collects 40 chronologically arranged studio recordings taken mostly from Little Walter's peak creative period from 1952 to 1960. Most of them are either new to domestic compact disc, unreleased alternate takes of issued songs or unissued titles.
If you've got the bootleg four-disc set Little Walter -- The Chess Years 1952-1963 (a collection of everything from that era that was issued legitimately or otherwise) on England's Charly label, you'll have heard some of these recordings already. But the sound quality is much better here, and there are enough tracks that have never shown up on any bootleg -- 13 in all -- to still make Blues With a Feeling a worthwhile acquisition.
Some of the highlights from disc one: the charging alternate take of "Juke," first released on Chess Blues Volume 6 a few years ago, which still makes us wonder what transpired in the studio between this one and the tamer version that became Walter's first hit. From the same session is a stunning outtake of "Can't Hold Out Much Longer," which features a powerful harp solo and more prominent guitar interplay from Muddy Waters and Jimmy Rogers than the issued version and shows Walter still somewhat under the spell of his early hero, John Lee Williamson.
The alternate of "Blue Midnight" -- until now available only as part of the bootleg LeRoi Du Blues album series (as were many of the titles listed here by MCA/Chess as "previously unissued in U.S.") -- is the creative equal of the issued version, marred only slightly by a momentary tape drag at the beginning. This is followed by two songs from a recently unearthed 1953 session: an embryonic version of "Off the Wall" -- here titled "Fast Boogie (alternate)," and a reworking of Charles Brown's hit "Drifting Blues," which Walter fills out with huge organ-like chording on his harp.
"That's It" is a fascinating medium-tempo instrumental that shows Walter experimenting with some new harp techniques, including one chorus on which he picks up his chromatic for the first time in the studio and plays it briefly in the wrong key before recovering his bearings. From the same session is an unreleased alternate take of one of his most-covered songs, "Blues With a Feeling." It's given a different guitar and harp arrangement, but unfortunately suffers because of a faulty microphone cord.
Curiously, the song referred to here as an alternate of "Come Back Baby" isn't "Come Back Baby" at all; it's an extended version of the issued take of "Hate to See You Go," until now heard just in edited form.
Disc two starts with more unreleased alternate takes: "Temperature" -- the fourth version to be issued -- with a quicker tempo and a completely different solo than any of the others; also "My Baby's Sweeter" and "Crazy Mixed-Up World." Both feature markedly different harp solos from the issued renditions, the latter even more together and harder swinging than the original. These are followed by a pair of songs listed as "previously unreleased in U.S." Apparently Chess/MCA is giving bootleggers more credit than is due because neither of these variants of "Worried Life Blues" nor "Everything's Gonna Be Alright" has ever seen the light of day before.
There's a hard-driving, unissued alternate of "Mean Old Frisco," and although "Break It Up" has been out before, it's never been heard in the pristine, wide-open stereo in which it's presented here. The final newly-released nugget on this set is the bouncing little love song "You're Sweet," and, like a lot of this material, it's hard to figure why this was never released.
The package isn't without faults: a few songs contain musical miscues that led to their being held back, and as stated in Mary Katherine Aldin's liner notes, a couple of recordings suffered from poor recording techniques. Overall, though, the clarity of these decades-old recordings is astounding, and none of what's been available before has ever sounded better than it does here.
There are also a few missteps in the liner notes and credits, which don't always agree with each other. Besides the gaffes mentioned earlier, Willie Dixon is listed as bass player on the two cuts that Aldin rightly credits to Big Crawford; Jimmie Lee Robinson's part on the "Temperature/Ah'w Baby" session is mistakenly credited to Robert Lockwood; and no bass player is credited on some songs where there obviously is one.
But none of this should detract from the enjoyment of the music. It's a testament to Little Walter's musical genius that this set stands up not only as an intriguing collection of rarities, but as an entertaining blues album in its own right. And as the most influential blues harp player in the history of the instrument, Walter's outtakes and throwaways are still able to generate more excitement and interest than most of his competition did in their careers.
-- Scott Dirks
---
John Hammond
Found True Love
Pointblank 40655
---
On his third album for Pointblank, the blues veteran works a wide range of idioms, featuring full-band backing as well as stripped-down guitar/piano or guitar/harmonica accompaniment.
Hammond's voice is in great form, tackling Howlin' Wolf ("Howlin' for My Darlin'," "My Mind Is Ramblin' ") or engaging in smart and sassy duets with singer Soozie Tyrell ("Warm It Up to Me" and especially in Alonzo Johnson's humorous nag-nag-nag session, "You Had Too Much"). He gives a convincing reading of Jimmy Reed's "Found Love," paying tribute to Reed's sublime, relaxed way with the blues. And in a duet with harp player Charlie Musselwhite, he closes the album with a short and sweet version of Sleepy John Estes' "Someday Baby Blues," a prime slice of folk-blues.
Those accustomed to Hammond's live, solo outings will be positively jolted by the ferocious "The First Time I Met the Blues," where we find Mr. Hammond fronting a no-holds-barred, full-band assault. Check out Robillard's piercing guitar solo on this and other tracks, marvel at the great interplay between his electric and Hammond's acoustic work and notice Duke's excellent production touches.
One wishes Hammond would tour with this album's line-up: Robillard, Jeffrey McAllister or Neil Gouvin on drums, bassist Marty Ballou and Mr. B (a k a Ann Arbor's Mark Lincoln Braun), who contributed the absolutely wonderful piano stylings to this disc. All told, this is an impressive and entertaining effort by a dedicated blues guy who may just now be at the top of his game.
-- Jon Martinez
---
Howlin' Wolf
Back Door Wolf
Chess/MCA 9358
---
Latter-day '70s attempts by Chess to modernize Muddy and Wolf were held in contempt by the young people they were trying to pander to. So the label let the bluesmen be themselves again, though in Wolf's case there was time for but one more LP before he died in 1976.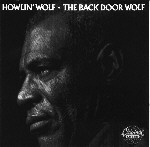 Fans of guitarist Hubert Sumlin and drummer S.P. Leary may want 1973's Back Door Wolf, as both these stalwarts play well on it. Wolf sounds OK, too. His voice is strong, his harp work hearty. But the music is for the most part listless and unadventuresome. One song sounds like "Forty-Four," another like "Smokestack Lightning," and so forth, which is not necessarily a bad thing, but the songs just don't cook. A given verse or instrumental passage may simmer but the whole selection will not.
The worst thing is that pianist Detroit Junior switches from piano to, of all things, a harpsichord on several cuts. Liner copy says this was producer Ralph Bass' attempt to please the "counter-cultural contingent" and that it "isn't wholly without merit." Nonsense! The thing sounds ridiculous, as tinkly and inappropriate as a kid's toy. Bass has stood revealed in various writings as a producer whose attempts to be hip were wrong-headed and even pathetic. This harpsichord business reveals him as so out of touch he never even took note of the scorn heaped on such panderings.
There are worse Wolf records than this, and there are plenty that are vastly better. It's a very minor item in this great bluesman's discography.
-- Tim Schuller
---
Luther Tucker & the Ford Blues Band
Luther Tucker & the Ford Blues Band
Blue Rock'It BRCD 122
---
Chances are you haven't heard Luther Tucker as much as you've heard about him. Originally from Memphis, he joined Robert Junior Lockwood behind Little Walter, later playing with Muddy Waters, Howlin' Wolf, Sunnyland Slim and Sonny Boy Williamson. He's on Otis Rush's album on Vanguard, James Cotton's albums on Verve, and he's played with John Lee Hooker and Charlie Musselwhite.
But Tucker never got around to recording an album of his own. He died of a heart attack in 1993 at age 57. Antone's posthumously released an album featuring a Tucker-led band which, while sincere and much-appreciated, sounded uninspired. That's certainly not the case with Luther Tucker & the Ford Blues Band. It's excellent.
In case you haven't heard of Blue Rock'It (I hadn't), it's a San Francisco label that's run by Patrick Ford, Robben Ford's drums-playing brother. While recording the Ralph Shine Blues Band -- a session that included a Tucker appearance -- Ford offered to record a Tucker-fronted version of the Ford Brothers Band. Seven years later, they carved out four days of studio time.
Unfortunately, Tucker's health caused him to miss the second and fourth sessions, and much of what was recorded during the first and third sessions was plagued by a popping sound caused by a faulty jack that wasn't discovered until after the sessions were over. Tucker joined the Ford Brothers Band for a European tour that included the blues festival in Bremen, Germany. It's the same festival that generated Ronnie Earl's Blues Guitar Virtuoso Live in Europe, on which Earl dedicates "Robert Nighthawk Stomp" to Tucker, saying, "If it wasn't for people like Luther Tucker, there wouldn't be no Ronnie Earl and the Broadcasters."
He's not sure why -- fate, perhaps -- but Ford arranged to have a mobile recording studio at the Bremen gig. Tucker died a week later.
Luther Tucker & the Ford Blues Band features four live tracks from the Bremen festival ("L.T. Shuffle," Little Walter's "Mean Ol' World," Big Maceo Merriweather's "Worried Life Blues" and Tucker's "Cleo and Back Again," which borrows the riff from "Te Ni Nee Ni Nu"), six studio tracks and a 16-minute radio interview with Tucker. Tucker sings on only one of the studio tracks, "Little Bitty Man," a song his mother sang to him as a child.
It's an odd analogy, but Tucker plays a rhythm-style lead guitar that's not unlike rock's Keith Richard or Pete Townsend. Tucker, however, isn't flashy. No need to be. His staccato groove takes him anywhere he wants to go, whether it's a slow burner like "Luther's Lament" or "Sad and Lonely," the faster paced "L.T. Shuffle," the quirky "Cha-Cha-La-Tucker," or laid-back "Little Bitty Man," which reveals Tucker's influence on Doug Sahm.
He's superbly backed by Ford's understated drums, some fat'n'juicy chromatic harmonica by Andy Just, bloozy piano fills by John R. Burr (he's been in and out of Maria Muldaur's bands), and when necessary, the lead guitar of John Wedemeyer (he's in Curtis Salgado's band now).
Too bad Tucker didn't live to hear Luther Tucker & the Ford Blues Band. He'd be very, very pleased.
-- Dave Ranney
---
Duke Robillard Band
Duke's Blues
Stony Plain 1195
---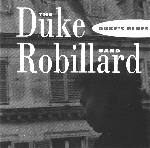 Texas, Louisiana, Chicago, Tennessee -- Duke Robillard is bad, he's nationwide. Duke's Blues pays homage to all the greats that inspired Robillard into becoming a consummate blues guitarist: B.B. and Albert King, T-Bone Walker, Magic Sam and other luminaries.
And what a tribute it is. From Texas shuffle to New Orleans R&B to Chicago urban style, Duke's got it down cold and then some. The Robillard core band, bassist Marty Ballou, drummer Jeffrey McAllister and Pat Murphy on guitar, is augmented by Mark McCabe on keyboards and the magnificent horn section of "Sax" Gordon Beadle, Al Basile and Greg Mazel. The horns can carry the main riff ("Don't Leave Me Baby"), supply slinky jazz figures ("Information Blues," "Red's Riff") or provide solid, New Orleans chordal backdrops ("Something to Remember You By"). They also shine when given various solo turns, while the rest of the band maneuvers all the stylistic changes with great finesse.
And Robillard? He's just magnificent. The vocals are appropriately tough. On guitar, whether stinging treble attacks or smooth jazz tones, the effortless swing of "Texas Hop," the lightning-quick staccato runs and wrenching double-stops of Albert Collins' "Dyin' Flu," the distorted raunch of "Something to Remember You By" or the skittish and demented tremolo of "Never Let You Go," well, it's just one highlight after another. The ghost of Robillard's stint with the Fabulous T-Birds is convincingly conjured up in the Texas shuffles "Tell Me Why" and "Don't Treat Me Like That."
To top it off, Duke returned to his old stomping grounds, Providence, Rhode Island. As he explains in the liner notes, he was inspired by the many blues and jazz greats that visited the Boston and Providence night spots, as well as the fabled Newport Folk and Jazz festivals. So he came back to work with old jamming buddies and to feed off the vibes of those places.
It's a move that paid off well. Too many tribute albums play it safe and polite. On Duke's Blues Robillard gives the masters a run for their money and comes up a winner in every facet of the game.
-- Jon Martinez
---
Little Milton
Live At Westville Prison
Delmark 681

Little Milton's Greatest Hits
Malaco 7477
---
Live At Westville Prison was recorded on January 14, 1983, a time when Little Milton's career was about to take a dramatic turn up through the roof. He was just about to record "The Blues Is Alright," the ultimate blues anthem of the modern era, for Malaco Records. In keeping with the moment, Milton is in top form here, performing several of his crowd-pleasing, favorite live numbers like "I'd Rather Drink Muddy Water," "That's How Strong My Love Is" and "Friend Of Mine."
While certainly a master of radio singles, Milton is also a consummate live performer who knows when to stretch it out and go with it. It is on his live recordings that listeners can hear what a great guitarist Milton is. Check out his 16-minute medley of hits or his seven-minute "Bad Luck."
The performance on this disc actually has two parts. The first half was recorded in front of the male prisoners, the second in front of a roomful of women. Needless to say, Milton feeds on all that pent-up female energy.
Ricky Earl on guitars, Lucky Peterson on keyboards, Frank McClure on bass and Tony Brown on drums provide a solid, no-frills blues groove. This is a great live recording from one of the best performers in the blues world today.
Little Milton's Greatest Hits is a fine summary of the last 15 years of Milton's recording career. It includes many of his smash radio hits from his years at Malaco Records (and bonus versions of his wonderful Stax recordings of "Walkin' the Backstreets Cryin' " and "Little Bluebird"). Obvious choices like "The Blues Is Alright," "Room 244," "Annie Mae's Cafe" and "A Possum In My Tree" are teamed up with less-known finds like "I Was Trying Not To Break Down" and "Catch You On Your Way Down." If you're unfamiliar with Milton's output in the last 15 years, this is a great place to get clued in to his work after he left Chess Records.
-- Brett J. Bonner
---
Guitar Shorty
Get Wise To Yourself
Black Top 1125
---
William David Kearney was born in Houston in 1939. While still in his teens, he began playing in local clubs and was soon dubbed "Guitar Shorty." In the '50s, Shorty toured with Ray Charles, Otis Rush and Sam Cooke.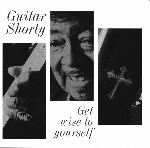 During an engagement with Cooke in New Orleans, Shorty decided to stay for a while. Soon he was opening for Guitar Slim, another flamboyant stage performer. A whole new world opened up for Shorty, and he began incorporating gymnastics into his act. Today Shorty thrills crowds by playing his guitar while executing head stands or soloing while doing a front flip across the stage. Some of this showmanship, no doubt, rubbed off on his brother-in-law, Jimi Hendrix.
The compact disc can never capture the visual aspects of Shorty's act, so the music will have to do. On this, his second Black Top release, Shorty rolls and tumbles his way through a set of Southern blues and soul. His guitar playing, heavily influenced by Albert King, is never overdone, always staying smart and direct. His moody, minor blues "You Left Me Dreaming" owes more than a little to "As the Years Go Passing By." O.V. Wright's "I Don't Know Why" is another slow, soul standout here, with deep emotion showing through his vocals and instrument.
Shorty's singing is a real bonus. He brings all his experience in blues and R&B to his vocals. You can hear the South, and the road, in his songs of warning, boasting or regret.
Added treats are the two songs written by Swamp Dogg, one of the great R&B novelty acts. Besides the title track ("You better get wise to yourself/Before you be by yourself"), he penned the salacious "She's Built, She's Built to Kill." Any disc with two Swamp Dogg tunes is a winner, and there's plenty more than that to like on Get Wise to Yourself.
-- David Feld
---
Pinetop Perkins
Solitaire
Lunacy 77732

With the Blue Ice Band
Earwig 4934
---
How many compact discs has Pinetop Perkins released in the last 10 years? Pinetop himself probably doesn't know the answer to that question, and in a way, it doesn't really matter. He's been recording basically the same disc with a different backing band each time out for the last decade.
Pinetop hasn't had his own regular band since leaving the Legendary Blues Band. He usually plays with a local pick-up group in whatever town he happens to be playing on a given night, so it's pointless to work up any new arrangements or material. These local bands usually initiate Pinetop's recording sessions these days -- Pinetop gets a nice paycheck for sitting in a studio and running through his standard on-stage set list, and the band gets to release their own souvenir of having recorded with a genuine blues legend who once accompanied Muddy, Sonny Boy, etc.
Ultimately, the quality of these releases is determined by whether the band that booked him into a studio while he was passing through their town has done its homework. Thanks largely to Pinetop's professionalism and good-natured adaptability, the results are usually no worse than mediocre and sometimes even offer brief moments of transcendence.
Unfortunately there aren't many of those transcendent moments on either one of these discs. On 10 of the 14 songs on Solitaire, Pinetop is backed by a small band of bass, drums and harmonica, which in theory should leave plenty of room for Pinetop's piano. In fact, that space is too often taken up by the rudimentary huffing and puffing of the harp player.
Pinetop sounds rather uninvolved with the proceedings, and in general the backing is heavy-handed and not particularly sympathetic to his easy-rolling fluidity. The most effective songs are "Keep On Drinking" and "Grinder Man," both of which feature an unobtrusive guitarist added to the mix. Enjoyment of this set is also marred by a couple of technical irritations: several songs abruptly fade in "already in progress" or have endings that sound like quick and sloppy edits. Also, Pinetop's vocals apparently were recorded without a wind screen on the mic. The result is a fair amount of distortion and popping as he sings and occasionally spits into it.
Pinetop Perkins With the Blue Ice Band is the result of a tour to Iceland in 1991. The Blue Ice Band is one of the top blues bands in Iceland and, for their part, sound tight, well-rehearsed and passing familiar with Pinetop's set list. Four of the 10 songs on this set were recorded during a live nightclub performance, with the remainder done in a studio.
With a two-guitar attack and harp throughout by Chicago Beau (who was touring with Pinetop in Iceland), the spotlight is shared by the various soloists rather than focused on Pinetop's piano. The result is listenable if unremarkable. The band shows so much restraint in trying to be sensitive to Pinetop's music that they often sound leaden. The energy level is boosted by several fleet-fingered displays of rock-inflected guitar soloing by the two Icelandic guitarists (whose names can't be spelled with an English typewriter).
Neither of these discs is outstanding, and neither is worthless. In fact, both are probably representative of what you'd get if Pinetop was playing in your town tonight: a solid if not spectacular set of Perkins blues standards, with backing that would vary depending on just which town you're in.
-- Scott Dirks
---
Big Joe Duskin
Cincinnati Stomp
Arhoolie 422
---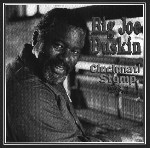 Here's an act of filial piety I would not recommend. Joe Duskin was just starting out his career as a boogie-woogie piano player in the Midwest when his father, an old-line Baptist preacher in his eighties, begged Joe to refrain from playing secular music while he was still alive. Like a good son, Joe agreed, never suspecting his old man would live to be 104!
We'll never have those two decades back, but Cincinnati Stomp shows us what happened when Duskin returned to performing in the mid-1970s. The material comes from two solo sessions in Duskin's home town in 1977 and a group session in Chicago the next year. The Chicago date resulted in five tracks; S.P. Leary plays drums on four, while Jimmy Johnson makes a single appearance. Of the group sessions, the title track is the standout, an original stomp with a slowed-down ending.
But the solo pieces -- 12 of them -- really make this recording shine. Duskin plays great boogie-woogie piano, with a rollicking left hand and a right that shoots out runs and fills without pause. On the classic "Roll 'Em Pete," both hands articulate cleanly and clearly at breakneck speed. "Honky Tonk Train" tears down the track with treble trills and thrills while the bass boogies along. Other standouts are "Down the Road Apiece," "Beat Me Daddy, Eight to the Bar" and "Dollar Bill Boogie."
Duskin's pianistics would be enough to satisfy these ears. But his singing is an unexpected bonus. He's got a big round barrel of a voice that grabs onto you and won't let go. He's still singing and playing today, mostly in Europe. Now in his seventies, I figure he's got about 30 more years in this business, and that's a lot of stomping.
-- David Feld
---
Tab Benoit
Standing On the Bank
Justice 1203-2
---
Baton Rouge-born Benoit, on his third album, tries Willie Dixon and almost escapes unscathed. His version of "The Seventh Son," with guitar solos in all the right places, is eager and respectful. But in the end, it's obvious that Benoit, a bearded hunk with trademark shades, is more comfortable with early-'70s blues-rock.
His "The Seventh Son" sounds like everybody else's "The Seventh Son." Or everybody else's "Hoochie Coochie Man," or "Sweet Home, Chicago," for that matter. Heck, it's a blues classic. Why not play it, just to remind all the people where the blues comes from? It's when Benoit tries too hard to prove he's real -- as on the title track, a slow song built on a John Lee Hooker riff -- that he falls short.
Benoit, shouting like Gregg Allman at the Fillmore, does a better job with Leon Russell's "Me and My Guitar." His quartet plays fast and jaunty, allowing Benoit to fill in the holes with constant jams. Sometimes, on the too-long "Laundromat Blues," the band runs this approach into the ground. Sometimes, on the piano-heavy opening track "Make Your Mind Up," it works as sprightly rock'n'roll.
There's one stellar song. On Willie Nelson's "Rainy Day Blues," the songwriter steps in for a duet, slipping easily in the space between Benoit's no-nuance hollers. It's a nice guest spot -- the legend drops by to sing, rather than lend his name for record sales or credibility.
But Benoit, a hard-working live performer who's just a couple of steps away from commercial success, settles too easily for blandness. The music industry's unfortunate logic is: If you play a bunch of familiar riffs and some fast guitar solos, you can be a blues star. Benoit ought to transcend this formula and carve his own style. He just might have the talent.
-- Steve Knopper
---
Bobby "Blue" Bland
Sad Street
Malaco 7478
---
Forty years after his first single, Bobby "Blue" Bland is still giving hope to underskilled daters everywhere. His gritty whisper of a voice, whether it's in his 1959 single "I'll Take Care of You" or his new version of Rod Stewart's "Tonight's the Night," will reduce any mate to a romantic puddle of jelly.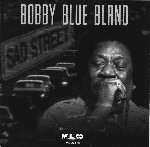 Sad Street, his 24th (or so) album, could just as easily have been recorded in 1965 as 1995. Its musicians, gathered at the famous Sheffield, Alabama, Muscle Shoals Sound Studios, keep everything soft. Saxophones occasionally blare in the background, and Jimmy Johnson (the Alabaman, not the Chicago musician) contributes some nice guitar solos, but the center microphone always belongs to Bland.
He speaks as the album begins: "Have you ever been in trouble before?" Horns softly punctuate his sentences. The song, "Double Trouble," is a slow blues waiting patiently for Bland to begin. "I've had two hours sleep," Bland finally sings, "in the last 72." By the time he finishes the story of his money-obsessed wife and his love-obsessed mistress, he is completely believable as a victim.
The album's 10 songs, mostly written by Robert Johnson (not that one) and Sam Mosley, are simply vessels for Bland's voice. The singer repeats the chorus to "I've Got a Twenty Room House" -- punchline: "20 rooms too many" -- about two dozen times. Yet it never feels repetitive, because Bland's voice has so much grit and seductive charm.
Bland, 66, began his string of hit R&B singles in the late '50s. His last half-dozen albums have been loosely blues-based, but even in a 12-bar like the new "I Wanna Tell You About the Blues," it's clear he's still a soul singer.
The album tries a couple of different things: "Sad Street," which lasts almost seven minutes, is a give-and-take between Bland and a guitar. Billie Holiday's "God Bless the Child That's Got His Own" lays Bland's voice above an easy-listening string arrangement. "I Wanna Tell You About the Blues" and "Let's Have Some Fun" are funky and upbeat.
Bland could sing anything, even disco or Boyz II Men-style electro-soul. He and his producers and musicians, fortunately, know how to link his voice with the right sound. With luck, we'll get a new Sad Street every couple of years.
-- Steve Knopper
---
Buddy Guy
Live at the Checkerboard Lounge
JSP 262
---
Often unloved at the time of their release on LP, certain JSP re-releases are due for revaluation as they come out on CD. This one is Buddy Guy unfettered by pop stars or slick production. It's cut live in Chicago in 1979, not at a North Side yup joint, but in a South Side bar -- his bar, the Checkerboard Lounge.
It's Buddy unchained, blasting away with the over-the-top guitar work that gets him adored by many and excoriated by more than a few. In a soul-rock rave-up ("Buddy's Blues #2") he gets a feedback drone and is audacious enough to hold it for a full minute while guitarists Phil Guy and Little Phil Smith fire off fast, funky chords. When Buddy cuts the feedback, he tears into a solo of almost daunting intensity. "The Dollar Done Fell" starts off shakily, but when Buddy starts singing -- chanting, really -- the song becomes a taut soul mantra.
There are strong takes on "Things That I Used to Do" and "Done Got Over It," both from the Guitar Slim canon. "I Got a Right to Love My Woman" is Buddy to the bone-- nine whopping minutes of slow blues catharsis, notable not only for the nuclear guitar work but for Buddy's clever singing of some "Blues In the Night" toward the song's end.
Production is raw: Buddy's band sounds feisty, and so does the audience. (Right in character are JSP honcho John Stedman's pissed-off liner notes.) It's a raucous and rulebreaking session recorded right on Buddy's home turf. He's known as one of the baddest of all blues guitarists, and this CD ratifies that rep more than a bushel and a peck o' slicker stuff.
-- Tim Schuller
---
E.C. Scott
Come Get Your Love
Blind Pig 5019
---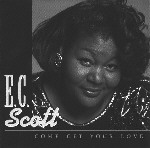 Near the end of E.C. Scott's debut album, a telephone rings. There's an electronic beeping noise, a steady tone, and somewhere a modem connects. Scott's subsequent song, "I've Got Love On the Line," salutes cyberspace, chat rooms and on-line love affairs. "There's only two people," she sings, "my computer and I."
Modems? Cyberspace? Chat rooms? Next thing you know, B.B. King will have his own CD-ROM ... Anyway, juke joints are for guitars, not laptops, right? Who let an electronic beeping sound into a blues song?
Yet this Oakland, California, singer-songwriter gets away with the high-tech stuff because her music sounds fresh and modern. "I've Got Love On the Line" nicely juxtaposes Scott's warm voice - which recalls Katie Webster's comforting crag - with cold electronic references. These tiny ideas, delivered with Scott's friendly enthusiasm, give "Come Get Your Love" a spark of originality.
"You Got the Wrong Number," a well-told heartbreak story-song, is about a woman who calls another woman at 3 a.m. The caller assumes the woman is her boyfriend's sister, and she explains that she's concerned her man is cheating. The receiver sings, outraged: "You must be crazy! You must be undone! Call up your man and get his woman!"
Other love-gone-bad songs, "Take the Garbage Out" and "Something Wrong Going On," have a dark desperation. Scott's gospel background shows up in the catchy chorus of "I Need a Real Man." Keyboardist Alex Marlowe, who plays synthesizer bass on several tracks, gives the album a light electro-funk arrangement which occasionally recalls Stevie Wonder or a less-hyper Prince.
There's nothing new, overall, about Scott's traditional 12-bar blues songs. Their titles - "Bright Lights," "I Keep Coming Back," "The Forecast Calls for Blues" - would fit on almost any blues record. Also, Scott is a limited singer who never strains to reach a spectacular tone. Her lead guitarists, Tim Landis, Chris Cain and Chris Cobb, play undistinguished solos. Occasionally, on the Aretha Franklin-copying "I Ain't Never Loved Nobody," the album becomes repetitive.
But Scott makes up for her limitations with personality, especially on KiKi Dee's slow pop-jazz song "Sugar On the Floor." And the musicians focus on building good songs instead of stuffing them with flashy licks. The only notable omission is Scott's e-mail address.
- Steve Knopper
---
Catfish Keith
Fresh Catfish
Fishtail 004
---
For the homespun country blues junkie, Fresh Catfish is about as laid back and down-home as it gets. Recorded live on a two-track unit over two days in January 1995, Fresh's 14 tracks are nothing more than Catfish on guitar, vocals and foot-tapping - a simple approach that gives the recording an honest, folksy flavor. Only four tracks are Catfish's own compositions; the remainder derive from sources as varied as Lonnie Johnson, bottleneck legend Barbecue Bob and guitarist Joseph Spence.
Through it all, Catfish generates varying degrees of energy. "High Heeled Sneaker," [or Sneakers?] for example, pits a jangling, acoustic strum against a pounding, metronomic rhythm. In the much more twangy "Sweet Patootie," Catfish never settles into a consistent tempo - a liberty often exercised by solo acoustic guitarists - but the follow-up "Happy All the Time" picks up a rhythmic groove from the very first note.
Most listeners will associate "Kohala March," originally a traditional melody from the Hawaiian culture, with the Charleston dance craze of the 1920s. Catfish throws in plenty of twang and fast fingerwork, but the chorus is the unmistakable pop melody adopted by the post-World War I lost generation.
Catfish's mercurial, Dylanesque vocals range from the mellow to the edgy to the country yodel. His fretwork, meanwhile, offers plenty of texture and richness.
The disc ends with a touch of simplistic evangelism in Blind Willie Johnson's "God Don't Never Change." As the liner notes suggest, you can't argue with lyrics like "God don't never change. He's God. Always will be God." Sometimes the simplest concepts are the most profound.
- John C. Bruening
---
Jesse "Wild Bill" Austin
Baby's Back
Roesch 036
---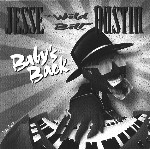 The great players in any genre are those few musicians who combine technical mastery of their instrument with passion that's recognizable a block away. If the rest are going to have one or the other, I'm going to go for the guy with heart over the chopsmeister. That said, Jesse Austin isn't the greatest singer on the planet. He's more of a pusher than a shouter, making those vocal chords work whether they want to or not.
That the labor is performed in such an enjoyable fashion, though, is where his appeal lies. From the full blast kick of the opening "Fat Back of Georgia" with Blues Brothers Lou Marini and Alan Rubin running the horn section, to the B-3 driven closer, "A Good Man Is Hard to Find," Austin's passion is unabated.
This is music that swings, that celebrates the art of the big Hammond organ. Outside of his "I'll Cry Tomorrow," sung beautifully by Maydie Myles, and Harry Batchelor's version of "You've Got to Hurt Before You Heal," Austin stays at the forefront. His rendition of Eddie Vinson's "Juice Head Baby" is a calling card, if you will, much as "Every Day I Have the Blues" was on Steel Trap. If you know those songs, you'll know what to expect.
"Giving Mama and Papa the Blues" is one of those rambling things that follows no apparent lyrical rules: "You're smokin' crack and you're goin' crazy/you're killing yourself snortin' cocaine/not realizing what you're doing is hurting others/and you're frying your brain." Not Hemingway, but it gets the point across. On "It Rained in Georgia" he reverts to a more typical bluesman's refrain: "She got up before me this morning/She cooked me pork chops, grits and eggs/She had on a blue shortie nightgown/and I could see her big fine legs/She asked me was there anything I wanted/and I said 'yes I do'/When I come home this evening all I want is you.' "
Both lyrics epitomize Jesse Austin, who's been at this for half a century, revealing a man as concerned about the future as he is enamored of the past.
- Mark E. Gallo
---
This page and all contents are &copy 1996 by Blues Access, Boulder, CO, USA.