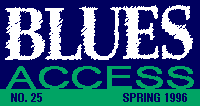 ---

BLUES ACCESS classifieds are a great way to inexpensively reach thousands of blues consumers. Just 50 cents per word ($10 minimum), payable in advance.

---
ATTENTION BLUES DJs! Does the BLUES ACCESS new releases list leave you drooling? Want to get a huge improvement in your CD service from those hard-to-find record companies? BLUES ACCESS classifieds are a great way to reach hundreds of labels worldwide. Just 50 cents per word, 20 word minimum.
---
RADIO AIRPLAY: My Saturday night blues show covers 80,000 listeners on AM in the Wales/England border area with electric, acoustic and jump blues. Please send promo CDs to Martin Davies, Radio Maldwyn, Park Studios, Newtown, Powys SY16 2NZ, UK.
---
RADIO STATIONS WANT YOUR MUSIC! Blues Record Release Kit $30.00 postpaid, includes 500 gummed labels with additional hard copy, phone numbers, instructions, manufacturers and postcard templates for return information from deejays. Icebird Records, Box 216, Lakebay, WA 98349. (206) 884-9705.
---
BLUES SECRETS, beyond the pentatonic scale. Guitar course -- Cassette & Booklet $12.50. Practice your blues licks to a Blues Rhythm Section. Various grooves & keys. Cassette with chord charts $9.95. MCD Music, P.O. Box 264, Allentown, PA 18105.
---
BLUES PLAYERS! Lead your own smokin' blues band. Jam and warm up to kickin' grooves. All lead instruments, or vocalists. $4.99 plus $2.00 S/H. Send check or money order to: CMB Communications 1532 University Ave # 101-357 St. Paul, MN 55104
---
THREE MINUTES TO™ BLUES HARMONICA! Impossible? Not with David Harp's unique new "Harmonica Hand Signal Video Method™" -- We guarantee it: 73-minute video plus Hohner BluesBand only $14.95! Automated Credit Card Machine: (800) 665-6474 -- Call it for free brochure: Two dozen methods for every level and style of harmonica player! Human Contact: (802) 223-1544!
---
THE BLUES AUDIENCE is for musicians and music lovers! Newsletter by and for musicians, promoting live New England blues bands. Also, the most comprehensive monthly guide to live and recorded blues music in N.E. $17 per year. Send check or M.O. to The Blues Audience, 104 Old Nelson Rd. Marlborough, NH 03455-4004. Is your band on tour in N.E.? Get your gigs listed where 10,500 readers will see it. Call Diana (603) 827-3952.
---
MULE NEWMAN CD. "Soulful" -- Blue Suede News. "Touching" -- KKFI FM. "Great" -- KRBD FM. 9 ass-kickin' cuts of progressive blues/rock for the low price of $13 postpaid. Send check or money order to: Mule Music, Studio City Studios, 11012 Ventura Blvd. #238, Studio City, CA, 91604, phone/fax 818-762-6265. More info and soundbite on the Internet http:\\www.vistapoint.com.
---
PROFESSOR LONGHAIR. 100% cotton T's with "Fess" playing in the yard of a Louisiana Parish prison from a photo by Michael P. Smith. The envy of any fan of Henry Roeland Byrd. You will not be disappointed. Send $14.95 to: ScreenArt, ink, 42 Foreside Road, Cumberland Foreside, ME, 04110. (207) 781-3500. A full refund if not satisfied. Website: http://www.mainelink.net/screenart.
---
CAROLINA BLUES MAIL-ORDER. Specializing in hard-to-find blues of the Carolinas & Georgia on CD, tape, LP and 45. Send SASE or fax for our catalog. C.B.M., Box 291, Mt. Pleasant, SC 29465. Fax: (803) 762-9124.
---
LOWDOWN TOWNE'S ROOT SAUCE debut album on BlueLine Records is now available! Sip a nip at our homepage -- http://www.tiac.net/users/lowdown. E-mail us at lowdown@tiac.net or call 617-964-BLUE and get the lowdown on Boston's "Rising band" -- Boston Globe.
---
FREE OFFER! Mail-order catalogs feature swinging blues CDs on the Blue Loon label by R.J. Mischo, Mojo Buford, Joe T. Cook and other top harp players, plus hard-to-find blues CDs from a dozen other small independent labels. Ask for free Mojo Buford 8x10 (while supplies last). Blue Loon, Box 581364, Minneapolis, MN 55458.
---
DISCOUNT BLUES CDS. Everything you ever wanted to hear. We ship world wide. Call or write for free catalog. Triangle Music, Box 52, Conover, WI 54519-0052. Phone or fax (715) 479-6615.
---
MISSISSIPPI SAXOPHONE, The Blues Harmonica Player's Magazine is a quarterly publication for the blues harp player. Each issue is packed with interviews, stories, product and music reviews with harp keys. Only $16 for four issues in the US, $20 for four issues in Canada and $24 for four issues overseas. US funds or IMO only! Delta Publications, Box 12185, Eugene, OR 97440. (503) 726-5992.
---
"BLUES, RAGS & HOLLERS": The Koerner, Ray and Glover Story. The feature-length performance/documentary on the life and times of the legendary trio whose recordings were a cornerstone of the '60s folk-blues revival. Written and produced by Tony "Little Sun" Glover. Ten full-length performances, interviews, rare archival photos, videotape and film. "Spider" John Koerner, Dave "Snaker" Ray, Tony "Little Sun" Glover, special appearances by Willie Murphy and Bill Hinkley. VHS only. Approx. 2 hours. Color and B&W. Not rated. Order by phone using Visa or MasterCard or send a check or money order for $29.98 plus $4.00 shipping & handling to: Latch Lake Music Products, 3115 Mike Collins Dr., St. Paul, MN 55121. 1-800-528-2437, Fax: (612) 688-6234.
---
BLUES LEGENDS PHOTOS in b/w 8 x 10. Muddy Waters, SRV, Janis Joplin, Johnny Shines, Paul Butterfield, Little Milton, Jerry Garcia, Blues Brothers. Contact Larry Hulst Photography, 1513 S. Cascade Ave., Colorado Springs, CO 80906.
---
VINTAGE HARP MICS: Shure, EV, Turner, Astatic, American, Calrad. Elements, connectors/cables, parts, repaints, overhauls. Sell and buy. Free inventory list and/or "A Basic Primer on Working With Amps" -- from the harp player's perspective. Tom's Mics -- Box 140093, Dallas, TX 75214. (214) 328-3225. Fax: (214) 328-4217.
---
COLORADO BLUES FANS: The Colorado Blues Society celebrates its first anniversary bringing the blues to the Front Range. We want your input, energy and involvement. Your big payoff is more, more, more blues happenings in the Colorado Rocky Mountain region. Contact us now: CBS, Box 130, Lyons, CO 80540. (303) 823-9272.
---
TIRED OF THE SAME OLD BLUES? M.C. Productions presents critically acclaimed, exclusive recordings. Perfect for the blues lover who thinks they have everything. Call or write for your free catalog! Box 1788(A) Huntington Station, NY 11746. (516) 763-5767.
---
BLUES HATS & APPAREL! Free Brochure. New Styles. Inquire Now. AntonWes, Box 888482, Dept. 18036, Atlanta, GA 30356.
---
LOCAL RELEASES COME FIRST. Hogtown News, a fast-growing Dutch-written roots magazine, gives highest priority to new releases by new and/or unknown artists on small, local American labels. If you want your CD to be known in Holland and Belgium, don't hesitate. Send a copy or demo plus bio to: Hogtown News, Marc Nolis (editor), J. Verbovenlel 79, B-2100 Deurne-Antwerp, Belgium.
---
JAM THE BLUES! When you learn the 500 BLUES LICKS (in standard notation & easy guitar tablature) you'll be the HOTTEST BLUES GUITARIST on your block. HUNDREDS of single-note licks, double- & triple-stops, chord licks, harmonized scale runs, etc. With these, and the ideas of your own they'll inspire, you'll be playing STEAMING HOT BLUES LEADS in no time! Don't wait to GET HOT! Order 500 BLUES LICKS today! Only $11.95 ($13.95 overseas). Laughing Raven, Dept. A, 233 Rogue River Hwy. #277, Grants Pass, OR 97527.
---
HOW TO WRITE A HIT SONG AND SELL IT. Tommy Boyce, songwriter for Fats Domino, The Monkees, Andy Williams, Paul Revere, Herman's Hermits and many more famous artists, will teach you how. $13.95 to Goshen Publishers, 422 West Lincoln Highway, Exton, PA 19341. Credit card orders call 1-800-734-7440.
---
This page and all contents are &copy 1996 by Blues Access, Boulder, CO, USA.