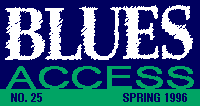 ---

Church of blues
I really enjoyed the House of Blues article (BA # 22). I was amazed when the first program aired with somebody named Sheryl Crow. (Who she?) You'd think that there would have been some blues band around who'd pungled up a couple of bucks for the honor of appearing on the show. Just last week I tuned in (and out) and saw Tom Jones (???) on the show. Mind boggling.
I like Adam Gussow's letters from the front lines too. The article on Antone's (BA #23) brought back many pleasant memories of a trip I made to Austin five years ago. Albert Collins was there for three nights, and I made sure I was too. What a sweet, humble man.
I enjoy (and envy) the capsule reviews. I always have found it hard to summarize something in a few words. While I don't always agree with your reviewers, I'm sure that there are many readers who don't agree with my opinion. Fair enough!
I'm glad to see that you continue to feature both black and white blues people. I got into a major tussle with Living Blues a few years back over their exclusionary policy. I'm glad that they've come (somewhat) around. I don't think it diminishes the contributions of blacks to review recordings/performances by whites. The failure of blacks to support the idiom is lamentable and, one hopes, not pegged to the rise of whites playing the blues during the past 30 years.
In BA #23 John Douglas cited some gospel CDs on the Nashboro label. One of my favorite gospel CDs by Dorothy Love Coates and the original Gospel Harmonettes is the Specialty two-fer that came out in 1991. If I had gone to a church like then when I was a kid, I'm sure I'd be a believer today.
Miles Jordan
Chico, California
---
All the world's a stage ... and we are but blues players
Regarding Steven DeGross' letter (BA #24) stating that whites, can't be bluesmen. I agree. But I have to add that blacks can't be either. There are no bluesmen anymore (excepting survivors like Honeyboy Edwards, John Lee Hooker, etc.). Just blues players. Therefore it doesn't make any difference whether a blues performance or CD is by a white or a black. It's all the same. They're all just blues players now.
Regarding his generous comments that blacks aren't against "others" enjoying their music: Excuse me. It's not your music anymore. Hasn't been for decades. Blacks abandoned blues and bluesmen years ago. If it were left to blacks, Lonnie Johnson would have ended his life as a porter in a hotel, Fred McDowell playing on his front porch, Mance Lipscomb cleaning up Texas highways, etc.
As for rap actually being blues on today's black-oriented radio: Yeah, sure. Rap fans and radio station managers will be amazed to learn that they have really been listening to blues all this time.
I encourage African-Americans to rediscover their heritage. But as far as I'm concerned, they have forfeited their right to decide who can play the blues and who can listen to them.
Mark Fisher
New York, New York
---
What flashback?
Thanks for the good review from Catfish (BA 24, New Releases). Hey cats, whaddya mean ex-hippies? Lotta noive, a lotta noive.
Thanks again.
S.T. Wishnevsky
The Legendary Wish
Winston-Salem, North Carolina
---
Cruisin' with Roomful
Your perception of the last night of the Ultimate Rhythm and Blues Cruise III (BA #24, Backstage Notes) was right on! When the "over-the-hill winers" gathered at the stern of the S.S. Atlantic for the ceremonial "use-it-or-lose-it," we thought we couldn't dance another tune. But lo and behold, Roomful of Blues got us way up for a fabulous conclusion to the cruise. The band "kicks butt."
Enjoy your great magazine and thoughtful articles.
Corky Carr
Truckee, California
---
Thanks
Thank you for BLUES ACCESS, a unique and individualistic magazine where perspectives meet, and sometimes clash. This, however, without resentment and competitive posturing. May laughter and the occasional tear continue to walk with you.
Walter Liniger
West Columbia, South Carolina
---
A cool cash transaction
I really like BLUES ACCESS a lot. Thanks for the nice article on my art, etc. (BA #23, Catfish Whitey's Pond). The bright colors on your covers is a good format. It makes the magazine stand out against most other publications.
I hope the page-after-page of ads means you're enjoying commercial success. And if you're that successful, I think we ought to arrange a loan. Two or three hundred thousand dollars would be about right. Let's do it in small bills ... in cash, OK? And no IOUs, please, as I am allergic to paperwork.
If you ever get up to the California boondocks, let me know, and we'll hook up. I wish you continued good fortune and health.
Johnny Otis
Sebastopol, California
---
This page and all contents are &copy 1996 by Blues Access, Boulder, CO, USA.