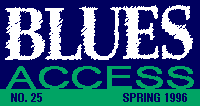 ---

Red Rooster Pick

Catfish Pick
---
Luther Allison - Blue Streak

My choice for blues album of the year is shared by many others. Allison is in his prime, in chops and songwriting, with a band more than equal to the task of keeping to his vision. Amazingly, just a hint of what his live shows are like.
(Alligator)
---
Howard Armstrong - Louie Bluie

This is American string music -- some, but not all of it blues -- played by an artistic treasure. Armstrong is 86, looks like he's 60 (maybe), and performs on violin, mandolin, guitar and vocals like he's 30. He used to be one-third of the great string band Martin, Bogan and Armstrong.
(Blue Suit)
---
Carey Bell - Carey Bell's Blues Harp

(1969) Excellent set of Bell material that includes a few alternate takes from these sessions with Jimmy Dawkins, Pinetop Perkins and friends.
(Delmark)
---
Chris Cain - Somewhere Along the Way

Cain alternates his style between B.B. and Albert King and some of the jazzier West Coast players while wielding a deep and soulful voice with subtlety and suppleness. (JO)
(Blind Pig)
---
Albert Collins & the Icebreakers - Live '92-93

This well-recorded 10-song set culled from festival appearances in Illinois and Switzerland is full-strength Collins all the way.
(Pointblank)
---
Big Joe Duskin - Cincinnati Stomp

Duskin plays great boogie-woogie piano, with a big round barrel of a voice that grabs onto you and won't let go.
(Arhoolie)
---
Earl Gaines - I Believe in Your Love

You might remember Gaines' biggest hit better than him; his 1955 "It's Love Baby (24 Hours a Day)" was covered by Delbert McClinton, Bobby Bland and Ruth Brown. This comeback, produced by Fred James, finds Gaines in excellent voice, mixing some old tunes (even the old warhorse itself) with some new material into a pleasant concoction. The five songs that feature longtime absent ex-Excello session guitarist Earl Hamilton are the cream, with everything coming together on the exquisite ballad, "The Door Is Still Open." It is, indeed.
(Appaloosa)
---
The Gospel Hummingbirds - Taking Flight

Where has all the great soul music of the '60s gone? Back to the church, judging by this release. Great harmonies on both gospel and pop tunes.
(Blind Pig)
---
Patrick Henry & the Liberation Band - Come and Get It

The time machine has paused in 1974 long enough to let Patrick and the Gang off. They've set up on the street corner, all chunking guitars, floppy bass runs, brightly colored suits, raspy vocals and sweet backup singers. A big crowd of people is shakin' their collective booty in platform shoes, dancing the night away. Really.
(Lanor)
---
Rick "L.A. Holmes" Holmstrom - Lookout!

Sixteen smart, short, tight, stylistic guitar instrumentals from a good technician. (JD)
(Black Top)
---
Larry Johnson/John Hammond - Midnight Hour Blues

Late '70s acoustic collaboration has a whole lot of deep blues feeling, with D.C.'s Johnson deservedly getting a big chunk of the spotlight. (Biograph)
---
Casey Jones - (I-94) On My Way to Chicago

Former Icebreakers drummer turns out to be a fine singer and songwriter as well. He's cranked out a disc of punchy Chicago blues. (Airwax)
---
Eddie Kirkland - Where You Get Your Sugar?

At his best Eddie locks into a hypnotic blues groove. He hits it a few times on this one.
(Deluge)
---
Bryan Lee - Heat Seeking Missile

This popular New Orleans guitar virtuoso tears off a hunk o' boogie and blues. Lee can play anything, but it's on his own songs ("Why," "Smokin' Woman") that he really cuts loose.
(Justin Time)
---
Little Sonny - Ann Arbor Blues & Jazz Festival Vol. 2

Maybe it's that he had just driven into town, or that there was no sound check, but Little Sonny's performance at the Ann Arbor Blues Fest in 1972 is just slightly off-kilter enough that it sounds so good 23 years after the fact. A tribute to adversity.
(Schoolkids')
---
Rush McAllister - Bar Clogging in St. Louis

What a kooky concept: record a dancer clogging rhythm behind a set of blues and old-timey tunes. It's a tribute to McAllister's abilities and the talents of his friends in the Geyer Street Sheiks that it works so wonderfully. A unique treat.
(Rivertown)
---
Lee McBee & the Passions - 44

Former lead singer and harpist for Mike Morgan & the Crawl does his own recreation of a classic postwar blues session. Kid Ramos and Anson Funderburgh contribute to a set with plenty of passion.
(Red Hot)
---
Fred McDowell - "This Ain't No Rock N' Roll"

(1968, 1969) Two sessions, one in the studio and one in Chris Strachwitz's kitchen, both featuring McDowell on amplified guitar and a couple of tracks with drums, all up to McDowell's usual standards, with liner notes by Pete Welding.
(Arhoolie)
---
John Mooney and Bluesiana - Travelin' On

U.S. reissue of German release is a live firestorm. It's also the first disc that hints at Mooney's prodigious presence.
(Blue Rock'it)
---
Buddy Moss - Atlanta Blues Legend

(1964) This reissue of Moss' excellent Biograph album comes with seven unissued songs, adding just a little light to the pitifully small legacy of this unrecognized guitarist/harmonicist/songwriter.
(Biograph)
---
Nathan & the Zydeco Cha Chas - Creole Crossroads

Face it, anything Michael Doucet joins is likely to be a little more of a hoot than it would have been otherwise. Leave the distinctions between zydeco and Cajun to the scholars and roll up your rug for this hour's worth of Clifton Chenier-influenced morsels that will have you running for some shellfish.
(Rounder)
---
Dewey Phillips - Red Hot & Blue

Radio sucks. But there was a time, long before FM and consultants and playlists from New York City, when radio was more dangerous than dependable. Dewey Phillips was interactive before his time; he sang along with the rockabilly and R&B he played and loved. He also did something truly subversive: he shook the black and white artists up into the same bottle and let it all come out together. This is the sound of integration, daring and audacious before its time. Unfortunately, the airwaves rarely have taken Phillips' advice.
(Memphis Archives)
---
Roomful of Blues - Turn It On! Turn It Up!

These guys turn it every which way. Sugar Ray's vocals soar over the horn grooves and new guitarist Glenn Vachon's lines cuts through them like a razor.
(Bullseye Blues)
---
Rev. Dan Smith - Live at Fox Hollow

Culled from festivals during the '70s, these live tapes capture music that is considered folk gospel, but it's really primal blues, the eternal struggle between good and evil, God and the devil. The key difference is that, unlike most bluesmen, the Rev. Dan Smith sees light at the end of that long, lonely tunnel where, as he closes, "Every Day Will Be Sunday."
(Time & Strike)
---
Luther Tucker & the Ford Blues Band -

Legendary session guitarist out front at the 1993 Bremen Festival, just before his death.
(Blue Rock'it)
---
Various - Piano Wizards

Fine 18-song anthology of blues, boogie-woogie and jazz piano styles of the '20s & '30s, with classy items from Clarence Williams, Cow Cow Davenport, Meade Lux Lewis, Pete Johnson and Albert Ammons, among others. (JD)
(Memphis Archives)
---
Various - The Great Gospel Women

Mahalia Jackson, Marion Williams, Sister Rosetta Tharpe, Clara Ward, Bessie Griffin and a dozen other major soul-saving voices on 33 songs recorded between 1942 and 1992, from a variety of sources. Very nice collection. (JD)
(Shanachie)
---
Various - Virginia Traditions Western Piedmont Blues

Outstanding collection of recordings in this light-fingered style. Some from as early as 1929, but most are from the late '70s and the sound is great. Part of the Blue Ridge Institute's excellent series on traditional music.
(Global Village)
---
Various - Deep Blue: The Rounder 25th Anniversary Blues Anthology

Two CDs, 30 superb tracks from one of the great independent labels. From Robert Nighthawk, Professor Longhair and Booker T. Laury to Roomful of Blues, Ronnie Earl and Smokin' Joe Kubek.
(Rounder)
---
Various - Blues Fest: Modern Blues of the '70s

This set works on the premise that not all the great recorded blues ended in the '60s. It's hard to argue with this as proof; it kicks huge butt in all directions. Check out Luther Allison's "Luther's Blues" (also on the new Motown Luther collection from the '70s), the uncompromising "Your Love Is Like a Cancer" by Son Seals or any of the other tracks here.
(Rhino)
---
Various - Blues Live From Mountain Stage

This excellent series turns its microphones on Charlie Musselwhite, John Hammond, Tracy Nelson, Snooky Pryor, the Nighthawks, Johnnie Johnson and others.
(Blue Plate)
---
Barrence Whitfield & the Savages - Ritual of the Savages

Boston's wildman vocalist is back again with a hot rock'n'soul stew. Magic Sam's "Give Me Time" is the only straight blues song, but Barrence puts his own stamp on everything anyway, so it hardly matters.
(Ocean Music)
---
Marion Williams - This Too Shall Pass

If you have never heard Marion Williams, this is as good a place as any to get acquainted. The voice that stopped everybody from Little Richard to Aretha Franklin was in her finest form on these 10 songs. Most gospel is right out of Matthew, Mark, Luke and John, redemption stuff, but Williams' is pure Old Testament, spine-chilling, primal gospel/soul/blues. Don't believe it? Listen to "Dead Cat on the Line" in the dark late at night -- if you dare.
(Nashboro Records)
---
This page and all contents are &copy 1996 by Blues Access, Boulder, CO, USA.