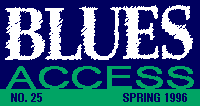 ---
The King of the Blues ... Now Appearing on a Computer Near You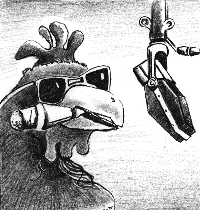 Some of my earliest memories of "real" blues revolve around four gods of the music. Albert King was the first blues musician I saw in person (at the Cellar Door in Washington, D.C.), inspired as I was by his Live Wire/Blues Power LP. John Lee Hooker took me down to the musical bedrock that underlies both blues and rock and forever changed the way I understood reality. Muddy Waters gave me an understanding of what all those '60s British bands from the Stones on down were trying to say and of what it means to be a Man, capital M. (He also became the unwavering yardstick by which I judge blues quality.)
Then there was B.B. King. Most of my favorite rock guitarists -- Michael Bloomfield, in particular -- paid tribute to him, but strangely I never heard B.B.'s music on the soul stations I listened to at the time. I picked up the Live & Well album and I remember thinking that it was very good but the guitar playing wasn't quite as transcendent as I expected.
My estimation changed when I bought Blues Is King, an overlooked disc in the King canon recorded during a 1966 Chicago club date. As soon as I heard B.B. give a stirring introduction ("Yes, ladies and gentlemen, we're so happy to have you with us. We're gonna do our best to try and move you tonight. If you like the blues I think we can.") and then launch into the piercing opening notes of "Gambler's Blues" I was hooked.
Of course I was listening to those albums on a record player with (roughly) a four-pound tonearm and a cheap speaker. Definitely lo-fi. Why, these days I have better speakers hooked up to my computer.
Funny thing, that. Because I spent last evening watching and listening to B.B. on my trusty Macintosh, thanks to a new CD-ROM, On the Road With B.B. King.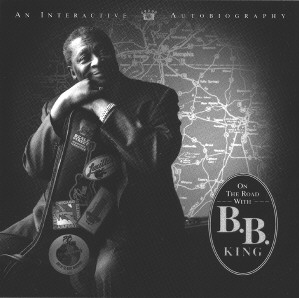 For those of you in the technological hinterlands, CD-ROMs look just like your garden variety audio CD, but they hold a tremendous amount of data. All that storage is needed to produce high-quality color graphics and animated sequences (called QuickTime movies).
The end result, in this case, is an interactive video that kept me entertained for several hours. Instead of just passively watching B.B.'s story, I could click on various objects to redirect the flow and get more information.
As befits its title, On the Road begins with a tour bus. B.B. himself welcomes you aboard and invites you to take over the driver's seat. From your position at the wheel you can select one of several destinations. While the bus makes its way to your chosen site, B.B. tells a story that you're able to augment at certain points by clicking a button on the dashboard.
From B.B.'s childhood home in Indianola, Mississippi, to the fiery juke joint where his guitar got her name, Beale Street of old, the Fillmore West, Cook County Jail and other landmark locales of the King of the Blues, you get to visit and often poke around a bit. For instance, you'll want to be sure to click on many of the furnishings in B.B.'s nightclub on Beale Street. If you don't, you'll miss out on spoken word segments and/or musical clips of Bonnie Raitt, Eric Clapton, Buddy Guy, Branford Marsalis, Albert Collins, Diane Schuur, Robert Cray and George Jones doing their thing with Mr. King. And you will want to keep moving while you're at the club. When you're not viewing the clips you'll hear a looped soundtrack of B.B. and U2 doing "When Love Comes to Town." Trust me, even if it's your favorite song it gets old re-e-al fast.
Further mousing around nets you a tour of Beale in its heyday, with commentary from such famous Memphians as Rufus Thomas and Bobby "Blue" Bland. There are countless still photos of B.B. in his younger days and the general life of blacks in the pre-integration South.
O'erriding it all is Mr. King and his innate charm. He is a warm and gracious guide through the memorable events, people and localities of his life. Despite growing up with the poverty and discrimination that went with coming up black in a certain place at a certain time in America, his lack of anger or bitterness is disarming. From others it might seem disingenuous, but from B.B. King the humility, even amazement, in response to his acceptance as an artist and his crossover popularity is totally believable.
The painted scenes and backdrops -- by illustrators Chuck Leal, Alvin Clayton, John Toms, Barrington C. McLean and Kali Kata m'Bula -- add poetic texture to the photos and films.
Media X, who produced the disc for MCA, has created an imaginative piece of work that maneuvers like an elegant computer adventure game. If I were looking for flaws, I suppose I would have liked the option to listen to some of the songs in their entirety. And the large chunk devoted to B.B.'s collaboration with U2 was of marginal interest to me. But that's just personal. No doubt the U2 portion will thrill viewers whose involvement with pop music is stronger than mine.
With so many of the blues colossi passed on, we're fortunate that Riley B. King, now aged 70, continues to embrace new ways to share the spirit of the music. Whether it's on a scratchy Victrola, a Mississippi jukebox, an AM radio or the flashiest computer, it's still, thank goodness, those good ol' blues. And B.B., you're still the King.
Blues from the Red Rooster Lounge originates on Boulder's KBCO 97.3 FM (where it can be heard Sundays at 9 p.m.) and airs weekly on 15 radio stations around the U.S.. Check with your local station for availability. (Station program directors can receive a sample copy of the program by calling the Longhorn Radio Network at 1-800-457-6576.) The Rooster also consults for the MusicChoice digital cable radio service, a 24-hour commercial-free, all-blues channel available from hundreds of cable providers nationwide.
---
This page and all contents are &copy 1996 by Blues Access, Boulder, CO, USA.