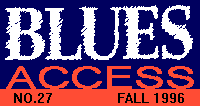 ---
Unlimited Access
The hype about the World Wide Web has been enormous the last year or so, and we have done our share by developing BLUES ACCESS Online and devoting space in the magazine to online sites and happenings. Maybe it's that we're generally holed up here in our basements hunkered over our computer screens, but increasingly, issue by issue, day by day, more of our work is shifting to the email postal system and the Web itself.

We're not alone out there, either, as we all found out when America Online went off-line for a day and slowed our production schedule (and apparently millions of others, too). There are plenty of other bluesers getting hooked up. Most of our writers now are connected to some kind of email and send their material that way. Whether the growing hoopla about the Web becoming the international marketplace of commerce is true or just another load of media hype, the web as a place where you can get and send information and communicate with others is growing all the time.

If you're interested in blues, there are more than enough sites to keep you busy longer than you probably need to spend surfing, and much of the information is quite good. You might have to wade through mediocre stuff, but once you get the art of surfing (and it's not that difficult if we can do it, right?), with a mere mouse-click you can get information that you might otherwise spend time and energy finding.

Increasingly, too, sources are disseminating less information via conventional snail mail and more by email and via the web (keep it coming, folks!), because it's cheaper and faster than regular mail and eliminates at least part of the paper trail. So expect future Access columns to include references to web sites and URLs (those funny-looking web addresses with http// and .html, etc.) and information about other virtual blues-related watering holes in this and future Access columns.

Incidentally, we've made our own address much easier to remember. You can now find us at http://www.bluesaccess.com (Our old URL still works, too.)
---
Tombstone Blues
A movement is afoot to help put a proper grave marker on Blind Lemon Jefferson's burial site. The Internet newsgroup Blues-L is currently raising funds for the purchase of a headstone to be placed on Jefferson's grave.
Anton Glovsky of Tradition Records, which is in the midst of a reissue effort that includes Jefferson's work, has been raising money from employees at Tradition and Rykodisc and hopes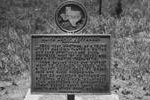 to contribute $500-$1000 toward the effort, perhaps adding a 25-cent contribution for each Jefferson Tradition CD sale.
At present, the grave site in Wortham, Texas, is difficult to find, and it's marked only with a State of Texas historical marker. (There is a virtual cemetery tour and detailed directions to the grave site from Don Ottensman, who is taking care of the logistics of the making and placing of the stone, at http://bioc09.uthscsa.edu/~seale/bljeff.html.) Don't forget to check the links from that page for a short Jefferson biography and a sound file of one of his songs.
If you're interested in helping out, send checks/money orders only to: Jefferson Memorial Fund, Box 684956, Austin, Texas 78768. Any leftover funds might go into a Jefferson scholarship Glovsky is looking into.
And we're happy to report that a grave marker for Memphis Minnie is being purchased by record conglomerate BMG, whose recordings of Minnie are scheduled for release in its Bluebird reissue series. This is the same as the company did for Tampa Red, and plans are currently set for a November ceremony.
---
All Night Long
If you've noticed a bit more blues in the radio mix when you're around Memphis, it might be coming from a new, 24-hour all-blues format that came on the air this summer. KMZN-FM, at 107.1 on the dial and operated by Flinn Broadcasting group, plays only blues, says General Manager Kaysie Plummer.
After a dry run on an AM station for a couple months to work out the kinks, the new format hit the FM waves August 6. "To my knowledge, it's the only station playing blues 24 hours a day. It's completely in the birthing stage," Plummer explains. "We play blues of all genres from Memphis, the home of the blues. It's music that you might hear on Beale Street."
The station is the brainchild of Dr. George Flinn, a prominent local radiologist who owns radio and television properties, Plummer says. "Dr. Flinn has been a long-time blues lover, and it's been his dream to do this." The station is running the House of Blues syndicated program, and Plummer says more specialized shows beyond the regular format will be added as time goes on.
---
Stairway to Heaven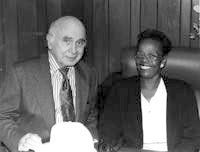 Mary Katherine Aldin writes: The day before the 1996 Chicago Blues Festival started, Marie (Mrs. Willie) Dixon invited a group of musicians, friends and media to walk through the work-in-progress on the old Chess Records building at 2120 S. Michigan Avenue. Marie Dixon bought the building in 1994 and is having it restored as the new office and headquarters of the Blues Heaven Foundation; the original recording studio spaces are being restored, and the old offices are being renovated. The space will also house a small retail shop and a blues museum. Among those present at the open house were Chess Records founder Phil Chess, his nephew Marshall Chess, former Chess recording engineer Malcolm Chisholm and several musicians, including Billy Boy Arnold and Billy Branch.
---
Museum Construction
When we're down in Mississippi, we always try and stop in at the Delta Blues Museum in the Clarksdale Public Library.
Now there's even more reason to visit. The museum celebrated the completion of the first phase of a huge capital improvements renovation project on July 21. "The first phase of construction has been to repair the roof and ceiling and walls and put in our own entrance door," explains curator John Ruskey. The staff has been housed in temporary quarters during the six-month construction, which included adding a better space for the museum's archives and collections.
The construction was made possible with money from a challenge grant from the National Endowment for the Humanities supported by musicians ZZ Top, B.B. King, Bonnie Raitt, John Fogerty, John Kay, Robert Plant and others.
A second phase is scheduled to begin in the winter, which will include revamping the exhibits and the archives. And if you aren't planning a southern trip, check out the virtual site at http://www.clarksdale.com, then follow links to the museum itself. For more information, call (601) 627-6820 or 624-4461.
---
Dan Lynch Closes Its Doors
Jennifer Zogott writes: Dan Lynch, which has occupied a central spot in the New York City blues scene for nearly 20 years, closed its doors for good early in August.
With live local bands seven nights a week and jam sessions Saturday and Sunday afternoons, Lynch's was a meeting, greeting and playing spot for untold numbers of musicians, some of whom, like the Holmes Brothers and Popa Chubby, have moved on to national and international recognition.
The jam sessions were started on Sundays in 1979 by the late Bill Dicey, the excellent Maryland-born harpist who ran the club's house band and arranged bookings through the early 1980s. Other notables who have passed through include Adam Gussow, Danny Kalb, Paul Oscher, Bill Perry, Bobby Radcliff, Jimmy Spruill, Howie Wyath, Robert Ross, Brenda Bell and Mike Dugan & the Blues Mission.
On Sunday, August 4, the usual 4-9 p.m. jam was extended well into the night for a special farewell session. Participants included Frankie Paris and Roxy Perry (who most recently ran the Sunday jam), and local favorites Lewis Gatewood, Johnny Allen, Jon Paris, Bill Sims, Milo Z and an unexpected and welcome appearance by Charles "Honeyboy" Otis, the talented New Orleans singer and drummer who for many years was a member of the Bill Dicey band and a mainstay at Lynch's. Music was played, stories were swapped and old times remembered.
Many young players broke in at the Lynch's jams, and many new bands broke in at weeknight gigs. It was a place to meet and greet as well as to play and listen. It may well have been the least elegant of New York's blues clubs, but it was much loved and will always hold a special place in the affections of those who knew it well.
---
Send information for this column to ACCESS, c/o BLUES ACCESS, 340 S. 42nd, Boulder, CO 80303, fax to (303) 494-1127 or e-mail Lrucker@aol.com.
---
This page and all contents are &copy 1996 by Blues Access, Boulder, CO, USA.