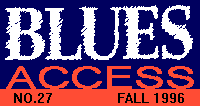 ---
I have a suspicion, almost a fear, that many fans of the present wave of blues popularity are actually looking for rock'n'roll they can understand, or at least dance to. We baby boomers are at middle age, after all. It's hard to identify with those young rockers on MTV. So we have the burgeoning of interchangeable guitar-based "blues" bar bands and the resurgence of "swing" bands of all ilks. There's nothing wrong with this, but my fear is that some "blues fans" really don't care as much about blues (or even about music) as they do about catching the Blues Brothers retro-act at the House of Blues.
Much of today's recorded output seems to me to fall into a comfortable groove, redoing standard blues forms in a perfectly professional manner -- but without big leaps forward. Six years of reviewing for this magazine have taught me anew that the number of certifiably great blues singers and musicians is small, as is true, of course, in all genres.
Writing this reissue column has allowed me to listen to and comment on many of the greats, the innovators who rise like monuments from American music's past. But lately the review copies have been piling up and sifting through them feels like time-consuming work. I find myself thinking about the novel I should be writing, or putting on the Kronos String Quartet or Thelonious Monk instead of tasting a new blues release. So, I know it's time to make this my final column. Maybe someone with big ears and a love for the music can take it farther on up the road.
---
A Real History Lesson
Anyone who wants a crash course on early blues can find several anthologies on the market, but a new four-disc, budget-priced set ranks with the best. Full Spectrum Blues (da SS3711-2) is heavy on classic stuff that fills in the history with a well-chosen single-song lexicon of masters' styles from the days before White Boy Electric Guitar Jams.
The first Rural Blues disc begins with 1920s artists Charley Patton, Henry Thomas and the Mississippi Sheiks, who had links with older pre-blues forms, and carries through to Delta giants Son House, Robert Johnson and Bukka White. The fine Piano Blues disc takes in bluesmen Roosevelt Sykes and Curtis Jones, the boogie-woogie school of Pinetop Smith and Albert Ammons and class acts like Jimmie Yancey and Jimmy Blythe.
The third volume is devoted to Classic Blues & Vaudeville and serves up a big helping of 1920s female belters and moaners -- Ma Rainey, Chippie Hill, Sippie Wallace and, of course, Bessie, Mamie and Clara Smith -- several of them with trumpet backing by young Louis Armstrong. The final CD, Urban Blues, illustrates the music's growing sophistication as groups, some sporting jazzy horns, replace solo guitarists while vocalists like Big Bill Broonzy, Jimmy Rushing, Sonny Boy Williamson #1, Joe Turner and Billie Holiday swing and inch toward rock.

Now and then, you can hear the surface noise of old recordings on Full Spectrum Blues, and I'd prefer to see full session data in the accompanying booklet, but the price is right and so is the music.

---
The Bluesville Years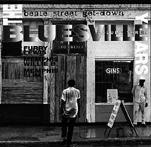 Four new Bluesville Years discs sample the best of Prestige Records' Bluesville line, and a tasty sampling it is. Blues was a natural outgrowth of Bob Weinstock's legendary jazz label so, in the late '50s, Prestige began issuing records produced by Samuel Charters, Esmond Edwards, Ozzie Cadena and Chris Strachwitz. Charters chose the 80 numbers for The Bluesville Years series and contributed informative notes. The records themselves benefit from clean, well-balanced sound, some having been recorded in the studio of Rudy Van Gelder, a legend in his own right. But enough about production and packaging, let's get to the music.
Volume 1, Big Blues Honks & Wails, shows the connection between mainstream blues and Prestige's usual output, nicely mixing blues singers with jazz instrumentalists. Sunnyland Slim and Roosevelt Sykes each perform four songs from their large repertoires, backed by tenor saxophonist King Curtis, who keeps the veteran pianists on their toes. Mildred Anderson is aided on a trio of "blowing" songs by Eddie "Lockjaw" Davis on tenor and Shirley Scott on organ. Jimmy Witherspoon is in his element in this jazz-blues gumbo, as are his session mates, who include guitarists T Bone Walker and Kenny Burrell, and saxmen Leo Wright and Clifford Scott (best known for his "Honky Tonk" solo).
Feeling Down on the South Side is a relaxed set of 22 Chicago-style numbers by Otis Spann, James Cotton, Billy Boy Arnold and Homesick James, captured in 1963 and 1964. Spann was pianist for Muddy Waters, and Cotton was his harpman, so Waters and the rest of his classic band came along for the ride, making for an interesting, if not particularly high-powered time.
Beale Street Get-Down takes us to Memphis for seven tunes each from Furry Lewis and Memphis Willie B., who were recorded at Sun Studios in 1961, and five pieces from Memphis Slim. This solo fare is the most traditional, country blues of the series, with Lewis solid on his standbys like "Casey Jones" and "John Henry," and Memphis Slim getting a chance to stretch out on the piano.
Volume 4, In the Key of Blues has more piano-vocals, circa 1960, by Roosevelt Sykes, Mercy Dee Walton, Little Brother Montgomery and Sunnyland Slim, not to mention four tunes by Curtis Jones from his first session in a quarter of a century. Especially nice is Memphis Slim's "Mother Earth," a plea for brotherhood which reminds us, "When it all ends up, we've got to go back to Mother Earth." (Pertinent Aside #1: Slim's original 1950 record of "Mother Earth" is on Mean Old World, the new Smithsonian boxed set of post-1940 blues, reviewed elsewhere in this issue.)
If I could only afford one of these discs, I'd probably choose Volume 1, in which blues and jazz rub shoulders, or Volume 4 for its array of piano styles, but, depending on your druthers, there's excellent music to be heard on each CD.
---
Way down yonder in N'Awlins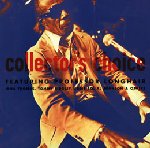 New Orleans fans will enjoy Collector's Choice (Rounder CD 2082), a collection of R&B singles from the Ric, Ron, Watch and Rip labels of the late '50s-early '60s. Ten of the 19 tracks are by the incomparable Professor Longhair, including his infectious signature tune "Go to the Mardi Gras," a couple early passes at "Big Chief" and two previously unissued numbers -- "Everyone's Blowing" and "Whole Lot of Twisting" (a take-off on "Whole Lot of Lovin' ").
The non-Fess half consists of good timin' sides by the Crescent City's Irma Thomas, Tommy Ridgley and Eddie Bo, as well as "You Talk Too Much" by Joe Jones and its answer, "I Don't Talk Too Much" from Martha Carter. (Pertinent Aside #2: I caught Eddie Bo at Jimmy Buffett's Margaritaville when I was in New Orleans last winter, and he was all over the keyboard on a lively, memorable set that was better than any of his records I've heard.)
Editor's Note:
Pick up a free copy of this disc with a two-year subscription to BLUES ACCESS.
---
The vintage New Orleans sound is also there on Snooks Eaglin's two-disc entry in the Capitol Blues Collection --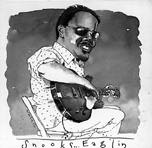 The Complete Imperial Recordings, consisting of 26 numbers produced by Dave Bartholomew between 1960 and 1963. In his search for a hit, the singer-guitarist, then in his late 20s, was heavily influenced by Ray Charles and Fats Domino, certainly nothing unusual for those days. Yet though a song like "By the Water" is patterned on Charles' "A Fool for You," Eaglin's raw-edged voice contains plenty of heartache. The material for the sessions included originals by Bartholomew as well as standards like "C.C. Rider" and J. B. Lenoir's "Mama, Talk to Your Daughter." Didn't hurt that the session pianist was usually the great James Booker, so there are interesting instrumental moments, too.
Top quality music from rural Louisiana fills two fine releases from Arhoolie.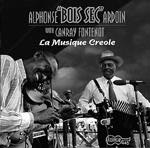 La Musique Creole (Arhoolie 445) is stirring African-American Cajun music by accordionist Alphonse "Bois Sec" Ardoin, the younger cousin of Creole legend Amede Ardoin, and his longtime partner, fiddler Canray Fontenot, who died last year. These 25 party songs, waltzes and ballads were recorded from 1966 to 1973 and certainly do justice to the vocal and instrumental teamwork of Ardoin and Fontenot. Meanwhile, Louisiana Country Blues (Arhoolie 440) wraps up an album apiece by Smoky Babe (Robert Brown) and Herman E. Johnson on one disc. Both singer-guitarists draw from a deep folk-blues well and show that a strong backwoods blues tradition was still alive in 1960-61.
---
Doo-wopping on the corner
I didn't have much good to say recently about a couple of Sequel Records' blues collections from the Jubilee catalogue, but I won't quibble about the third and fourth volumes of Jubilee & Josie R&B Vocal Groups (Sequel NEM 756 & NEM 757).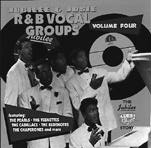 In the second half of the '50s, Jerry Blaine's Josie label was strong on vocal groups -- doo-woppers, girl groups, harmony guys, all kinds of rhythm & blues singing outfits. The most consistent show-stoppers were the Cadillacs, who not only sang well but could turn songs into one-act plays much like the Coasters. The label also boasted the Charioteers, who'd been together 20 years at the time of their 1955 session, and the Cookies, fresh from recording as "The Raelets" with Ray Charles.
Highlights of Volume 3 include the Emanons' 1956 rendition of "Blue Moon," which may have inspired the famous 1961 version by the Marcels, and the Cadillacs' pretty ballad "Gloria." Volume 4 has "Speedo," the big Cadillacs hit, and "Rubber Biscuit," the wacky Chips' song that later became part of the Blues Brothers act.
With Got a Good Thing Going (Sequel NEM 785), the Jubilee reissues move into the '60s on a roll. Compiler Billy Vera's avowed goal was to avoid the same old songs that fill up every anthology, yet still give a cross-section of real R&B radio hits that capture the times. He met his goal. The 25-song disc includes well-made singles by Bobby & Cecil Womack's Valentinos, Dee Dee Warwick (Dionne's sister), Freddie "Hey Girl" Scott, Betty Harris, Don Gardner and songwriter Titus Turner, not to forget a post-Motown outing by Mary Wells and early recordings by Little Buster, whose overdue, first full album was released just last year.
---
A Few Quickies Before I Move On
Some of the other reissues I've been enjoying lately:
Etta James, Deep in the Night (Bullseye Blues 9579). She's been my favorite R&B singer for a long time, so the re-release of this 1978 album, produced by Jerry Wexler, was a treat. Here's James on solid readings of "Piece of My Heart" and "Lovesick Blues" and on standouts "Sugar on the Floor" and "Blind Girl," which she's made her own. If her version of gospel angel Dorothy Love Coates' "Strange Man" doesn't get to you, you're worse off than the Tin Man.
Paul deLay Band, Take It From The Turnaround (Evidence ECD 26076-2). As regulars may have noticed, I'm not much of a harmonica enthusiast with the exception of a few giants like Sonny Boy and Little Walter, but the first time I heard deLay blow harp, I liked what I heard. He's musical, and he sings and writes well, too. These 19 songs represent the bulk of two albums he made before beginning a three-year prison term in 1992. Evidence Records has promised a new album this fall.
Mississippi Fred McDowell, I Do Not Play No Rock'n'Roll (Capitol Blues Collection). I've mentioned other sets of McDowell's late '60s work before, but these two discs collect his most popular albums, as originally released on Capitol and Just Sunshine Records. As usual, he's fetching and affecting and plays standout stinging guitar on tunes like "Jesus on the Mainline," "Drop Down Mama" and a trio of previously unreleased numbers.
How Can I Keep From Singing: Early American Religious Music & Song, Volumes 1 and 2 (Yazoo 2020 & 2021). Each 23-song volume is a wonderful trip through Sunday morning music from the 1920s and 1930s. Rousing black gospel from the Golden Gate Jubilee Quartet and various congregations and choirs alternates with hymns from Sacred Harp shape note singers, mountain string bands and different vocal outfits. There are also "spiritual blues" by Roosevelt Graves and Sam Collins, not to mention "Sleep On, Mother, Sleep On," a minor masterpiece by Lonnie McIntorch, which may be the source of Joseph Spence's "I Bid You Goodnight." Sanctified all the way!
Booze & the Blues (Columbia/Legacy 67002). Take heed, you tipplers and teetotalers alike. Here are 21 songs about bug juice, rukus juice, blackberry wine, bad whiskey, moonshine, good whiskey, cherry wine, corn liquor, bootleg and canned heat from as many performers in a gamut of styles, 1927-1947.
Bobby Bland, That Did It! The Duke Recordings, Vol. 3 (Duke/MCA D2-11444). This two-disc package finishes MCA's retrospective of the soul man's Duke recordings, taking him from 1965 to 1972, years when everything from deep slow blues to pop standards became grist for his mill. No matter the material, he's a hell of a singer.
---
So, finally, thanks to my old friend, Cary Wolfson, for giving me the chance to do this column and put my musical opinions in print. Thanks to you readers for putting up with them. Thanks to the record companies that provided the discs. And, most of all, thanks to the people who make the music. I hope that if I have something fresh and pertinent to say about the blues in the future, I'll be welcome back.
Bye now. Gotta hop a boxcar.

- 30 -
---
This page and all contents are &copy 1996 by Blues Access, Boulder, CO, USA.