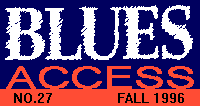 ---
Blues by the Book -- Fingerstyle Guitar
Taught by Roy Bookbinder
VHS video
---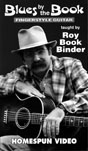 With a wry sense of humor and a deadpan presentation, Book Binder delivers a well-developed 75-minute lesson in fingerstyle blues for the advanced beginner to intermediate guitarist. The approach is to take just a few tunes, like "Black Dog Blues" and "Hesitation Blues," and break them down into a series of tricks and licks.
The tricks are culled from the Rev. Gary Davis, Pink Anderson and fellow Floridian Blind Blake (whom Book Binder says proves that this Piedmont style of playing is really Florida style). Book Binder starts out telling us that Gary Davis told him that "building your own style is just learning lots of licks and tricks, then just letting them come out in whatever way feels right." With that in mind, he works straight through each tune one-lick-at-a-time, showing us how Davis would play it, or maybe Blind Blake, Lemon Jefferson, or even Jorma Kaukonen. You get a few choices for each passage, which makes it fast and fun to learn.
Don't look for a lot of theory here. Book Binder claims he doesn't know the names of most of the chords he plays; he just shows 'em to ya. I'm not so sure about that, but in any case you'll soon find you've strung together enough of these licks to play an easy version of the tune, motivating you on to a "more complex" arrangement with a few fancier tricks. I think most video instruction could benefit from a bit less serious tone and a bit more fun -- and this is proof. (With music and tab from Homespun Tapes, Box 694, Woodstock, NY 12498; (914) 246-2550.)
---
Lone Star Electric Guitar Parts 1 and 2
Taught by David Grissom
Two VHS videos
---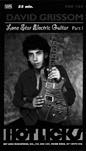 Citing Duane Allman and Roy Buchanan as tonal influences (read that loud, as in Marshall amps), Jeff Beck for "raw emotion" and Billy Gibbons of ZZ Top for the way he attacks the instrument, Grissom's stated intention is to illustrate what makes up his personal style.
Unfortunately, Grissom's teaching approach is less attack and more like a ramble through scales, shapes, licks and tricks, mostly out of context, except during the live band tracks where they simply jam. While Grissom is a respectable player of the loud, distorted Stevie Ray Vaughan school of Texas blues guitar, his teaching style lacks discipline. He'll abandon a topic he's opened (like modes) by explaining that we can find it elsewhere or "figure that part out yourselves." (News flash: That's why people buy these videos). I lost count of how many times he said "uh," "umm," and "anyway," as if a script never crossed his mind.
There is the usual great Hot Licks quality split-screen production, which makes it easy to see what's being played. I just found it hard to care. These two tapes look like they were recorded the morning after a late gig. (With music and tab from Hot Licks Video, P.O. Box 337, Pound Ridge, N.Y. 10576; (914) 763-8013.)
---
Harmonica Power!
Norton Buffalo's Bag of Tricks and Blues Techniques
Two VHS videos
---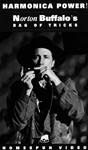 Here are a pair of good harp videos from a veteran of the Steve Miller Band, Bonnie Raitt and his own band, the Knockouts. The Blues Techniques video delivers just that, 80 minutes of intermediate-level instruction in note bending, vibrato, tongue, mouth and hand techniques and tricks to spice up your harp playing.
Exercising you through every bend on every hole (half and whole tones where possible), the Buff is convinced that knowledge will provide more melodic options when improvising over any blues tune. He gives the best description I've ever heard of mouth and tongue position for note bending by comparing it to sucking an incredibly thick strawberry milk shake through a straw, and a diagram in the accompanying booklet does a fair job as well. Watching him show how to glis from one note to the next slowly, it's easy to see why he's so in demand.
Complimenting his acoustic lessons, Norton includes invaluable advice on mikes, amps, amplified technique (hence the title) and even jamming etiquette, often considered an oxymoron when used to describe harp players. I hope lots of would-be jammers view that segment.
Moving on to the Bag of Tricks tape, there are 90 minutes of intermediate-level instruction in a variety of settings: country, folk, cowboy, bluegrass, blues. Norton talks a lot about breathing here, about how he visualizes bringing his breath in from the stars to the soles of his feet and blowing out back to the stars. There are lots of breathing exercises which lead in to a most effective way of teaching articulation. Those tongue teasers are followed by more exercises, scales, tunes and rhythms. Bonus: real-life advice on "harmonica survival," or how to make those babies last.
While not aimed specifically at the blues player, this will open some new perspectives for the harp player, whether "The Yellow Rose of Texas" or "Bring It on Home to Me." And you'll be better qualified for the night shift as you watch over the sleeping cattle -- or was that sheep? (With cool diagrams and transcriptions, from Homespun Tapes, Box 694 Woodstock, NY 12498; (914) 246-2550.
---
Texas Blues Guitar
Performance video
---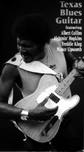 Continuing the recent trend of sampler discs, Stefan Grossman features a few tunes each from Albert Collins, Lightnin' Hopkins, Freddie King and Mance Lipscomb as teasers for the full-length Vestapol tapes available from each artist.
The Master of the Telecaster starts it out hot, captured in a 1991 Austin City Limits segment featuring the Icebreakers with horns. Searing through "Iceman," "Lights Are on But Nobody's Home" and "Head Rag," Collins is spotlighted at the top of his form on this outstanding production.
Freddie King follows with a lackluster 1972 performance taped in a TV studio in Sweden before a less than enthusiastic audience. Dig the big shirt collar and those platform shoes. Blues and disco clothes? No wonder tunes like "Big Leg Woman," "Blues Band Shuffle" and "Going Down" didn't go down too well. (King's best video performance remains Vestapol's 1966 The!!!!Beat television show, where he was a frequent guest during his '60s heyday.)
I was most impressed by the Lightnin' Hopkins portion. Filmed in black-and-white in 1960 New York (so appropriate), this portrays Hopkins as the ultimate in cool and collected -- right down to the trademark towel around the neck. His smooth delivery of "Baby, Come Home With Me," "Going Down Slow" and "Bunion Stew" are topped of with a rendition of "Let's Pull a Party" taped for the television program A Pattern of Words and Music. Host Joan Baez just sits there blushing at his lyrical references, still young enough to be embarrassed.
The final segment features a 73-year-old Mance Lipscomb performing at the University of Washington in 1968. With his unshaven face, coat and hat with shirt collar crooked, Lipscomb looks out of place performing "Captain, Captain," and "Night Time Is the Right Time." Warmed up, Lipscomb sheds the coat for a memorable "God Moves on The Water" and "Which Way Do the Red River Run," providing us with an intimate glimpse into the world of a Texas tenant farmer who didn't play professionally until he was "discovered" at age 65. (With excellent background booklet by Mark Humphries from Vestapol Productions/Stefan Grossman's Guitar Workshop, Box 802, Sparta, N.J. 07871; (201) 729-5544.)

Send materials for review to: Kiernan Music Services, 1239 Lakeshore Drive, Boulder, CO 80302.
---
This page and all contents are &copy 1996 by Blues Access, Boulder, CO, USA.