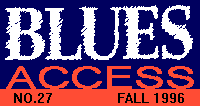 ---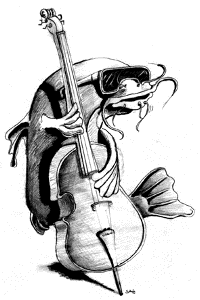 When Worlds Collide
B.B. King, via the Primitive Radio Gods, is all over the alternative radio charts. Tracy Chapman returns to the Top 10 riding atop a seductive blues riff. The new Neil Young/Crazy Horse record closes with a Jimmy Reed classic. Beck Hansen's new album continues his full-frontal assault on blues and rock. R.L. Burnside has New York groove rockers over to boogie with him in the Mississippi hills.
What's going on here? I believe I have heard all the arguments against contemporary rock and rap, about how the former has strayed too far from its blues roots and the latter has, among other things, usurped the very soul of music. I don't believe it, though I guess I understand the dislocation. Kurt Cobain sang a Lead Belly song on MTV but never really claimed any particular connection with blues. There are occasional blues elements in the music of everyone from PJ Harvey to Big Head Todd and the Monsters, but not many twentysomethings (save perhaps G Love) would consider themselves blues artists. Sampling B.B. King or uniting Burnside with the Jon Spencer Blues Explosion sounds more like a publicity campaign than actual music collaboration.
I've always been intrigued with the intersection where genres run into each other. Things tend to happen at a crossroads where there are no stop signs, and quite often the participants crash-and-burn like two asteroids breaking each other to bits. Those can be fascinating, too, but the most interesting meetings are those where the participants join and take off in a new direction.
Take Primitive Radio Gods' "Standing Outside a Broken Phone Booth With Money in My Hand." The song centers around the B.B. King classic "How Blue Can You Get?" written by Leonard Feather, the noted late jazz critic and avowed enemy of rock'n'roll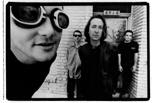 (who would be no doubt highly displeased to know he could be the answer to a coming alternative-era game of Trivial Pursuit).
"Phone Booth"'s atmospheric mood borrows the melody of Lou Reed's "Walk on the Wild Side" as well as sampling the "How Blue?" chorus. It's a seductive mix of old and new, opening with the sound of a needle touching down on a vinyl record and B.B.'s scratchy voice crying out, "I've been downhearted, baby." Several gloomy verses later, you're left with the impression that singer Chris O'Connor is a bit downhearted himself. The dirge builds to a great climax when O'Connor actually tries to emulate B.B., an unintentionally hilarious point (and one we can all identify with), as his smooth, unaffected warble falls flat against King's huskier inflections.
Beck Hansen is certainly no blues revivalist, but his first hit, "Loser," from 1994's Mellow Gold, did for Dr. John what Primitive Radio Gods are doing for Leonard Feather.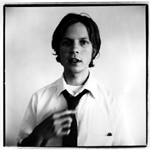 "Loser," which became a slacker anthem of sorts, didn't come from Mars -- it's Mac Rebennack's "I Walk on Gilded Splinters" turned inside on itself.
"Loser" is weird, true, with disorienting, stream-of-consciousness lyrics, but in that regard, it certainly has nothing on its 1968 source. Dig out "Splinters" (it's the last song on Gris Gris, one of Mac Rebennack's spooked-out hallucinations from back in the days when the good doctor was doing his best to turn New Orleans music in on itself) and tell me that Beck is the weird one. I don't think so.
Odelay doesn't immediately jump out at me the way Mellow Gold did, and the irritant factor seems higher (can't get too chummy with moms and dads, he knows). Hansen seems to revel in the crashing-and-burning, but he's got the right idea, and his instincts are likely to get better as he goes along.
Tracy Chapman's lazy, shuffling "Give Me One Reason" is pretty lightweight. But if it's ear candy, it's smart ear candy, and you have to admit that it's pretty cool that many teens and twentysomethings will remember a blues song when they reminisce about the summer of 1996. (And perhaps, as we did upon hearing Out of Our Heads or Disraeli Gears, they'll seek out the source next time they're in the store looking for something different.)
There's no doubt that the latest resurgence of interest in the blues has been stoked by middle-agers fed up with grunge and rap and what passes for rock in general. Why not? It reconnects them with their early roots in '60s-'70s rock, and since it's strictly adult fare, it eliminates the need to listen to the youth angst that dominates rock lyrics.
Which brings us to Neil Young, amazingly at age 50 as much a hero to today's rockers as he was to young boomers. (At this writing Broken Arrow tops Rolling Stone's alternative album chart, above both Beck and Chapman -- and his wardrobe hasn't changed!) Unfortunately, the Jimmy Reed classic "Baby What You Want Me to Do" sounds like it was tagged onto Broken Arrow to flesh out an album with no other hints of blues among its plodding, droning electric guitar songs. It's more filler than revelation, although that's not too surprising after his unfortunate, gimmicky 1988 "blues" album, This Note's for You. Surprisingly, Young just seems uncomfortable with blues; it's one intersection he probably won't be crossing much.
R.L. Burnside is no baby boomer, or teen idol, either. His A Ass Pocket of Whiskey is uncompromising, in-your-face, politically incorrect boogie-woogie recorded with the Jon Spencer band during a February afternoon jam session in Holly Springs, Arkansas, and it sounds like it: sloppy, choppy and unfinished. I like the idea in theory, but in actual practice, despite a couple of worthwhile moments, I keep thinking what might have happened had he been paired with a more interesting group of musicians. (And be sure to check the reviews section for a completely different take on this one.)
Actually, my favorite blues fusion isn't likely to hit the alternative charts anytime soon. It comes from ex-MC5 manager/political activist/disc jockey/producer/poet/historian John Sinclair, who is involved in his own blues fusion, reading his blues- and jazz-inspired verse while musicians swirl riffs and solos around him. Last year's Full Moon Night disc (recorded live in his adopted home town of New Orleans) concentrates more on Sinclair's John Coltrane musings, but a recent live show in Louisville, Colorado, emphasized only works from a new, as of yet unrecorded, blues-inspired collection, Fattening Frogs for Snakes -- Delta Blues Suite.
It was another crazy juxtaposition of elements: On this particular night, Sinclair and his Front Range pick-up band were playing to a half-empty bar in a little Western town with the Kerri Strug gymnastics drama playing itself out on the muted television overhead.
I felt a sudden surge of patriotism, not from NBC's overplayed jingoism disguised as coverage, but from Sinclair's stories as they came alive in startling, syncopated images fueled by the music, powerful stories of Rice Miller and Muddy Waters and Robert Johnson and the train called the Pea Vine Special, carrying black musicians out of the Delta to a new crossroads of their own in Chicago.
-- Leland Rucker
---
This page and all contents are &copy 1996 by Blues Access, Boulder, CO, USA.