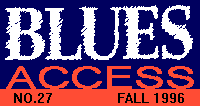 ---
BLUES ACCESS classifieds are a great way to inexpensively reach thousands of blues consumers. Just 50 cents per word ($10 minimum), payable in advance.
---
BLUES MEMORABILIA WANTED: Photos, instruments, posters, paintings, etc. Send condition and price to : Memorabilia, Box 5086, Chicago, IL 60680-5086.
---
I AM LOOKING FOR PROMO blues harmonica recordings to play in my beginning and intermediate blues harmonica classes. Send price list and address w/promo to Steve "Big Daddy Bluzharp" Harvell, 6013 Brack Penny Rd., Raleigh, NC 27603. (919) 662-8388.
---
WANTED: PAUL BUTTERFIELD 45s ("Come on In") by European collector, also LPs, rare material.. Write: Hircq, 5 Rue Racine, 75006 Paris, France.
---
NAME YOUR PRICE for BLUES ACCESS magazines #1 thru 9 and 16. Also buying blues books, concert posters, autographs, etc. Walter Glenn, 3393 Peachtree Rd., Atlanta, GA 30326. (404) 261-9346.
---
"PAUL DELAY IS NOT JUST GREAT -- he's simply the best," says West Coast BIues Review. "He's without a doubt the most brilliant, creative and talented blues harmonica player on the planet. Both of these recordings [Paulzilla and The Other One] are six-star discs [highest rating]. It doesn't get any better." The best from those discs are now available on Take It From the Turnaround ... a rerelease on Evidence Records. Watch for deLay's newest, Ocean of Tears, on Evidence this September. For booking/ordering information, contact the Paul deLay Band, Box 25542-BA, Portland OR 97225 (503) 244-58271. Visit our web site at http://europa.com/~damray/.
---
RADIO STATIONS WANT YOUR MUSIC! Blues Record Release Kit $30.00 postpaid, includes 500 gummed labels with additional hard copy, phone numbers, instructions, manufacturers and postcard templates for return information from deejays. Icebird Records, Box 216, Lakebay, WA 98349. (206) 884-9705.
---
THREE MINUTES TO™ BLUES HARMONICA! Impossible? Not with David Harp's unique new "Harmonica Hand Signal Video Method™" -- We guarantee it: 73-minute video plus Hohner BluesBand only $14.95! Automated Credit Card Machine: (800) 665-6474 -- Call it for free brochure: Two dozen methods for every level and style of harmonica player! Human Contact: (802) 223-1544!
---
MULE NEWMAN CD. "Bad-ass" -- Blues Revue. "Soulful" -- Blue Suede News. "Touching" -- KKFI FM. "Great" -- KRBD FM. Send $13 postpaid to: Mule Music, Studio City Studios, 11012 Ventura Blvd. #238, Studio City, CA, 91604, or call DisCollection 1-800-551-3472.
---
THE BLUES AUDIENCE is for musicians and music lovers! Newsletter by and for musicians, promoting live New England blues bands. Also, the most comprehensive monthly guide to live and recorded blues music in N.E. $19 per year. Send check or M.O. to The Blues Audience, 104 Old Nelson Rd. Marlborough, NH 03455-4004. Is your band on tour in N.E.? Get your gigs listed where 10,500 readers will see it. Call Diana (603) 827-3952.
---
PUT YOUR MUSIC ON THE WEB! Find out how to get a FREE Homepage in one of the best Internet Shopping Malls. Write for details. Future Unlimited, Box 187A, Clawson, MI 48017.
---
CAROLINA BLUES MAIL-ORDER. Specializing in hard-to-find blues of the Carolinas & Georgia on CD, tape, LP and 45. Send SASE or fax for our catalog. C.B.M., Box 291, Mt. Pleasant, SC 29465. Fax: (803) 762-9124.
---
WORLDWIDE DISTRIBUTION for artist-produced and small label blues CDs. 4,000+ circulation retail mail order catalog specializing in hard-to-find independent label releases is looking for quality blues CDs to add to next catalog. Send sample CD to Other Stuff Catalog, Box 581364, Minneapolis, MN 55458. Enclose $3 if you want sample returned.
---
DISCOUNT BLUES CDS. Everything you ever wanted to hear. Fast, reliable service. We ship world wide. Call or write for free catalog. Triangle Music, Box 52 A, Conover, WI 54519-0052. Phone or fax (715) 479-6615. E-mail: trimuse@newnorth.net.
---
LOCAL RELEASES COME FIRST. Hogtown News, a fast-growing Dutch-written roots magazine, gives highest priority to new releases by new and/or unknown artists on small, local American labels. If you want your CD to be known in Holland and Belgium, don't hesitate. Send a copy or demo plus bio to: Hogtown News, Marc Nolis (editor), J. Verbovenlei 79, B-2100 Deurne-Antwerp, Belgium.
---
BLUES ON VIDEO: Free listings, Rock, Jazz, Imports, Reggae, too! Crystal Video, Box 1299, Glenwood Springs, CO 81623, or 1-800-433-8574.
---
IF YOU LIVE IN MID-OHIO, northeast Ohio or western Pennsylvania, you can listen to "The Bluesman" Frankie "Mr. Lucky" Halfacre on "Blue Monday" and "Explorations in Blues 'N Jazz" every Friday 7 p.m. - 1 a.m. on WSMZ, Z-103 in Columbus and "Blues 'Round Midnight" every Saturday 8 p.m. - 2 a.m. Also hear "Explorations ..." on WRBP, 102-JAMZ, Sundays 4 p.m. - 10 p.m.. Send promos to Box 5921, 1870 Goleta Ave., Youngstown, OH 44504.
---
MISSISSIPPI SAXOPHONE, The Blues Harmonica Player's Magazine is a quarterly publication for the blues harp player. Each issue is packed with interviews, stories, product and music reviews with harp keys. Only $16 for four issues in the US, $20 for four issues in Canada and $24 for four issues overseas. US funds or IMO only! Delta Publications, Box 12185, Eugene, OR 97440. (503) 726-5992.
---
BLUES LEGENDS PHOTOS in b/w 8 x 10. Muddy Waters, SRV, Janis Joplin, Johnny Shines, Paul Butterfield, Little Milton, Jerry Garcia, Blues Brothers. Contact Larry Hulst Photography, 1513 S. Cascade Ave., Colorado Springs, CO 80906.
---
VINTAGE HARP MICS: Shure, EV, Turner, Astatic, American, Calrad. Elements, connectors/cables, parts, repaints, overhauls. Sell and buy. Free inventory list and/or "A Basic Primer on Working With Amps" -- from the harp player's perspective. Tom's Mics -- Box 140093, Dallas, TX 75214. (214) 328-3225. Fax: (214) 328-4217.
---
COLORADO BLUES FANS: The Colorado Blues Society celebrates its first anniversary bringing the blues to the Front Range. We want your input, energy and involvement. Your big payoff is more, more, more blues happenings in the Colorado Rocky Mountain region. Contact us now: CBS, Box 130, Lyons, CO 80540. (303) 823-9272.
---
BLUES PUBLISHER -- vast selection -- copyrighted -- original blues. Write and specify what songs you need to: Hayesongs, Box 364, Petaluma, CA 94953-0364.
---
ATTENTION BLUES DJs! Does the BLUES ACCESS new releases list leave you drooling? Want to get a huge improvement in your CD service from those hard-to-find record companies? BLUES ACCESS classifieds are a great way to reach hundreds of labels worldwide. Just 50 cents per word, 20 word minimum.
---
This page and all contents are &copy 1996 by Blues Access, Boulder, CO, USA.