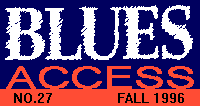 ---
A satisfying platter out of Baltimore, Tear Me Apart (Cathy Jean Music 45695), comes from accomplished vocalist and confident producer Cathy Jean.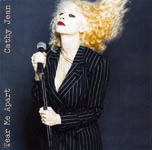 The 14-song, 50-minute effort is fairly broad-based in its song-selection and includes several meaty jump blues tunes and a jazz standard as well as some after-midnight melodies. The covers, from Louisiana Red to Muddy Waters to Bo Diddley, are well-chosen for Ms. Jean's abilities, which are significant. In a gutsy move, she breathes new life into an a cappella version of Jimmy Rogers' "That's All Right," giving that warhorse a mournful, lullaby-for-bad-children quality. And her version of the Duke's "Do Nothing 'Til You Hear From Me" might break your heart. The wonderfully-named Mookie Siegel cooks on piano and organ, and indeed, all of the musicians are just right for their parts. This is mostly a live-in-the-studio recording with well-arranged horns, cool guitar and the deft jazz-phrasing and Joplin-like rock sensibility of Ms. Jean in a well-seasoned blues-stew.
Someone who has paid his blues dues many times over and (at least so far) has been ignored by blues labels is Alabama-born, Tucson, Arizona, mainstay Sam Taylor. Bluz Man (Trope Records 995014),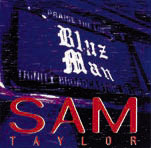 only Big Sam's second solo recording in a musical career that stretches back almost half a century, is a compact disc crying for national recognition. It is Taylor's very good fortune to have included in his crisp and proficient backing band an incredibly versatile solo instrumentalist, the classically-trained electric violinist Heather Hardy. She sensitively rips, at times quite effectively recalling both David LaFlamme and Papa John Creach. This 10-cut, 58-minute recording is all Taylor-made material, presenting to great effect his superb soul/blues vocals and gritty, paper-cut guitar leads. Hey, big labels, I'll loan you the pocket-change. A blues man in Tucson is worthy of your call.
A fine, hired-gun blues band provides a strong groove as a backdrop to Marla BB's grating, might-be-more-at-home-with-slow-jazz vocals throughout her 21-minute, four-song When Love Comes (Ascending Productions 301190). Experienced producer/guitarist Vasti Jackson has worked skillfully and successfully with blues gals Katie Webster and Sista Monica in the past. But even he can't seem to do much with Ms. BB's over-the-top, in-your-face delivery. Overall, three covers and one pretty good original tune (the title track) can't cut this New York mustard.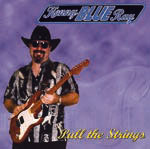 The persevering Kenny "Blue" Ray (Ladner) has just released his fourth self-produced disc, Pull the Strings (Tone King 1059). This San Mateo, California, resident has been playing for nearly three decades, put in time with a ton of well-known players (A. Funderburgh, W. Clarke, L. Fulson) and held the lead-guitar spot in Little Charlie & the Nightcats and the Marcia Ball Band. As always, Ray brings together some excellent musicians who play well within his blues-rocking framework. The real show is the amazing and extremely hard-working Ray, who can bend it like his late pal Stevie Ray, smoke the fat tone ala Mr. Collins and tear it up like Chuck Berry in his 12-bar rock'n'roll prime. Did I say danceable? If Ray's latest/greatest one doesn't bring him more favorable attention, I'd have to guess there was a conspiracy. Keep 'em comin', Kenny.
A two volume collection, Bay Area Blues (Taxim 1019), and (ingeniously) More Bay Area Blues (Taxim 1022), though not yet available in America, is well worth seeking out. Blues lover Mike Somavilla has painstakingly obtained the rights to almost two and a half hours of independent blues recordings by 30 Northern California artists, some nationally-known (Nick Gravenites, Harvey Mandel, Mark Naftalin) and others pretty obscure. There is very little filler, and the two-discs present a pretty broad spectrum and solidly played hodge-podge of the greater Bay Area music scene. Both include great packaging, with informative liner notes and photos of each artist or band and a contact number and address in case you're still hungry for more of a particular artist.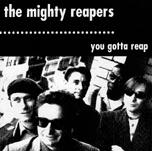 OK, think way-down blues. Now think way-down-under blues, and you'll most likely be thinking of two infectious recordings by the Mighty Reapers, a Sydney, Australia blues band. Both The Might Reaper and You Gotta Reap (Terra Nova 9008 & 9011) are so true to the spirit of a captivatingly joyful yet deadly serious blues band that they'll win you over easily within a tune or three. Their non-pretentious approach, clever song selection (Wolf, Wells, B.B., Williamson and quite a few stand-on-their-own originals) and happily earnest playing are evident throughout, encouraged by a wonderful South African conga player, Sammila Sithole. Vocalist Robert Susz is a fine frontman who doesn't overshadow the excellent musicians in the band with vocal gymnastics or harmonica pyrotechnics, yet his contribution to the Reapers is huge. Betcha these two discs will have you shouting along with their New South Wales fans, "C'mon Aussie, c'mon."
One of the most passionate and remarkable independent releases of the year, Good Time, A Good Time (Tuizer Music 746) comes out of the Bay Area with a powerful and a fiery grace.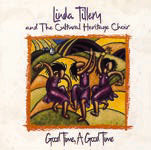 Oakland-based Linda Tillery and the Cultural Heritage Choir have produced a glorious, life-affirming recording with an authentic voice of traditional, early African-American folk music (along with one nicely-placed Afro-Brazilian chant). Performed completely without instruments save small percussion, this is pure roots music interpreted by contemporary artists, 16 selections filled with music that was the forerunner of American blues. Describing the joyous intensity of these field hollars and folk, gospel and work songs doesn't begin to do justice to the rich variety of emotion and feeling this small but mighty choir has created. Ensemble leader, arranger and producer Tillery and her six singers have produced a work of majesty that should be required listening for every basic music classroom in America.
North Carolina's Roy Roberts' arsenal of smoky, whisper-to-a-shout vocals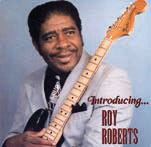 and soulful, crisp, guitar chops have served him well in a nearly 40-year career. His two studio discs, Introducing Roy Roberts (Rock House Records) and A Woman Needs Love (2/Hot Records) contain a bit of filler, but are mostly satisfying R&B and blues representations of Roberts' musical tastes and his ability to deliver on them. The songs are more on the R&B side, and his Stratocaster is definitely doing the urban blues thang. He records with a pretty good backing band, careful in their support of the tunes and sensitive enough not to out-do the boss. Live! (Rock House Records) is a lot more bluesy overall, however the CD sound, albeit club "authentic," is not up to '90s standards. Overall, what you've got here is a soulful Southern man pleasantly deep into his music.
---
See Where to Find 'Em for label information.
---
We heartily encourage blues musicians to send us your independent releases. And blues fans, if there's a band or musician you've heard, seen or followed, and think they're deserving of wider recognition, send us, or have them send us their releases as well. With your help, we'll find out and hopefully be able to help spread the word about some great new music.
We need two copies of each release, preferably on CD. Written promotional material regarding the music and the player(s) is also welcome and helpful.
Please address to:
Homebrew
c/o: Blues Access
1455 Chestnut Place
Boulder, CO 80304-3153
---
This page and all contents are &copy 1996 by Blues Access, Boulder, CO, USA.