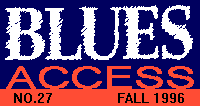 ---
Discs that have been given full reviews in this or previous issues of BLUES ACCESS
are quoted with the reviewers initials in brackets.

Red Rooster Pick

Catfish Pick
---
Joe Beard Featuring Ronnie Earl & the Broadcasters - Blues Union

See review in this issue. "An eminently satisfying marriage of deep blues tradition and post-modern exploration ... highlighted by Beard's low-down, impassioned vocals and Ronnie Earl's magical guitar solos." [JO]
(Audioquest)
---
Big Bill Broonzy - Treat Me Right

(Circa 1951) Recorded abroad soon after Broonzy's enthusiastic reception in Europe following a disappointing decade as electric blues became prominent. This all-inclusive group of songs defines Broonzy's subtly subversive lyrics and easy-going country blues as well as any release. As Anton Glovsky puts it in his excellent sleeve notes, "Listen hard, and you'll be able to hear the dirt under Bill's fingernails."
(Tradition)
---
Sarah Brown - Sayin' What I'm Thinkin'

Austin's perennial bassist finally steps out on her own, and the only question you might legitimately ask is: Why did it take her so long? Brown's credentials -- she's on dozens of Austin-made albums and a mainstay of Antone's house band -- and lots of special guests are just the icing on the cake of this impressive debut.
(Blind Pig)
---
Willie Bryant - Blues Around the Clock

(1969) This interesting collection, 10 sides from longtime Apollo bandleader/MC Bryant cut in 1945 for the Apollo label (with four fascinating early Doc Pomus tracks and a smattering of other sessions recorded with Leonard Feather and the Tab Smith Group) is a must for lovers of late-'40s R&B.
(Delmark)
---
The Charles Ford Band - As Real As It Gets

New live recordings with the band's original lineup: Robben (guitar), Mark (harp) and Pat Ford (drums) with Stan Poplin (bass). There's even a reprise of "Gibson Creek Shuffle" from their 1972 debut. This is loaded with superb instrumental work.
(Blue Rock'it)
---
Frank Frost With Sam Carr - Keep Yourself Together

Fred James lured Helena homeboys Frost and Carr up to Nashville for these sessions, and you can almost smell the fried catfish and spilt beer at one of their Delta haunts on every track of it. Frost is in good voice, and Carr, as always, is in perfect control of the beat.
(Evidence)
---
Harmonica Fats & the Bernie Pearl Band - Blow, Fat Daddy, Blow!

Bernie and Fats' best collection of songs yet permeate this eclectic collection dedicated to Fats' late wife, Johnnie, who died between its recording and release. Don't miss the mournful "Blues for Mrs. B."
(Bee Bump)
---
Wynonie Harris - Everybody Boogie!

Harris was riding high with his first major hit when these sides were recorded for the Apollo label during three sessions, and they sound it, which makes this a fine addition to Harris' growing availability on CD. There's no possible way anyone could resist "Here Comes the blues," with Illinois Jacquet's silky tones wrapping around Harris' confident singing.
(Delmark)
---
The Holmes Brothers - Lotto Land

If you loved the soul music of the '60s and early '70s, there is no way you can't like this raunchy, irresistibly funky band. They wrote these songs for the film Lotto Land, which starred Holmes brother Oliver in a leading role. The instrumentals are the real finds.
(Stony Plain)
---
John Lee Hooker - Alone

A 1976 solo concert at Hunter College, originally released on Labor LP (1982) and Tomato CD (1989). Stark and unadorned.
(Blues Alliance)
---
Lightnin' Hopkins - Autobiography in Blues

One of my first blues albums, this deeply personal collection of songs is one of Hopkins' finest, and as original producer Mack McCormick says in the extensive liner notes: "It is surprising, raw, immediate, honest, big, wide, deep and genuine as the life lived by Lightnin' Hopkins."
(Tradition)
---
Herman E. Johnson/Smokey Babe - Louisiana Country Blues

Musicologist Harry Oster recorded these downhome artists in 1960 and 1961. Johnson has a deep, rich voice reminiscent of John Cephas, plays both acoustic slide and electric guitar. Smoky Babe is an impressive finger picker.
(Arhoolie)
---
B.B. King - How Blue Can You Get?

Spectacular two-disc collection skims the cream of 30 years of the King of the Blues onstage. If you're only going to make one CD purchase this year, you've found it.
(MCA)
---
Lead Belly - Where Did You Sleep Last Night?

A more generous and better annotated collection than the recent Tradition discs. It contains a full 34 selections from the Folkways archives, with informative notes about each song.
(Smithsonian/Folkways)
---
Little Richard - Vol. 2, Shag on Down by the Union Hall

As reissue producer Billy Vera explains in the liner notes, anything that Little Richard recorded during his Specialty years deserves a listen, and this collection of alternative takes, second-tier songs and outtakes certainly proves him correct. Highlights include the original, slower version of "Long Tall Sally" and a sweet version of "Kansas City" years before the song became a hit for Wilbert Harrison.
(Specialty)
---
Taj Mahal - Phantom Blues

See review in issue #26. Taj is in great spirits on this diverse collection of mostly obscure American R&B roots music.
(Private Music)
---
Taj Mahal - Mumtaz Mahal

A one-off jam session between Taj and two accomplished Indian musicians, Narashmhan Ravikiran and Mohan Bhatt, is a fascinating cross-cultural enigma. See Catfish Whitey in issue #26. (Water Lily Acoustics)
---
John Mayall - The Blues Alone

Mayall played everything but drums on this tour-de-force that got a lukewarm critical reception when it first came out. But nearly 30 years down the line it holds up quite well.
(Mobile Fidelity)
---
Mississippi Fred McDowell - I Do Not Play No Rock'N'Roll

In 1970, the LP of the same name exposed McDowell's brilliance to an audience beyond blues insiders. Another LP from the same session was released on the obscure Just Sunshine label. This CD includes both of those, plus three unissued sides.
(Capitol)
---
Mississippi Fred McDowell - Steakbone Slide Guitar

These 10 songs are from Fred's London recordings, released on LP by Transatlantic and Archive of Folk Music and recently on CD by Drive Archive. A good complement to the above set.
(Tradition)
---
Amos Milburn - Blues, Barrelhouse & Boogie Woogie:
The Best of Amos Milburn, 1946-1955

Three CDs of piano and sax- (mostly by Maxwell Davis) driven R&B drawn from Milburn's voluminous Aladdin catalog. Themes of alcohol and sexual double entendre predominate.
(Capitol)
---
Bobby Murray - The Blues Is Now

(1969) Murray has played guitar in Etta James' band since 1988 and he inaugurates the new Viceroots label with a stunning debut. Chops aplenty, to be sure, but tons of feeling, too, on 11 blues and soul tunes. Guest vocalists are well chosen for the four non-instrumentals.
(Viceroots)
---
Bobby Patterson - Second Coming

He might look like a refugee from "The Love Boat" on the cover, and some of the titles might be lyrically challenged, but Dallas' Bobby Patterson's gritty voice stands tall throughout this soulful set.
(Proud)
---
James Peterson - Preachin' the Blues

It's about time Peterson pére gets some heavy attention. He's an underrated guitarist whose churchy voice is more than up to the role of "blues preacher" on these 10 self-penned songs.
(Waldoxy)
---
Jimmy Rogers - Chicago Blues Masters, Volume Two

(1972, 1973) Three sessions recorded after a lengthy studio drought. Of the two sessions that became the Gold-Tailed Bird album, the one Freddie King produced beats the laid-back later one boarded by J.J. Cale, with four tracks from a Shelter session to round it out.
(Capitol)
---
Roy Rogers - Rhythm & Groove

Rogers is an expressive, enthusiastic guitarist and singer, and his up-front production on Rhythm & Groove makes it sound like you've got a front seat in a small club much like the one in the opening track, "Vida's Place." With friends like Charlie Musselwhite, Phillip Aaberg, David Grisman and Maria Muldaur alongside, this is the cure for an otherwise lackluster Saturday night.
(Pointblank)
---
Saffire -- The Uppity Blues Women - Cleaning House

A gorgeous recording of big, brassy blues of the post-feminist persuasion. There is hardly a let-down through these 17 (count 'em) tracks, but don't miss "Hungry Woman Blues," "I'll Be Your Sweet Black Angel" or the N'Awlins-feeling "Don't Do It."
(Alligator)
---
Alec Seward - Late One Saturday Evening

Seward was a dear friend of Brownie McGhee and Sonny Terry, and this record features his imprecise yet oddly affecting brand of country blues, backed by Brownie and Sonny and friends at a gathering in the fall of 1966. Pull up a chair and party with the best.
(Blues Alliance)
---
Preston Shannon - Midnight in Memphis

Produced by the legendary Willie Mitchell (of Hi Records fame) and Ron Levy, this is pure horn-laden Memphis soul. Shannon sneaks in some bluesy guitar leads to go with his classic vocals.
(Bullseye Blues)
---
Sonny Terry & Brownie McGhee - Blowin' the Fuses

The duo was in peak form on this night in 1961 at L.A.'s Troubadour. This disc contains the original performance (severely edited on Drive Archive's "Po' Boys"). Four bonus tracks include Woody Guthrie and Cisco Houston.
(Tradition)
---
Rufus Thomas - Blues Thang!

The self-proclaimed "world's oldest teenager" proves he still has the goods at age 79. His way with a song is still intact and so is his sense of humor. (Just hear him explain how "the world is round, but it's crooked just the same.")
(Sequel)
---
Joe Turner and Jimmy Witherspoon - Patcha, Patcha, All Night Long

(1985) These Norman Granz-produced sessions are among Turner's last, and they're blues with a band that includes saxmen Red Holloway and Lee Allen and guitarist Gary Bell, evoking the ambience of the saloons and dance halls where Spoon and Turner learned their trade.
(Pablo)
---
Various - The Alligator Records 25th Anniversary Collection

Far beyond a snapshot, this is a roll call of Alligator artists, showing the company's amazing breadth and vision over a quarter century. With exhaustive liner notes by owner and blues lover Bruce Iglauer, this collection is a veritable who's who of great music.
(Alligator)
---
Various - Crescent City Soul

The grand tour of New Orleans R&B. Disc one offers 28 radio hits. The next three discs dig a whole lot deeper into this rich regional vein.
(EMI)
---
Various - That's Fats! - A Tribute to Fats Domino

Fats, not a bad interpreter himself, gets the treatment here from those who have covered his songs. It's an astonishing cross-section of genres: pop star Rick Nelson, instrumental drummer Sandy Nelson, doo-woppers Dion and the Belmonts, the Band, even Cheap Trick's pop/metal "Ain't That a Shame."
(EMI)
---
Various - Booze & the Blues

The relationship between blues and demon whiskey is a long and complex one, and this collection of tunes from the '20s, '30s and '40s turns over a lot of the confusion. There are a wide range of styles and a diversity of feeling, from the joy (Sloppy Henry's "Canned Heat Blues") to the evil (Atlanta preacher W.M. Mosley's anti-alcohol sermon, "Drinkin' Shine").
(Legacy)
---
Various - Collector's Choice

Dishes up 19 fonky New Orleans R&B singles, many not readily available on CD. Includes 10 by Professor Longhair, plus Irma Thomas, Tommy Ridgley, Joe Jones, Eddie Bo and more.
(Rounder)
---
Various - Before the Blues, Volume 1

Rarities from the black folk tradition that created the blues, from 78s recorded in the '20s and '30s. Rags, breakdowns, ballads, religious songs and even a few blues (by Sam Collins, Mississippi John Hurt, Robert Wilkins).
(Yazoo)
---
The Wallace Brothers - Lover's Prayer

(1963-67) Certified '60s Southern-fried, soul music, just as greasy as you like. These glorious unknowns (who weren't even brothers) are a bit reminiscent of Sam and Dave in their raw energy.
(Excello)
---
Little Whitt & Big Bo - Moody Swamp Blues

Little Whitt and Big Bo have played parties, fish fries and back yards in Alabama for half this century, and now that they're retired, they've recorded this album and headed out on the road. If this collection of thoroughly original classics, traditional tunes and odds and ends acoustic blues is any indication, don't dare miss them if they come to your town.
(Vent)
---
Big Joe Williams - Have Mercy!

Probably recorded in 1960 with Brownie McGhee, Sonny Terry and Lightnin' Hopkins in tow, this is a great meeting of confident regional stylists who managed to merge their respective styles into a jam situation for the common good, especially "Buked and Scorned" and "Chain Gang Blues."
(Tradition)
---
Jimmy Witherspoon With Groove Holmes - Spoon & Groove

Jazzy sextet setting -- led by Holmes' soulful organ -- is well suited to Spoon's stylish sound. Late night listening fare.
(Tradition)
---
Rusty Zinn - Sittin' & Waitin'

If Rusty Zinn were just a raunchy, crunchy blues guitar player it would probably be enough. That the 25 year old Californian has a wonderfully woeful voice to match -- not to mention perfect new/old production from Kim Wilson -- vaults him and this disc to the forefront of contemporary blues.
(Black Top)
---
This page and all contents are &copy 1996 by Blues Access, Boulder, CO, USA.