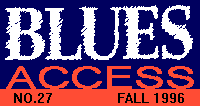 ---
The Essential Blues Album List, Part 2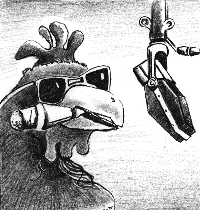 Here's the second part of our list of Essential Blues Discs, which we began last issue with a dozen great guitarists. Our philosophy is to present the artists that belong at the core of any good blues collection. We have decided (for reasons of space and sanity) to limit the rest of our choices to five artists in each of seven categories: Chicago blues, classic country blues, female artists, harmonicas, pianos, vocalists and general "gotta-haves."
While we've tried (with some exceptions) to single out one or two representative discs for each artist, we hope these suggestions will stimulate you to check out more of their works.
A couple quick notes: Several readers have pointed out to us that Gatemouth Brown's The Original Peacock Recordings is indeed available on CD from Rounder Records. Also, since we put our last issue to bed, MCA released a B.B. King CD How Blue Can You Get? Classic Live Performances, 1964 to 1994 that provides one of the best recorded blues listening experiences we've had in a mighty long time. Had it been available then, it would have easily been one of our recommendations.
---
CLASSIC CHICAGO BLUES
---
1. Muddy Waters
The Godfather of modern Chicago blues, Muddy came up from Stovall's Plantation in Mississippi to the Windy City in the late 1940s, plugged in and turned the blues world on its ear. His bands featured a roster that reads like a "Who's Who of Chicago Blues": Little Walter, Otis Spann, both Luther Johnson, James Cotton, Jr. Wells, Sammy Lawhorn, Walter Horton, Jimmy Rogers, Pat Hare, Francis Clay, to name a few. Muddy Waters: The Chess Box (MCA) contains the cream of his 25-year association with the great Chicago indie label, Chess Records. His '70s discs produced by Johnny Winter are also well worth listening to, but for pure feral mojo, nothing compares to what he did for Chess in the '50s and early '60s.
On any list involving the blues, his name belongs at the top. Now that was a man!
---
2. Howlin' Wolf
This great gravel-voiced giant (nee Chester Burnett) moved from Memphis to Chicago and scored big with his larger-than-life-persona. Like Muddy (his main rival), most of Wolf's best songs were authored by Willie Dixon: "Red Rooster," "Spoonful," "Back Door Man," "Evil" and "Built for Comfort." You'll find the essentials on Howlin' Wolf: The Chess Box (MCA), but The London Howlin' Wolf Sessions (MCA), with Eric Clapton and Stevie Winwood sitting in, is probably his most popular disc. Check out Rides Again (Flair/Virgin) for a good sampling of his pre-Chicago work.
---
3. Willie Dixon
Not content to be merely the greatest songwriter in the history of the blues (and, by extension, rock'n'roll), Willie was also an outstanding bassist, arranger and producer. As a vocalist he was, uh, limited ... but effective. Still, the best versions of his songs were done by other people and the very best of those are collected on Willie Dixon: The Chess Box (MCA). To hear Willie do his own crooning in a variety of settings over nearly a 40-year span, get The Original Wang Dang Doodle: The Chess Recordings and More (MCA).
---
4. Junior Wells
He was Muddy's choice to replace Little Walter. What greater compliment could there be? Hoodoo Man Blues (Delmark), his first LP, features burning blues harp with Buddy Guy on guitar. For a taste of his rough and tumble early work, try 1957-66 (Paula).
---
5. Hound Dog Taylor
Forget about technical virtuosity. Taylor's playing was loud and raucous and simply made you feel good. Bruce Iglauer recorded Hound Dog as the first artist on Alligator Records in 1971 and came up with a winner right of the box with Hound Dog Taylor & the Houserockers. Several live CDs of the band -- consisting just of two guitarists and a drummer -- are out as imports on Wolf.
---
CLASSIC COUNTRY BLUES
---
1. Robert Johnson
As far as great recorded blues goes, this is where it all began. The Complete Recordings (Columbia) features haunted and haunting vocals, matched with utterly stunning finger-picked guitar work. These sides, recorded in 1936 and 1937 are all the legacy we have of this mysterious legend. Probably the most influential recordings in the history of the blues.
---
2. Son House
In 1942 Alan Lomax recorded Son for the Library of Congress, but it wasn't until his rediscovery in 1965 that a wider audience learned of him. Father of the Delta Blues presents his first session for Columbia in its entirety (including 12 unissued takes).
---
3. Mississippi John Hurt
A gentle singer (and man) and outstanding fingerstyle guitarist who first recorded in the '20s, he was rediscovered in the folk revival of the '60s. The Best of ... (Vanguard) is a delightful live performance, while Worried Blues and Avalon Blues (Rounder, both from 1963) document his first recordings in nearly 40 years.
---
4. Skip James
Another '60s "rediscovery," James recorded 26 sides for Paramount in 1931. Greatest of the Delta Blues Singers (Biograph) shows off his high-pitched vocals in the first session following his reemergence in 1964. Cream did a version of his "I'm So Glad" on its first album.
---
5. Blind Willie Johnson
The Complete Blind Willie Johnson (Columbia/Legacy) offers up the meager output of this great gospel blues singer and slide guitarist. These 30 religious songs, while totally blues-infused, define inspirational music. His "Dark Was the Night -- Cold Was the Ground" is one of the most powerful songs ever recorded.
---
ESSENTIAL FEMALE ARTISTS
---
1. Koko Taylor
An Audience With the Queen (Alligator) almost captures Koko's in-person energy. A strong Chicago shouter, she is the rare woman who performs strictly the blues. She's been named "Best Female Vocalist" so many times that the award should bear her name instead of W.C. Handy's. What It Takes/The Chess Years, featuring almost exclusively Willie Dixon material, is a good overview of her less well-known earlier work.
---
2. Big Mama Thornton
Ball N' Chain (Arhoolie) contains '60s versions of her two best known songs, "Hound Dog" and the title tune which was popularized by Janis Joplin. Her earlier sides are collected on Hound Dog/The Peacock Recordings (MCA).
---
3. Bessie Smith
Some of the Empress of the Blues' recordings sound horribly dated to modern ears, but there's plenty to be gleaned from the five volumes (10 CDs) of Columbia's The Complete Recordings. "Empty Bed Blues," "I Need a Little Sugar in My Bowl," "Gimme a Pigfoot" and "Back Water Blues" are just a few of the classic songs you'll find here in their original versions.
---
4. Irma Thomas
The "Soul Queen of New Orleans" receives way too little attention outside her home town. She first hit it "big" (relatively speaking) in 1964 with the original "Time Is On My Side." Her soul/R&B style has a strong underpinning of the blues, and she is an absolutely electrifying live performer. The Way I Feel is the best of her recent Rounder recordings. The Irma Thomas Collection (Razor & Tie) dishes up 23 of her early singles, but a real sleeper is Something Good: The Muscle Shoals Sessions (MCA), a set that went nowhere commercially in 1967 but is startling today in its evidence of a soul laid bare.
---
5. Etta James
Discovered by Johnny Otis in the early '50s, Etta crossed over into rock'n'roll, but her roots always remained in the blues. The Essential ... is two CDs worth of the songs that built her reputation. Seven Year Itch (Island) was her knockout comeback album.
---
ESSENTIAL HARMONICAS
---
1. Little Walter Jacobs
A pioneer of the electrified blues harp as well as a fine singer, Walter was a mainstay of the Muddy Waters band for years. The popularity of the song "Juke" led to a solo career, but undisciplined habits resulted in his early death. He was featured extensively as a sideman on dozens of recordings by Chicago's legendary Chess Records. The Essential Little Walter (MCA) -- reviewed in BLUES ACCESS #25 -- gives you a healthy taste of what he's all about.
---
2. Sonny Boy Williamson #2
A strikingly individualistic musician, Sonny Boy (Rice Miller) was just about as influential as Little Walter. In his declining years he spent much of his time in Europe and even played with the Yardbirds. He is perhaps best remembered for his long stint on KFFA's "King Biscuit Time" radio show in Helena, Arkansas. The Essential ... (MCA) gathers his best-known Chess recordings in one place, but King Biscuit Time (Arhoolie), with many of his singles for the Trumpet label, is also strong.
---
3. Big Walter "Shakey" Horton
Here's yet another harp giant who played on many Chicago recordings -- mostly other people's -- in the 1950s and '60s. Chicago/The Blues/Today, Vol. 3 (Vanguard) finds him backing Johnny Young and Johnny Shines and as a leader on one track. His unamplified Memphis recordings on Mouth Harp Maestro (Flair/Virgin) are also worth checking out.
---
4. James Cotton
James' voice is a bit ragged these days, but he's still a fine showman. He's played with everyone on the Chicago scene. High Compression (Alligator) from 1984 is still our favorite, but if you can find a copy of the 100% Cotton (One Way) LP you're in for a treat.
---
5. Charlie Musselwhite
One of the youngest musicians on this list, Charlie has definitely been there and back, rewriting the way his instrument is played in the process. In My Time (Alligator) is the crowning point of his recorded career. Stand Back! Here Comes Charlie Musselwhite's South Side Blues Band (Vanguard), his first album from 1967, has wonderful energy and provides a snapshot from an earlier blues boom.
---
ESSENTIAL PIANOS
---
1. Memphis Slim
Peter Chatman was a deep-voiced singer who wrote and recorded hundreds of songs -- and dozens of albums -- before his death in Paris in early 1988. The self-titled Memphis Slim (MCA) contains recordings he made in the early '50s for Premium (including his classic "Mother Earth") that were bought by Chess and released in 1961. His '50s recordings with Matt "Guitar" Murphy are also gems, but hard to find on CD.
---
2. Otis Spann
A brilliant player and emotional singer, his work with Muddy Waters in the '50s and'60s set the standard against which all Chicago blues must be judged. For recordings with Spann as a leader, we recommend Otis Spann's Chicago Blues (Testament) with an all-star Chicago cast.
---
3. Sunnyland Slim
When Slim (Albert Luandrew) passed away recently it marked the end of a prolific recording career that began in 1946. Even in his 80s, this Mississippi-born Chicagoan never lost his sparkle. Try Be Careful How You Vote (Earwig), recorded in 1981 when he was a youthful 74 years of age, for some later-era Slim. House Rent Party (Delmark) features some of his classic early sides.
---
4. Roosevelt Sykes
Hailed as one of the most important bluesmen of all time, this St. Louis native spent 54 durable years in music until his death in 1983. Blues by Roosevelt "The Honeydripper" Sykes (Smithsonian/Folkways) is a nice set from 1961 that contains his classic "44 Blues." Check out his discs on Delmark for other '60s sides.
---
5. Professor Longhair
A true original, Fess (Henry Roeland Byrd) fused blues , R&B and rhumba rhythms (and a healthy dose of good humor) into the sound that propelled the great rhythm and blues/rock'n'roll awakening of the '50s and '60s in New Orleans -- a city where his name is revered to this day. The two-disc Professor Longhair Anthology (Rhino) presents the best overview of his career.
---
Blues from the Red Rooster Lounge originates on Boulder's KBCO 97.3 FM (where it can be heard Sundays at 9 p.m.) and airs weekly on 15 radio stations around the U.S.. Check with your local station for availability. (Station program directors can receive a sample copy of the program by calling the Longhorn Radio Network at 1-800-457-6576.) The Rooster also consults for the MusicChoice digital cable radio service, a 24-hour commercial-free, all-blues channel available from hundreds of cable providers nationwide.
---
This page and all contents are &copy 1996 by Blues Access, Boulder, CO, USA.