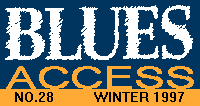 ---
New information found on the death of Robert Johnson

At this year's King Biscuit Festival in Helena, Arkansas, Gayle Dean Wardlow was displaying an interesting piece of blues history to anyone interested. Acting on a hunch several months ago, the erstwhile researcher and historian trotted down to the Leflore, Mississippi, County Courthouse and plopped down 10 bucks for a copy of a death certificate of one Robert Johnson, musician, dated August 16, 1938.

The death certificate itself isn't rare; the front page has been duplicated and published many times (including in the booklet that comes with The Complete Recordings set). But Wardlow was more interested in the other side of the document. Sure enough, he found a page of information that has, up until now at least, remained unpublished.

On the back are the typed results of an investigation Wardlow says was conducted into Johnson's death. (The page itself and an accompanying article by Wardlow was published in the December issue of Guitar Player.)

Not surprisingly, given the time, place and circumstances, the inquest, completed a few weeks after the death, turned up no evidence of foul play. There is no mention of the circumstances related by "Honeyboy" Edwards and other witnesses concerning the incident at the juke joint where it is alleged Johnson was poisoned by a man jealous of Johnson's advances toward a woman. The plantation owner where the incident took place is quoted as saying it looked to him like the itinerant musician died of syphilis. (On the other hand, as a friend of ours notes, we wonder how many blacks in '30s Mississippi were pronounced dead of syphilis ... with bullet holes in the backs of their heads?)
---
Hooker gets lifetime award; Blues Foundation a new director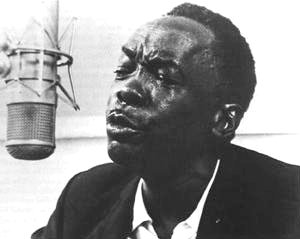 John Lee Hooker received the Blues Foundation's Second Annual Lifetime Achievement Award from B.B. King on November 7 during a ceremony at B.B. King's Blues Club in Los Angeles. The 1996 Blues Hall of Fame inductees include performers Charles Brown and David "Honeyboy" Edwards and non-performers Pete Welding and Bob Koester, Hound Dog Taylor's Hound Dog Taylor and the Houserockers album (Alligator Records' first release), Sonny Boy Williamson II's single, "Don't Start Me Talkin' " and Peter Guralnick's excellent study of Southern soul music, Sweet Soul Music.
In other foundation news, executive director David Less resigned to take a position with Gibson Entertainment in Memphis. A worldwide search for a replacement was launched during the fall, Less said. Gibson is a major supporter of the foundation, a non-profit corporation and umbrella organization for a network of 48 affiliated blues societies and an international membership in 12 countries. "I'll be involved as a friend and whenever they need something," Less says. Check this space in the spring for word about the new director.
---
Keeping the blues alive
While in Mississippi, we ran across Robert Jr. Whitall, editor and publisher of Detroit Blues, a quarterly magazine dedicated to, natch, Motor City blues. Whitall started it up in the summer of 1995 in Royal Oak, Michigan, a Detroit suburb, and if the magazine looks just a tad familiar, that's because designer Charlie Auringer used to put together Creem magazine back in that rock monthly's heyday.
The latest issue we've seen (fall 1996) is the best yet, with a long feature on Alberta Adams illustrated with dramatic black-and-white photos that capture the Detroit blues scene of the 1940s and lots more in its 48 pages. (Website: www.detroitblues.com.)
And while we're at it, there's a similar effort being launched in the Big Apple, though this one is monthly. It's the product of sometime BLUES ACCESS contributor Jennifer Zogott, who writes in the first issue that she started it because she's tired of hearing there's no Big Apple blues scene or that it's not a blues-friendly town. Zogott concentrates on the 10 to 12 active clubs, special events and profiles of the best of the bunch.
---
Sitings:
If, like us, you're a festival nut, check out the new FestivalFinder site for the latest information on hundreds of blues festivals around the world.

---

Musician web sites:

---

Also ...

The legendary Zoo Bar (Lincoln, Nebraska) now has a site:
And, lest we forget, our own site BLUES ACCESS Online (www.bluesaccess.com) was chosen an outstanding site by Webcrawler Select, and on October 18 we were picked as a Hot Site of the Day by USA TODAY.
---
Engagements
And finally this from Lonnie Brooks' wife, Jeannie, who sent us this via email:
We would like to announce the engagement and marriage of our daughter, Gina Rochelle, to Charles Landers, son of Marie Landers. The wedding was held on Nov. 2 at Koko Taylor's Banquet Hall in Markham, Illinois. Email is welcomed from anyone who wishes to congratulate Gina and Charles at JBaker1008@aol.com.
Best to the bride and groom.
---
Send information for this column to ACCESS, c/o BLUES ACCESS, 340 S. 42nd, Boulder, CO 80303, fax to (303) 494-1127 or e-mail Lrucker@aol.com.
---
This page and all contents are &copy 1996 by Blues Access, Boulder, CO, USA.