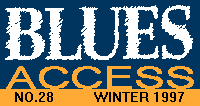 ---
That's no 900-pound gorilla next to the CD player: It's the Mercury Blues 'N' Rhythm Story 1945-1955, an exhaustive yet compelling eight-disc boxed set that offers a coast-to-coast road map of the spread and development of blues and rhythm & blues in post-World War II America.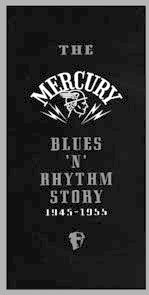 There's nothing small about this package, and that goes double for the irony it represents, since Mercury was until the 1970s a Chicago-based label. Say "blues" and Chicago, and you think Muddy and Wolf and a couple of guys named Sonny Boy; the city has long been synonymous with the sound of Chess Records.
But Mercury was a different fish from the start. It never represented the singular artistic visions of gutsy, gifted entrepreneurs such as the Chess brothers, or Atlantic's Ertegun brothers, or Sun's Sam Phillips or Florence Greenberg of Scepter. Berle Adams and Irving Green, Mercury's founders, were respectively a show business agent-manager and owner of a plastics manufacturing company.
Green's business was crucial in the growth of the label, for he built the first automated record pressing plants in Chicago and St. Louis. Mercury also had its own distribution system, as well as what the introduction to the 88-page booklet calls "close ties to the syndicate's [i.e., the mob's] jukebox industry." Up and running at the moment the war ended in 1945, Mercury made the jump from independent to major within the subsequent five to 10 years. (Purchased in 1972 by Polygram, which moved it to New York, Mercury continues to thrive as a contemporary music label).
But with Capitol, Decca and RCA Victor dominating the mass pop record market, Mercury took the tack of many smaller indies by focusing on blues, R&B and country. Though not tied to the traditional "Chicago blues" scene, Mercury didn't ignore its home turf. The label's inaugural release (which opens the first disc) was called, rightly, "It's Just the Blues" by the Four Jumps of Jive, whose bass player, Willie Dixon, became, of course, the dean of modern blues composers and an essential part of the foundation of the more familiar Chicago blues sound.
But while Chess saw Chicago as a destination for blacks migrating from the rural south, Mercury took it as a point of embarkation, with opportunity radiating in every direction. The Blues 'N' Rhythm Story is the story of the post-war urban explosion from New York to New Orleans, Chicago to Kansas City, Houston to Los Angeles.
The package is divided by region: Midwest, Southwest, West Coast and East Coast, each represented by two discs. The recording site determines artist classification, so a few tunes recorded in St. Louis by Texas native Eddie "Cleanhead" Vinson are among the Midwest tracks, while more than a dozen of Vinson's New York recordings are on the East Coast discs. This system's peculiarity is evident in the Southwest and West Coast discs, each of which features performances by Jay McShann with Jimmy Witherspoon, with some Dallas sessions on the former and L.A. studio dates on the latter.
Yet within each region, the range of artists is vast: Big Bill Broonzy, T-Bone Walker, Sippie Wallace, Vinson, Albert Ammons and Gene Ammons (father and son), Sunnyland Slim and Memphis Slim (no relation), Robert Jr. Lockwood and Dinah Washington all appear on the Midwest sides. Dinah Washington was the crossover artist whose nationwide pop chart successes in the 1950s brought Mercury into the majors. It's fascinating to hear her display a rude and seductive side on tunes like "Joy Juice" and "Long John Blues," the latter an unambiguous ode to a dentist particularly adept at filling a certain type of cavity.
This isn't music steeped in rural poverty: It's the raucous, racy sound of the cities and a black working class with money to spend on good times. You can hear the hormones raging through the horn charts and in the antic ribaldry of dozens of tunes, especially those by a newly-emboldened stream of women.
Tops among these table-turners is Alma "The Lollipop Mama" Mondy, who had her eye out for a "Streetwalkin' Daddy" because she had "A Job for a Jockey." Mondy's cuts have more than bravado on her side: Though her singing is just serviceable, she recorded in New Orleans in 1949 backed by George Miller's Mid-Driffs, with the likes of Lee Allen on saxophone and Dave Bartholomew on trumpet.
Violet Hall, meanwhile, was in Houston and not shy about saying what she needed: a "Six Foot Papa (I'm A Whole Lot of Woman)." Among those speaking for the men is East Coaster Stomp Gordon, whose tracks include "Sloppy Daddy Blues," "Juicy Lucy" and the anthropological study, "What's Her Whimsey, Dr. Kinsey."
The blues of sorrow and isolation does not go unrepresented. Lightnin' Hopkins appears like the ghost of Christmas past on "Sad News From Korea," scratching at his guitar with ominous intensity. The atypically jaunty "Let Me Fly Your Kite" and the slap-happy "Gone With the Wind" reveal Hopkins' extroverted side, while "She's Almost Dead," complete with ruminations about the dangers of drinking, is blues songwriting at its most stark and vivid. Also in the slow-as-Lightnin' vein are two tracks by Luther Stoneham, who sings with a slurred yet emphatic style and makes the best of a minimal but taut guitar style.
While notables such as Hopkins, Vinson, Johnny Otis, Joe Liggins and Professor Longhair (as Roy Byrd) are well-represented, it's the marginal or obscure artists that give packages like this their allure. I'm not averse to admitting that my record collection is not deep with the works of Vivian Greene, Rollee McGill, Ray Snead, Herbert "Woo Woo" Moore or John Hogg and his cousin Smokey Hogg. (For the record, John Hogg's a bore, while Smokey's solid).
Among the artists I was glad to hear are Elmore "Elmo" Nixon, who sings with more power than finesse on Southwest songs ("Playboy Blues," "Cave Man Blues") that are more obvious than subtle. West Coast standout Chuck Norris scores as singer, songwriter and guitarist on 1950s tracks such as "Kinda Sick, Mostly Worried," built from equal parts pain and cool. (Norris is presumably not the progenitor of the martial arts movie star).
The most obscure bit of infotainment carried in the box has to be "Mercury Blues," recorded in New Orleans in 1949 and never released until now. The artist has the remarkable name Hosie Dwine Craven. If it's a made-up moniker, the best I can do to decipher it is perhaps: "Hoss, I de-wine cravin'." Then again ...
---
Even if stride piano solos aren't your thing (as they generally aren't mine), it's hard not to appreciate the pure musical mastery of James P. Johnson's The Original 1942-1945 Piano Solos (Smithsonian Folkways). A product of the Harlem renaissance, Johnson was a visionary composer whose ambitions often were frustrated by the technical (length) limitations of 10-inch 78 rpm records.
So among these 20 Johnson tracks, it's a delight to hear a solo rendition of his 12-minute masterpiece, "Yamekraw -- A Negro Rhapsody," which was performed by an orchestra at Carnegie Hall in 1928 with Fats Waller on piano. You should be able to visualize Johnson's musical touchstones, which include Gershwin's "Rhapsody in Blue," Dvorak's "New World Symphony" and Southern black church music.
If that's too much to chew on, dig Johnson's deft versions of Gershwin's "Liza," W.C. Handy's "Aunt Hagar's Blues" or more than a dozen original rags and blues. These solos never sound lonely: The left hand and the right complement each other like fraternal twins, and Johnson's touch is so right but light that you wonder if his fingers are even reaching the keys.
---
Bandleader Willie Bryant was so ubiquitous on New York's uptown music scene in the 1930s and 1940s that he was sometimes known as "the Mayor of Harlem." Among Bryant's gigs was hosting shows at 125th Street's renowned Apollo Theater, where some of the tracks on Blues Around the Clock (Delmark), were recorded on October 15, 1945, for Apollo Records (no relation).
In addition to Bryant, Blues Around the Clock highlights other noteworthy performers. Laurel Watson brings a commanding gracefulness to the witty "Honey In a Hurry" and the utterly strange "Kangaroo Blues."
But the news here is four tracks featuring vocals by Doc Pomus, who went on to become one of the great rock and R&B songwriters of the rock era. With partner Mort Shuman, Pomus composed hits for artists from Dion to Elvis and dozens of others. Despite the limitations of a wheelchair caused by polio, Pomus was a singer with good power and better phrasing. His 1945 tracks "Naggin' Wife Blues" and "Blues Without Booze" may be the basis for a strong argument that Pomus was the first white blues singer.
Then just 20 years old, it was obvious that Pomus (born Jerome Felder in Brooklyn) made the right choice in picking music over law school. His brother went the law school route, which paid off for him as well: He is the noted New York divorce attorney Raoul Felder.
---
Short Stuff:
A few minutes with the new Bukka White reissue lets you know why people called him Big Daddy, (Biograph). On these 1973 recordings, White sings with the confidence and force of the boxer he once was, with an insinuating growl that, combined with the relentless rhythmic attack of his guitar playing, can snap your head back. The pitilessly poetic story songs include "Mama Don' Low," "Sic Em Dogs" and "1936 Trigger Toe." You might want to absorb these in measured doses: this is undiluted stuff ...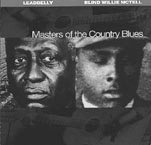 Also new in the Biograph series is Masters of the Country Blues, featuring eight Leadbelly tracks from 1935 and 13 from the masterful and frightening Blind Willie McTell. Whether Leadbelly's expounding on "Death Letter Blues" or McTell on "Murderer's Home Blues" or "Dying Crapshooters Blues," this disc makes you remember to lock all the doors and windows before you put it on ... I was hoping to spend some time exploring the interactive CD-ROM elements of Crossroads: Southern Routes ... Music of the American South (Smithsonian Folkways). But slipping it in to my CD-ROM drive resulted in the message: "This disc is unreadable by this Macintosh. Do you want to initialize?" I figured, what do I have to lose? But getting the message that "Initializing will erase all of the information on this disc" gave me second thoughts. As an audio compact disc, this is elementary Southern Music 101, with 16 representative tracks (Allman Brothers, Dirty Dozen Brass Band, Sonny Terry and Brownie McGhee, Tammy Wynette, Doc Watson and the SNCC Freedom Singers) that cover so much territory that it can't stand alone. With glitches galore and inconsistent programmability (my Mac seems to have all the listed system requirements), it proves once again that musical CD-ROMs remain the Edsel of computer multi-media.
---
This page and all contents are &copy 1996 by Blues Access, Boulder, CO, USA.