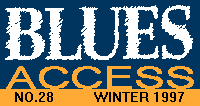 ---

Blues traveler: Paul deLay's new album Ocean of Tears closes with a song called "I Win!"
I think I know how he felt.
"Did you ever think, when you were first listening to all those blues records years ago, that it could lead to this?"
It's around one a.m. of an October morning and we're sitting in a bar. Or rather, at a bar, since there are no walls particularly to be in. That slow repetitive whooshing behind us isn't the sound of late-night traffic, but the ocean-cleansed gurgle of the sand as docile waves advance and retreat in their lunar dance.
It is clearly time for another Yellow Bird and a Red Stripe.
I'm hanging in Montego Bay with Roger Naber of Kansas City's Grand Emporium night club, and the best answer we can come up with to that question is to raise our glasses and toast the moment. In the form of the first Air Jamaica Jazz and Blues Festival, the blues has come to Jamaica, mon. More or less.
Actually this is my third festival -- and fourth time zone -- in four weeks. It's either my second or fourth country. That would depend on whether you count San Francisco's Italian colony of North Beach and its Chinatown as other countries. (My vote would be "yes.") That's where this odyssey began, beside the Bay, as BLUES ACCESS descended en masse on the San Francisco Blues Festival. Well, en deux, anyway. Unbeknownst to us, John missed his flight out of DIA and Jack was left waiting for him, twiddling his raffle tickets, at the SF Airport. Which left me and Catfish Whitey sitting in a booth with no banner, no raffle tickets, no signage, no subscription forms, a bunch of magazines and a raffle box.
Sure, we felt like bozos, but on the other hand, we were at a blues festival. If it was rocket science we'd have had to go to school for it. We could handle this.
After a couple hours of telling people, "Come back later, and we'll have some really cool stuff," we actually did. The cavalry finally arrived and we were in business. And business was good.
Understand, San Francisco is my kinda town. In visiting there many times since 1970 I've never failed to find kindred spirits or to sense the pulse of a strong creative buzz.
So it was mighty gratifying to see our booth constantly mobbed by a crowd obviously thirsty for our particular slant on the blues.
Ten days later, we couldn't have been much farther from Bay Area sophistication as we slid into a booth for a faceful of heavenly barbeque at Boss Hog's in Clarksdale, Mississippi. This is a regular stop for me and the Catfish (currently rechristened "Lydell" by George Wright, owner, bartender, raconteur and salon proprietor at Uncle Henry's Place in Moon Lake, the nearest blues equivalent to the Algonquin Club) on our annual Delta cruise. The only debate is whether we should head there before or after we check into our hotel.
The occasion, as usual, was the King Biscuit Blues Festival across the river in Helena, Arkansas. If there is a better free festival than this one, I don't want to know about it. Armed with an infusion of moolah from the nearby Lady Luck Casino and other corporate sponsors, the Biscuit has gone big time. (Although there's still not a decent place to eat breakfast in Helena.) What was once a sleepy two-day event has now spread over four days and three stages plus a gospel stage.
By Saturday evening blues fans were spread out all over the levee facing the main stage and we could see thousands more milling about the concession booths on Cherry Street and at the carny rides a block over. For a town teeming with people and ready to party on a Saturday night, they had the right guy in Bobby Rush.
The emcee (and backup singer) was Bobby's brother, dressed in an unobtrusive red cowboy suit replete with six-shooters. Three hoochie-coochie girls sang and shook their booties. And Bobby, playing it to the hilt, grinned, leered and broadly winked his way through a set of chitlin' circuit vaudeville blues.
After this (two days after, actually), how big a hop can it be to Jamaica? Jamaicans know a thing or two about barbeque, the audiences are predominantly black and there's more than enough third-world funk to go 'round. OK, there's not much blues, just Buddy Guy and Otis Rush sandwiched in among several "smooth" jazz and reggae acts. There are some hiccups in the execution: agonizingly long set breaks, an avoidable rain-out. But for a first-time effort in the land of "soon come," it's easy to be generous. After all, come what may we're still on a beautiful tropical island. And producer Alan Chastanet promises more blues in the future.
Roger and I have just gotten done acting like we're the "pros from Dover" and commandeered our own bus driver (with bus) to drive us in from the fest. Now we're relaxing at the bar of a reasonably swanky resort, drinking our drinks and agreeing that, yes indeed, life is a beach when you love the blues.
What the heck. Nobody said it had to kill you.
---
Get it right: In issue #27, Frank Frost told our writer that he was suing Michael Frank of Earwig Records. In fact, Frank has never brought any action against Michael, whose uprightness of character we can attest to.
---
This page and all contents are &copy 1996 by Blues Access, Boulder, CO, USA.