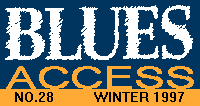 ---
Hooked on the Blues: Dynamic Guitar Techniques
Hans Theessink
70-minute VHS video
---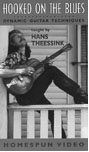 I looked a bit sideways at this at first (a blues tape by a guy from Holland?) before popping it in the VCR. Theessink has a straightforward goal: to teach basics about acoustic blues playing. His approach is equally forthright: seven classic tunes and all the tricks so you can play them too. "Prison Blues," "Vicksburg Is My Home," "Big Bill's Guitar," "Sugar Babe," "You Make Me Feel So Good," "Sittin' on Top of the World" and "Two Trains" are the vehicles in standard, dropped D and open D tunings, progressively.
But be forewarned: The teacher is utterly uninspiring. I felt like I was imitating an imitator. He'll teach you all the right mechanics to get from beginner to advanced beginner in the blues idiom, and he's even got a good lesson plan, but he just didn't make me care. Why learn from someone whose performance doesn't rattle your bones? (Homespun Video, Box 694, Woodstock, NY 12498, 800-33-TAPES.)
---
The Acoustic Guitar of Jorma Kaukonen
Blues, Rags & Originals
Jorma Kaukonen
100-minute VHS video
---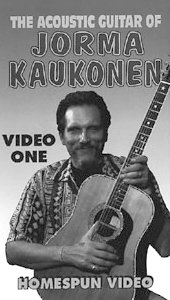 Here's the flip side. Kaukonen has been an icon of American music for decades, starting as an acoustic blues player, riding the wave of stardom for a decade as the guitar voice of the Jefferson Airplane, then returning to his roots via his sometimes acoustic, sometimes electric Hot Tuna collaboration with Airplane bassist Jack Casady. My own long-time admiration began in the Airplane's "lost years," and it was through his presentations of the Rev. Gary Davis and Blind Blake tunes that my interest in the blues began to emerge. With Kaukonen as a choice for acoustic blues lessons, it's no choice at all.
And he offers real value: 100 minutes of well-organized instruction, covering four tunes, a rag, a blues and two classic originals. Starting out with Casady in the living room, Kaukonen and his erstwhile partner play his trademark version of "Hesitation Blues." Now that he's got your attention, he moves right into the lesson plan and about how you've got to get that right-hand alternating bass down before you can tackle "Hesitation."
Which is as it should be. He begins with Blind Blake's "West Coast Blues," a relatively simple song for the left hand and the perfect vehicle for working on that right hand. Breaking it down into small manageable segments, Kaukonen teaches bass and melody lines for each chord change, and you'll find yourself surprised at how quickly you've got it down.
Kaukonen includes "Crystal City" and "Embryonic Journey," both which have stood up to 25 years of exposure and are still fine examples of how the traditional approach to fingerstyle blues can enable an artist to express his or her own inner message. I've long wanted to take the time to learn these pieces. (Homespun Video, Box 694, Woodstock, NY 12498, 800-33-TAPES.)
---
Quantum Guitar, Analysis of a Tune
Pat Martino
70-minute VHS Video
---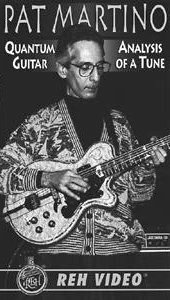 A veritable legend in his own right, Pat Martino's resumé reads like a Who's Who of Jazz from the '60s and '70s. After a hiatus from performing, Pat has thankfully returned to the stage and recording studio with a whole new outlook and sound. Martino, who used to rely on standards, now employs his own fluid, pulsing original material, and from a player's perspective ... well, difficult would be a good place to start.
Not that I'm complaining. Quantum Guitar is for advanced guitarists only. You'll need a solid working knowledge of extended chord forms and the associated arpeggios, modal scales and their use in improvisation and chord substitutions before this will be of real value. Martino's lesson plan is a bit of a departure from what I'd call standard, but this diversion was an effective vehicle for the material.
The instructional video includes concert footage. Martino starts out with a performance of an upbeat piece called "Turnpike," that's also transcribed in both music and tab in the accompanying booklet. Here he tunes us to his wavelength just as he does the audience in New York's Knitting Factory, where the live segments were taped.
The quartet -- James Riddle on piano, Steve Bescrone on electric six-string bass and Scott Robinson on drums -- take us to another level of the jazz experience that I find difficult to put into words. Martino, however, has no problem with adjectives as he goes through a detailed analysis of his compositions. No kidding, you'll need to put in some time analyzing the music and the resulting feel of his material before you pick up your instrument.
A soft-spoken, articulate Martino explains his unique approach to improvisation, converting everything to minor chords and the related arpeggios and Dorian scales. After a moving live performance of his ballad, "You're Welcome to a Prayer," he gets down to business. Martino takes us, measure by measure, through the piece, explaining in painstaking detail the available substitutions over each chord and demonstrating how he pieces together the arpeggios and related scales for those substitutions into a cohesive, fluid line that carries the listener (and the players) into some uncharted territory. If you've studied jazz guitar improvisation from the arpeggios-over-chords or the scale-cells-over-chords approaches, you'll find this an interesting way to focus on minor forms and perhaps give a unique feel to your resulting lead lines.
My only beef is that while the tape includes four tunes, we really only get the in-depth analysis of "You're Welcome to a Prayer." The instruction's biggest benefit isn't learning to play Martino's music, but how to apply his analysis and improvisational techniques to your own music.
Charts are included for three pieces. On the fourth, a tip of the hat to Wes Montgomery's octave style, "Changing Tides," no charts are provided, so just sit back and enjoy the performance. It's moving in more ways than one.
For you aficionados, Martino plays a custom-made Monteleone solid-body, exquisitely carved and inlaid with mother-of-pearl and abalone. (REH Video, Warner Brothers Publications, 15800 NW 48th Ave., Miami, FL 33014.)
---
A few readers have recently suggested that I am praising junk and trashing "quality material" in this column. I'm often opinionated, but I do have standards, and there is a method behind my madness.
So what do I look for in an instructional video? I grade each in five areas:
Artist: Does their performance move me? When I can, I want to take lessons from the source of my inspiration. It's an option I exercise.

Material: Do I like the tunes I'm going to learn? Are they ones that I'd like to add to my repertoire? If not, what's the point? (See Pat Martino review for an example of how the material might not matter.)

Lesson Plan: Is there one? Does it enrich the learning experience? Are the goals of the lesson achieved?

Instructor: Is the person clear and articulate? And lest we forget, some great artists are lousy teachers.

Production: Is the audio and video quality high? Split screen for left and right-hand close-ups? Can I see what's going on?
Of course, the ultimate goal: That someone who's putting out good cash for these guides gets their money's worth.

Send materials for review to: Kiernan Music Services, 1239 Lakeshore Drive, Boulder, CO 80302.
---
This page and all contents are &copy 1996 by Blues Access, Boulder, CO, USA.