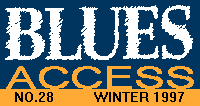 Selected from the Magazine
---
---
Robert Johnson
The Complete Recordings
Columbia/Legacy 64916
---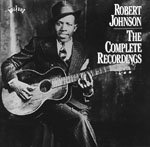 I bought King of the Delta Blues Singers in 1975 after reading a Greil Marcus essay that caught my fancy. The album struck me from the first listen, and it's still one of my favorite records: a guy, a guitar and that lonely moaning voice, existential lyrics and unearthly, sophisticated guitar riffs amidst the static of the old discs upon which they were recorded.
It was (still is) an amazing record; though just a collection of songs culled from a couple of recording sessions several months apart, there seemed to be a thread, a dread actually, that gets more intense as it builds to the climactic "Hellhound on My Trail," one of those pristine moments of recorded history. I got used to producer Frank Driggs' dramatic sequencing and extensive liner notes that helped solve Johnson's sometimes tricky lyrics. Next came King of the Delta Blues SingersVol. II, a companion set of songs and alternate versions of tunes on Vol. 1, which, while not as powerful, suggested an awareness of the recording studio far beyond what the performer's background might indicate. Both have served me well over the years.
Then along came the compact disc and new life for Robert Johnson's 41 recordings. First came the much ballyhooed boxed set, which stirred so much contemporary interest that it put Johnson on the Billboard charts a half century after he died. Who could resist? The tall boxed set offered the entire contents of the Johnson sessions, a substantial booklet with then-rarely-seen pictures of the artist, transcripts of lyrics, biographical information, the cachet of the boxed-set concept and the compact disc's programming capabilities. I've played those a lot since then, too. It's still a guy with a guitar amid the static, but for a fan, it's instructive to be able to listen to an entire recording session as it was recorded.
Then came the gold disc version of King of the Delta Blues Singers, the original album recorded onto a gold compact disc. Again, it's still just a guy with a guitar amid the static. I'm not sure it sounds any better, but it does sounds a little different; if nothing else, the music (and the static) both seem perhaps a tad more clear, or loud.
Wouldn't that really be the end of it? No, as it turns out, those recordings are getting a bit more mileage, as buyers are offered yet another choice of the same material: this time the short boxed set. With apologies to David Mitson, who the notes indicate remastered this new offering in 1996, it's still a guy with a guitar amid the ... you get the idea. And I can hear no discernible difference from the long-box version I bought in 1990.
Which one you choose depends on what you're looking for. The smaller size of this new version makes it easier to store with your other discs. (What do you do with those out-sized box sets, anyway?) The discs themselves are imprinted with the old Vocalion label -- and are colored differently to make it more easy to distinguish between them. On the down side, the pictures and type size and booklet have been downsized considerably to squeeze into the smaller box, with predictably disastrous results. Good luck to anyone trying to read the reproduction of Johnson's death certificate, and bifocal wearers should especially beware.
This attempt to find perfection in technology, effectively turning Johnson's notes and movements now into ever more precise numbers, is a bid to somehow get closer to Johnson's genius and the creative fire that found its way onto those old recording plates almost 60 years ago. While understandable, it seems, at this point, a futile exercise at best.
Honestly, through all my hundreds of listens to these tracks, whether warm old analogue or cold, clinical digital, I've never really heard anything that I didn't hear on my $2.98 slab of vinyl. That's not to knock digital; maybe if I had a five-figure sound system, I could hear that wooden stool creak a little more clearly or catch a nuance that I missed the first 250 times I listened.
If there's still anyone reading this magazine who doesn't own these sides, it's time to make your choice. But no matter how remastered a version of "Hellhound on My Trail" you wind up with, you'll still have to strain a little to see that big brute in the shadows behind paranoid old Bob's back.
-- Leland Rucker
---
Jr. Wells
Come on in This House
Telarc 83395
---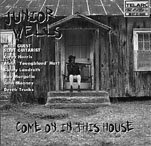 Now in his sixth decade, legendary blues harpman Jr. Wells is in the midst of a recording renaissance. Come on in This House, his third recording for the audiophile-quality Telarc label, is easily one of the finest works in his long and varied discography.
One of the cornerstones of contemporary blues, Wells is of an era of players that can hearken back to a true country blues harp style and easily fuse it with the slicker heavy urban style. Come on in This House finds Wells in top form, articulating stories through his instrument, accompanied by a cadre of mostly slide-playing guest guitarists with impeccable credentials, including former Muddy Waters guitarist Bob Margolin, Sonny Landreth and Derek Trucks, who at age 16 already is a formidable player.
There is not a wasted moment among the disc's 70 minutes, and none of Jr.'s lengthy James Brown-style funk indulgences. Come on in This House is all meat-and-potatoes blues done with a purity of expression that could only come from a veteran able to reach as deep as Wells does.
That expression shows in a slow tune like "Trust My Baby," with an all acoustic backing that includes some fine National steel guitar soloing by Corey Harris. The plunge into the deep blues on "Million Years Blues," with its plaintive 12-string dobro backing by Alvin "Youngblood" Hart, is sublime. The visits with chestnuts like the title tune and "Mystery Train" are sheer pleasure. The great Tampa Red song, "She Wants to Sell My Monkey," with an appearance by guitarist Tab Benoit, gets a fine reading, as does the song that will undoubtedly get the most attention, and maybe even some airplay: Jr.'s cover of Tracy Chapman's "Give Me One Reason."
Wells' harp is recorded clear and pure, with the great timing, humor and emotional depth for which he's always been recognized. The rich backing of guitars with acoustic bass and drums, and the absent clutter of horn arrangements bring into high relief Wells' skills and talents in a manner too rarely encountered in his recordings. The Telarc label is to be commended for turning its attention to one of the most significant blues artists of our time and -- this time -- getting it right.
-- Tali Madden
---
Frank Robinson & Guitar Curtis
Deep East Texas Blues
Black Magic 9028
---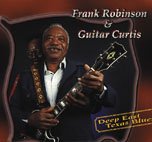 Unless you've spent much time in piney woods country outside of little ol' Crockett, Texas, you've probably never heard of Frank Robinson or his friend, Curtis Colter, a k a Guitar Curtis.
They were part of the post-Lightnin' Hopkins/Frankie Lee Sims blues scene that sprung up in East Texas in the 1950s and '60s. But as the area's cotton-based economy soured, many of its black workers split for California, wiping out much of the local club scene. Robinson stayed put. Colter hit the road.
Heavily influenced by Hopkins and Sims, Robinson stayed true to his roots. Colter picked up on Long John Hunter, Albert Collins, Albert King, Freddie King and Guitar Slim before returning to Crockett.
There they stayed, doing their thing. Three years ago, Tary Owens and his fiancee happened to stop at a Crockett antique store, asked if there were any local blues artists around and were told to check out Robinson, then 61, and Curtis, 53. (Owens, who owns the tiny Catfish label, is best known for producing Long John Hunter's recent releases on Alligator and Spindletop.)
Realizing that he'd stumbled on to the real deal, Owens booked some studio time with Austin regulars Derek O'Brien, Slim Richey, Ted Roddy, Mike Buck (where's he been?), Mark "Kaz" Kazanoff and Powell St. John, a member of Tracy Nelson's original Mother Earth. Of 17 tracks on Deep East Texas Blues, 11 feature Robinson's guitar and vocals; Colter is featured on six.
Generally, Robinson leans toward serious, electric Texas-style Delta blues. Simple and direct. He covers two Frankie Lee Sims and four Hopkins tunes and includes Muddy Waters' "Rolling Stone" and the traditional "See That My Grave Is Kept Clean."
Colter is the more flamboyant of the two. Not a lot of fireworks but loads of passion. When, on "Navasota Part II," he says, "You know, well, practically all my life I've had the blues ... it seems like everything I do in life, the blues is always right behind/I guess the blues is part of me," you know he's not telling stories. He's been there.
Colter, it seems, preferred being heard in a juke joint with a few couples swaying on a concrete slab dance floor, while Robinson would rather have his amp set up on his front porch.
Tragically, Colter was killed in a car accident one day after the session mixes were finished late in 1995. Robinson is getting ready for a European tour.
-- Dave Ranney
---
Various
Antone's 20th Anniversary
Antone's/Discovery 74703
---
To celebrate its 20th anniversary, which was actually last year, Antone's Records has released a reduced-price, two-CD, live package. It's a collection of 20 songs, plus a musical introduction for Pinetop Perkins, all recorded live at the Antone's blues club in Austin, Texas, all previously unreleased and all hand-picked by the label's guitarist-in-residence, Derek O'Brien.
In keeping with the Antone's legacy, Antone's 20th Anniversary is an exciting mix of traditional Chicago blues (Jimmy Rogers, James Cotton, Buddy Guy), juke-joint blues (Lazy Lester, Snooky Pryor), Austin old-guard blues (Kim Wilson, Angela Strehli, Doug Sahm, Doyle Bramhall) and next-generation blues (Guy Forsyth, Sue Foley, Teddy Morgan).
Here's a quick look at just a few of the highlights:
The folks at Epic Records should have figured out a way to swipe Buddy Guy's version of "The Things I Used to Do" for their A Tribute to Stevie Ray Vaughan; it's a lot hotter than Guy's handling of "Long Way Home" on Tribute. And Mel Brown's soothing solo on Hammond B-3 makes it even better. Angela Strehli sounds great on Denise LaSalle's "What It Takes" and, of course, her signature tune, Eddie Taylor's "Big Town Playboy."
Kim Wilson blows up a storm on harmonica behind Jimmy Rogers on "Got My Mojo Working" and behind Perkins on "Little Girl, Little Girl." (For whatever reason, Wilson isn't in the liner-note credits for both songs.)
Yes, "Sweet Home Chicago" wore out its welcome a long time ago. But it's included here to put the spotlight on a tasty, priceless guitar solo (listen carefully) by the late, great Luther Tucker. And if you've been in the room when the Texas guys talk about Doyle Bramhall's Fort Worth shuffle, but you don't know what they're talking about, check out Bramhall on Pete Johnson's "Wee, Wee Baby." It's straight from the textbook.
And there's more on the way. In early 1997, Antone's is planning releases by Boozoo Chavis and Snooky Pryor and a new Lazy Lester CD that harks back to his days with Lightning Hopkins and a harmonica-guitar-bass format. No drums. Like most Antone's projects, it should be interesting.
-- Dave Ranney
---
Bobby Murray
The Blues Is Now
Viceroots 8027-2
---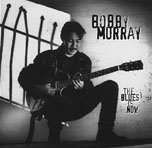 The Blues Is Now -- a debut disc both for Etta James' longtime guitarist Bobby Murray and for the Viceroots label -- comes across as a wildly diverse salute to early '70s black radio, updated to reflect both a contemporary blues sound and an appeal to current commercial tastes.
It opens with a very modern blues, "The Future Is Now," that sounds targeted for black radio airplay. A couple of other tunes move in the same direction, such as the Watts 103rd St. Rhythm Band's light-as-air "Love Land" (complete with that '70s chic-chic rhythm guitar) and a cover of Percy Mayfield's "The River's Invitation."
But be ready to shift gears, as guitarist Murray (who doesn't sing -- vocals are handled by three different lead singers) leads us through "Broke 'N' Hungry," a wah-wah-laden instrumental akin to Jimi Hendrix circa Electric Ladyland. It's a good groove. The appealing "Chillin' and Able" sounds like a pre-disco '70s funk instrumental, a la Parliament, the Isley Brothers or maybe pre-pop Commodores.
"Here I Am" is a hard-edged instrumental take on Al Green. "But Then Again (Taifa's Tune)" displays Murray's jazz taste, as he lays down clean, Larry Carlton-flavored runs over a gospel-tinged slow dance groove. "Vicki," penned by Jimmy McGriff, is a jazzy, sax-driven instrumental that has the kind of propulsive tilt that would sound good when heard behind the wheel.
For the traditional blues lover, Murray updates Jimmy Rogers' "That's All Right" and throws in 45 seconds of acoustic guitar noodling to close things off.
If this stylistic montage sounds appealing, know that Murray does it well. He dedicated the album to the memory of "both my fathers, Robert Murray Sr. and Albert Collins." Indeed, Collins' stylistic influence surfaces throughout, but it's just a sliver of Murray's approach. You're not likely to hear this cornucopia of musical flavors in any other single place. The blues may be now, as the title claims, but the '70s live!
-- Bryan Powell
---
Frank Frost With Sam Carr
Keep Yourself Together
Evidence 26077-2
---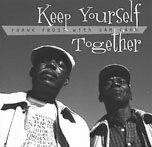 Funny how some music that's "traditional" sounds stilted and reactionary while other music that's "traditional" sounds great. Place in the latter category this Frost/Carr endeavor.
Singer/harmonicist Frost and drummer Carr are blues strongmen who eschew city life to stay in the Delta, though both emerge to play big-time bluesfests now and again. Backed thoroughly well by relative young'uns Fred James (guitar) and Bob Kommersmith (acoustic bass), they do 11 killer cuts most readily comparable to Sonny Boy II backed by Robert Jr. Lockwood. Frost isn't the virtuoso SB II was, but he has a similar economy and tartness of tone.
Carr, his co-star, is deadly accurate rhythm-wise, with just the right amount of accents and fills to disqualify him as a minimalist. He has an old-timey, big snare sound, but his playing is more deft than ponderous. Just the way he bounces the sticks between snare beats on the slow blues "Tired of Living Alone" gives him eternal rank in the Realm of Damn Cool Drummers.
Frost wrote most of the tunes but does fine versions of "Just a Feeling" and "Everything's Gonna Be Alright." Both are Little Walter songs, and though Frost can reportedly turn on a Walter sound at will, he sticks to his own stylistic guns, to winning effect. A prime example of the "less is more" axiom is the simplistic but hard-driving "Cotton Needs Picking," while "Come on Home" is a Hookeresque boogie, with strident leads from James, who plays well throughout, as does Kommersmith. (Might've been nice to have had the latter a tad louder in the mix.) The guitar leads and comping are jazz-tinged on the instrumental "Frank's Boogie Woogie," while "You're So Kind" is a driven, monochordal mantra.
These days we make much of how blues is evolving and growing and changing, etc. Yet much of the new product we'd be remiss in recommending to someone who wanted no-shuck, pure-dee, absolute blues! To such folks we can unreservedly tout Keep Yourself Together, and if they don't like it we can assure ourselves that blues wasn't what they wanted after all.
-- Tim Schuller
---
Smokin' Joe Kubek Band featuring Bnois King
Got My Mind Back
Bullseye Blues 9578
---
I quit buying Allman Brothers' albums in 1981, after the Brothers of the Road. album. They're a great band, but their product was just too inconsistent for my money. Frankly, it still is.
The same cannot be said about Smokin' Joe Kubek and Bnois King. If nothing else, they are dependable. For the uninitiated, Kubek plays a clean, best-heard-loud brand of hard rockin' blues guitar. He can throw flames or chill the soul. Like Stevie Ray Vaughan, he owes much of his sound to Albert King.
Got My Mind Back is Kubek/King's fifth Bullseye collaboration, and each offers a little twist that sets it apart from the others. This time out, the twist comes on "All the Love There Is," a Kubek/King instrumental response to Vaughan's beautiful "Riviera Paradise," in which King's jazz-blues guitar is heard as much Kubek's. Very pretty.
Other surprises include Kubek's drop-dead copy of George Thorogood's power slide guitar on the title song. Then he does the Vaughan-Hendrix thing with the wah-wah pedal on "She's It," followed by a Jerry Lee Lewis-inspired "Let Me Take Your Picture," sans piano. And the disc closes with a blistering blues guitar rave up, "Double or Nothing."
Kubek and King's material may not win many awards for originality, but they sure pack a punch.
-- Dave Ranney
---
Willie Lomax Blues Revue
Give Me Back My Teeth
Big Boss 96001
---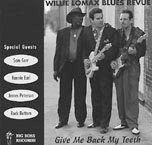 Mr. Lomax's Blues Revue is just that: He's a guitarist who leads a band that backs up a string of singers and featured instrumentalists, the most recognizable of which are James Peterson on vocals and Ronnie Earl on guitar. Another "brand name" making an appearance is Delta semi-legend Sam Carr on drums, who stirs up a racket on much of the "down home" oriented blues material.
Lomax doesn't sing, but he wrote or co-wrote all of the material, which ranges from raucous bar-band boogie blooze to an after-hours T-Bone-esque instrumental to the stripped-down gospel of "Crumblin' Down" with a female vocal trio called the Gospel Mets. His lyrics occasionally veer into the bizarre -- "Lonely With the One You Love" includes the lines "She sprinkles thorns on my eyelids ... and puts Super Glue under my armpits." And just how did he persuade James Peterson to sing "Moo moo my love" in "Cow Cow Boogie"?
The almost 12 minutes of "Blues for Jackie Robinson (Medley)" seems to be a crudely edited montage of otherwise unrelated Ronnie Earl instrumentals linked only by spoken sound bites ("Jackie Robinson ... he had tons and tons of guts") in between each segment.
In "real" life, Lomax is a Florida dentist (to which the disc's title playfully refers) and he seems to have included something from almost everyone he knows down there. This makes for quite a mish-mash of styles and sounds, not to mention levels of accomplishment, but there's something appealing about the quirky, kitchen-sink philosophy behind the production. Even at 71+ minutes it seldom gets boring, although the five instrumentals that make up almost a half hour of the running time do put this to a test.
Further rounding out the "revue" concept is the inclusion of four "Big Boss Bonus Tracks" tacked onto the end from his label's other releases and artists, including Diamond Teeth Mary, Blind Willie James and someone or something called 14 Buffalo, an interesting and strangely enticing (although not entirely successful) attempt to meld James Brown-ish funk, Beastie Boys pseudo-rap vocals and a harp player who's been listening to John Popper.
Musical gearheads will be pleased that Lomax has included his guitar/amp combinations used for recording most of the tracks and even proudly features a portrait of his beloved 1952 Gibson GA-20 amplifier in the booklet.
If you've got all the blues discs you need, but you still have a few bucks left over, this one's worth investigating.
-- Scott Dirks
---
C.J. Chenier
The Big Squeeze
Alligator 4844
---

One of the most mainstream zydeco outfits on the road today, C.J. Chenier & the Red Hot Louisiana Band blast party grooves made for the dance floor. Their sound pulls together influences from across the R&B spectrum, and their records tug at the question of just what qualifies as "roots" music.
The band explores pop, uptempo blues and even Elvis' legacy on The Big Squeeze, the group's second outing for Alligator. Soulful slow-dance numbers fare particularly well, as does the lone all-French number (which, oddly enough, bears an English title), "No Shoes Zydeco." The band is super-tight, and Chenier's husky voice works well on slower tunes like "I Have the Right." But his vocals can't keep up with his skillful accordion riffing and the band's tightly orchestrated arrangements. Chenier's squeezebox solos throughout the disc are brilliant, but tracks like the opener, "Au Contraire Mon Frère," and "Mixed Up And Confused" come off as stiff, a little too precise for the band's jam-oriented sound.
An expressive, six-and-a-half-minute run through "The Moon Is Rising," a slow blues first recorded by C.J.'s father, zydeco pioneer Clifton Chenier, adds balance to the pop-oriented set. A waltz-time version of Arthur Alexander's "Everyday I Have to Cry Some," a slightly stripped-down version of "Teddy Bear" and the flute-driven, swamp pop instrumental "Mon Cher 'Tite Bebe" are also nice touches. The Big Squeeze's 14-tracks aim for a range of musical targets, but several of the tunes miss the soulful middle ground the band finds onstage night after night.
Crisp horn accents and tight guitar arrangements might make for a nicely-produced pop record, but they work against the intuitive rhythms of the Red Hot Louisiana Band -- and the musical genre known as zydeco.
-- Todd Mouton
---
Preacher Boy
Gutters and Pews
Blind Pig 5034
---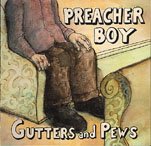 Howlin' Wolf meets Tom Waits by way of Cab Calloway. They travel together via a freaky road map drawn by Spike Jones on a crumpled cocktail napkin. Or imagine Keb' Mo' on an ominous bender desperately in need of a box of throat lozenges.
Preacher Boy, a k a Chris Watkins, and his Bay Area cronies take contemporary blues on a rust-bucket joyride that brings it right back to its roots. Fresh. Appealingly weird. The sort of raw, outside-the-lines blues Robert Johnson, Howlin' Wolf or Son House might be playing if they were Gen-Xers -- or if they hooked up with Fishbone. Gutters and Pews is a musically joyous road trip that covers some dark territory.
Elemental, hard-boiled, musical sophistication lurks beneath the unpretentious delivery. The dense, textured arrangements (which add mesmerizing sax and horn choruses to the basic dobro, guitar, harmonica and whiskey jug) aren't the work of amateurs. You might call it experimental, but there are some pretty serious musical traditions at play.
The material is all original, except for a cover of that ole standby "Catfish," a track worth the price of the disc by itself. I can't say how blues purists may react. Buddy Guy it ain't. But if you aren't afraid to take a risk, Gutters and Pews could turn out to be one of your favorite surprises this year.
-- B.J. Huchtemann
---
James Peterson
Preachin' the Blues
Waldoxy 2814
---
Appropriately titled, James Peterson's latest disc borrows heavily from the traditions of soul and gospel.
Originally from Alabama, this self-taught guitarist has been a sideman for Jimmy Reed, Koko Taylor, Freddie King, Big Joe Turner and countless others who played the various blues clubs that Peterson has operated throughout the country.
For all of his travels, though, Peterson's Southern gospel roots are unmistakable. On this recording you can hear them on the inspirational wall of sound generated by Clayton Ivey's Hammond B-3 organ and frequent choir-style backing vocal arrangements and hand claps that sound as though they're generated by a small army of enlightened believers. "Lost What I Had" opens with a pulpit-style spoken-word intro, as does the autobiographical "Why Mama Had to Cry," which sounds like a cathartic confessional fueled by a chorus of backing vocalists belting out an unrelenting refrain.
But there's more to Preachin' the Blues than just the gospel sound. "Silky Silk" is a punchy shuffle with crisp, tasty guitar accents and solo work from Peterson. "Come Home to Eat" slows down the pace with a creamy guitar solo that's a smooth contrast to the grittier stuff that precedes it.
Peterson delves into soul and R&B on "The Bottom Line" and "Women's Pet," two tracks similar in their reliance on a hooky bass riff as a solid foundation, with the latter incorporating some understated but tight horn accents that further the R&B flavor.
As closing tracks go, the slow, rambling "Some Things a Man Shouldn't Have to Do" is a little weak. The energized 12-bar "I've Got a Problem" would have been a better choice. In general, though, Preachin' the Blues is very satisfying. Passionate vocals, solid musicianship and conscientious production values are what good blues records are all about.
-- John C. Bruening
---
Byther Smith & The Night Riders
Mississippi Kid
Delmark 691
---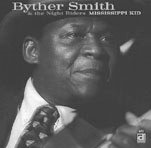 Pound for pound, Byther Smith is the most intense bluesman on the planet. No one this side of Albert King and the young Otis Rush has so dramatically expressed the fiercest bone-chilling feelings that reside in the blues. From the opening bar of a Byther Smith performance, the sound is immediately recognizable, slicing through flesh like the Hawk blowing off Lake Michigan.
Nobody is declaring Byther the "King of the Blues." Nobody is handing him multiple Handy awards. But I remember his tears spontaneously flowing this past June as he was given the first Theresa Needham Award at a South Side street festival. This fiercely proud ex-boxer clearly was moved by the recognition of what he has meant to the people of this community since he began playing in Chicago in the early '60s.
Since then, Byther Smith has written, performed and recorded some of the idiom's most consistently aggressive and painfully honest music. On Addressing the Nation With the Blues, Housefire and I'm a Mad Man, Byther's lyrics have exorcised the pain and anger wrought by racism and the personal tragedy of being orphaned at a very young age ("I lost my mother at the age of one, I lost my father at the age of two, and I lost my sister in a house fire, what else did I have to lose").
Mississippi Kid is Byther Smith's first recording for Delmark's indefatigable Bob Koester. It's a holy alliance that thankfully allows Byther to plug in and just play his blues. Included in this set of 13 original statements is a tale of the swift retribution brought on a black man who dares to marry "The President's Daughter" (who else even thinks of these lyrics?). His guitar/vocal interplay on this song is particularly inventive.
Just the titles "Don't Hurt Me No More," "Living in Pain," "I Don't Know Where You Go," "Cora, You Made a Man Out of Me," "Your Daughter Don't Want Me No More," "Ashamed of Myself" offer a pretty good clue of the content at hand and the emotions expressed. His biting, vibrato-laden guitar leads obviously stir up comparisons to the king of the sanguine solo, Otis Rush. But Byther's music isn't about styles, influences or any of the other pedantic and trivial commentary of reviewers. It's about communication and heart and the ability to penetrate the soul with truth.
The Night Riders include Jeff Jozwiak, whose contributions on rhythm guitar are noticeably large, and Malachi Thompson, Sonny Seals and Steve Berry, who comprise a soulful horn section. Together with their boss, these fellas produce contemporary blues from its deepest roots.
-- Jack Oudiz
---
Michelle Willson
So Emotional
Bullseye Blues 9580
---
While sorting through my shelves of vinyl, I came across Alberta Hunter's 1980, John Hammond-produced comeback, Amtrack Blues. I played it three or four times. The next day, I picked up Michelle Willson's So Emotional. The first time I played it, I did a double take. Had I turned on my turntable by mistake? Was it Hunter? Or Willson? It was the latter, but the more I listened to So Emotional, the more Willson reminded me of a young Tina Turner. And the liner notes from Willson's debut Evil Gal Blues tell the story of how Roomful of Blues' Doug James mistook a heard-but-not-seen Willson for Dinah Washington.
Obviously, Willson is from the old school. She's a bloozer, not a rocker, and she has surrounded herself with a Roomful of Blues-style horn band, with Roomful alumni Greg Piccolo, Ronnie Earl and Ron Levy on several tracks and Roomful's Sugar Ray Norcia sharing the vocals on "Real Lovin' Mama, Real Lovin' Papa."
Best song: A remake of Dinah Washington's bawdy "Long John Blues," the tale of a seven-foot-tall dentist who keeps his female patients happy by, uh, filling their cavities. Or as Willson tells him, "You thrill me when you drill me." "Long John Blues" also features Earl doing his soft-and-pretty thing on guitar and Levy on the Hammond B-3.
So Emotional is a fun romp, one that's probably best heard in a loud, crowded room, cold beer in hand.
-- Dave Ranney
---
Koko Taylor
I Got What It Takes
Alligator 4706
---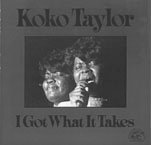 At Chess Records, where Koko Taylor recorded her classic "Wang Dang Doodle" in 1965, Willie Dixon carefully arranged the guitars, pianos, drums and even the songs to complement the singer's booming growl.
At Alligator Records, where Taylor moved in 1975 to record I Got What It Takes, Bruce Iglauer simply set up a great band, helped pick appropriate songs and let the singer ride her instincts. It wasn't a complex strategy, but it worked great -- Taylor had been struggling under Dixon's thumb at the end of her Chess career, and here she wriggles with vitality into her own identity.
From the opening standard "Trying to Make a Living," Taylor and band -- Mighty Joe Young and Sammy Lawhorn on guitars, Abb Locke on sax, Vince Chappelle on drums -- jump with no introduction to fast and loud. The album rarely gets slower or softer. Taylor's voice, which has the rare ability to sound menacing and friendly at the same time, is as at home as it was at Chess in 1965.
Musically, this straightforward blues album makes almost no concessions to rock, funk, jazz or soul. Every song rests comfortably above the dueling Young-Lawhorn guitars; "Be What You Want to Be," one of the few slow blues here, derives its personality from a recurring curving slide-guitar lick. Taylor even jacks Ruth Brown's R&B hit "Mama, He Treats Your Daughter Mean" from sad pop plea to vindictive, done-me-wrong blues.
I Got What It Takes, reissued this year, began Taylor's lucrative 21-year relationship with Alligator Records. Encouraged to sing what makes her confident and comfortable, Taylor of course took on a few Chess and Chess-style arrangements. On Willie Dixon's "I Got What It Takes" and pianist Otis Spann's "Blues Never Die," Bill Heid's tinkly, persistent piano props up the songs the way Spann's piano did so long ago at the Chess studios.
Sometimes Taylor's band transcends the simplistic blues arrangements and, almost unwittingly, creates soul. "Find a Fool," the album's best track, is so carefully constructed it sounds like a James Brown funk workout -- the rhythm guitars pound a heartbeat and Locke punctuates the choruses with Stax-style melodies. Since I Got What It Takes, Taylor has recorded dozens of Alligator songs like the straight 12-bar "Happy Home" and "Voodoo Woman." She hasn't always had a band this great.
-- Steve Knopper
---
Paul Rishell/Annie Raines
I Want You to Know
Tone Cool 1156
---
Here's a good record, certainly good enough to deserve real liner notes, rather than the tossaway paragraph by John Sebastian, who tells us virtually nothing about Rishell or Raines. The former is, I believe, a folk/blues guitarist who's been in Boston longer than beans. Of the latter I know naught, except that she very nearly steals the show.
Which is no small thing, as Rishell is a good guitarist on both electric and National steel instruments (especially the latter, where he really shines). It's good to hear his reprisals of "Step It Up and Go" and "I Want You to Know," classics by Blind Boy Fuller and Bo Carter that he performs with vigor and freshness, rather than the studied preservationism some use on such elder works. His slide work on Barbecue Bob's "Yo Yo Blues" is deft, and he sings well, in a woody, unpretentious voice.
Raines sings on the lively original "Got to Fly" and is certainly as concise a singer as we'll hear, chirping each syllable as though duty bound to avoid moans and melisma. The effect is winning; this is the best of the disc's 16 selections. She also sings "Ol' Heartbreak" (which has a driving, chug-a-lug rhythm) and the slow "Little Dog." On both, she sounds more confident blowing harp than singing, which (though her voice is appealing) isn't altogether inappropriate because she's all over the harmonica.
On the country blues tunes she displays a great gift for phrasing, often playing sparse, near-minimalist fillips that are right on, accuracy-wise. (Check her delightful work on the title cut to hear what I mean.) It's not that she can't blow big-toned, busy and blustery stuff; witness the gusty fervor she imparts to the Chicago-style "Nothin' But the Devil," a guitar-harp workout that at 5:56 is the longest cut.
The duo is best on countrified material. Nothing's wrong with their covers of J.B. Lenoir and/or Otis Spann; it's just that there's so much of that sort of thing being done. By contrast there's relatively little attention paid to the likes of the Peg Leg Howell, Bo Carter and kindred material that Rishell and Raines interpret so appealingly. They've done a very recommendable job.
-- Tim Schuller
---
Clarence Spady
The Nature of the Beast
Evidence 26080-2
---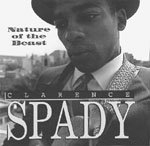 Evidence Music has done us all a favor by reissuing this fine first effort by guitarist/vocalist Clarence Spady. It was first released on a vanity label in 1994. (See "Rooster Pickin's" in BA #24.)
Backed by Tom Hamilton on saxes, Mark Hamza on Hammond A-100 organ and pedal bass and (primarily) Shorty Parham on drums, this under-40 Scranton, Pennsylvania, native comes at you from many directions.
The opening track, "Baby Baby Baby," offers a killer groove, while the straight-ahead jazz-blues of trumpeter Clifford Brown's "Blues Walk" finds everybody in high gear (especially when swapping fours with Parham). "Hi Heeled Sneakers" has a C&W inflection, "Picture of Love" contains a heartfelt plea for his woman's return set to a sinuous rhythm, while the title track, a slowly evolving saga of having shaken his dance with the devil ("he had me by the nose") is an affirmation of man's ability to conquer his demons.
Spady imbues each song (several of them originals) with his searing vocals and right-on guitar, which he uses to enhance rather than bludgeon each piece. His covers of Willie Dixon's "Built for Comfort," Raful Neal Jr.'s "Change My Way of Living" (which neatly fits into Spady's focus on his spiritual rebirth) and Son Seals' "Bad Axe" all gain from his interpretations. The hot anguish pouring out of him on songs like the title track may obscure some of the lyrics but certainly not his emotion and richness of spirit. We're going to hear a lot more from him.
-- Miles Jordan
---
Various
A Tribute to Stevie Ray Vaughan
Epic 67599
---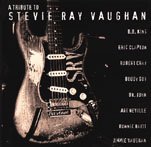 There are a couple of ways to look at A Tribute to Stevie Ray Vaughan. The first is to do a little star-gazing and assess cover versions of Stevie Ray Vaughan material by fellow big-time blues artists.
In that light, one probably couldn't image a more revered gathering of blues guitar elite (in order of appearance): Bonnie Raitt, Jimmie Vaughan, B.B. King, Buddy Guy, Eric Clapton and Robert Cray. Throw in Dr. John and Art Neville on keys and you've got quite an all-star assemblage.
Some of the performances stand on their own, such as Raitt's slide-drenched "Pride and Joy," Dr. John's workout on "Cold Shot" and Cray's well-considered version of "Love Struck Baby."
Others reveal how deeply SRV's material benefited from his personality, style and passion. Without those elements, some of these cover versions sound mighty average. Guy's slow-drag simplification of "Long Way From Home" is fine, but it's just a well-performed blues guitar vehicle. Ditto Clapton's take of "Ain't Gone 'N Give Up on Your Love" (which, by the way, is not his best vocal setting).
Still, these are gifted performers with good intentions, and in that context, it's tough to have anything but good words for this recording. A Tribute to Stevie Ray Vaughan can only help introduce SRV fans to fans of the blues artists performing here, and vice versa. No problem there.
The second, and better, way to look at A Tribute to Stevie Ray Vaughan is as a labor of love from his brother, Jimmie. These recordings were taken from a live performance, May 11, 1995, in Austin that was a sort of reprise of Stevie Ray's last performance, August 26, 1990, at Alpine Valley, Wisconsin, which ended in a jam with Clapton, Guy, Cray and Jimmie Vaughan.
It's clear on the CD, and even more so on the companion video release, that Jimmie was the master of ceremonies at this reunion and homage to SRV. And the evening appears to be Jimmie's way of telling the public that he's come to terms with the loss of his brother. It's time, he seems to be saying, to celebrate SRV's life and his contribution to the musical genre he loved.
It's no surprise, then, that three of the eight SRV tunes on this collection are taken from Family Style, the recording Stevie Ray and Jimmie completed just prior to SRV's death. It was, by most accounts, an event that brought the brothers closer than they'd ever been.
The highlight of the evening came when Jimmie and the other stars formed a blues choir (sounding good) on "Six Strings Down." It's a tune Art Neville sent to Jimmie after Stevie Ray's death, and one which appeared on Jimmie's Strange Pleasure album. When the entourage sings, "Heaven done called another blues singer back home," you can only believe them. No doubt, SRV was up there somewhere, jamming along and smiling from ear to ear.
The bottom line: For fans of either of the Vaughan brothers, A Tribute to Stevie Ray Vaughan is a must-have release. And any blues lover, Vaughan fan or otherwise, should feel the passion, sincerity -- and good rockin' blues -- captured in this recording.
-- Bryan Powell
---
Gillian Welch
Revival
ALMO Sounds (AMSD-80006)
---
I'll say it right off the bat: This ain't no blues album. Gillian Welch looks and sounds like a long lost member of the Dust Bowl Joads. (She's actually from L.A.) But when I saw her for the first time this summer, she introduced one of her songs by quoting Texas troubadour Townes Van Zandt: "There's only two kinds of music -- the blues and whoop-de-doo." That's good enough for me.
While there's little that qualifies as "straight" blues on Revival, absolutely none of it is "whoop-de-doo." Welch could teach a class -- an honors class -- to most contemporary artists on the fundamentals of songwriting. Her writing talents alone (and in combination with partner David Rawlings) would have been enough to carry an album by less gifted musicians.
But gifted these two are. Welch has a pure, keening voice that's reminiscent of Emmy Lou Harris' early country-rock efforts, before she completely threw her lot in with Nashville. Rawlings is a simply astounding guitarist who can also sing one hell of a harmony line. While his name is not on the front cover, he is in every way an equal collaborator. And tying it all together is the impeccable production work of T-Bone Burnett, who does his job so well that any barrier between listener and musician dissolves in your speakers.
Not wanting to get hung up on labels, Welch calls what they do "wooden music." The most recognizable strains are folk, bluegrass and spiritual, but there are blue undercurrents as well.
Most of the stories are poignant: the orphan who longs to see her family "at God's table" in "Orphan Girl" (covered by Harris on last year's Wrecking Ball); the boy in "One More Dollar" who slaves as a fruit picker to send money home to his family, only to lose everything in a crap game when a freeze kills the crop; the lover scorned in "Paper Wings."
At first listen "Pass You By," the bluesiest song on the disc and maybe the best song I've heard this year, sounds like just another car song, in the mold of "Terraplane Blues" or "Mercury Blues." But Welch puts a real twist on it: Her protagonist has learned to match her personality to that of her car, an old, flat black, V-8 Ford that goes unnoticed except as "a wind on the road." This becomes especially useful when she takes up bank robbery as a profession: "Don't call for help/Don't scream, don't cry/Just a wind on the road/Gonna pass you by." Punctuated by bursts from Rawlings on electric guitar, it's a chilling tale.
It doesn't take much listening to the radio to realize that intelligent and poetic voices are scarce on the American musical landscape. Welch and Rawlings have relocated to Nashville, so there's no telling if or when they'll be swallowed by the pop-country machine. Just to be safe, check 'em out now while they're fresh and the roots are still showing.
-- Cary Wolfson
---
This page and all contents are &copy 1996 by Blues Access, Boulder, CO, USA.