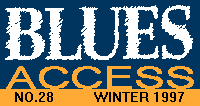 ---
The Golden State pummeled Homebrew's mailbox with a heavy load of independent releases, so that West Coast state-of-confusion gets its blues due with an all-California edition.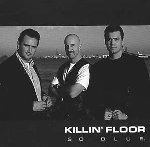 So Blue (So Blue Productions 795) is the name of a furiously energetic, self-produced CD by Killin' Floor, a trio of young blues rockers from the Bay Area. Led by surprisingly strong guitarist and confident vocalist Frank Giovanni, So Blue fairly flies off the player with nine originals and a Brownie McGhee tune. Songs range from front-porch, down-home lament to strip-club, dance-hall danger. Inventive playing and unfeigned passion make this a propitious debut.
The clean-as-a-whistle West Coast sounds of the Back to Back Blues Band spits out its first release, Dues Paid in Full (Cozmik 01). Having three lead singers in the quintet results in the overall vocal component being erratic, with nothing to really hang your felt hat on. Guitarist George Cantu, though, is a standout player and compliments whoever is singing. It's a pretty clean, non-essential recording that nonetheless shows some intriguing promise.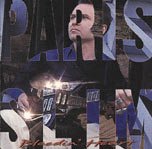 One of the best CDs I've listened to in a year or two, major label or independent, comes from long-time Bay Area secret, Paris Slim (Frank Goldwasser.) This Parisian expatriate has come up with an absolute corker, Bleedin' Heart (Mountain Top 018), and got his friend, noted bluesman Joe Louis Walker, to co-produce. There's no filler on this 12-song silver platter of power and pain. Slim is a natural, an accomplished vocalist, superb guitarist and splendid songwriter. He's got mentor Sonny Rhodes guesting on a couple of tracks and some well-chosen side players to make his music come alive and stay there. The City of Lights' loss is our national gain.
Santa Barbara guitarist/vocalist Robert Thomas jumps comfortably onto the scene with a pleasant and easy listen in his debut, Natural Born Thing (Boysun Music 100). His voice is limited (kind of Bob Welch-meets-Nils Lofgren) but unpretentious; however it works perfectly within the groove of his covers and underrecorded originals. Not a deep album, but the talent evident within the 11 tracks makes it worth a listen.
Calabasas resident, producer/lead-guitarist/songwriter Bruce Campbell and his various-sized Bruce Brothers Band have put out Little Hound Blues (Blueshound 001). Accomplished horn arrangements and unusual instruments, at least for a blues recording (tuba, flute and fluegelhorn), on tunes like T-Bone's "Stormy Monday" (a righteous cut) and "Sweet Home Chicago" give a cool slant to the overall jazz-blues feel. Of the four singers taking leads, blue-eyed soul man Kenny Cetera fares best. The proceedings are a little pristine (as opposed to down and gritty) but the playing is assured. If nothing else, Campbell has his marketing shtik down: Inside the sleeve is an order form where you can even send away for a T-shirt with the band's bloodhound logo on it.
Indigo Swing comes directly from the jump-blues martini strainer of the Cocktail Nation, a craze that has hit with a retro-vengeance.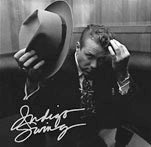 Typified by the in-vogue, clothes-horse dress of twenty-somethings discovering the '40s and an affinity for the period music of early R&B/jazz geniuses Louis Jordan and Roy Brown, with a little swinging Sinatra thrown in for safety, some bands are definitely worth a listen. I.S. is one of them. The San Francisco quintet has just released its second recording, Indigo Swing (Welt & Placket 13872), and it's terrific. Charismatic and hyper-amped but in-control vocalist Johnny Boyd is complimented on almost every cut by stand-out tenor and bari- work courtesy sad-eyed, good-blowing Baron Shul. Guests like Charles Brown guitarist Danny Caron and Black Top recording artist Rusty Zinn and material that ranges from originals to Cole Porter and Jay McShann songs are well worth hearing. As long as someone is trying to revive this stuff, they damned well should do their homework and get it right. Indigo Swing does so on all 14 of these flip, flop and fly tracks.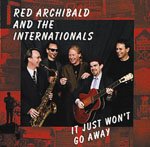 Roadhouse tough and finger-snapping solid is what you'll hear from harmonica-based Red Archibald and the Internationals on their all-original jump blues debut, It Just Won't Go Away. (Redex 1996) The quintet's imposing leader, harmonicat Archibald, has the vocal sweetness of a man who gargles with-razor-blades. This expatriate (he lived in Europe for a decade) has limited range but is bloodily effective. "Fast" Eddie Valentine, five feet and eleven inches of someone to keep an eye on, holds the blues guitar chair. Sax man Jim Peterson blows with potent, honking prominence. Boston bud Ronnie Earl even drops by for a couple of typically brilliant solos. Hard-workin', earnest, likable in a stew of West Coast soul.
The marvelously named Flat Top Tom & His Jump Cats, effectively recreate the "little" big bands of the late '40s on their second release, Rockin' & Jumpin' the Blues (Palamar 6177). Apparently at one time a Chicago-style blues band, this L.A. seven-piece has confidently moved retro with decent success. Hall is just a moderately satisfying vocalist but at least brings the joyful spirit required to cut the West Coast jump-blues, dance hall mustard. The 21 tracks will certainly give you your money's worth. If you don't have your best gal to jitterbug with when you first play this smoker, grab your sassy little sister and dance, brother, dance.
Popular slide guitarist/vocalist and long-time Sacramento bluesman Guitar Mac and His Blues Express has produced two CDs over the past two years, both with evocative titles, Boiling Point (GMAC 1) and Sizzle (GMAC 2). Aided on the latter by Bay Area Blues Prez Ronnie Stewart on guitar, Sizzle has garnered a bit of acclaim; most of it, however, sounds like fairly pedestrian 12-bar. Boiling Point is the more satisfying, but it somehow lacks overall punch. As with the newer Sizzle, the music is all there, but it's uninspired. There are some musicians that perform best live, and without a crowd's energy aren't often able to transmit it to the studio. Unfortunately, I'm afraid, that is the case here. Mac in performance is something else: feathers, fury, sex and strut. On these two studio releases, this "Cavalier of the Blues" left his best game on stage.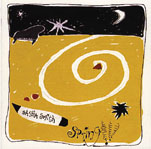 Sasha Smith looks like a hippie angel and plays acoustic piano with the control, phrasing and dynamics of a musical elder. This 16-year-old jazz and blues pup lives in the redwood shaded, sleepy Northern California town of Sebastopol, and the fertile greenery must have helped to inspire this monster musician to youthful greatness. His second release, Spring (BucknBronx 2), is a wonder. Seemingly this kid can do anything, blues, jazz, boogie-woogie, modern classic and ragtime too. Spring is primarily a solo album (his Dad, Claude, plays bass on two of the 14 cuts) with wonderfully clear sonics and a year or more's worth of refreshing keyboard ideas, essentially recorded live earlier this year. If you like piano music at all, get this welcome introduction to young Mr. Smith ... a prodigy now, a maestro in the making.
---
See Where to Find 'Em for label information.
---
BLUES ACCESS encourages blues musicians to send us independent releases. And blues fans, if there's a band or musician you've heard, seen or followed, and think they're deserving of wider recognition, send us, or have them send us their releases as well. With your help, we'll find out and hopefully be able to help spread the word about some great new music.
We need two copies of each release, preferably on CD. Written promotional material regarding the music and the player(s) is also welcome and helpful.
Please address to:
Homebrew
c/o: Blues Access
1455 Chestnut Place
Boulder, CO 80304-3153
---
This page and all contents are &copy 1996 by Blues Access, Boulder, CO, USA.