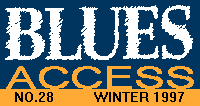 ---

Whoops ... Where's Sonny?
I always enjoy each issue of BLUES ACCESS. As a harp player and instructor, though, I'm struggling with the Rooster's choices for Essential Harmonicas in BA #26. Rooster, how could you list your Essential Harmonicas and neglect Sonny Terry?
With all due respect to your choices, nobody whooped it up like Sonny Terry. Besides his inimitable style that included heavy, complex, staccato chord rhythms, you can't help but smile and stomp your feet when you hear Sonny interweaving his tasty vocal-tone-quality harp licks with his trademark falsetto whoopin'.
Craig Griffin
Grand Junction, CO
---
White/black king of what blues?
I'm grateful and thank you from the bottom of my heart that you found my latest release worthwhile to be reviewed. To me, it is mighty important to be finally known outside Europe.
Every five or 10 years some writers and reviewers happen to criticize my work from a rather insecure point of view. They are often pop types, as I term them, or so-called Afrocentrics who knock whites whenever they strike a blues chord. Mr. Dirks seems to walk on the edge, or maybe I misunderstood his statements concerning my "impertinence" to call myself "White King of Black Blues."
It wasn't me that called myself "White King of Black Blues." It was the press. I have countless clippings, even one from the German periodical Jazz Podium, where I was rated as the top authentic bluesman. And I think they knew what they were talking about.
By the way, I never compared myself with blacks, and I never asserted that. I only thought that it could serve as a useful slogan. I play and sing historic black blues, with a "hammer lock" -- as you call it -- on the prewar blues, and to consider me a revivalist is dead wrong. A revivalist is someone that feeds a dead cow in order to give milk. That means he revives something dead. I always tried to convince the music world that I present true living art and don't beat dead stuff, as is done with Mozart, Beethoven & Co.
The worst thing that could happen to me was that I was neither black nor an American and, after all, an Austrian. I know that since The Sound of Music we are considered to waltz and to yodel. In fact, the traveler's guide fails to list the small but strong blues scene led by one Al Cook, who has indeed cojones not only of solid brass but of hardened steel to maintain a life by resisting counterracism and other hardships to carry on with his blues. I'm popular and adored among Europe's most successful musicians, as you see on the list of famous collaborators. Axel Zwingenberger and Dana Gillespie, for example, are international blues stars. If I were just a fake, no one of them would assist for a cordial handshake.
Roosevelt Sykes once said to me, "Even a Chinese can sing the blues if he feels it." And how right he was. Nobody minds Japanese Mozart interpreters, although their native music is far more removed from European traditions than the blues. If it's legal to believe that the artistic value of a blues artist increases by the darkness of his skin, you first have to eliminate Charley Patton from the history of the blues, because he could -- so many contemporaries said -- pass for a sun-tanned white. Leave alone Tampa Red. God put my soul into a white body, that's all. Listen to the country singer Larry Henley performing Blind Lemon Jefferson's "Matchbox Blues" on Vocalion Records.
I know that a colored face would make a better image, but I am sure that I would make the worst Viennese waltz musician of all times because only my body lives in Vienna. My mind is tuned to the early blues.
Al Cook
Vienna, Austria
---
South to Australia
Glad to see the magazine keeping the faith. I'd like to mention that I heard John Cephas and Phil Wiggins down here a few months ago. They are at a peak of creativity and performance energy. They should not be missed by anyone who has a liking for blues music. A tradition is not dead while people are still creating within it, and those two are vibrant and wonderful.
I must comment on the review of Josh White: Blues Singer 1932-1936 (Columbia Legacy). I don't know if it's the reviewer or the liner notes that are in error. First, it is not possible for Blind Boy Fuller to have been an influence on White. They never met, and White's recordings came out first. The only possible connection is that both learned from the Rev. Gary Davis.
White also was not influenced by Leroy Carr/Scrapper Blackwell; they were contemporaries. Among White's main influences on guitar were Davis and Willie Walker. Just listen to the 1935 blues by the former and the 1930s sides by the latter to hear what I'm speaking of (try Yazoo Records).
Along with Buddy Moss, Josh White was the main commercial artist from the Southeast during the early '30s. They were preceded by Blind Arthur Blake and followed by Blind Boy Fuller as successful commercial black musicians selling to black record buyers. White left Greenville with Blind Joe Taggert, recorded with him in the '20s for Paramount, met Lemon, et al., in his traveling. All this information and more can be found in the 1971 publication Crying for the Carolines by Bruce Bastin, or his more recent Red River Blues.
While I have not yet been able to hear the CD in question, my only quibble is the lack of his other big hit, "Blood Red River," which, along with "Low Cotton," are the most cited songs of his mentioned by other artists.
I want to thank you for the capsule reviews of four of the Trix releases (BLUES ACCESS #26). Joe Fields of Muse has taken on the label and is responsible for the rerelease on CD. I do have much more material, and I hope to be getting that together for release soon.
Peter B. Lowry
Longueville, Australia
---
Mighty fine piece
Just got BLUES ACCESS #27 in the mail today. Being a visual/graphic oriented type, I just had to write a quick one to tell you how impressed I was with the changes you've put your baby through.
The cover stock and the color separations were fantastically sensual, for lack of a better term. It felt in my hands less like a magazine and more like a juicy piece o' ass. A height that any magazine, blues or not, should try to aspire to, and if they did, few would achieve it. You did. Kudos.
I was amazed at the quality of the print and layout. Use of color was waaaaay cool. Y'all created a Cadillac.
Keep up the good work. I loved the "When Worlds Collide" piece. Very re-affirming.
George Rossi
Little George & the Shuffling Hungarians
Syracuse, New York
---
Big on Bugs
I was very pleased to see Bugs Henderson's That's the Truth in your Reader's Survey results in BLUES ACCESS #26. I personally believe Bugs is the most underrated player out there, and would love to see more in your magazine on Mr. Henderson. His new album is great and I hope to see a review.
Tom Ward
Arlington, Texas
---
Far east
By chance today I came across your Fall '96 edition on the shelves of a back street news vendor in Central Hongkong. Just had to buy it, even if it cost $8. My compliments on a fine magazine, well put together, tightly edited. Just as soon as my address is a bit more stable (1997 is going to be a big year for Hongkong, after all), I'll be subscribing. Until then, I'll pay $8 or use the online page.
The blues scene in Hongkong is kind of dull, but thanks to one jazz club we occasionally see good acts passing through. I've enjoyed Carey Bell, Eddy Clearwater and Deacon Jones there recently, and in past years we've seen B.B. King and the late Albert Collins at other venues. The audiences out here are small, but really enthusiastic.
Ron McMillan
Hongkong
---
Fine tuning on Butterfield
1) On the opening spread (p. 28) of Paul Butterfield Part III (BLUES ACCESS #27), the person identified as George Davidson is in fact drummer Dennis Whitted.
2. In my review of Pat Ramsey (p. 63): Pat Ramsey played with Johnny Winter in the late '70s, not the late '60s. I think Pat was probably still in junior high back then.
Tom Ellis III
Dallas, Texas
---
This page and all contents are &copy 1996 by Blues Access, Boulder, CO, USA.