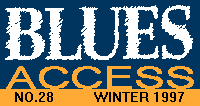 ---
Discs that have been given full reviews in this or previous issues of BLUES ACCESS
are quoted with the reviewers initials in brackets.

Red Rooster Pick

Catfish Pick
---
Al Berard & the Basin Brothers - Dans La Louisiane

Fiddler, singer and songwriter Berard has one of the most expressive voices in Louisiana, and the Basin Brothers weave an equally seductive web around him. And they don't do bad on blues, either; just listen to the way they connect with "Hang Your Head and Cry." Honest, emotional, sensual music.
(Rounder)
---
Aron Burton - Live

Former Albert Collins bassman (and city of Chicago planner) celebrates his 40 years in music by leading his own band through a blistering 1995 live set at Legends.
(Earwig)
---
The Butler Twins - Pursue Your Dreams

Reviewed in issue #27. Clarence (harp and vocals) and Curtis (rhythm guitar) are Alabamans transplanted to Detroit. This is over 74 minutes of the real thing.
(JSP†)
---
Paul Cebar & the Milwaukeeans - Upstroke for the Downfolk

Unless you've got feet of lead, it would be hard not to find something you like on this wildly eclectic tour de force groove thang. Cebar and his talented aggregation skirt everything from rockabilly ala Everly Brothers/Rockpile ("Love Don't Have a Clue") to pop dance music ("The Wild Water") to soul/blues ("I Ain't Ready") without a hint of pretension in an admirable quest for the eternal groove.
(Don't)
---
William Clarke - The Hard Way

Reviewed in issue #27. Break my heart: Unless Alligator has more in the can, this jazzy-bluesy treat is the last we'll hear of one terrific harp player. We miss ya, bro'.
(Alligator)
---
Otis Clay - The Best of Otis Clay

If you like '70s Deep Soul, this is about as good as it gets. Produced by Willie Mitchell.
(Right Stuff)
---
Porky Cohen - Rhythm & Bones

Fans of the super-cool uptown ambience of Roomful of Blues, Cohen's home for many years, will love this workout that's kind of a Roomful Revue, with individuals moving in and out of the backup band. Add a few trips back in time to his swing years with Benny Goodman, Charlie Barnet, Lucky Millinder and you've got a history of the trombone in blues and jazz from the swing era to today, produced by Roomful's Carl Querforth.
(Bullseye Blues)
---
Gary B.B. Coleman - Cocaine Annie

Fine, easy-going blues sound on the last recording of guitarist/keyboardist/songwriter/producer who passed away in 1994.
(Icehouse)
---
Tony Coleman - Out in the Open

Coleman and co-producer Bob Greenlee give the drummer/singer plenty of room to explore blues, especially where it butts up with funk (even a little rap on "Talkin' 'Bout the Blues") on this solid debut.
(King Snake)
---
James Cotton - Deep in the Blues

As satisfying a blues-jazz fusion as you're likely to find this or any year. Cotton blows hot and bluesy while guitarist Joe Louis Walker, bassist Charlie Haden and pianist Dave Maxwell throw all their talents into creating a late-night, too-many-whiskeys ambience. Don't miss the chilling "Down at Your Buryin'."
(Verve)
---
Rev. Gary Davis - O, Glory

(1973) Session from 1969 finds Davis in the unusual company of other musicians, including Larry Johnson on harmonica. Also rare is that the Rev. plays some piano and banjo, too.
(GENES)
---
Carlos del Junco Band - Live

Award-winning Canadian harp player in a mostly live set. He's got technique to burn with plenty of soul and a cookin' little band.
(Big Reed)
---
Paul deLay Band - Ocean of Tears

Paul's extended vacation at federal expense should have given him time for plenty of moody introspection. Instead, we get 10 songs of joyous, personal, blue-eyed soul. His voice sounds great, though he's content to let his crack band carry most of the instrumental load.
(Evidence)
---
Paul deLay Band - Take It From the Turnaround

Finally, national distribution for two of deLay's small label releases: the excellent The Other One and Paulzilla (the latter minus three tracks). This harp playing emotive singer and writer from the Northwest is more than deserving of a wider audience.
(Evidence)
---
Otis Grand - Perfume & Grime

UK's #1 blues guitarist goes to New Orleans to make another good'n'grimey disc that gets help from Joe Louis Walker, Darrell Nulisch, Curtis Salgado and a skyrocket of a track featuring Luther Allison.
(Sequel†)
---
Richard "Hacksaw" Harney - Sweet Man

Stunning acoustic fingerpicked guitar from this unheralded Delta musician. Amazingly, he was 70 years old and had suffered a minor stroke when these recordings were made in 1972.
(GENES)
---
Mike Henderson & the BlueBloods - First Blood

Blues from Nashville? Hey, we weren't kidding! Henderson sings, plays guitar and harp like he means it and has a crack band that includes ex-Stevie Ray keyboardist Reese Wynans.
(Dead Reckoning)
---
Algia Mae Hinton - Honey Babe: Blues, Folk Tunes and Gospel

Piedmont-style blues, hymns and folk themes dominate the work of this rural North Carolina musician. Sixty-seven-year-old Algia sings, plays guitar and buck dances her way through 26 songs. She doesn't always hit all the notes, but she's beguiling in the same way as Elizabeth Cotten or Etta Baker.
(Hin-Tone)
---
Richard Hunter - The Act of Being Free in One Act

All 14 tracks of this ambitious song cycle are solo harmonica pieces, including a few originals (like the haunting "Hymn For Crow") and covers not usually associated with harp ("In a Sentimental Mood" and the almost classical "Winter Sun at Nobska"). If you're into the sound and extended capabilities of the harmonica, this is a place to head.
(Turtle Hill Productions)
---
Syl Johnson - The Best of Syl Johnson

If you're not hip to Johnson's charms when he lived in the shadow of Al Green and haven't sprung for the three-disc Hi box, here are 22 good reasons to add this one to your collection.
(Right Stuff)
---
Tutu Jones - Blue Texas Soul

The title says it all about this effort from drummer-turned-guitarist Jones. Producer Ron Levy gives the Dallas-based Jones plenty of room to show off all his skills, and he responds with definitive versions of "The Sky is Crying" and "Have You Ever Loved a Woman," while the Memphis Horns let him play soulman on numbers like "Check Out Yourself" and "It's a Mistake." Texas blues with suitcase packed.
(Bullseye Blues)
---
Betty Joplin - Blinded By Love

Joplin recorded with Arthur Prysock and did a stint as vocalist for the Duke Ellington Orchestra. She gets help from Prysock, Jack McDuff, Philip Upchurch and Jess Murphy, among others. Her dusky voice has the same kind of late-night texture for which all the above players are known, and she handles everything from "At the Dark End of the Street" to "Stormy Weather" and "Taint Nobody's Business If I Do" with ease and aplomb.
(Lake Street)
---
Vance Kelly - Joyriding in the Subway

Kelly follows his highly regarded Wolf debut with this gem. Producer John Primer knows exactly how to get the most out of Kelly's deep voice and always-just-right guitar lines. There's nothing better coming out of Chicago right now.
(Wolf†)
---
Albert King - The Big Blues

Reissue of the King LP Travelin' to California, featuring Albert's early '60s sides for the label. Good stuff if you don't already have it.
(King)
---
King Biscuit Boy - Down the Line

(1984) Biscuit must have been an odd duck kid: Who else in Hamilton, Ontario, was listening to John R., Hoss Allen and Wolfman Jack on the radio? The superb vocalist and harpmeister was dragging around some "debilitating habits" when this was recorded in 1982. It kicks butt anyway.
(Sequel†)
---
King Biscuit Boys/Big Walter Horton - Ann Arbor Blues & Jazz Festival 1973 Volume 4

(1973) The latest in the excellent Schoolkids Ann Arbor Blues Festival reissues includes down-home sets from the King Biscuit Boys (this ensemble's only live performance) and Big Walter Horton, with detailed, informative liner notes from festival promoter John Sinclair. It sounds like you're right there in the front row.
(Schoolkids')
---
Lil' Ed and Dave Weld - Keep on Walkin'

This is Lil' Ed Williams first release since breaking up the Blue Imperials. He's reconnected with old guitar playing partner Dave Weld (they split the vocal leads) for a disc that's -- surprise -- heavy on acoustic material. The results are refreshingly good.
(Earwig)
---
Little Georgie & the Shuffling Hungarians - Live From Styleen's Rhythm Palace

To call Georgie and the Hungarians eclectic would be a disservice. This is no less than a two-hour expression of 20th century music elements. And turn it Way up, dude!
(Queen Bee)
---
Willie Lomax Blues Revue - Give Me Back My Teeth

See review in this issue. Really enjoyable mix of singers (especially James Peterson) and styles. You're sure to find something to like.
(Big Boss)
---
Gwen McCrae - Psychic Hot Line

Soul-blues done to a "T." McCrae's voice is reminiscent of Irma Thomas (high praise indeed from this quarter). She can sing it smooth and husky or flat out let it rip.
(Goldwax)
---
Sonny Moorman & the Dogs - Telegraph Road

After stints elsewhere (including with Warren Zevon), Ohio-based Moorman calls this music "Power Blues," an apt description for a trio that treads the territory laid out by ZZ Top, Stevie Ray Vaughan and the Allman Brothers. Watch out for these guys.
(706)
---
Dave Plaehn & Jeff Hino - On Your Bond

Harp-slide guitar duo come up with a highly engaging sound. Plaehn's singing injects unexpected vitality into a set of familiar tunes.
(Nontrivial)
---
Preacher Boy - Gutters And Pews

Raggedy-voiced, tousled Preacher Boy, like Beck or G Love, loves the old blues but isn't interested in worshipping at the retro altar, preferring to follow his own muse without betraying his roots. There are some great, funky tracks scattered here, especially "Catfish," "Ugly" and "Railroad."
(Blind Pig)
---
Johnny Rawls - Here We Go

The former O.V. Wright sideman gets the chance to make his own sweet soul music on his JSP debut.
(JSP†)
---
Kenny "Blue" Ray - Pull the Strings

Kenny is the epitomal blue collar musician, working other people's hot and cold gigs around the Bay Area. When he gets to do his own thing ... look out. Hopefully one day someone will properly promote this first-rate guitarist.
(Tone King)
---
Frank Robinson & Guitar Curtis - Deep East Texas Blues

See review in this issue. Two top-flight, little-known Texans. "Colter, it seems, preferred being heard in a juke joint, while Robinson would rather have his amp set up on his front porch." [DR]
(Black Magic†)
---
T-Bone Singleton - Walkin' the Floor

Baton Rouge-raised Singleton has a unique perspective: He gave up the blues to become a minister. He lets his gospel inclinations loose in "Don't Ever Go" or "Walkin' the Floor," both with carefully written lyrics that straddle the line between sexuality and spirituality without being preachy. Call it swamp gospel, but turn it up.
(JSP†)
---
Byther Smith - Mississippi Kid

See review in this issue. "Pound for pound, Byther Smith is the most intense bluesman on the planet." [JO]
(Delmark)
---
Dave Specter - Left Turn on Blue

Reviewed in issue #27. "An absolutely gorgeous blend of vintage blues and jazz. It's one to cherish." [DR]
(Delmark)
---
Swamp Dogg - F**k the Bomb

Swamp Dogg, a k a Jerry Williams, is one of those brilliant eccentrics on the fringes of the industry. This collection brings together some of the best tracks from his varied albums for even more varied labels. Can you really dislike a guy who coaxes Little Esther to sing "The Love We Got Ain't Worth Two Dead Flies" and gets away with it?
(Pointblank)
---
Roosevelt Sykes/Victoria Spivey - Ann Arbor Blues & Jazz Festival 1973 Volume 3

Colorful live snapshots of two legendary artists at one of the genre's defining festivals. "Miss Vicky," who was 67 at the time, is delightfully off-color.
(Schoolkids')
---
Otis Taylor - Blue Eyed Monster

Most of these songs are built around one- or two-chord riff patterns, but there's nothing boring and something really hypnotic about the trance blues offered up by this reclusive Boulder, Colorado, trio.
(Shoelace)
---
Various - Blues Classics

A well-illustrated, carefully selected and organized collection of 72 essential sides culled from music that has wound up under the MCA blanket over the years.
(MCA)
---
Various - (Almost) Everybody Slides

(1993) Reissued from Sky Ranch Records. Well-chosen set of 14 slide guitar tunes by Mike Bloomfield (to whom the disc is dedicated), Sonny Landreth, Roy Rogers, Duke Robillard, Ronnie Earl, Anson Funderburgh and more. (Note: Elmore James' version of "Dust My Broom" is, thank God, NOT included here.)
(Rykodisc)
---
Various - Mean Old World: The Blues From 1940 to 1994

Reviewed in issue #27. Survey of modern blues with stellar 90-page booklet. "Just about every record gathered on Mean Old World is a gem. Virtually all the greats of the past half century are represented." [JD]
(Smithsonian Collection of Recordings)
---
This page and all contents are &copy 1996 by Blues Access, Boulder, CO, USA.