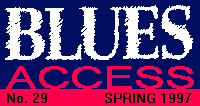 ---
Amplified Blues Harp De-Mystified
Gary Smith
VHS Video
---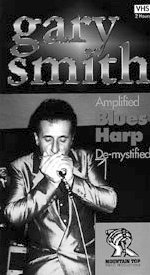 So you're a harp player now? Been jammin' along with your CDs? Starting to sharpen up with a few friends and you're really diggin' it? Maybe you're even to the point of getting frustrated trying to emulate the essential tone of your favorite players? If this sounds familiar, read on.
Gary Smith, 28-year veteran of the Bay Area blues scene and tonemeister par excellence, has put together a fabulous two-hour (no kidding) treat for all harp players, designed as he says, to "take you from harmonica kindergarten to the University of Higher Bluesology, also known as the Little Walter state." Smith provides excellent instruction on the most important physical techniques for playing the big Chicago electric-style tone and takes it a step further -- one I have never encountered in dozens of harp tapes -- he talks about the gear.
Lots of potentially good harp players loose momentum in the search for tone, frustrated that they just "haven't got the chops." Smith "de-mystifies" monster tone by separating the chops from the equipment itself, where arguably much of the monster sound comes from. Starting with embouchure in Blues Harp Heaven (Smith's studio is filled with the finest old tube amps and mikes a harp player could hope to play through), Smith explains lip-pursing and tongue-blocking techniques, and why you need to learn to tongue block if you want to sound like Little Walter. Smith then covers how to create a tone chamber with a bullet-style mike and different styles of vibratos with a mike in hand.
Then it's on to microphones. Want to tell the difference between an Astatic JT30 and a Shure Green bullet? How about an old Electro-Voice or Turner? What mikes have guys like James Harman, James Cotton and Little Walter used, and why? Why do newer mikes have a bigger mid-range? Smith explains the pluses and minuses of ceramic and crystal cartridges and demonstrates many of the mikes himself. (I think I've seen some of these in pawn shops and even garage sales around town. I know I'll be looking a bit harder now that I'm more educated.)
Amps got you puzzled? Smith gives them the same detailed treatment, with a review and demonstration of the differences in tone from a variety of old Fenders, Gibsons, Harmonies and Nationals. And the harps themselves? Starting with a comparison demonstration of Marine Bands and Special 20s, Smith moves on to do the same with Golden Melodies, Lee Oskars and a variety of other harps, including chromatics, until you get the idea that it really does make a difference. This one is for every serious harp player who wants to plug in and get electric. Did I mention it's two hours long? (Mountain Top Video Productions/High Low Video, 7 West 41st Avenue, San Mateo, CA 94403)
---
Beginning Blues Harp
Billy Branch
VHS Video
---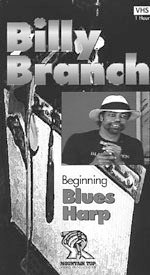 Billy Branch is a really cool guy. No kidding. Amid three W.C. Handys and 1993's Most Outstanding Blues Musician awards and surviving 20 years of touring with Willie Dixon, Jr. Wells, James Cotton, Albert King and B.B. King, Branch finds time for his "Blues in the Schools" program, where many of the instructional methods on this video were developed.
Branch goes through each step: how to hold the harp, what the keys are for straight or cross harp, how to blow and draw, 12-bar blues patterns and the real basics of getting a sound before moving on to some techniques and exercises for developing your ear.
It's definitely aimed at the younger student, covering some things that seem almost too rudimentary for the amount of time he spends on them. Perhaps that's a holdover from his classroom experience, but it's liable to turn off adult students over the one-hour period. There is some good stuff here, but nowhere near enough actual playing. I expected more from Branch. (Mountain Top Video Productions/High Low Video, 7 West 41st Avenue, San Mateo, CA 94403.)
---
The Fingerpicking Blues of John Jackson
John Jackson and Roy Book Binder
VHS Video
---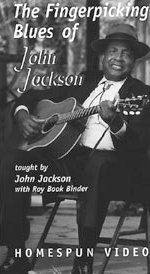 A couple of issues back, I took a look at Roy Book Binder's excellent video focusing on the traditional acoustic Piedmont style and hosting one of his inspirations and mentors, John Jackson.
You've heard me say before that a great artist is not always a great teacher and how rare it is that both are found in an instructional setting. My fedora is off to Homespun Tapes for utilizing Book Binder's superb teaching skills to bring us a window into the world of the sometimes easy-going, often gritty blues of John Jackson.
"Candy Man," "West Coast Blues," "Louis Collins," "Red River Blues," "Police Dog Blues," "Boat's Up the River" and other Blind Boy Fuller, John Hurt, Blind Blake and Jackson tunes are presented. First you see the whole song to get a feel for Jackson's style. Book Binder then breaks down, section by section, each song for left- and right-hand techniques critical to grasp his unique two-finger picking style and canny sense of rhythm.
Mixing in some colorful anecdotes about the many great artists Jackson met and played with over the years, this is part lesson, part a trip down John Jackson's memory lane. Jackson's wonderful, friendly way of communicating and Book Binder's humble guidance make it a most enjoyable hour of music and stories. (Homespun Tapes, Box 694, Woodstock, NY 12498 1-800-33-TAPES.)
---
Chicago Blues Guitar 2 -- Advanced
Arlen Roth
VHS Video
---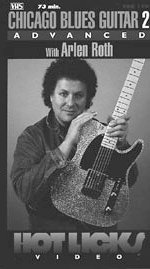 The man who brings us the Hot Licks video series has taken time out to follow-up his hot-selling Chicago Blues Guitar. This one is aimed not at beginners, but at advanced electric blues players.
Roth and bassist George Scheck do an excellent job of giving the intermediate-to-advanced electric blues guitarist more than an hour of really useful material: great licks and turnarounds for shuffles, slow blues, boogies and swing blues tunes. Roth is a Tele-meister, and some of the riffs sound a bit more Nashville than you might expect from a tape that purports to be Chicago, but I tried a few out on my 335, and honest, it's Chicago. I especially love the cool minor double stops, the fingerpicked turnarounds and the combined pick-and-fingerstyle, right-hand techniques that bring to mind Otis Rush and Roy Buchanan.
Add excellent transcriptions and the Hot Licks trademark split-screen production and this becomes a real value for electric blues players. I sometimes rib Roth for his propensity to wind up in a jam session on every video he produces (and hell, that's what I'd do if I owned Hot Licks), but the bottom line is that he is a fine guitarist and knows how to put together a good lesson.
You also might want to check out his Toolin' Around, where he plays real songs with the likes of Danny Gatton, Jerry Douglas, Albert Lee, Duane Eddy and Duke Robillard. (Hot Licks Video, P.O. Box 337, Pound Ridge, NY 10576.)
---
Send materials for review to: Kiernan Music Services, 1239 Lakeshore Drive, Boulder, CO 80302.
---
This page and all contents are &copy 1997 by Blues Access, Boulder, CO, USA.